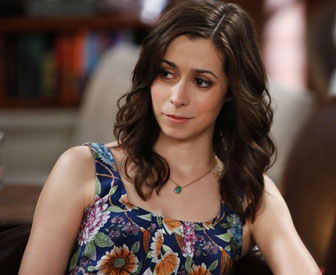 Cristin Milioti has a major role as Leonardo DiCaprio's wife in Martin Scorsese's upcoming film The Wolf of Wall Street, but if you're a fan of her from Broadway's Once and TV's How I Met Your Mother, don't expect to recognize her.
Milioti reveals to The Wall Street Journal that her character is virtually unrecognizable from her real self.  She explains, "I've got this really thick accent and huge perm, acrylic nails and jeans up to my second rib. She's a tough cookie but she loves him and believes in him, which is what makes it so painful. She's put all her beliefs and love in him. But what happens when you're not enough? It's a very sad role." Read more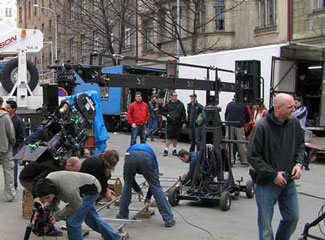 Is Los Angeles in a state of "emergency" when it comes to runaway production? According to new Los Angeles mayor Eric Garcetti, it sure is. One of his top priorities in his administration is to appoint a film czar at City Hall by the fall to tackle the problem.
For the entertainment industry, this is great news. However, he has to entice state politicians to hop aboard his plan to battle the attractive tax incentives in other states like North Carolina, Louisiana and even New York.
At a press conference at Sunset Gower Studios earlier this year, Garcetti addressed the issue head-on along with several production crew representatives.
Chris Baugh, location manager for Argo, talked about problems Los Angeles is fighting. Read more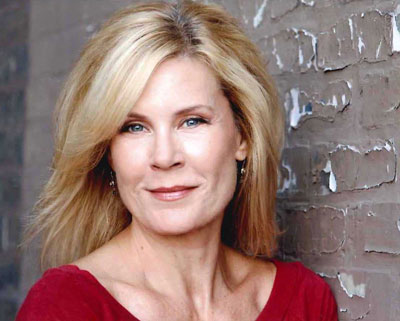 Hollis Resnick is currently touring the country as Mother Superior in the big crowd pleasing new musical, Sister Act.  The show, with a score from Alan Menken/Glenn Slater and Directed by Jerry Zaks, follows the same story line of the Whoopi Goldberg film of the same name except for one major difference, it's now set in the 70′s.
Deloris Van Cartier (Ta'rea Campbell), now a disco diva, witnesses a murder and is put in protective custody in the one place cops are sure she won't be found – a convent.  She's disguised as a nun and finds herself quickly at odds with the uptight Mother Superior (Resnick). She starts to use her disco ways and singing voice to inspire the choir and breathe new life into the church, but in doing so blows her cover. 
Hollis, a big name in the Chicago theater scene, is no stranger to National Tours. You may have seen her in Les Miz, Dirty Rotten Scoundrels or even Thoroughly Modern Millie. When I talked to her about life on the road, she gave me a bit of advice for anyone who is looking to travel with a theater company: Pack light.
In the interview, we talk about the show, her life on the road, why she went back on tour and how she got the part.
Sister Act is currently playing in San Diego till August 4th (click here for tickets). Next up is Costa Mesa, CA. For more information, check out the Sister Act tour website. And, take a look at Hollis' website, hollisresnik.com. Read more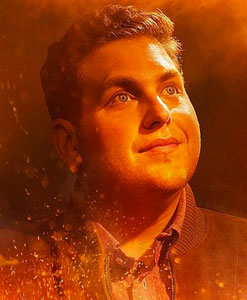 It's official: Jonah Hill is a serious actor.  Sure, he might be co-starring in This Is The End and is likely returning for a sequel for 21 Jump Street, but in an interview with Rolling Stone Hill refuses to speak about his more famous filthy comedies and only wants to speak about his transition from comedian to serious actor in films like Moneyball and The Wolf of Wall Street.
Want proof?
When asked about how he managed to shed so many pounds from his once-chubby frame? He answers, "My workout routine is of little relevance."
When asked about passing gas? He answers, "I'm not answering that dumb question! I'm not that kind of person! Being in a funny movie doesn't make me have to answer dumb questions. It has nothing to do with who I am." Read more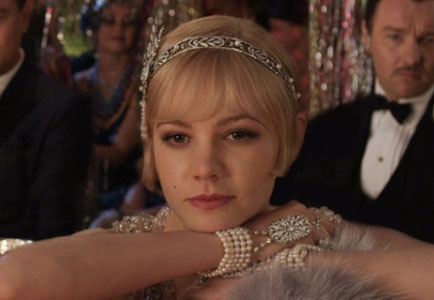 Carey Mulligan won the part of Daisy Buchanan over many of Hollywood's most famous starlets.  But the actress claims one of the best rewards was working with costar Leonardo DiCaprio.
"We were doing a scene right towards the end of the film, and Leonardo was playing Gatsby and he was playing Tom Buchanan and Nick Carraway," she said in an interview with The New York Post.  "So he'd sit in one chair and play his character, then he'd jump in another chair and play Tom, and then be standing up and he'd be Nick.  He was learning all the different lines.  He was incredible." Read more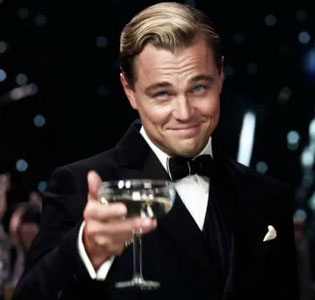 I'm feeling incredibly ambivalent about Baz Luhrmann's The Great Gatsby because it is adapted from my all-time favorite book.  While I'm happy to see the book get even more recognition, I'm not crazy about the cast, the soundtrack (I didn't know there was so much hip hop in the 1920s), that it was shot half a world away from where it takes place, and the simple fact that no adaptation of The Great Gatsby has ever been able to capture the wild spirit of F. Scott Fitzgerald's novel.  But it seems like I'm the only one who feels this way — indeed, star Leonardo DiCaprio, who portrays Jay Gatsby in the film, seems just as uncertain as I am.
He tells Access Hollywood about the new film, "[It's one of the] most beloved novels of all time. It is a great piece of American literature and everyone has their own personal connection with these characters and these people and they have their own interpretation of Gatsby.  It's intimidating going into a process where you're going to make a film adaptation of something that is this intricate complex and beloved worldwide because you're almost setting yourself up for disaster." Read more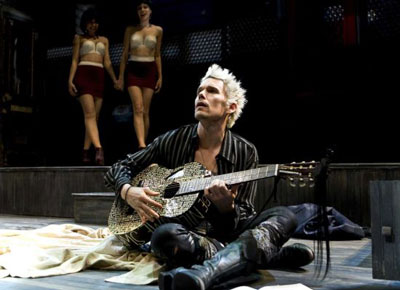 If you think that you haven't seen much of Ethan Hawke on movie screens lately, you'd be right.  However, Hawke's lower profile in film is not a case of him not being offered work, but a case of Hawke's increasing desire to concentrate on his theater work.  He currently stars in Clive at New York's Acorn Theatre alongside Zoe Kazan, who interviewed him for Gotham magazine about his passion for theater and his novels and why he doesn't put much stock in awards.
Hawke points out that for him plays provide much more artistic freedom than movies.  He explains, "It's the closest you can get to real freedom. The problem with movies is everybody wants to make money, and if they don't see an avenue for making a lot of money, they don't want to bother. Doing a crazy expressionistic play like Clive [brings out] the part of me that wishes I were more radical. When I first came to New York, you'd see Patti Smith rocking it out downtown and Eric Bogosian doing his crazy monologues…. There was all this exciting experimentation going on, and I always longed to be a part of that." Read more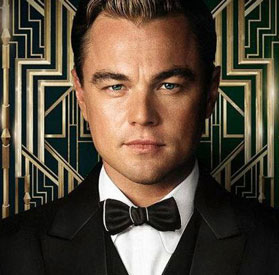 After working nonstop the past several years, Leonardo DiCaprio is in dire need of some time off.
"I am a bit drained," he admitted to IndieWire.  "I'm now going to take a long, long break.  I've done three films in two years and I'm just worn out."  It's true that DiCaprio has been onscreen a lot—in 2010, he released Shutter Island and Inception andlast year was J. Edgar.  The actor is currently starring in Quentin Tarantino's Django Unchained and will next appear in The Great Gatsby (which will open May 10).
But it doesn't look like DiCaprio will spend his vacation lounging around.  "I would like to improve the world a bit," the 38-year old said.  "I will fly around the world doing good for the environment.  My roof is covered with solar panels.  My car is electric.  A normal person does not drive more than 50 kilometers (31 miles) a day.  That can be done with a plug."
Hopefully, he can schedule some relaxation time in between saving the environment.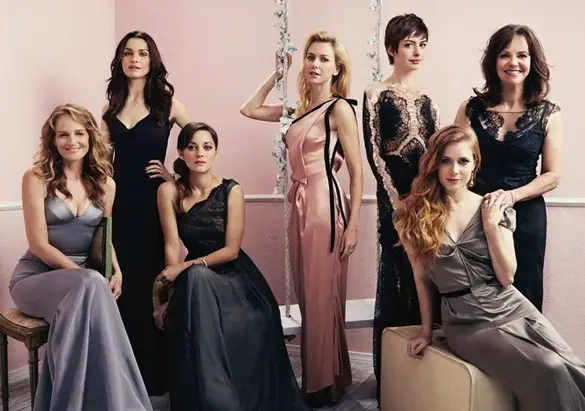 One of my very favorite things that The Hollywood Reporter does are the annual actor roundtables. They get a group of actors, ask them questions and just let them go to town. Some of the answers are smart, some serious and some are just downright funny but all are incredibly entertaining.
In this hour long, uncensored video, THR got Anne Hathaway, Amy Adams, Sally Field, Naomi Watts, Rachel Weisz, Helen Hunt and Marion Cotillard to talk in-depth about their careers and it's absolutely wonderful.
Amy Adams mentions that she thought about quitting acting, Naomi Watts says she operates out of fear and Helen Hunt talks about her nude scenes in The Sessions.
This is well worth your time!  Read more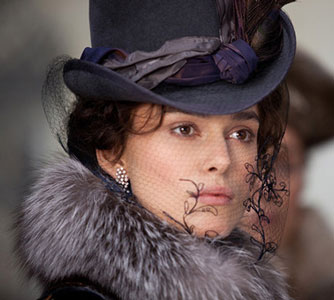 There's always risk involved when adapting a famous novel for the screen—especially when it's been done before.  But Keira Knightley insists the new version of Leo Tolstoy's Anna Karenina brings something new to the table, mainly the actress' own take on the role.
"I think within the pages of the book, it's so massively open to different interpretations anyway, and partly because he does write from inside her head, but often he doesn't.  Often he writes from outside, judging her and describing her," Knightley said in an interview with NBC New York.  "And I think because of that judgment and that description, it means that there are lots of different interpretations. 
"When I first read it when I was 19, I only remember her being innocent—I don't remember judging her at all; I don't remember seeing her as being in any way guilty.  And I read it again last year before we started shooting, and when I see this at 26 because I was, I suddenly see this differently." Read more