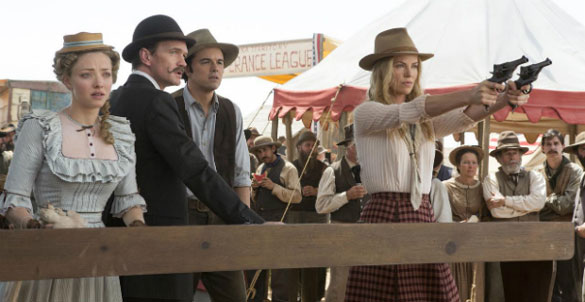 A Million Ways To Die: A cowardly farmer seeks the help of a gunslinger's wife to help him win back the woman who left him.
Director: Seth MacFarlane
Writers: Seth MacFarlane, Alec Sulkin
Starring: Seth MacFarlane, Charlize Theron, Amanda Seyfried, Liam Neeson, Sarah Silverman, Neil Patrick Harris Read more
You might be unaware of this, but before he became an action star in his late fifties in films like Taken and The Grey Liam Neeson was a highly-regarded actor.  Okay, that's not really news to anybody, but while Neeson has gone onto an unlikely career revitalization as a greying action hero he admits that he misses where he got started in the first place: the stage.
He tells the Belfast Telegraph after being awarded the Freedom honor of his home town of Ballymena, Northern Ireland, "I would love to tread the boards again at some point. It's been four-and-a-half years since I was on the stage so it's time to flex that muscle again."
In fact, Neeson even has a theatre in mind where he would want to appear.  Naturally, it's where he started: the Lyric Theatre in Belfast.  He explains, "I'd love to do it at the Lyric. We're actively trying to find something, you know. I'm a single parent so it's hard trying to distance myself for the moment." Read more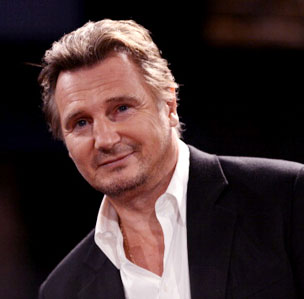 Inside the Actors Studio and its host, James Lipton, welcomes Oscar-nominated actor and Taken 2 star Liam Neeson to its stage tomorrow night (October 2nd).
In the show, Lipton asks Neeson about his roles in Schindler's List, The Dark Knight Rises and Kinsey. I'm assuming they won't talk about the cinematic trash pile, Battleship.
Neeson also shares details ranging from his always-changing accents to his romances with famous leading ladies. Read more
This is pretty freaking cool. Or disturbing.
Now for your viewing pleasure, you can have Liam Neeson stare, glare and judge you right from your computer screen.
For 10 whole hours.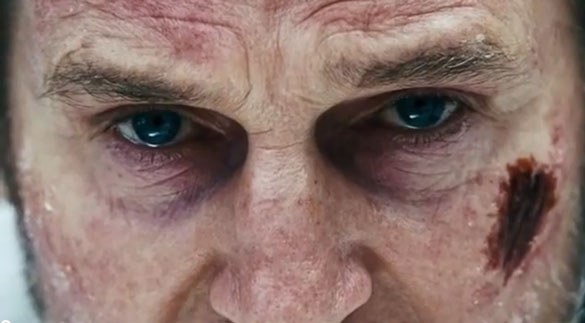 Watch for yourself below. Just don't do anything stupid or he may kill you. You saw what he did to those wolves in The Grey, didn't you? Read more
Liam Neeson has become one of the leading international motion-picture actors today. Whether it is his Academy Award®-nominated role of Oskar Schindler in Steven Spielberg's highly acclaimed Schindler's List (1993), his award-winning portrayal of the legendary Irish Republican hero in Michael Collins (1996), or his role as controversial sex therapist Alfred Kinsey in the critically acclaimed Kinsey (2004), Neeson continues to display an acting range matched by few.
In January 2012, Neeson starred in the box-office hit The Grey. Directed by Joe Carnahan, this action-adventure featured an oil drilling team that struggled to survive after a plane crash that stranded them in the wild of Alaska. Hunting the humans was a pack of wolves that saw them as intruders.
In February 2011, Neeson was seen opposite Diane Kruger and January Jones in Unknown, a psychological thriller about stolen identity. Neeson also co-starred in the Warner Bros. remake of the 1981 film Clash of the Titans, which tells the myth of Perseus and his quest to battle both Medusa and the Kraken monster in order to save the princess Andromeda. A sequel is currently in the works for release in 2012. Read more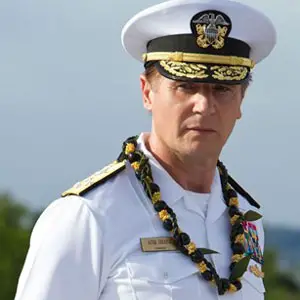 I always liked Liam Neeson as an actor even before he revealed himself to be a middle-aged bad ass in movies like Taken, Unknown, and The Grey.  So while I am not surprised to see him in another action movie, I was surprised when I found out that he was starring in Battleship, which, believe it or not, is based on the Milton Bradley board game. 
How did Neeson find the inspiration to act in a movie based on putting plastic pegs into plastic ships?  According to Neeson, he found it in the script and the filming locations.
Though Neeson speaks positively about how the script initially attracted him to the project, I think he relies a bit heavily on cliches when describing it.  He says, "The foundation stone is the script, and this one was a real page-turner. That's the litmus test. If I'm reading through it and I'm suddenly at page 78 and haven't stopped for a cup of tea or a glass of water, it's got me. I thought this was very gung ho. It's got thrills and spills and very good character development, too." 
I'm sure he was very serious when he said this (as Neeson always seems to be), but I would've loved to have seen the expression on his face when he said that. Read more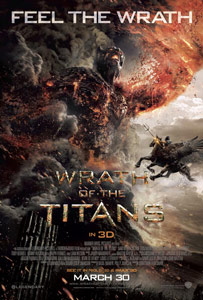 Wrath of the Titans: A decade after his heroic defeat of the monstrous Kraken, Perseus (Worthington) –the demigod son of Zeus (Neeson)–is attempting to live a quieter life as a village fisherman and the sole parent to his 10-year old son, Helius. Meanwhile, a struggle for supremacy rages between the gods and the Titans. Dangerously weakened by humanity's lack of devotion, the gods are losing control of the imprisoned Titans and their ferocious leader, Kronos, father of the long-ruling brothers Zeus, Hades (Fiennes) and Poseidon (Danny Huston). The triumvirate had overthrown their powerful father long ago, leaving him to rot in the gloomy abyss of Tartarus, a dungeon that lies deep within the cavernous underworld. Perseus cannot ignore his true calling when Hades, along with Zeus' godly son, Ares (Edgar Ramirez), switch loyalties and make a deal with Kronos to capture Zeus. The Titans' strength grows stronger as Zeus' remaining godly powers are siphoned, and hell is unleashed on earth. Enlisting the help of the warrior Queen Andromeda (Rosamund Pike), Poseidon's demigod son, Argenor (Toby Kebbell), and fallen god Hephaestus (Bill Nighy), Perseus bravely embarks on a treacherous quest into the underworld to rescue Zeus, overthrow the Titans and save mankind.
Director: Jonathan Liebesman
Cast: Sam Worthington, Ralph Fiennes, Liam Neeson, Danny Huston, Edgar Ramirez, Bill Nighy, Toby Kebbell, Rosamund Pike
Writers: Dan Mazeau, David Leslie Johnson
In Theaters: March 30th Read more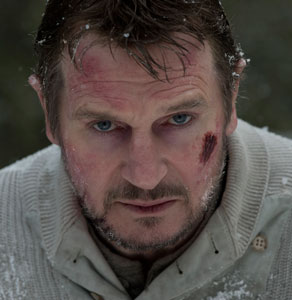 Though mostly known throughout the 1990s as a dramatic actor, Liam Neeson has surprisingly become something of an action hero as he approaches his sixtieth birthday. 
In Neeson's next action film, the action thriller The Grey, he is a member of an Alaskan oil drilling team whose plane crash-lands in the wild.  But filming a movie that takes place in the tundra has a number of physical demands that made the shoot challenging.
In fact, even though he was drawn to the role, Neeson had concerns about his physical ability for the role. 
He confesses,  "The Grey triggered something very primal inside of me.  When I read the script, I was 57 years old, and the little boy inside me thought it would be great to take on such a demanding role.  I wanted audiences to say 'Wow, how did you guys do that?'  At the same time, I was thinking, 'Jeez, can I physically do this?'"
Neeson's concerns were certainly valid: the film was shot in in Smithers,  British Columbia, which is a 12-hour drive north of Vancouver.  The cast and crew had to contend with frigid temperatures and equipment failures.  Neeson recalls, "It was just a physically impossible time during the first few days.  We had lines to memorize and our brains were freezing and all we could think about was how to stay warm."  Read more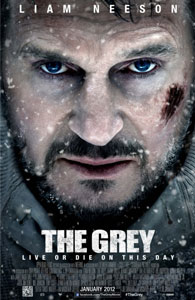 The Grey: A group of oil-rig roughnecks are left stranded on the sub-arctic tundra after their plane experiences a complete mechanical failure and crashes into the remote Alaskan wilderness. The survivors, battling mortal injuries, biting cold and ravenous hunger, are relentlessly hunted and pursued by a vicious pack of rogue wolves.
Starring: Liam Neeson, Dallas Roberts, James Badge Dale, Dermot Mulroney and Frank Grillo
Directed by: Joe Carnahan
In Theaters: January 27, 2012
Read more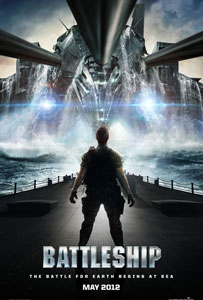 Even though I like what I see, I think you could have called this Transformers 4.
Also, is it me or was there a bit of a spoiler with Liam Neeson's character?
Battleship: Peter Berg (Hancock) produces and directs Battleship, an epic-scaled action-adventure that unfolds across the seas, in the skies and over land as our planet fights for survival against a superior force. Inspired by Hasbro's classic naval combat game, Battleship stars Taylor Kitsch as Lt. Alex Hopper, a Naval officer assigned to the USS John Paul Jones; Brooklyn Decker as Sam Shane, a physical therapist and Hopper's fiancee; Alexander Skarsgard as Hopper's older brother, Stone, Commanding Officer of the USS Sampson; Rihanna as Petty Officer Raikes, Hopper's crewmate and a weapons specialist on the USS John Paul Jones; and international superstar Liam Neeson as Hopper and Stone's superior (and Sam's father), Admiral Shane. courtesy of trailers.apple.com
Director: Peter Berg
Cast: Taylor Kitsch, Brooklyn Decker, Alexander Skarsgard, Rihanna, Asano Tadanobu, Liam Neeson
In theaters: May 18th, 2012 
Read more