"I just met a wonderful new man. He's fictional but you can't have everything." – Cecilia, The Purple Rose of Cairo
Many indie theater companies, for better or worse, cling to a particular style after a few seasons (that is, if they even last that long) either by repeating shows or sticking with popular "name" plays in order to keep doing what the company does best.  While there's nothing wrong with playing to one's strengths, people who thrive on creativity know that nothing sustains them better than a challenge.  Now in its fourth season, New York City's The Seeing Place has constantly demonstrated that what it offers is versatility in its productions, but the only thing that never changes is the quality of the performance and the value of the ticket prices.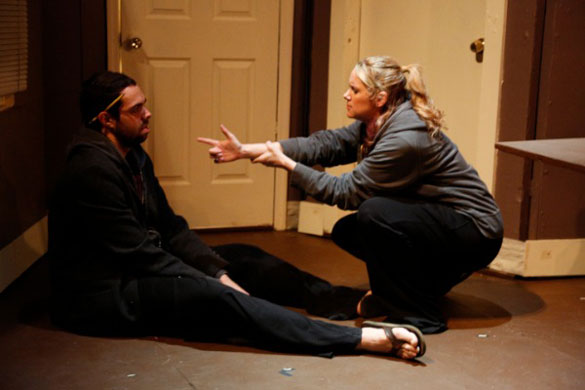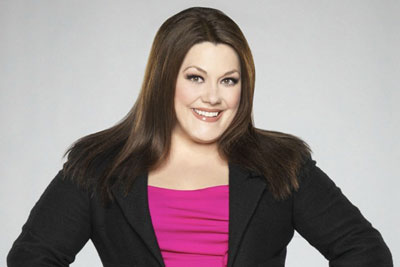 Lifetimes' Drop Dead Diva dropped dead last season, with the network unexpectedly canceling the show. But as we all know, you can't keep a diva down for long and because of popular demand, Lifetime resurrected the show. 
Back with a 13-episode order, the show picked up where it left off and no one could be happier than the star, Brooke Elliott. "When you literally come back from the dead, whether we're talking about, you know Deb, who comes back as Jane, or our show coming back for Season 5, you really kind of make the most of it, and I think that's what we're doing," she said. "We don't take it for granted. I think everyone is working 110% this season. It feels good."
Brooke received a 2010 Gracie Award for Female Rising Star in a Comedy Series and has been nominated for a 2011 PRISM Award for Best Performance in a Comedy Series, both for her work on the show. She's also starred on Broadway in The Pirate Queen, an original musical from the writers of Les Miserables, and in Taboo, the musical composed by Boy George and produced by Rosie O'Donnell. She's toured nationally with Beauty and the Beast and was in the original cast of the first national tour of Wicked.
I talked to Brooke and Executive Producer Josh Berman in a recent conference call about the new season, what they had to sacrifice – shooting wise – and literally coming back from the dead.
Drop Dead Diva airs on Sundays at 9pm on Lifetime Read more
Podcast: Play in new window | Download (Duration: 15:13 — 10.5MB)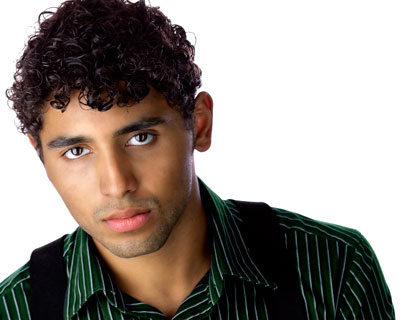 Trent Saunders, who is currently playing St. Jimmy in the touring production of Green Day's American Idiot, has the life.
When I talked to him for this interview, it was the middle of the day in Baltimore, MD (my home state!) and he and his cast mates were set to play laser tag right after he got off the phone. He's traveled to Europe – where he said he had a blast – is criss-crossing America and best of all, he gets to sing Green Day songs every night. Like I said, he's livin' the life.
I saw American Idiot when it was on Broadway and liked it a lot. The set and lighting design was amazing and if you're a fan of Green Day, you'll absolutely love it.
I talked to Trent about his life on the road, how he got the part and cell phones in the audiences. I haven't heard how his laser tag expedition went, but if I do, I'll let you know.
Green Day's American Idiot comes to San Diego May 28th-June 2nd, followed by San Jose, CA and Las Vegas, NV. For San Diego tickets, click here. For other tour dates and tickets, click here. Read more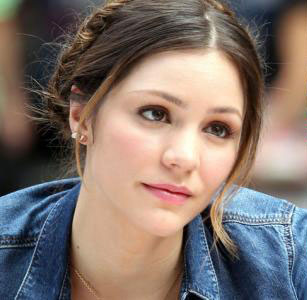 Even series leads have to audition. 
Katharine McPhee remembers all too well her audition for the NBC backstage drama Smash.  "I sang something from Thoroughly Modern Millie for my audition," she said in an interview with PaperMag.  "They flew me to New York and I was starting to get sick.  I could barely sing and my voice was cracking.  They were like, 'It's okay, we know you can sing.'  But I tried to get through it.  I tried to sing 'I Don't know How to Love Him' from Jesus Christ Superstar too.  It didn't come out so well, but it was more about the scene work so I just had to wait for Steven Spielberg to watch the tape.  And a few days later, I got the part!"
As an actress who grew up performing in musical theater productions (and appearing on American Idol), McPhee has enjoyed working with Broadway legend Bernadette Peters—who will also show up on the second season of the show. Read more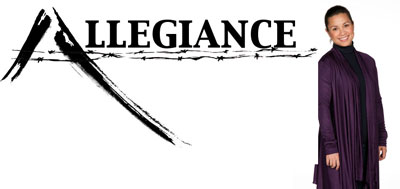 Allegiance is gearing up for its premiere at San Diego's The Old Globe and ahead of the opening, the production has released a song from the upcoming Broadway-bound musical.
Listen as Tony Award winner Lea Salonga (Miss Saigon) and Michael K. Lee sing, The Mountain's Heart.
The world premiere of Allegiance, also starring George Takei and Telly Leung (Godspell), runs at The Old Globe from Sept. 7 – Oct. 21, 2012. Read more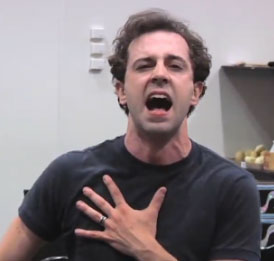 Chaplin, the new musical about the life and times of Charlie Chaplin, begins previews this Tuesday (August 21st) and at a recent rehearsal, the show opened their doors to press to check out some of the numbers.
In this video by Playbill, you can catch a bit of some of the songs from the show as performed by the stars Rob McClure (Chaplin), Jenn Colella (Hedda Hopper), Erin Mackey (Oona O'Neill) and the rest of the company.
I saw this when it was called Limelight at The La Jolla Playhouse and loved it. Star Rob McClure was excellent and I'm so happy that the producers didn't get some "name" actor to replace him. Check out Daily Actor's interview with him here. Read more
With so much indie theater in New York City it's impossible for me to make it to every production I'm invited to review.  So before I even get into my review of The Seeing Place's double-bill of Harold Pinter's The Lover and John Patrick Shanley's Danny and the Deep Blue Sea, I feel obligated to point out that this is the third Seeing Place production that I've been invited to review this season and perhaps the biggest compliment I can pay them is that I make sure I have been there every time.  What The Seeing Place puts on stage is constantly worth seeing.  While these two productions are much smaller in scope than their previous productions I've reviewed, both prove that The Seeing Place is one of the theater companies worth noticing if you haven't already.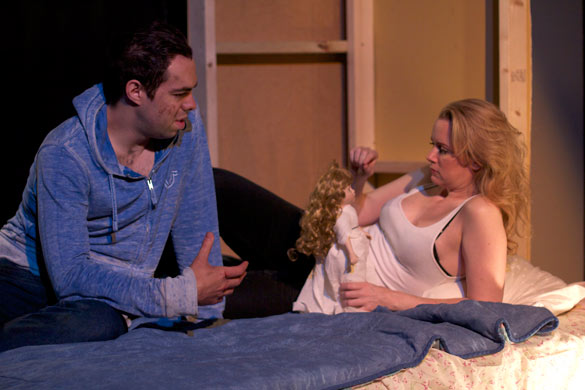 The first Seeing Place production I reviewed, Closer, won me over simply for making me really enjoy a play I don't particularly like.  Three Sisters, their second production I reviewed, took Chekhov's lengthy, dense play and made it more accessible with a large, affable, and often hilarious cast.  But their current double-bill production, The Lover and Danny and the Deep Blue Sea, presents two far more intimate plays, with three and two actors in the cast, respectively.  Read more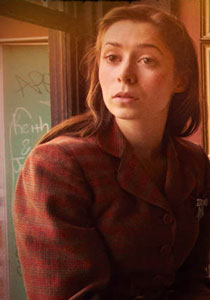 I've tried to get reasonably-priced tickets to Once twice in the last few weeks and have ended up empty handed both times.  Now that the musical has received eleven Tony nominations I guess I can look forward to the tickets skyrocketing even higher.
But that aside, one of the most startling achievements of Once is that its female lead, Cristin Milioti, has been nominated for the Tony for Best Actress in a Leading Role in a Musical… and it's her first musical she has ever appeared in!  She talks about how she got the role and how she developed her character's Czech accent to Rolling Stone.
Milioti admits that not only did she not initially land the lead female role, but she didn't even know how to really play the piano very well! She says, "I auditioned for this back when it was going to be a reading. I auditioned for the Girl, but the part had already been cast before the audition had even been held so I ended up playing Réza, the Girl's flat mate. We did the reading, and then a day or two later the director called and said that he wanted me to come in and audition for the Girl again for everyone, and he really pushed for me the entire time. I was deemed not a good enough piano player. I can't sight read, and I've never taken piano lessons – I only know chords. I could play you a C chord and a G chord and kind of make it look like I kind of knew what I was doing, but that was about it. So they gave me ten days to learn two songs on the piano, and I did. I came in and I played 'The Hill,' and I got it." Read more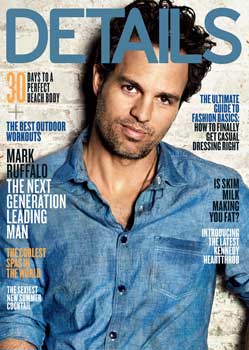 In 2009, Mark Ruffalo decided he had had enough of the Hollywood machine, and he walked away from acting.
"I'd had it with L.A.," he told Details magazine. "And I really had it with the business side of acting, the machinery of it all.  You're an artist, but then all of a sudden you're a product at the same time, and there's this company that's sprung up around you.  I got depressed.  I was losing my love for it. So I said, 'I'm done.' I fired everybody and moved my family to Callicoon, NY. I had to make a radical move. "The Kids Are All Right" was my swan song.  I didn't know what I was doing next."
Ruffalo says it is far from easy to make it in the acting business. "It was brutal.  The years are stripping away, but when you talk to anyone from home, you're saying something like 'Well, I'm just working on my craft right now, when the truth is that I can't get a f***ing job because no one will hire me. It was humiliating."
The draw to acting is a strong one, Ruffalo says, and while sitting in the audience at Sundance, watching "The Kids Are All Right" make its debut he says, "watching everyone's jaded, super cool Hollywood identities melt into the communal experience of filmmaking and storytelling.  It reminded me: I'm an actor, and my whole life has been geared towards being an actor."
Ruffalo also shares his thoughts on motion-capture acting:  "It's the absolute perfect marriage because it relies on your imagination, your ability to project outside of yourself, to be the watcher and the watched.  A stage actor has to be able to do that, because you're telling the story with your body as much as your face and voice."
via details.com
Here's the the De-Lovely Sutton Foster and the cast of Anything Goes performing the title song and You're the Top on this morning's Good Morning America.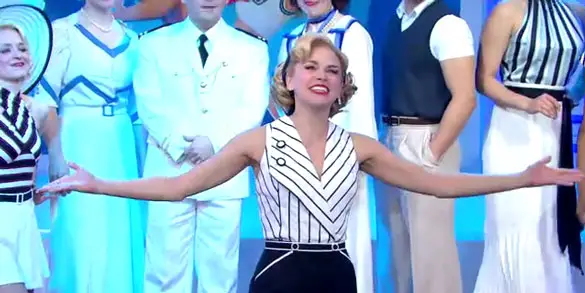 Sutton Foster looks just perfect in this role, doesn't she?