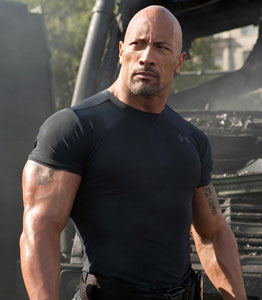 There's a reason why you don't see Dwayne "The Rock" Johnson in a wrestling ring much anymore: he's traded in his wrestling championships to become the 2013 box office champion as the highest grossing actor of 2013 according to Forbes.
Johnson had two major hits in the past year (Fast & Furious 6 and G.I. Joe: Retaliation) and two smaller hits (Pain and Gain and Snitch), with a cumulative box office of $1.3 billion.  That quantity puts Johnson over the top of Robert Downey Jr., who starred in the highest grossing film of the year (Iron Man 3) but only made that single film (still, he comes in right below Johnson at $1.2 million).  Johnson's Fast & Furious co-stars Vin Diesel and the late Paul Walker also made the list (#4 and #6, respectively), mostly because of the success of that franchise's latest entry. Forbes' data looked at worldwide box office earnings for films released between June 2012 and June 2013. Read more
Comic-Con: The cast of Adult Swim's NTSF:SD:SUV were at Comic-Con to plug their new season. I'm a big fan of the show and always think it's a treat to talk with these guys.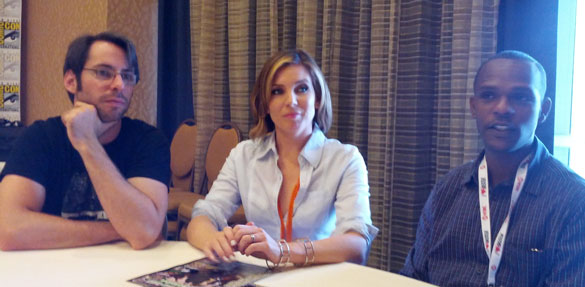 The show stars Paul Scheer, Kate Mulgrew, Brandon Johnson, June Diane Raphael, Rob Riggle, Martin Starr, Peter Serafinowicz and welcomes Karen Gillan (Dr. Who) as their newest cast member. NTSF follows Special Agent Trent Hauser (Scheer) and his elite counter-terrorist unit, the NTSF:SD:SUV:: (National Terrorist Strike Force: San Diego: Sport Utility Vehicle::) This year, Trent and his team will employ some of the riskiest methods they've ever attempted in order to bring down San Diegan terrorist scum, including surgically swapping faces with each other, kidnapping an alien, faking their own deaths, getting into the viral video biz, unfreezing a former 1960's radical, boarding Comic-Con Air, and heading into the dangerous British District of San Diego (which was shot on location in London. England!)
I talked to Martin Starr, June Diane Raphael and Brandon Johnson in a roundtable interview and they were great sports. I say "great sports" because the problem with a roundtable interview is that we (press) are paired up and honestly, sometimes I get paired with morons. This was one of those times. When you watch the video below, you'll see what I mean. Anyway, they actors were great and I still managed to ask a couple good questions.
In the interview, they talk about shooting in London, hanging out together and Brandon tells a really funny story about having to hitch a ride with Paul Scheer for his first day of work on the show. Why? Because he didn't have a car.
Check it out below! Read more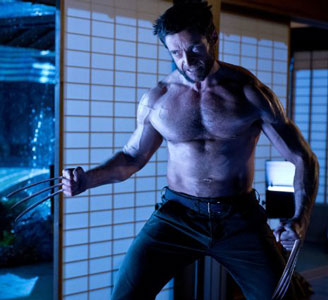 We all know that Hugh Jackman gets in incredible shape every time he appears as Wolverine in a movie — the upcoming The Wolverine is Jackman's sixth time as the Marvel superhero — but anyone who has seen the promotional material for The Wolverine can tell you that Jackman is looking extra ripped this time around, something that probably wasn't easy after playing the emaciated Jean Valjean in last year's Les Miserables.  So how did Jackman pull off his action hero physique?  Well, he turned to an action hero: Dwayne "The Rock" Johnson.
Jackman tells Access Hollywood, "I called him actually before I did Les Mis because I was like, 'Man, I have a feeling this is going on. I have to cut down and really lean down in size,' and he told me a number of things.  First of all, he said, 'When you're lean-ing down, still keep your strength. You can still go in and push weights, so that as soon as you start eating again you'll go back quickly'. But, he said, 'You gotta eat 6,000 calories a day, you've gotta train three hours.'" Read more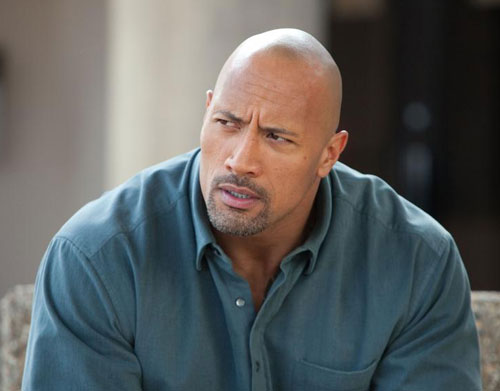 Millions of wrestling fans recognize Dwayne Johnson as The Rock — a trash-talking heavyweight who started wrestling in the mid-1990s until leaving for his burgeoning career in Hollywood movies in 2004.  However, not only has Johnson recently returned to wrestling, he is also curiously hitting the busiest and most impressive streak of his acting career.  In speaking with Moviefone to promote his latest film Snitch, Johnson reveals what he loves about being an actor and why he thinks he's had more success in Hollywood than other wrestlers-turned-actors.
Though Johnson is best known for big-budget action roles, he reveals that he and the cast did the smaller-scale Snitch because they believed in the story.  He explains, "We're all in the acting business, and I'm lucky to participate in movies that are big, fun, global movies, but I'm also very fortunate to take part in a movie like this. It's not a big-budget movie. Everyone involved in the project did it out of passion and were all really moved by this story. It never gets old, I love acting whether they're big action movies or smaller dramas with action, like this." Read more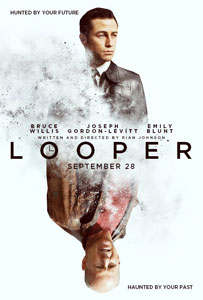 Looper: In the futuristic action thriller Looper, time travel will be invented – but it will be illegal and only available on the black market. When the mob wants to get rid of someone, they will send their target 30 years into the past, where a "looper" – a hired gun, like Joe (Joseph Gordon-Levitt) – is waiting to mop up. Joe is getting rich and life is good… until the day the mob decides to "close the loop," sending back Joe's future self (Bruce Willis) for assassination. The film is written and directed by Rian Johnson and also stars Emily Blunt, Paul Dano, and Jeff Daniels. Ram Bergman and James D. Stern produce.
Writer/Director: Rian Johnson
Cast: Bruce Willis, Joseph Gordon-Levitt, Emily Blunt, Paul Dano, Noah Segan, Piper Perabo, Jeff Daniels
Click here for the script to Looper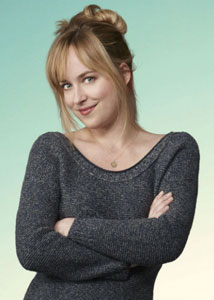 Dakota Johnson was definitely able to relate to her role as a sibling in FOX's sitcom Ben and Kate.  She was less ready for portraying a mother.
"It makes me feel old," the 23-year-old told The New York Post.  "It's nice to get home at the end of the day and not have a kid.  I was even mentally prepared for playing a mom.  This is the kind of thing where I get to have a really different sort of relationship with my kid.  The characters are friends.  That's so different from what you see on TV.  It's usually the mom yelling at the kid and the kid's getting into trouble."
Johnson, the daughter of actors Don Johnson and Melanie Griffith, has enjoyed working with her costar Nat Faxon. "When we're doing a lot of improv-ing, it's sometimes weird to rein it in," she said.  "We're really good at playing off each other.  And I can tell what's coming." Read more
Comic-Con: NTSF:SD:SUV's Rob Riggle, Brandon Johnson and Executive Producer/Writer Curtis Gwinn were at Comic-Con to chat about the new season of the Adult Swim show.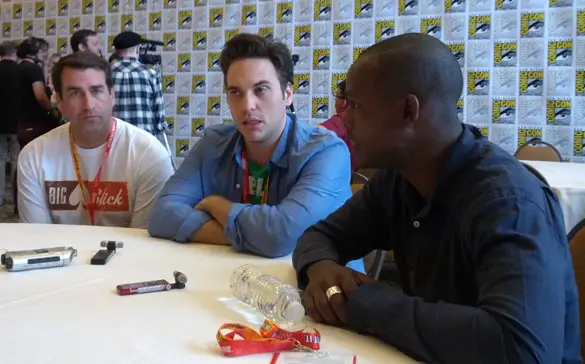 Created by Paul Scheer, the show, also known as the National Terrorism Strike Force: San Diego: Sport Utility Vehicle::, is about a clandestine team of government agents working together to protect San Diego from numerous terrorist threats coming in daily from such evil countries as Mexico, Canada and Guam. The team are a group of highly trained operatives and has only one job: saving your ass so you can drive your Prius and see your movies in 3-D without worrying about living in a country run by no-good terrorists.
In the interview, the guys talk about the show, over-acting and the expanding opportunities of shooting things for the web and how no one cares about it when it's on your resume.
For the full interview, watch the video below or on YouTube
NTSF:SD:SUV airs at 12:15am on Thursdays on Adult Swim Read more
New Girl actor Jake Johnson has had a major shift in his career after making his debut on the FOX sitcom as Nick Miller.  He also stars in the much-talked about indie film Safety Not Guaranteed, in which he takes on a dramatic role.
Johnson talked to NBC New York about the changes in his career.  He said, "It's been a crazy year, yeah.  Since it started, I shot the New Girl pilot, and then I forgot about the pilot because I viewed the pilot as an eight-day independent movie, that we were making a long short.  Then I was in Seattle for Safety Not Guaranteed—I knew I was going to do 21 Jump Street after, and so I thought, 'Well, I have my summer planned.  I'll go home for a while, relax a bit and figure out the fall and or winter.'  My wife came and visited me.  We were at the hotel, relaxing, and I actually checked 'Deadline Hollywood.'  I got on and it said 'New Girl has been picked up to series.'  I didn't get the call from the agents or anything, and then I thought, 'New Girl has been picked up to series?  Weird.'  Then I got a call and everyone called, and they said, 'You're going to Up Fronts in two weeks.'  That was the beginning of my life being different." Read more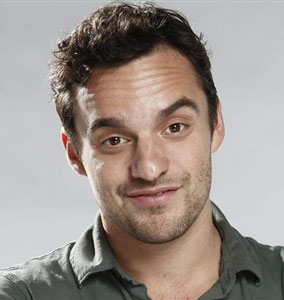 Jake Johnson is lucky that he got cast on New Girl, FOX's runaway hit starring Zooey Deschanel as the only female in an apartment of four thirty-somethings. As he recently told the Associated Press, he's not much of a playwright.
Following his dream of becoming the next David Mamet, he once wrote "a very serious little one act play about drugs and children" that was picked up by a local theater, who wanted to produce it without his input.
"The director said, 'We don't need you around. Just come the night of the show and enjoy your work' and I thought like, 'Sounds perfect. If I don't have to work, I'm not gonna,'" he recalled. "So, my girlfriend and I showed up and the show starts and I'm like, 'Oh, what a drag.' So I turn to my girlfriend and I go like, 'This one sucks' and she looks at me like, 'You're an idiot' and I realized it was mine. I went home, cried my eyes out and was devastated." Read more