Lists always annoy me because of their ridiculous rankings.  But I think this one in particular might take the cake for ridiculousness.
Reader's Digest published a list of "The 100 Most Trusted People in America."  According to the magazine, it "teamed up with research firm The Wagner Group to poll over 1,000 Americans and discover which individuals and the ideals they represent have earned our confidence."  
That's pretty heavy criteria.  So naturally according to those thousand Americans, the most trusted person in America is… Tom Hanks?!? Read more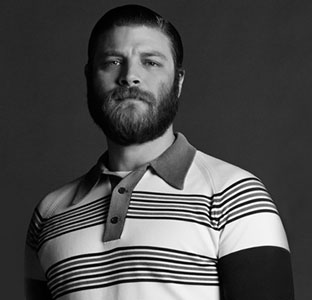 Sometimes actors find joy in the little things.  One of the highlights of Jay R. Ferguson's time playing Stan Rizzo on Mad Men was the chance to grow an insane beard for the role.
"Back in August, they asked me to start growing it out," he said in an interview with Vulture.  "They said, 'We don't want you to shave until you report to work for the first makeup and hair test.'  Well, the first makeup and hair test wasn't until October 28.  So we're talking about three months of not shaving.  When I showed up I looked like a cross between Jeremiah Johnson and Tom Hanks in Castaway.  It was too much.  Way too much.  Double what you see on the show is how big it was, so obviously they trimmed it down to where they wanted." Read more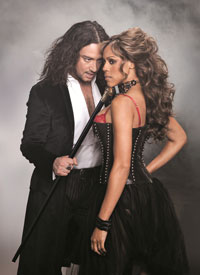 That was quick. It was announced today that the new Broadway production of Jekyll & Hyde – starring Constantine Maroulis and Deborah Cox – will play the final performance of its limited Broadway engagement on Sunday, May 12th, after 15 previews and 30 regular performances at the Marquis Theatre
After a 25-week national tour which launched in October 2012 in San Diego, the musical began previews on Broadway Friday, April 5th and opened on Thursday, April 18th.
I saw the show when it first started its tour and it was awful. I mean awful. I'd heard that it had gotten better by the time it hit Broadway… but I guess not.
In addition to Maroulis and Cox, the cast also features Teal Wicks (Wicked) as 'Emma Carew', Laird Mackintosh (Mary Poppins) as 'John Utterson', Richard White (The Most Happy Fella) as 'Sir Danvers Carew', David Benoit (Avenue Q) as 'Bishop/Spider', Stephen Mitchell Brown, Jerry Christakos, Dana Costello, Wendy Fox, Brian Gallagher, Sean Jenness, Mel Johnson Jr., James Judy, Ashley Loren, Courtney Markowitz, Aaron Ramey, Emmy Raver-Lampman, Rob Richardson, Blair Ross, Doug Storm, Haley Swindal and Jason Wooten. Read more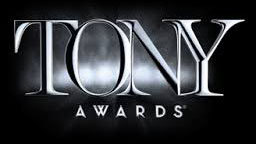 Sutton Foster and Jesse Tyler Ferguson announced the nominations for the 2013 Tony Awards this morning (way too early for us West Coasters) and with 13 nominations, the musical Kinky Boots is the one to beat.
Right behind it is Matilda the Musical with 12 nominations, Pippin received 10 and Rodgers + Hammerstein's Cinderella got 9.
Tom Hanks (Lucky Guy), Nathan Lane (The Nance) and Holland Taylor (Ann – read our review here) were among the Best Performance nominees.
Check them all out below and then watch Sutton Foster and Jesse Tyler Ferguson make the announcements here! Read more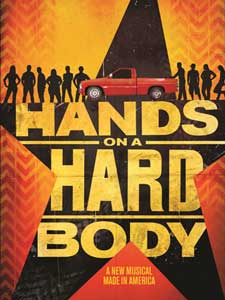 After playing 28 preview and 28 regular performances, the new Broadway musical, Hands on a Hardbody, will play its final performance on Saturday, April 13th at 8pm.
The show began previews on Saturday, February 23rd  and officially opened on Thursday, March 21st.
 The Broadway production features the full cast from the La Jolla Playhouse engagement: Keith Carradine (Tony Award® nominee, The Will Rogers Follies), Allison Case (Hair), Hunter Foster (Tony Award® nominee, Little Shop of Horrors), Jay Armstrong Johnson (Catch Me If You Can), David Larsen (American Idiot), Jacob Ming-Trent (Shrek The Musical), Kathleen Elizabeth Monteleone (Tales of the City), Mary Gordon Murray (Into The Woods), Jim Newman (Curtains), Connie Ray (Next Fall), Jon Rua (In The Heights), Keala Settle (Priscilla Queen of the Desert), Dale Soules (Hair), Scott Wakefield (Ring of Fire), and William Youmans (Wicked). Read more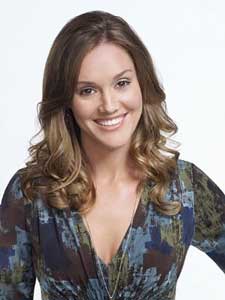 As the legend goes, New York Yankee Wally Pipp was removed from the starting line-up on June 2, 1925 because he had a terrible headache.  His replacement "for the day" was Lou Gehrig — who went on to stay in the starting line-up for fourteen straight years and 2130 consecutive games, becoming one of the greatest legends of baseball in the process.  Pipp reportedly later quipped, "I took the two most expensive aspirin in history."
Of course, that story is more legend than fact.  But if the upcoming NBC comedy Holding Patterns becomes a hit, actress Chyler Leigh might have a similar story.
That's because Leigh was initially cast as Leah for the pilot, which is a comedy from The Office writer Justin Spitzer about the lives of a group of friends who survive a plane crash.  However, Leigh missed the first table read because she was not feeling well.  Her replacement at the reading was Grey's Anatomy actress Erinn Hayes.  The reading must have gone well, because once Leigh returned for rehearsals the cast and creators felt that Hayes had much better chemistry.  As a result, Hayes was called back to replace Leigh in the role for the pilot. Read more
Podcast: Play in new window | Download (Duration: 11:44 — 8.1MB)
Here's the last of our Evil Dead SXSW interviews… but I did save the best for last.
I give you Bruce Campbell.
I talked with Bruce and Rob Tapert, who are both producers on the new Evil Dead, at SXSW and as you might think, it was a real thrill. He's smart, quick and one of the funniest people I've ever talked to.
Bruce was in the original Evil Dead trilogy that was directed by Sam Raimi but this time, he's on the other side of the camera. He played a huge part in getting this new version to the screen and even though he was filming Burn Notice in Miami at the time, he would still keep tabs on what was happening as the cast and crew were filming in New Zealand.
In the interview, they talk about how they cast the at the actors, including Shiloh Fernandez, Lou Taylor Pucci and Jane Levy, how the script is "everything" and why they shot in New Zealand.
For the full interview, click the audio link above or download it from iTunes 
Evil Dead comes out this Friday! Read more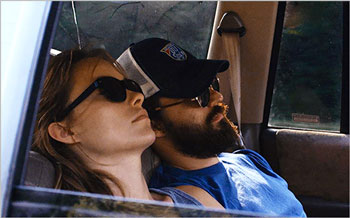 I've had drinking buddies in my drinking career but none like Olivia Wilde. In fact, if I had a drinking buddy as attractive, smart and cool as the character she plays in Joe Swanberg's new film, Drinking Buddies, I'd be slamming a few back with her right now.
In the film, Wilde plays Kate. She works for a craft brewery, has a decent enough boyfriend (Ron Livingston) and is best friends with her co-worker, Luke (Jake Johnson). Luke is dating Jill (Anna Kendrick), who is a total catch.
The things is…. Kate and Luke are perfect for each other. They have everything in common, finish each others sentences and just plain old love being around each other. Things is, neither of them realize this until both couples go away for a weekend getaway. Read more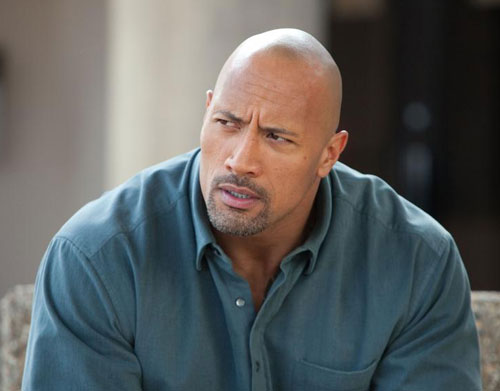 Millions of wrestling fans recognize Dwayne Johnson as The Rock — a trash-talking heavyweight who started wrestling in the mid-1990s until leaving for his burgeoning career in Hollywood movies in 2004.  However, not only has Johnson recently returned to wrestling, he is also curiously hitting the busiest and most impressive streak of his acting career.  In speaking with Moviefone to promote his latest film Snitch, Johnson reveals what he loves about being an actor and why he thinks he's had more success in Hollywood than other wrestlers-turned-actors.
Though Johnson is best known for big-budget action roles, he reveals that he and the cast did the smaller-scale Snitch because they believed in the story.  He explains, "We're all in the acting business, and I'm lucky to participate in movies that are big, fun, global movies, but I'm also very fortunate to take part in a movie like this. It's not a big-budget movie. Everyone involved in the project did it out of passion and were all really moved by this story. It never gets old, I love acting whether they're big action movies or smaller dramas with action, like this." Read more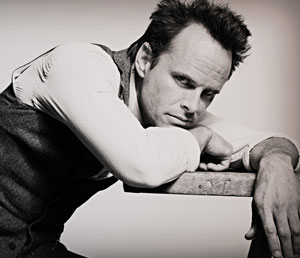 At the end of the day, Walton Goggins knows he's lucky.  He has a choice role on FX's Justified and has had the spare time to pop up in award-winning movies like Django Unchained and Lincoln.
"Yeah, I have good management and a lot of kind people on Justified who try to accommodate these other things," he said in an interview with HollywoodandFine.com.  "It's so nice to leave Harlan County and go into other worlds that come along.  To go into the world of Quentin Tarantino and Steven Spielberg is kind of mind-bending."
Goggins is certainly enjoying his time playing Boyd Crowder on Justified—a role that was supposed to be killed off in the first season.  "I love my day job with Boyd Crowder and the relationships on that show," the 41-year-old said.  "I'm very grateful for this season."  Read more