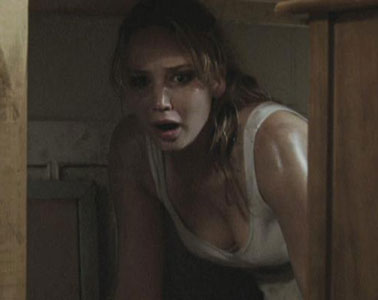 House at the End of the Street: Seeking a fresh start, newly divorced Sarah (Oscar(R)-nominee Elisabeth Shue; Leaving Las Vegas, Piranha 3D) and her daughter Elissa (Oscar(R)-nominee Jennifer Lawrence; X-Men: First Class, Winter's Bone) find the house of their dreams in a small, upscale, rural town. But when startling and unexplainable events begin to happen, Sarah and Elissa learn the town is in the shadows of a chilling secret. Years earlier, in the house next door, a daughter killed her parents in their beds, and disappeared – leaving only a brother, Ryan (Max Thieriot, My Soul to Take), as the sole survivor. Against Sarah's wishes, Elissa begins a relationship with the reclusive Ryan – and the closer they get, the deeper they're all pulled into a mystery more dangerous than they ever imagined.
Director: Mark Tonderai
Cast: Elisabeth Shue, Jennifer Lawrence, Max Thieriot, Gil Bellows
Writers: David Loucka
In Theaters: September, 21st Read more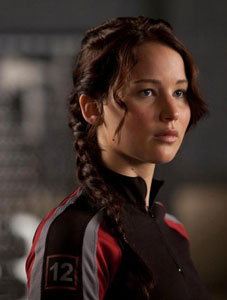 If the long lines outside multiplexes nationwide last Thursday night were any indication, The Hunger Games is a bonafide smash and sure to be one of the most reliable film franchises over the next decade. It's also cemented Jennifer Lawrence as a household name.
"It was scary," said the 21-year-old actress of signing on to star in the big-screen adaptation of the 2008 novel of the same name. "It was kind of a terrifying thing, but there was nobody that I could really talk to because it was kind of like one of those things that nobody really knows what you want other than you. So there was nothing that anybody could really say. It was just something that I had to work out with myself."
The Hunger Games is set in a post-apocalyptic world where children are forced to fight to the death on television for sport. Despite its very dark subject matter, it's already grossed more than $200 million. Naturally, Hunger Games action figures and other memorabilia are being rushed into production, which the young actress, who also starred in last year's X-Men: First Class, admits is still "bizarre" to her. Read more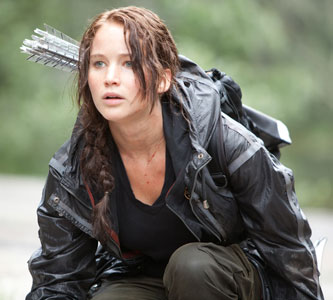 A natural talent, with a striking presence and undeniable energy, Academy Award® nominee Jennifer Lawrence has established herself as one of Hollywood's most promising young actresses.
Jennifer recently wrapped production on David O. Russell's "The Silver Linings Playbook," alongside Bradley Cooper and Robert De Niro. Based on Matthew Quick's novel, the film revolves around a former high school teacher who was institutionalized for depression and is then released into the care of his mother. He tries to win back his ex-wife but becomes involved with a bizarre neighbor (Lawrence) who also has a history of mental problems. The film will be released by The Weinstein Company on November 21, 2012.
Jennifer was recently seen in Drake Doremus' "Like Crazy" opposite Anton Yelchin and Felicity Jones.  The film won the Grand Jury prize at the 2011 Sundance Film Festival.
In April, Jennifer will be seen in Relativity's "House at the End of the Street" opposite Elisabeth Shue and Max Thieriot.  This past summer, Jennifer was seen in Matthew Vaughn's "X-Men: First Class" as Mystique, starring opposite Michael Fassbender and James McAvoy.  She also starred alongside Mel Gibson and Anton Yelchin in "The Beaver," directed by Jodie Foster. Read more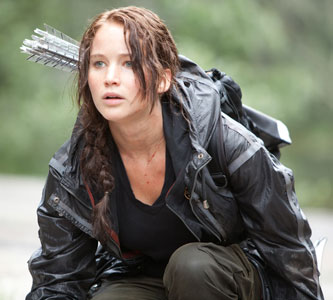 The Hunger Games comes out on March 23 and star Jennifer Lawrence should be expecting her popularity to soon explode. 
The 21 year-old knew that taking on the role of Katniss Everdeen, the heroine from Suzanne Collins' incredibly successful series, would alter her lifestyle. 
In an interview with Access Hollywood, Lawrence said, "I gave myself three days.  I knew from reading the books that I loved The Hunger Games, I just didn't know if it was worth changing my life for.  I'm at a peaceful place right now…Nobody's staked outside my house.  I wanted to make sure that when I said yes I wouldn't regret it.  And I don't regret it."
Lawrence came onto the scene in 2010 with her Oscar-nominated turn in the indie Winter's Bone.  A young actress who already has critical acclaim, Lawrence wanted to be sure she was taking her career in the right direction.  She said, "I would have said no because I was scared, and then I would have been that bitter actress telling my grandkids, 'I'm the one that turned it down.'" Read more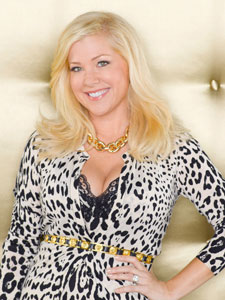 Actress Jennifer Aspen is doing the opposite of what most actresses do in Hollywood—she's actually gaining weight for a role, not losing it. 
Aspen is currently starring in ABC's new show GCB as a former beauty queen named Sharon Peacham.  In an interview with The Hollywood Reporter, Aspen spoke about her willingness to gain weight.  She said, "".  It's crazy to do it.  Nobody is asking me to do it.  But I felt like this was Sharon and this was the right thing to do, and I had to do it.  And it was the first time in the history of my career that I wasn't trying to diet and lose weight and get into Spanx.  And do all that before doing a role, you know?"
The 38 year-old, who has previously had roles on Glee and Party of Five, was fine with gaining weight, but wanted to make sure she had put on a few pounds before being labeled plump. 
She said, "When I got this role I was a size 4.  And I was happy to have the part, because I love Sharon.  She just fits in my heart.  You know this character so much.  But, it was important to me that we don't put a size 4 on television, and say, 'This is the chubby girl.'" Read more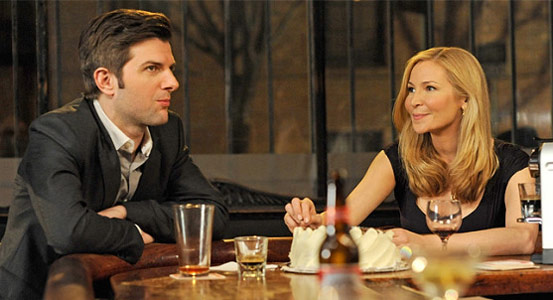 Friends with Kids, Jennifer Wesfeltdt's directorial debut, features Westfeldt and Adam Scott as a pair of platonic friends who decide to raise a child together after watching their married friends go through various stages of raising families.
Westfeldt, probably best known for the indie films Kissing Jessica Stein and Ira & Abby, made her Broadway debut in the revival of Wonderful Town and earned a Tony nod for her performance.
The film, which also stars Kristen Wiig, Maya Rudolph, Jon Hamm, Chris O'Dowd, Megan Fox and Edward Burns, has some "unbelievably talented" comedic actors, but improv wasn't a huge part of the shoot. "When you are on an indie," she said, "it's hard to find time for too much of it."
I talked to Jennifer in a Q & A about why she fell into the director's chair, her writing process and how much of the film is based on her life.
Friends with Kids opens in limited release today Read more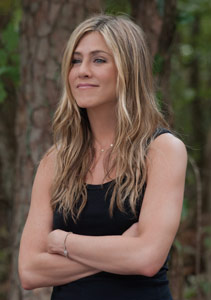 Jennifer Aniston was born in Sherman Oaks, California.  Her family moved to New York City when her father was cast in a role on the daytime drama Love of Life.  As an 11-year-old student at the Rudolf Steiner School in New York City, she joined the drama club and her experience there encouraged her to pursue acting as a career.  She studied further at New York's High School of Performing Arts.  She graduated in 1987 and landed roles in the off-Broadway production For Dear Life, at New York's Public Theater, and Dancing on Checkers' Grave.
Aniston's television career began after being cast as a series regular on Molloy and The Edge.  She had guest-starring roles on Quantum Leap and Burke's Law, and a starring role on Ferris Bueller, the television series.  She was then cast in perhaps her most well-known role as Rachel Green in the classic television comedy, Friends.  For her role as Rachel, she received five Emmy nominations, two Screen Actors Guild Award nominations and two Golden Globe nominations.  She won an Emmy (2002) and a Golden Globe (2003) for Lead Actress in a Comedy.  The generosity of her fans lead to her winning five People's Choice Awards. Read more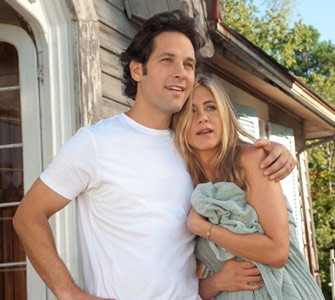 I saw Wanderlust last night and thought it was hi-lar-ious. 
Paul Rudd is clicking on all cylinders – as usual – and Jennifer Aniston, Justin Theroux, Malin Ackerman and the rest of the cast of just beyond funny. Definitely check it out this weekend!
Here are 6 clips for your enjoyment. Read more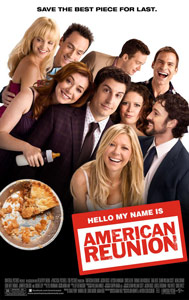 American Reunion: It was summer 1999 when four small-town Michigan boys began a quest to lose their virginity. In the years that have passed, Jim and Michelle married while Kevin and Vicky said goodbye. Oz and Heather grew apart, but Finch still longs for Stifler's mom. Now these lifelong friends have come home as adults to reminisce about — and get inspired by — the hormonal teens they once were.
Cast: Jason Biggs, Seann William Scott, Eugene Levy, Jennifer Coolidge, Mena Suvari, Chris Klein, Tara Reid, Thomas Ian Nicholas, Alyson Hannigan, Katrina Bowden, Shannon Elizabeth, Dania Ramirez, Natasha Lyonne
Directors: Jon Hurwitz and Hayden Schlossberg
In Theaters: April 6, 2012
Read more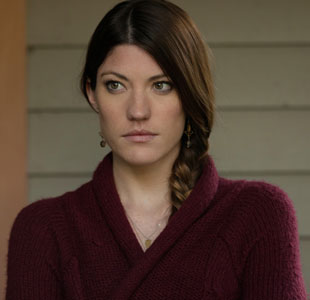 Jennifer Carpenter, a striking beauty with undeniable talent, is on the rise to become one of Hollywood's hottest stars.
Carpenter was most recently seen in season six of Showtime's highly successful, critically acclaimed series, "Dexter", which has received Emmy®, SAG, Golden Globe® and People's Choice Award nominations. The series will return for season seven in 2012 where Carpenter will reprise her role as Dexter's ambitious sister, "Debra Morgan."
Carpenter recently completed production on the psychological thriller The Factory as the female lead opposite John Cusack in the Warner Bros. and Dark Castle Entertainment film. Directed by Morgan O'Neil and produced by Joel Silver, David Gambino and Robert Zemeckis, the film centers on an obsessed cop (Cusack), whose teenage daughter goes missing while he and his partner Kelsey (Carpenter) are on the trail of a serial killer prowling the streets of Buffalo, NY. Carpenter also recently wrapped production on Hungry Rabbit Jumps, opposite Nicolas Cage, Guy Pearce, and January Jones. Carpenter will play the best friend of Jones' musician character, who is the victim of a brutal crime. Roger Donaldson is attached to direct, with Tobey Maguire and Endgame's James Stern and Robert Bergman producing.
This past winter, Carpenter made her return to Broadway, starring in Scott Ellis' Grusome Playground Injuries opposite Pablo Schreiber. The performance earned Carpenter positive reviews for her lead role as "Kayleen." The play centers around two childhood friends who compare scars and the physical calamities that keep drawing them together. Read more