What did you think of the Oscars last night? I liked them – first of all, they were a trillion times better than last years show. I don't remember laughing as much as I did this year. I thought Seth MacFarlane was a fine host. Was he great? No. But I didn't expect him to be. I went in with low expectations and he definitely exceeded them.
Overall, I thought it was a fun night. Totally didn't expect Ang Lee to win Best Director for Life of Pi or Argo for Best Film but that's why we watch, isn't it? And Ben Affleck's speech for Argo was the best of the night. Daniel Day-Lewis' speech for Best Actor was right behind him though.
Below are the list of winners.  Read more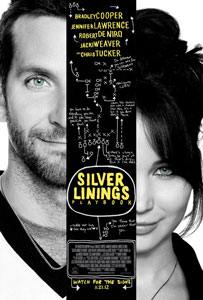 Silver Linings Playbook: Life doesn't always go according to plan… Pat Solitano (Bradley Cooper) has lost everything–his house, his job, and his wife. He now finds himself living back with his mother (Jacki Weaver) and father (Robert DeNiro) after spending eight months in a state institution on a plea bargain. Pat is determined to rebuild his life, remain positive and reunite with his wife, despite the challenging circumstances of their separation. All Pat's parents want is for him to get back on his feet–and to share their family's obsession with the Philadelphia Eagles football team. When Pat meets Tiffany (Jennifer Lawrence), a mysterious girl with problems of her own, things get complicated. Tiffany offers to help Pat reconnect with his wife, but only if he'll do something very important for her in return. As their deal plays out, an unexpected bond begins to form between them, and silver linings appear in both of their lives.
Director: David O. Russell
Cast: Bradley Cooper, Jennifer Lawrence, Robert DeNiro, Jacki Weaver, Anupam Kher, Chris Tucker
Click here for the script to Silver Linings Playbook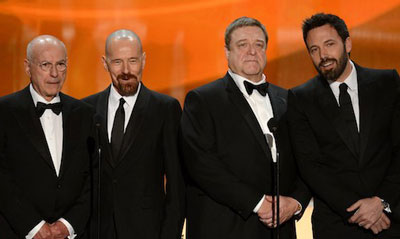 The SAG Awards are always, I think, the classiest of all the awards shows. Plus, they clock in at 2 hours and everyone is always happy to be honored by their peers.
Here are all of last night's acceptance speeches, including Daniel Day-Lewis, Jennifer Lawrence and Anne Hathaway and my favorite one of the night, Ben Affleck.

Check them out below! Read more
Here are the transcripts of the speeches t he winning actors gave from the Film portion of the 19th Annual SAG Awards, featuring Ben Affleck, Daniel Day-Lewis, Jennifer Lawrence and Anne Hathaway. My favorite of the night was Affleck's.
Check them out below! 
OUTSTANDING PERFORMANCE BY A CAST IN A MOTION PICTURE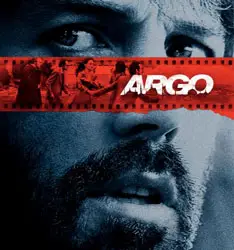 BEN AFFLECK: Wow, thank you all so much. I can't believe I'm standing in the place where Daniel Day-Lewis just was. I feel like maybe I'll be a better actor just for the, like, radiation. [laughter] I am really amazed and stunned, there are so many great actors here and this is voted on by our brothers who are actors. There's a hundred and some thousand people in SAG-AFTRA. Some of them never get, you know, to come to a place like this. And they vote from home, you know.
First, I want to thank my wife, who I love, and our kids who I also love. You know, and Warner Bros. who I love. Not quite as much, but I do love them. You know, there is so many people who are actors, who want to be actors. I got in SAG in 1986 and I always wanted – just like so many people who came up and made these speeches, and to me this has nothing to do with me, it has to do with the incredible people who are in this movie.
The people you see on stage, we had more than a hundred and fifty actors. They spoke in English, they spoke in Farsi, and the one thing that they had in common was that they came to work every single day, whether they had a line or a look to somebody, or two lines or 10 lines, or a bunch of stuff I couldn't understand in Farsi, and they wanted to "kill" it to make the movie better.
Because that's what actors do all over the world, every day. God bless you. Thank you so much for making the movies that you make, and the television you make, and the theater you make. We are in your debt. Thank you. God bless you. Thank you all and thank all these incredible films who were nominated with us. Read more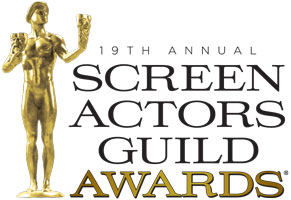 There weren't a lot of surprises at the SAG awards but of the awards presented, the only one that I thought was wrong was the Outstanding Performance by a Male in a Supporting Category given to Tommy Lee Jones for Lincoln.  I thought he was fine but was his performance better than Philip Seymour Hoffman's in The Master?
The actors honored with awards were Daniel Day-Lewis, Anne Hathaway, Jones and Jennifer Lawrence for performances in motion pictures and Alec Baldwin, Bryan Cranston, Kevin Costner, Claire Danes, Tina Fey and Julianne Moore for performances in television.
The Actor® for a motion picture cast performance went this year to Argo, while the Actors® for television drama and comedy ensemble performances went this year to Downton Abbey and Modern Family.
Check out the full list below.  Read more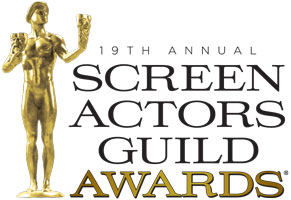 The list of actors that will be presenting at the 19th Annual Screen Actors Guild is growing.
Alan Arkin, Jessica Chastain, Daniel Day-Lewis, Sally Field, John Goodman, Damian Lewis and Julianne Moore will be presenters at the 19th Annual Screen Actors Guild Awards®, Executive Producer Jeff Margolis announced today.
They join the already announced list of actors, that include Ben Affleck, Alec Baldwin, Bradley Cooper, Jeff Daniels, Viola Davis, Robert De Niro, Neil Patrick Harris, Anne Hathaway, SAG-AFTRA Co-President Ken Howard, Hugh Jackman, Nicole Kidman, Jennifer Lawrence, Julianna Margulies, Busy Philipps, SAG-AFTRA Co-President Roberta Reardon, Carl Reiner, Liev Schreiber, Taye Diggs, Justin Timberlake, Kerry Washington, Naomi Watts and Sigourney Weaver.
The ceremony Airing Sunday, January 27, 2013 on TNT & TBS at 8 p.m. (ET) / 5 p.m. (PT)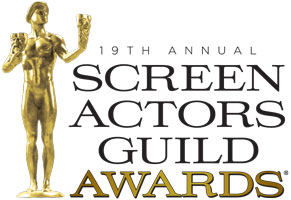 The Screen Actors Guild Awards have announced it's first couple of presenters for its 19th annual ceremony.
Bradley Cooper, Viola Davis, Anne Hathaway, Hugh Jackman, Jennifer Lawrence, Justin Timberlake and Sigourney Weaver will be presenters they announce today.
First-time SAG Awards nominee Bradley Cooper is recognized this year for his lead role in David O. Russell's "Silver Linings Playbook" and as a cast member in the film. In addition to "Playbook," Cooper had three other films in release in 2012: "The Words," "Hit and Run," and "The Place Beyond the Pines." In May, he'll be seen in "The Hangover Part III" and later this year will star opposite his "Playbook" co-star Jennifer Lawrence in the suspense drama "Serena." He'll also reunite with Russell to work on the director's film about the Abscam scandal, also starring Christian Bale. Read more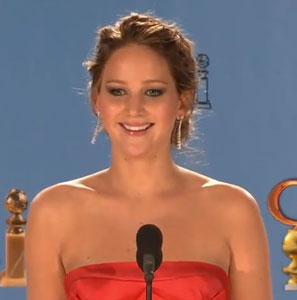 Here are 11 backstage videos from last night's Golden Globe Awards, including the winning actors and the casts of the winning films and TV shows. Most are 5 minutes plus but they're definitely entertaining.
My favorites were the Argo interview with Ben Affleck and George Clooney, and Jennifer Lawrence and Anne Hathaway.
Check them out below! Read more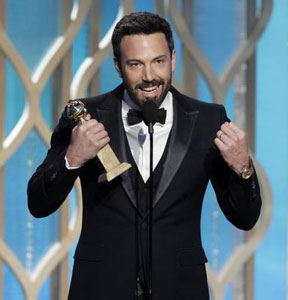 Ben Affleck's Argo took home one of the big prizes of the night, winning the Golden Globe for Best Motion Picture, Drama. Affleck himself nabbed the statue for Best Director, which I thought was great considering the snub he got from the Oscars. The other big prize, Best Motion Picture, Comedy or Musical went to Les Miserables. Duh. 
The big acting prizes went to Daniel Day-Lewis (Actor, Drama for Lincoln), Jessica Chastain (Actress, Drama for Zero Dark Thirty), Hugh Jackman (Actor, Comedy or Musical for Les Miserables), Jennifer Lawrence (Actress, Cmedy or Musical for Silver Linings Playbook), Anne Hathaway (Supporting Actress for Les Miserables) and Christoph Waltz (Supporting Actor for Django Unchained).
On the TV front, the actors taking home the gold were Damian Lewis (Actor, Drama Series for Homeland) and his co-star Claire Danes (Actress, Drama). Don Cheadle (Actor, Comedy or Musical for House of Lies), Lena Dunham (Actress, Comedy or Musical for Girls), Ed Harris (Supporting Actor, Mini-Series or Movie for Game Change), Maggie Smith (Supporting Actress, Mini-Series or Movie for Downton Abbey), Kevin Costner (Actor, Mini-Series or TV Movie for Hatfields & McCoys) and Julianne Moore (Actress, Mini-Series or TV Movie for Game Change).
The full list is below. Read more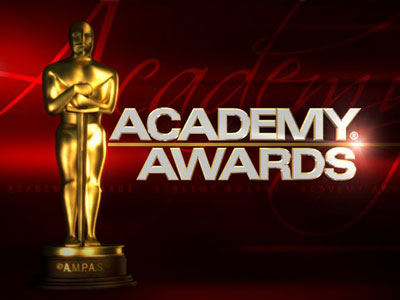 Lincoln cleaned up with 12 well deserved nominations this morning, including Best Picture. In all, 9 pictures were nominated for Best Picture: Beasts of the Southern Wild as well as Argo, Django Unchained, Les Miserables, Life of Pi, Silvers Linings Playbook and Zero Dark Thirty.
Check out the list below and take a look at Seth Macfarlane and Emma Stone giving the announcements. Read more