From Movieline:
Let's talk about that voice! That British accent you use as Lt. Archie Hicox is so much fun to listen to — even in the very tense bar basement scene, as soon as you ask to switch from German back to the Queen's English, I could feel this wave of pure pleasure go through the audience.
I really just tried to enjoy all the textures of it. When I started out, Quentin said, "I see this as sort of a young George Sanders character," so I sort of got as much material out of him as possible. It was a very particular way of talking that they had back then in the thirties and forties, this thing of really enjoying each word and bringing color and texture to it. I supposed that's something we've kind of lost, that language was seen as a weapon, if you like. I just tried to indulge in that as much as possible without pissing people off in England. I have a place in London, and I was thinking, "Oh shit, how are they gonna respond?" But apparently it went down really well there.
Read more
Quentin Tarantino introduces this clip. It's a good scene but his introduction takes longer than the freakin' clip.
Sure you do! It don't cost nothin!
Thanks to Cineobscure.
Inglourious Bastards Part 1
Inglourious Bastards Part 2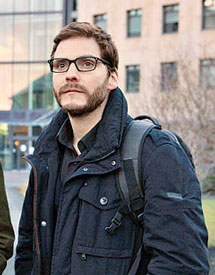 Daniel Brühl has broken through in 2013 as a rising star to watch in Hollywood. As a German actor, this is quite an impressive feat since it's harder for foreign actors to make a splash in the American film market.
Not only did Brühl impress audiences in Ron Howard's Rush as Formula One driver Niki Lauda, he is also taking on the challenge of playing Daniel Domscheit-Berg in The Fifth Estate opposite Benedict Cumberbatch.
In a recent interview with Moviefone, he talked about gaining exposure to U.S. audiences and how it's easier for German actors now than just a decade ago.
He shared, "I'm very glad that things have changed — thanks to people like Quentin [Tarantino]. That was the first experience for me, in Inglourious Basterds, and I heard that some of the American stars wanted to play certain parts in the movie, and Quentin said, 'No, no, no. I just wanted to make it different and give German actors the opportunity to play Germans.'" Read more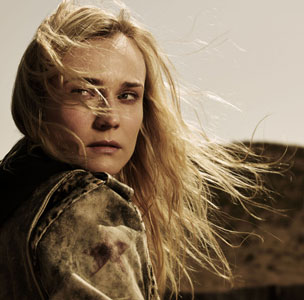 The Bridge, which premieres tonight on FX, stars Diane Kruger as Sonya Cross, an El Paso Detective with Asperger's Syndrome. When an American Judge is found dead along the border, her character teams up with her Mexican counterpart (Demian Bechir as Marco Ruiz) in the search of a possible serial killer.
Kruger, who starred in Quentin Tarantino's Inglourious Basterds and was most recently seen in The Host, was born in a small town in Germany and originally "dreamt of becoming a ballet dancer," and that "being an actor never even seemed a possibility." She eventually moved to Paris and went to drama school there and finally became known to audiences when she landed the part of Helen of Troy in Troy (opposite Brad Pitt). "My reality is, to be honest, it's bigger than I would have ever dared to dream," she said.
In this interview, she talks about playing a character with Asperger's, the research she did for her character and how cable TV is has the best roles available to women.
The Bridge airs at 10pm on Wednesdays on FX Read more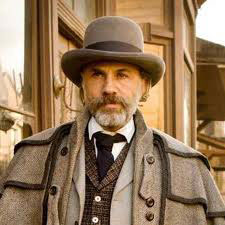 The incredible Christoph Waltz is a great example of how there are incredibly talented international actors that just need a single high-profile performance to break through to English-speaking audiences. 
Waltz has been acting, mostly in German television roles, since the late 1970s, but he didn't become a familiar face to Americans until his Oscar-winning performance in Quentin Tarantino's Inglourious Basterds.  Waltz has since reteamed with Tarantino for Django Unchained as the bounty hunter Dr. King Shultz, and he's a main reason why the western is one of the best films of the year.  Waltz spoke to Moviefone about becoming an "overnight sensation" after thirty years of hard work.
Of course, a German in a western might seem like a strange fit at first.  On the reason why the German Dr. Shultz would be in the antebellum South, Waltz says, "Quentin has a detailed biography before he sets out to write the story. But he doesn't burden me with it because he wants me to come up with my own ideas."  He also points out that there was a significant German presence in the United States during the eighteenth century, with German being one of the most widely-spoken languages after English. Read more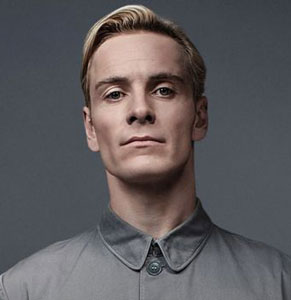 A couple of years a go, Michael Fassbender was a relatively unknown actor. However, a whole spectrum of performances in recent movies like Inglourious Basterds, Jane Eyre, and X-Men: First Class changed all that. Ridley Scott's new highly anticipated movie, Prometheus, has Fassbender playing an entirely different kind of role: an android named David.
Fassbender recently discussed his unique characterization for "David" in an interview with Collider.
Fassbender explained that he did not go his normal "route" for developing his character. "I watched Blade Runner and I looked at the replicants. [I] looked at Sean Young. There was something in her character, a quality that I kind of liked for David, this longing for something or some sort of a soul at play there, a sort of vacancy also, a sort of vacant element." Fassbender went on to explain how 2001: A Space Odyssey inspires quite a bit of his character, as well. "I don't know exactly what, I just knew there was a quality that I liked … Hal from 2001." Fassbender also mentions that "Peter O'Toole's character of Lawrence [of Arabia]" was in "the mixture," as well. Read more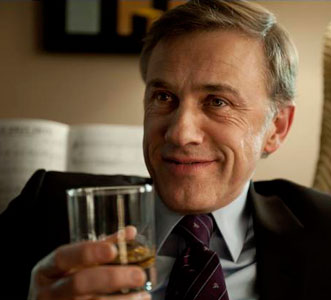 Oscar winner Christoph Waltz is currently enjoying a level of success that has previous avoided him in his three-decade career.
One of these accomplishments includes Carnage, the Roman Polanski adaptation of the successful play God of Carnage. 
While speaking with MovieFone, Waltz not only talks about his role in the film and how he prepared for it but what he has taken from his current success.
When the interviewer mentions that the film is dialogue-based and, as a result, seems theatrical, Waltz immediately disagrees, saying, "I don't think the movie is theatrical. Because what would that be? On the contrary, I think it is highly cinematic. As cinematic as it gets. Just because it's a confined space doesn't mean it's not cinematic. Just because the camera movements are not from thirty-foot cranes swooping over Death Valley and behind the racing stagecoach doesn't mean it's not cinematic."  Read more
While it may be true that most entertainers have a "shelf life" — meaning that after a certain period of time their popularity, skill, or both are bound to wane – Brad Pitt has always seemed to be one of the rare exceptions. 
After gaining his first brush with Hollywood buzz from his appearance in 1991′s Thelma & Louise, megastar Pitt has remained a reliable box office draw ever since, starring in such acclaimed films as Se7en, Fight Club, The Ocean's Eleven series, Inglourious Basterds, and Moneyball.  So it's odd that in an interview with Australia's Telegraph that Pitt believes that his days as a Hollywood superstar are numbered.
He proclaims, "We have a shelf life, no question. And mine's coming. But there's a few more things I wanna do before my shelf life expires… I wanna get to play the grumpy old man who swears."  Pitt might have to wait a few years to fulfill that particular ambition — though he played a convincing elderly man in The Curious Case of Benjamin Button, the Mississippi-born actor is just turning forty-eight next month (and certainly doesn't look anything like any old men I've ever met yet!)
So does Pitt have any other filmmaking ambitions after his "shelf life" has passed, like will he get in to directing like his Ocean's Eleven co-stars George Clooney and Andy Garcia or like his longtime girlfriend, Angelina Jolie, who recently wrote and directed her first feature, In the Land of Blood and Honey?  Read more