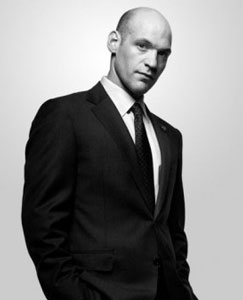 The gang at Gold Derby talked with Corey Stoll, who played Congressman Peter Russo in the great Netflix series, House of Cards.
In the interview, he talks about working with House of Cards director David Fincher and all of the takes the director likes to do, if he had any huge challenges playing a character with a substance abuse problem and how having the show on Netflix was "a huge relief."
Stoll is absolutely fantastic in the show and I think he's the heart of the series. If you haven't watched it yet, you definitely should. 
Beware – there are a ton of spoilers! Do not watch this if you haven't seen the show. 
Check it out below! Read more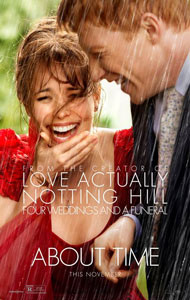 About Time: At the age of 21, Tim Lake (Domhnall Gleeson) discovers he can travel in time… 
The night after another unsatisfactory New Year party, Tim's father (Bill Nighy) tells his son that the men in his family have always had the ability to travel through time.  Tim can't change history, but he can change what happens and has happened in his own life—so he decides to make his world a better place…by getting a girlfriend.  Sadly, that turns out not to be as easy as you might think.
Moving from the Cornwall coast to London to train as a lawyer, Tim finally meets the beautiful but insecure Mary (Rachel McAdams).  They fall in love, then an unfortunate time-travel incident means he's never met her at all.  So they meet for the first time again—and again—but finally, after a lot of cunning time-traveling, he wins her heart.
About Time is a comedy about love and time travel, which discovers that, in the end, making the most of life may not need time travel at all.
Cast: Domhnall Gleeson, Rachel McAdams, Bill Nighy, Tom Hollander, Margot Robbie
Written and Directed by: Richard Curtis 
In Theaters: November 1, 2013 (Limited Engagements), November 8, 2013 (Wide) Read more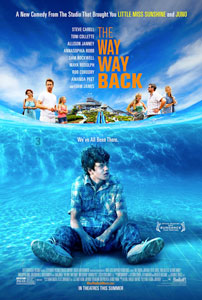 Synopsis: The Way, Way Back is the funny and poignant coming of age story of 14-year-old Duncan's (Liam James) summer vacation with his mother, Pam (Toni Collette), her overbearing boyfriend, Trent (Steve Carell), and his daughter, Steph (Zoe Levin).  Having a rough time fitting in, the introverted Duncan finds an unexpected friend in gregarious Owen (Sam Rockwell), manager of the Water Wizz water park. Through his funny, clandestine friendship with Owen, Duncan slowly opens up to and begins to finally find his place in the world – all during a summer he will never forget. 
Written & Directed by Nat Faxon & Jim Rash
Starring Steve Carell, Toni Collette, Allison Janney, AnnaSophia Robb, Sam Rockwell, Maya Rudolph and Liam James, Amanda Peet and Rob Corddry
In Theaters July 5th Read more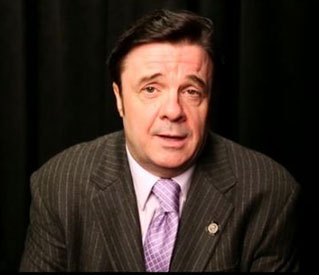 Broadway.com has a series of videos called 'Secrets of Tony Nominees!' and in this installment, they asked Tony Nominee Nathan Lane (The Nance) a handful of questions like what his life-changing role is, his Broadway hero's and the first Broadway show he ever saw.
Check it out below! Read more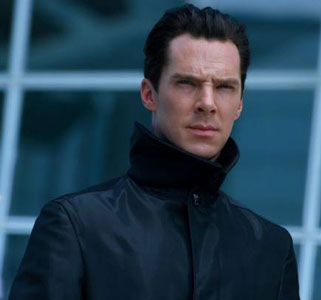 If you haven't yet heard of Benedict Cumberbatch– and I do mean "heard" because of his instantly recognizable voice — get ready to see (and hear) a lot more of him.  First, he stars as the villainous John Harrison (doesn't that name sound like the most alias-y of aliases?) in Star Trek Into Darkness and voices the dragon Smaug in The Hobbit trilogy.  In a conversation with The Wall Street Journal, Cumberbatch talks about this major shift in his career and what he thinks about his Star Trek character.
Cumberbatch admits that while he had empathy for the character, his own performance scared him when he saw it in IMAX.  He explains, "I think with any characterization there's a point where you empathize, no matter how much of a deviance his or her actions may be from your understanding of humanity. You have to empathize, and that can go for the people who perform despicable acts. Having said that, when I sit in my own audience now—which is a very weird thing to do for an actor on any given day, especially with a film this big, in an IMAX theater, in New York—I was terrified by what I was doing. I don't have kids but I'm quite glad at this stage that I don't have to go, 'Just look away, dad's not like that.'" Read more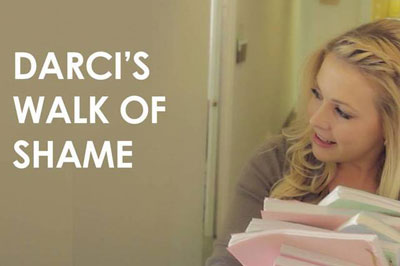 There has been some debate over whether or not Kickstarter should be used to fund projects by creators who probably have the means — or at least access to the means — to fund the project themselves.  This debate flared after fans ponied up the cash to fund a Veronica Mars movie and Zach Braff's next film in fractions of the allotted time.  Some claim this is a revolutionary way to finance movies, while others say it's akin to a celebrity exploiting his or her fanbase.
Regardless of which side of the debate you fall on, many filmmakers are getting in the Kickstarter act to raise money for their projects.  However, not all of them are as successful as Zach Braff.  Take Melissa Joan Hart, for instance.  Read more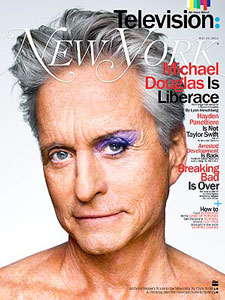 It's been a while since Michael Douglas really had a role he could get into.  With Behind the Candelabra, in which he portrays Liberace, Douglas might have his best role in over a dozen years.  He gave a lengthy interview to New York magazine about the HBO film about what was so different about playing such a campy real-life individual and what it was like acting opposite Matt Damon, who portrays Liberace's young lover Scott Thorson.
Playing the flamboyant Liberace exposed Douglas to a new aspect of acting that his wife Catherine Zeta-Jones is far more familiar with — sitting in the makeup chair and then hours of costuming.  Douglas explains, "I was the girl on this movie! The hair and makeup for Liberace took two and a half hours.  I've never done elaborate hair and makeup before. Up until now, my entire career has been contemporary." Read more
So it finally happened: after eight seasons worth of hints and misdirection, viewers of How I Met Your Mother have finally met the mother that Bob Saget's voice has been talking about to those two bored-looking kids.  In a surprising reveal in the eighth season finale, the mother was revealed to be… well, I won't come out and put it here just yet just in case you were watching the NHL playoffs and the episode is waiting for you on the DVR.  But be forewarned, I will be revealing the actress' name in a bit.
The co-creators of the show, Carter Bays and Craig Thomas, sat down with Entertainment Weekly to talk about the big reveal that was eight years in the making and why they chose the actress whom the mother was revealed to be.  When asked how they managed to keep it a secret, the duo answered: Read more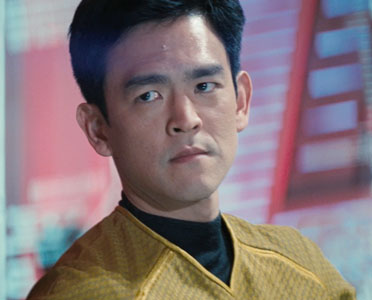 Despite starring in the popular Harold & Kumar movies, John Cho is probably not as famous as Chris Pine, Zachary Quinto, or Zoe Saldana.  Nonetheless, his name appears first in the credits for Star Trek into Darkness, the latest entry in the long-running science fiction multimedia franchise. 
However, Cho tells TheStar.com not to look too much into his headlining.  He explains, "I guess that's in keeping with the ethos of (Star Trek creator) Gene Rodenberry, which was to do it that way and not to rank people. And that's how (reboot director/producer) J.J. Abrams wants to keep it.  Careers have exploded, but we're all back as a team, and no actor is bigger than J.J. He is the captain for all intents and purposes. I don't think anyone feels particularly more important than the other. It just doesn't feel that way." Read more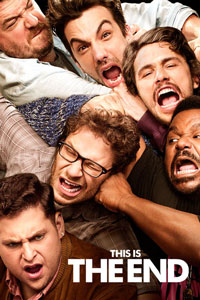 This is certainly a unique way to promote your film…
Seth Rogen, James Franco, Danny McBride, and Jay Baruchel are four of the many, many celebrities who are playing themselves in the apocalypse comedy This Is The End, which was co-written and co-directed by Rogen.  On the movie's Facebook page, the above four revealed that they would post videos of themselves doing the following demeaning tasks if they receive a certain number of "Likes" on Facebook:
500,000 Likes = McBride waxes Rogen's back
650,000 Likes = Baruchel and McBride will share a spaghetti Lady and the Tramp style
800,000 Likes = Rogen will paint Franco in the nude Read more