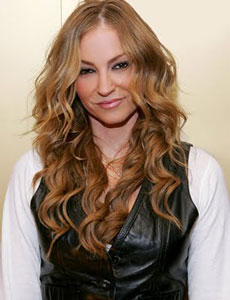 Drea de Matteo returned to FX's Sons of Anarchy as Wendy, Jax's (Charlie Hunnam) newly clean and sober ex-wife. The reason for the return is that she wants to be a part of their son's life but in order to do that, she had to get passed Jax's wife, Tara (Maggie Siff).
Drea is probably best known for playing Adriana on The Sopranos, a role which got her an Emmy for Outstanding Supporting Actress in a Drama Series but after taking time off to raise her kids, she's back. Not only reprising her SOA role but also in the new Lifetime movie (and backdoor pilot), Stalkers.
She recently had a conference call where she talked about returning to SOA, Stalkers, her time on The Sopranos and the difference between cable and basic cable (hint: She can't say the F word).
Sons of Anarchy airs on Tuesdays at 10pm on FX  Read more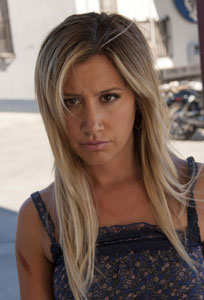 Ashley Tisdale recently had a 2-episode arc on FX's Sons of Anarchy as Emma Jean, an escort working for Jimmy Smits' character, Nero Padilla.
As you probably know, Tisdale is a Disney Channel star (who still does voice work on the animated Phineas and Ferb), but with her desire to shed that Disney image, she jumped at the chance to work on SOA.
In this Q&A, which was done several weeks ago – yeah, we're late in posting this, she talks about how she got offered the role, how she wants to more challenging parts and shedding her Disney image.
Sons of Anarchy airs at 10pm on FX Read more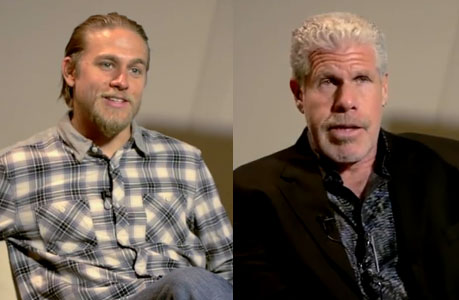 Fans of Sons of Anarchy might be in for either a shock or treat when they watch the new film, 3,2,1… Frankie Goes Boom.
Charlie Hunnam and Ron Perlman star in the comedy as a hapless guy who falls prey to his brothers shenanigans and a former man who has recently gone through a sex-change.
I saw the movie when it screened at the San Diego Film Festival and being a fan of the show, it was really fun to watch the two in totally different roles, especially Perlman. "I think it's a treat for Sons of Anarchy fans to see us in a very, very different situation," says Hunnam in the video below.
In the videos, Hunnam talks about switching to comedy and trying to break away from his tough guy image and Perlman shares why he wanted to play a woman.
Check them out below!  Read more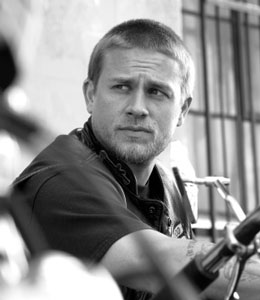 Comic-Con: The next 12 months, you're going to be seeing a lot of Charlie Hunnam.
Along with season 5 of FX's Sons of Anarchy (which starts September 5th), he's got Frankie Goes Boom (featuring fellow Sons star, Ron Perlman, Chris O'Dowd and Lizzie Caplan) and then, he'll star in quite possibly one of the biggest films of next summer, Guillermo del Toro's Pacific Rim. He also just completed his first screenplay, VLAD, which will soon start to film.
In this interview, Hunnam talks about his character Jax, his upcoming projects and how he'd be perfectly happy to film the show forever as long as "all the guys are there with me." And don't miss a cameo by fellow SOA actor, Mark Boone Junior!
Unfortunately, the audio in the video isn't the best – sorry! – but you can still hear most of the interview. Check it out below!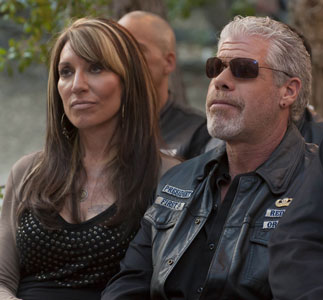 Comic-Con: Season 5 of FX's Sons of Anarchy begins on September 11th and two of the stars, Katey Sagal and Ron Perlman were at Comic-Con to talk about the show and the upcoming season.
The two also discuss Perlman's and co-star Charlie Hunnam's upcoming movie, Frankie Goes Boom, the tougher scenes they had to film for the show and how the two use their personal relationship to enhance their work together.
Check it out below! Read more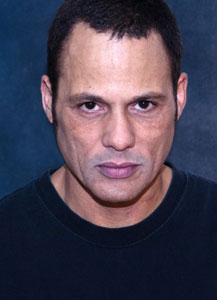 On the FX drama, Sons of Anarchy, David Labrava stars as Happy, a brutal enforcer and one of the most feared members of SAMCRO.
Labrava has been working on the show since the beginning – but not as an actor; he was a technical adviser for before he was cast. And to add to his eclectic resume, he recently co-wrote episode 10 of the show, 'Hands', alongside Chris Collins and series creator Kurt Sutter.
Labrava talked to me bout how he went from technical adviser to cast member, how acting found him and how he's moving towards directing.
Sons of Anarchy airs on Tuesdays at 10pm on FX
For more Sons of Anarchy, check out our interviews with Rockmond Dunbar, Theo Rossi, Winter Ave Zoli and Kristen Renton, Emilio Rivera and Christopher Douglas Reed.

I was reading your bio and it seems like you are a heavy writer.  What do you prefer to do more, write or act or direct?
David Labrava: I love writing.  I think writing and directing go hand in hand.  I've been writing and getting published since 1990 and I kind of fell into the acting, which is a lot, a lot of fun.  I enjoy acting, but I'm definitely pushing towards directing.  Read more
Podcast: Play in new window | Download (Duration: 9:13 — 6.4MB)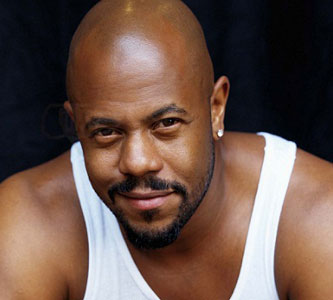 Rockmond Dunbar is the new Sherriff in town on FX's Sons of Anarchy. He plays Eli Roosevelt, a guy who doesn't like to be manipulated but is quickly realizing that in the town of Charming, that isn't going to happen.
I worked with Rockmond when I did an episode of Terriers and I had a great time. Even though I only had a couple of lines in the scene, he hung out and we got to know each other a bit. He was funny and an all-around nice guy, which is not always the case.
I talked to Rockmond about how he got on Sons, his advice to actors and what you do when your show – Terriers – is canceled.  
Follow Rockmond on Twitter!
Sons of Anarchy airs on Tuesdays at 10pm on FX
For more Sons of Anarchy, check out our interviews with Theo Rossi, Winter Ave Zoli and Kristen Renton and Christopher Douglas Reed.

For the full interview, click the audio link above or download it from iTunes
When Terriers was unfortunately cancelled, did you immediately start looking for another job? And when you do, do you look for a character that's completely different from what you just did?
Rockmond Dunbar: You know it's kind of hard.  It's always—I don't think that there are so many jobs out there for actors, especially African American actors, where we can pick and choose what we want to do so you kind of have to be in a position where that next job—I'm always looking for that next job.  I mean just from the Sons of Anarchy I'm rolling into another television series, The Game on BET.  I'm doing like eight episodes of that show, and I wasn't looking for the next job but now I'm starting to get in the position where I'm getting offers, like Sons of Anarchy was an offer.
I didn't—I always try to create—You know I have a small production company so I try to create my own type of characters that I want to do.  So I don't think I necessarily have had the choice to look for a specific character.  It just depends on what the job market is like and what comes across the table.  Read more
Podcast: Play in new window | Download (Duration: 7:08 — 5.0MB)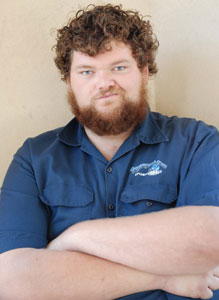 Christopher Douglas Reed plays "Filthy Phil," on the FX series, Sons of Anarchy. Chris got his start in San Diego in the La Jolla Playhouse's production of Tobacco Road. From there, he got an agent and a year and a half later and a lot of driving, he finally booked something: a commercial for Sprint. "And a few months after that, I got Sons," he said.
His character on Sons is gaining steam this season and I got a chance to talk to him about his audition for the show, working with the cast and how he crashed on Charlie Hunnam's place because he hadn't moved to LA yet.
Follow Christopher on Twitter!
Sons of Anarchy airs on Tuesdays at 10pm on FX
For more Sons of Anarchy, check out our Theo Rossi interview and Winter Ave Zoli and Kristen Renton

For the full interview, click the audio link above or download it from iTunes
What has this role done for your confidence as an actor?
Christopher Douglas Reed: Well, a ton, actually.  It's been extremely amazing, and I've been very fortunate because this was my first job in television.  I had done professional theater before but never anything in front of the camera. 
And the role started off as just somebody who was around and being introduced to the club and being introduced to the viewers and it's kind of grown to what we got to see last night.  It was its biggest exposure, so it's been really great.  I haven't had to do anything really incredible or anything extremely challenging until last night. 
And it's just been a blast being able to hang around set, being able to learn from the folks like Ron Perlman, Kim Coates and Charlie Hunnam.  It's just been fantastic and my confidence level has risen pretty much with every episode.   Read more
Every long-running television show (and even some short-running ones, too!) has a fair amount of behind the scenes drama, but it's a surprise to see a show like Sons of Anarchy going through a whole mess of drama recently.   The Los Angeles Times reports on the number of the issues going on with the popular FX outlaw motorcycle show.
The first major issue came up during the Television Critics Association press show when star Charlie Hunnam didn't appear as scheduled.  According to reports, the star and show creator Kurt Sutter had a "disagreement that got a little heated" prior to the show's panel and Hunnam left the Beverly Hilton Hotel, which was were the press show was held.  Of course, eyewitness reports that Hunnam was escorted from the building were denied by an FX spokesman, who chalked up the scuffle to long shooting hours the night before.  Read more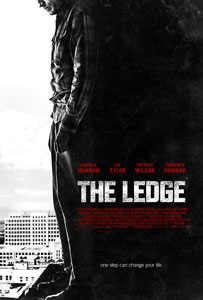 The Ledge: One step can change a life forever in THE LEDGE, a sexy and suspenseful thriller, starring Charlie Hunnam, Liv Tyler, Patrick Wilson and Terrence Howard. After embarking on a passionate affair with his evangelical neighbor's wife (Tyler), Gavin (Sons of Anarchy's Hunnam) soon finds himself in a battle of wills that will have life or death consequences. As a nonbeliever, Gavin is lured by his lover's husband (Insidious's Wilson) to the ledge of a high rise and told he has one hour to make a choice between his life or the one he loves. Without faith in an afterlife, will he be able to make a decision? It's up to police officer Hollis (Howard) to save both their lives, but the clock is ticking in this edge-of-your-seat film that will leave you gasping until the final frame. from trailers.apple.com
Director: Matthew Chapman
Cast: Liv Tyler, Patrick Wilson, Charlie Hunnam, Terrence Howard, Christopher Gorham
In theaters: July 8th, 2011