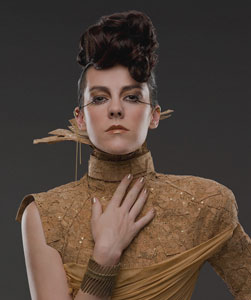 Jena Malone may consider herself to be a "happy-go-lucky" gal, but that certainly wasn't the case the day she auditioned for her role as Johanna in The Hunger Games: Catching Fire. While many actresses came into the audition room interpreting her as bitchy, Malone played the character as downright angry.
She revealed to Vulture why she nailed the role on a day when everything went wrong.
Malone said, "Before the audition, I was like, Fuck, I'm so not an angry person. I mean, I can do intimidating or whatever, a little bit. But I'm much more of a happy-go-lucky, make everyone feel comfortable [person]. Anger's not something you can fake. It's something that channels through you, out of nowhere. It's a hard thing to control. So I was like, Fuck, this is going to be a little complicated, and I don't wanna go in there and give him something fake and ridiculous. And so, I don't know what happened, but the morning I woke up, everything started pissing me off. My alarm didn't go off right; someone called me at five in the morning. I got out of bed on the wrong side of the bed. And I was like, Whoa, whoa, whoa, what's happening?" Read more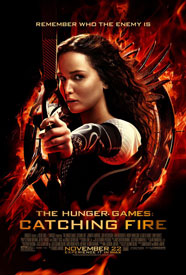 I'm happy to say that The Hunger Games: Catching Fire is pretty darn good. It tops the first film in every category, most notably… there's no shaky cam!
What's shaky cam? Think back to the first film and all of the action sequences. When I was sitting in the audience, I couldn't tell one thing that was happening during any of those sequences. It was beyond frustrating and I haven't bothered watching it a second time because of that.
What a difference Director Francis Lawrence has made in this top notch sequel.
At the beginning of the story, the 74th Hunger Games has ended and Katniss Everdeen (Jennifer Lawrence) and Peeta Mellark (Josh Hutcherson) are now home but not for long because they are forced to go on a victory tour to all of the other districts. Along the way though, things start to get out of hand with the prisoners. Uh, I mean residents of the districts. President Snow wants none of this and comes up with The Quarter Quell.
The Quarter Quell happens once every twenty-five years and the goal is to get rid of all of the previous Hunger Game winners… especially ones who are causing trouble for Mr. President. Read more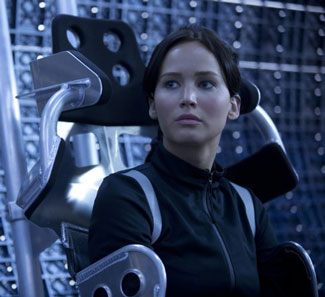 2012 was a big year for Jennifer Lawrence. Not only did she have box office success with The Hunger Games, but she won her first Academy Award for Best Actress in Silver Linings Playbook. While many moviegoing audiences were already big fans, she won the hearts of Academy Awards show viewers when she handled her graceful fall up to the stage to accept her Oscar with aplomb.
Now Hunger Games producer Nina Jacobson is singing the 23-year-old's praises, too. She harkens back to Lawrence's audition for the role. She had to act out the scene where her character Katniss says goodbye to her sister Primrose Everdeen as she heads off to the 74th Hunger Games.
Jacobson told Variety, "I teared up. We had a lot of wonderful actresses at the audition, but it was game over at that point." Read more
Tom Hiddleston brings out his inner-Loki and taunts poor Cookie Monster by eating cookies… wonderful, delicious cookies in front of him.
This is actually supposed to be a lesson for the kids in delayed gratification…. but yeah, it's pure evil. I feel for you, Cookie monster! Read more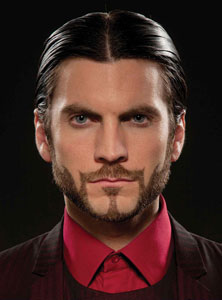 Actor Wes Bentley was best known for his role in the Oscar-winning film American Beauty.  Since then he dropped out of the spotlight and has recovered from a heroin addiction.  He's currently jumping back into the Hollywood scene as Seneca Crane in the wildly popular Hunger Games movie.
In an interview with Vulture, Bentley noted the similarities between the merciless movie business and The Hunger Games.  The 33 year-old said, "It's a competitive business.  But there's one big difference: I'm choosing to be here and I'm choosing to go through this, whereas those kids aren't, in the movie or in the books.  It is difficult as an actor to be an artist and be competitive.  If you're just competing to make more money or to be the biggest name out there, it can be kind of devastating.  You have to be careful.  What kind of 'competitive' are you being?  Are you trying to be a better actor?  That's fine.  Or are you trying to be a bigger star?  That's not helping anybody but yourself." Read more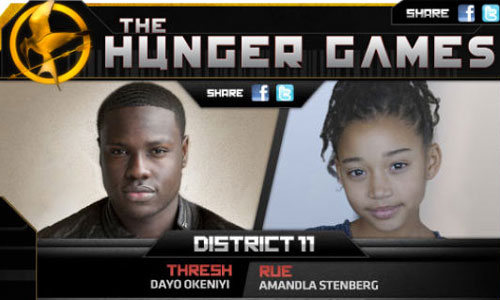 A few years ago it was rumored for a few weeks that Will Smith was up for the lead role in Captain America: The First Avenger.  It generally didn't sit well with comic fans since the character had been established as white since Captain America's 1940 debut, although there was a graphic novel that explored the idea of an African-American Captain America published in 2003. 
Now it was never proven whether or not Smith was actually considered for the role, but fans seemed more comfortable with a white actor in the role since it reflect the original source material.  After all, putting a black actor in a role of an All-American hero set during World War II would certainly provoke a significantly different take on the material simply due to racial attitudes of the time.  Similarly, some people were disappointed that last summer's Green Lantern starred Ryan Reynolds and not an African-American actor, as one of the many Green Lantern characters is an African-American (although the one Reynolds portrayed, Hal Jordan, has always been white).  If there were any outrageous reactions, they went relatively unnoticed. Read more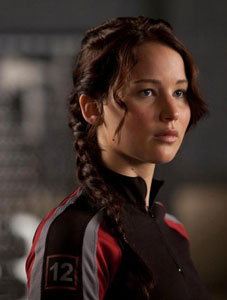 If the long lines outside multiplexes nationwide last Thursday night were any indication, The Hunger Games is a bonafide smash and sure to be one of the most reliable film franchises over the next decade. It's also cemented Jennifer Lawrence as a household name.
"It was scary," said the 21-year-old actress of signing on to star in the big-screen adaptation of the 2008 novel of the same name. "It was kind of a terrifying thing, but there was nobody that I could really talk to because it was kind of like one of those things that nobody really knows what you want other than you. So there was nothing that anybody could really say. It was just something that I had to work out with myself."
The Hunger Games is set in a post-apocalyptic world where children are forced to fight to the death on television for sport. Despite its very dark subject matter, it's already grossed more than $200 million. Naturally, Hunger Games action figures and other memorabilia are being rushed into production, which the young actress, who also starred in last year's X-Men: First Class, admits is still "bizarre" to her. Read more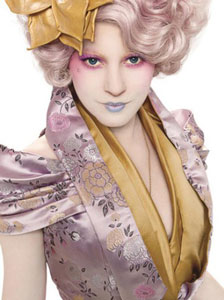 As she told New York Magazine during a recent interview, The Hunger Games actress Elizabeth Banks was so thrilled to be a part of the big-screen adaptation of the popular novel of the same name that feeling pressure to live up to the book, one of her personal favorites, never even entered her head.
"I was really excited to run around with a gun and chase bad guys," said the 37-year-old actress, who plays a pink-haired girl named Effie Trinket in the science fiction drama, which arrives in the theaters March 23. "If I could remove myself from the situation, I would be really excited by my portrayal of Effie."
Those who know Banks as Jack Donaghy's kidnapped wide on NBC comedy 30 Rock might be thrown for a loop when they see her in Hunger Games, but that's pretty much par for the course. Over the course of her 14-year career, Banks has appeared in everything from comedies like The 40-Year-Old Virgin and Zach and Miri Make a Porno to more serious fare such as Man on a Ledge and W.  Read more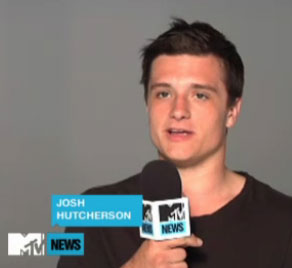 The Hunger Games by Suzanne Collins has become a sensation with readers and very quickly was poised for adaptation into film. The only problem of course with both fans and filmmakers is that the actors have to be right for the part. Casting is already a difficult process but it must be even harden when you're dealing with finding the person that can live up to fan expectations.
Just watching Winter's Bone (2010) showed just how powerful Jennifer Lawrence is as an actress. She's definitely the right choice to play Katniss Everdeen; however, casting the two young actors that will form a love triangle with Katniss must have been an even greater challenge.
Josh Hutcherson will play the part of Peeta Mellark, the boy chosen along with Katniss to compete in a tournament – to the death (hence the film's title).  Read more