I think just about any actor would love to pick the brain of Meryl Streep, who is widely recognized as one of the best actresses of all time. 
Benedict Cumberbatch admits that he approached Streep on the set of August: Osage County, which is due out later this year, to ask her about how she would approach a multi-layered character like his Star Trek Into Darkness villain John Harrison.  Unfortunately, Streep didn't have much advice for him — but as he tells New York magazine, that was oddly exactly what he was hoping for! Read more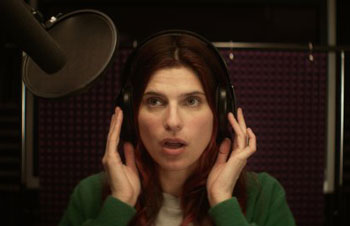 Lake Bell has worked steadily in film and television since appearing in her first major role as Alicia Silverstone's character's best friend in the short-lived NBC series Miss Match (which I do not remember ever existing, but apparently it did).  She has also branched out into writing and directing, but she still remains an actress.  She stars in the horror movie Black Rock alongside Katie Aselton, who co-wrote and directed the film.  Bell spoke to Interview magazine about the way the film was shot and how she feels about working with other directors now that she is a director herself. Read more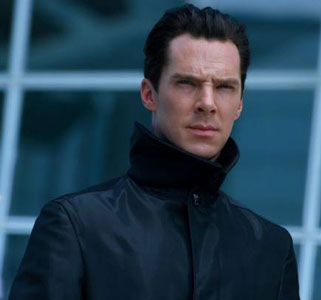 If you haven't yet heard of Benedict Cumberbatch– and I do mean "heard" because of his instantly recognizable voice — get ready to see (and hear) a lot more of him.  First, he stars as the villainous John Harrison (doesn't that name sound like the most alias-y of aliases?) in Star Trek Into Darkness and voices the dragon Smaug in The Hobbit trilogy.  In a conversation with The Wall Street Journal, Cumberbatch talks about this major shift in his career and what he thinks about his Star Trek character.
Cumberbatch admits that while he had empathy for the character, his own performance scared him when he saw it in IMAX.  He explains, "I think with any characterization there's a point where you empathize, no matter how much of a deviance his or her actions may be from your understanding of humanity. You have to empathize, and that can go for the people who perform despicable acts. Having said that, when I sit in my own audience now—which is a very weird thing to do for an actor on any given day, especially with a film this big, in an IMAX theater, in New York—I was terrified by what I was doing. I don't have kids but I'm quite glad at this stage that I don't have to go, 'Just look away, dad's not like that.'" Read more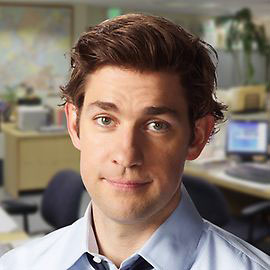 On May 16th, The Office will be closing its doors. After an eight-year run, Jim Pam, Dwight and the rest of the gang will be moving on to bigger and better things (hopefully). I've watched every episode of the long running series and I'll definitely be sad to see the show go.
Before getting the role of Jim, John Krasinski was like almost every other actor in New York. He'd work his job as a waiter during the week then run off to an audition when he could. He had booked a few things but "not anything that would allow me to claim that I was a working actor and didn't need another job," he said during a conference call. Booking The Office was like winning the lottery, "except with a winning lottery ticket you just get money, and with this you get a whole change of your life."
If you're a fan of the show, you'll love this interview. And honestly, even if you're not, there's some great stuff in here about what it's like to go from hustling for auditions to becoming a star on a major network show. In this interview, John and Executive Producer/Writer Greg Daniels talk about the end of The Office, John's audition, his past commercials and more. It's a long one but it's really great.
The Office airs on Thursdays at 9 on NBC – for only 2 more weeks! Read more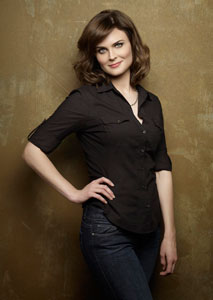 Bones just wrapped up its eighth season on a high note and star Emily Deschanel thinks one of the reasons they've lasted is because the show offers so many "different things for so many different people."
"But," she said in a recent conference call, "it may also be why we're not the number one television series on TV."
In this Q & A, Emily talks about the past season, how she balances starring on a hit show and motherhood and the growth of Brennan.
Do you find filming the emotional scenes challenging?
Emily Deschanel: It depends.  It really depends on what it is.  It depends on the emotion and the way the scene is written and the circumstances.  I find it challenging to switch tone like we do on our show.  It's definitely challenging to go from comedy to humor and lightness to sadness.  It really depends on the particular scene and what it is.  Sometimes emotion comes easily for me and sometimes it's more challenging whether it's because we are laughing and being light a moment before or for whatever reason it's not as—sorry.  My baby is pounding on the door right now.  Sorry.  What we were talking about? Read more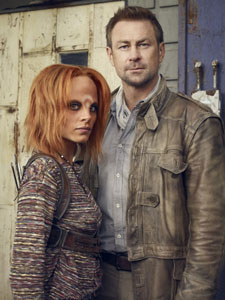 Defiance is one hugely ambitious show because for the first time ever, a TV show and video game will exist concurrently in a shared universe, influencing and impacting one anothers outcome. It all sounds pretty damn cool to me.
Defiance is set in the year 2046. It's a new Earth and with over thirty different Alien races, it's also a different Earth. Defiance is now what used to be St. Louis and when the mysterious Nolan (Grant Bowler) and Irisa (Stephanie Leonidas) settle in, things begin to happen that threaten the peacefulness the town has enjoyed for years.
Grant Bowler and Stephanie Leonidas took some time out of their schedule for a really cool Q&A where they talked about all aspects of the show; green screen and the special effects, the extensive makeup and all of the acting challenges they faced while shooting.
Defiance airs on Mondays at 9/8c on Syfy Read more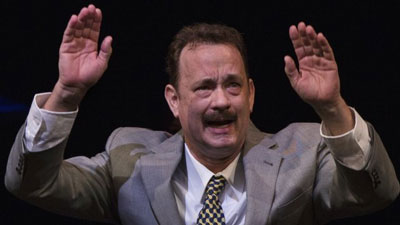 It seems like most times a big name actor decides to give Broadway a shot he or she can expect to receive a Tony nomination in return for boosting the box office. Okay, maybe that's not fair in the case of Tom Hanks, who has received nearly across-the-board praise for his role in his Broadway debut Lucky Guy and thus, with little surprise, a Tony nomination.
In speaking with CBS New York after learning of his nomination, Hanks confesses that the demands of Broadway acting is something completely new to him. He points out, "I've never done the rigors of this. This is sort of like, I feel like I've played good American Legion baseball, and now, suddenly, I'm playing left field for the Yankees." Read more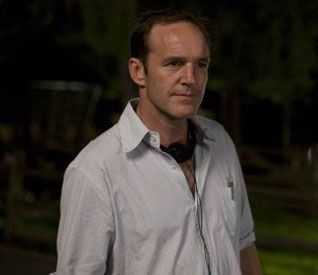 Clark Gregg took time out from his schedule of appearing in all of the Marvel Cinematic Universe movies to film Trust Me, a movie he wrote, directed, and starred in about Howard, a luckless Hollywood agent for child actors who seems to finally have hit his stroke of luck with a young actress.  Though the Marvel films have made Gregg a fan favorite, Gregg took some time during the Tribeca Film Festival to speak with The Huffington Post about how his personal experiences with being rejected from roles helped him create Trust Me.
Gregg points out that despite not being much like Howard, he felt connected to the character — and knew no one else would think of him to play that type of role.  He explains, "I've met people like this. When I read it back, one of the things I thought was, 'God, this is now something I feel tremendously connected to, this character.' I wasn't going to play him, but I thought, 'No one is ever going to write anything like this for me.' I also felt that anyone who is in Hollywood long enough, you go through some period of kind of feeling like that untouchable loser who can't get a break."  Read more
As a teacher myself (what, you think I write for Daily Actor all day?) I understand the difficult in getting the attention of those students who use your class for doing their homework for other classes or, even worse, sleeping.  The premise behind The Thirteenth Commandment, a long-gestating play written by Joshua H. Cohen which is being performed for the first time by the Libra Theater Company at the Bridge Theater in New York, is that it is set in the aftermath of a teacher's attempt to provoke his 11th grade students into questioning universally accepted truths by suggesting that the Holocaust might not have happened as it is recorded in their textbook. 
The ultimate aim of the teacher, Jason Efheim (Pete McElligot), is to have his students question the status quo of their working class ski town, hoping they will not follow in their parents' footsteps of "pouring the coffee, plowing the snow, building the vacation homes" for tourists.  Naturally the community doesn't see it that way, nor does Principal Pam McGarry (Jennifer Door White), who doesn't know how to handle the controversy, or Natalie Levine (Nora Hummel), Jason's loudmouth, deeply offended Jewish officemate. Likewise, Cory (Lauren Pennline), the resident student activist is infuriated (though she later weighs Jason's words against her sincere belief in freedom of speech), and Jason's very pregnant wife, Beth (Glenna Grant), who teaches algebra at the school, has her own questions about her husband's aims as well as her personal status quo she has settled for.  Jason's hopes on improving the lives of his students are centered on the impressionable and awkward Tom (Justin Danforth) whose father, Phil (Joe Fellman), is the embodiment of the town's working class cycle as the school's janitor.  Curiously enough, we never find out exactly what Jason said to his class because he partakes in some revisionist history of his own. Read more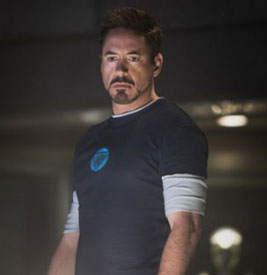 Though Robert Downey, Jr. is an acclaimed actor, in an interview with GQ he shrugs off the acclaim to point out how normal he thinks he really is what he calls a "ridiculous industry."
In particular, he enjoys the surprise people have at finding out that he isn't some kind of genius artist.  He explains, "Nothing pleases me more than when somebody who was awe-inspired to be working with me realizes I'm just another schmuck that they're bored of hanging out with on a set. I love that moment. I like it when that persistent illusion is smashed." Read more