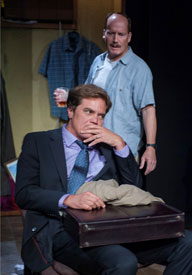 Broadway may be the center of the theater universe in the U.S., but not all acting greats who start in theater get their breakthrough in New York City.  In fact, a number of notable actors who had their first major breakthrough in Chicago theater have made their way back to the stage in the Second City over the last few years, including John Mahoney (The Birthday Party), William Petersen (Slowgirl), Michael Shannon (Simpatico) and Joan Allen (The Wheel), David Schwimmer (directed Big Lake, Big City), Laurie Metcalf and Kevin Anderson (Detroit), and Nelsan Ellis (who recently founded his own theater company).
While each actor had different reasons for returning to Chicago theater, all seem to focus on a sense of loyalty.  For example,  Shannon did so out of loyalty to Red Orchid Theater, which he founded, even though it meant juggling his schedule around promoting Man of Steel and his appearances on Boardwalk Empire.  Read more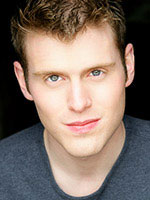 Like many Chicago actors, Jay Worthington is proud to be able to say "I am an actor in the city."  Unlike most of them, Worthington is legally blind.
The twenty-nine year-old Worthington, who has been legally blind since birth, is a graduate from the school at Steppenwolf Theater.  He is a member of the Gift Theatre ensemble since 2011 and has starred in productions such as One Flew Over the Cuckoo's Nest.  He has also taught acting and directed plays.
Worthington describes his limited sight as, "I read large prints, I have glasses, [but] I don't drive. I am legally blind and my eyes are very sensitive to light and there's the erratic movements. It has also caused legal blindness."  He confesses that throughout his life he had been told that because of his blindness he could not become an actor, saying, "I have had actually a couple well-known figures in Chicago tell me, [and] a couple professors in college tell me, cause of my disability I would never have a career in this.  I am happy to have proven all of them wrong." Read more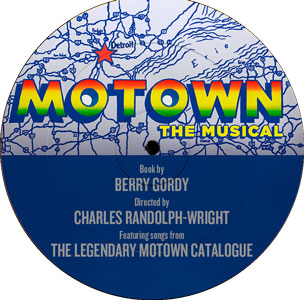 Motown the Musical is holding open call auditions!
Producers announced a nationwide open call casting search for African American singers for both the flagship Broadway production of MOTOWN THE MUSICAL and the upcoming national tour, with a rare opportunity to audition on stage at the Lunt Fontanne Theatre, home of the smash hit musical, on Friday, September 13th.
Open call auditions will also be held in Chicago at The Oriental Theatre, where the national tour will launch with an engagement from April 22 to July 13, 2014 before continuing across the country with additional cities to be announced.
MOTOWN THE MUSICAL is seeking African-American men and women, ages 20s-40s, with exceptional voices.  Also seeking an African-American boy, age 8 to 13, to play young Michael Jackson / Berry Gordy / Stevie Wonder. No prior theatre experience is necessary. Read more
Billy Ray Cyrus is making his Broadway debut as Billy Flynn in the long-running musical, Chicago.
Set in the 1920′s, Flynn is a suave and manipulative lawyer who is always the smartest guy in the room.
Good 'ole Billy Ray has decided to play Flynn with his soul patch and five o'clock shadow because in Billy Ray's 1920′s, razors weren't yet invented.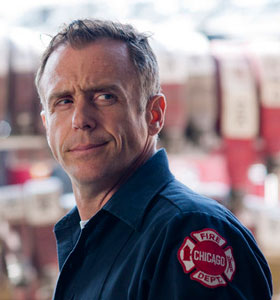 David Eigenberg knows all about being pigeonholed after becoming well-known for a specific role.  After all, he played Miranda's longtime love, Steve Brady, on Sex and the City.
"[When I first started in the business', my acting teacher used to always call me Steve.  He'd say, 'I don't know why I do that.'  It became my biggest role," Eigenberg noted in an interview with The Daily Herald.  "I love Sex and the City because it brought humor to sexual situations."
But now Eigenberg is ready to move past his earlier fame by starring in the new NBC drama series, Chicago Fire.  "I love this job," he said.  "It's everything for me.  It's physically demanding, it's emotionally demanding, and you get a lot of banter." Read more
 Transformers/Harry Potter Casting Director Jane Jenkins Audition Theory class in Chicago August 25th!
  "Jane Jenkins and Janet Hirshenson are among the all-time greatest casting directors in Hollywood." - Ron Howard, director of Apollo 13.
 Casting Credits: 
Transformers, the James Bond film series, Jurassic Park, Harry Potter, The Perfect Storm, Troy, Hook, Angels and Demons and The Dilemma
This is NOT an audition or a guarantee of work in any way shape or form! Please note that when signing up.
This is a very small, much more intensive class. It's focused on the scene work/audition process directly and separated by age. Read more
When it was announced Jeffrey Tambor would leave La Cage Aux Folles due to medical issues, understudy Chris Hoch was tapped to fill in as Georges until a permanent replacement could be found. That person will be Christopher Sieber who will leave his role as Billy Flynn in Chicago, to take over the role from Hoch.
Sieber's Broadway debut was in the musical Triumph of Love with Betty Buckley and F. Murray Abraham. He has appeared as Gaston in Beauty and the Beast, Trevor Graydon in Thoroughly Modern Millie, Billy Flynn in Chicago, and as Rapunzel's Prince and alternate for the role of the Wolf in Into the Woods. Most recently, Sieber played the role of Lord Farquaad in Shrek the Musical, for which he was nominated for a Tony Award for Best Featured Actor in a Musical, an Outer Critics Circle Award for Best Featured Actor in a Musical, the Drama Desk Award for Outstanding Featured Actor in a Musical, and the Drama League Award for Distinguished Performance.
Four-time Tony Award winner Harvey Fierstein will continue in his role as Albin, playing opposite Sieber as Georges. A date for Sieber stepping into the role has yet to be announced.
Podcast: Play in new window | Download (Duration: 17:00 — 11.7MB)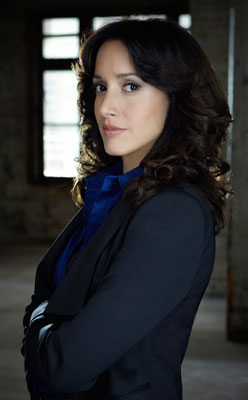 The Chicago Code, Shawn Ryan's (The Shield, Terriers) great new show on FOX,  stars Jennifer Beals as Teresa Colvin, Chicago's first female superintendent. She and her ex-partner, Jarek Wysocki (Jason Clarke) band together to take down their enemies, including Alderman Ronin Gibbons (Delroy Lindo).
I got a chance to talk with Jennifer on a conference call where she talked about coming back to series television, her ride-alongs with the Chicago P.D., and what she thinks The L Word did for her career.
The Chicago Code airs on Mondays at 9/8c on FOX.
For the full interview, click the audio link above or download from iTunes
What was it about this part that made you want to return to series television?
Jennifer Beals: I found it so interesting to play somebody who was walking into uncharted territory, in a way.  She's really creating the template for this job, being the first female superintendent.  I just thought it would be very interesting to take that walk into what kind of a leader does she become in that position, and how do you balance your personal life with the demands of that kind of job.
I thought the relationship to Jarek was also interesting.  It's a very interesting line that we walk between intimacy and respect and being able to tell the truth to one another and goading one another and making each other laugh.  I just thought that could potentially be interesting.  Of course, for me, working with Shawn Ryan was a real lure because I really admire his writing and I admire the way that he works with his team of writers as well.
We've seen so far a really great dichotomy in Teresa's strengths but also her vulnerability at times, and so far, it's always been on the job.  So I'm wondering, this season, do we ever get to see her out of her uniform so to speak, like in her personal life
Jennifer Beals: There is an episode where it deals with her family, and so you do see her personal life in that episode.  You do get little glimpses of it every now and again, but really, this is a person who has dedicated everything to their job for better or for worse.  Towards the end of the season, you start to see the toll that that takes on her personally.
Are you a photographer? Click here
Name
Location
Phone Number
Website
Facebook
Twitter
Aaron Gang Photography
Chicago
(773) 782-4363
All American Headshots and Portraits
Chicago
(866) 701-3686
Archetype Images
Chicago
(312) 502-5100
Bauwerks Professional Photography Studio
Chicago
(773) 529-4199
Brian McConkey photography
Chicago
(312) 563-1357
Core Photography Headshot Photography
Chicago
(317) 650-1967
G. Thomas Ward Photography
Chicago
(773) 271-6813
Greg Inda Photography
Chicago
(773) 726-2143
Gretchen Kelley Photography
Chicago
(651) 895-5524
Heather Parker Photography
Chicago
(773) 295-4292
James Douglas Photo
Chicago
(773) 425-3424
JBheadshots
Chicago
(312) 612-1075
Johnny Knight Photo
Chicago
(773) 368-8707
Joshua Albanese Photography
Chicago
(312) 850-9326
Limelight Photography
Chicago
(773) 769-7491
Negative Self Image Photography
Chicago
(312) 834-3453
Organic Headshots
Chicago
(312) 952-5911
Popio Stumpf Photgraphy
Chicago
(773) 320-4018
Robert Erving Potter III
Chicago
(312) 226-2060
Suzanne Plunkett Photgraphs
Chicago
(773) 549-6905
Tina Smothers Photography
Chicago
(773) 542-3238
Zoe Mckenzie Photography
Chicago
(773) 852-1189
Melora Hardin is moving from Scranton. PA to 'Chicago'.  She's taking over the role of Roxie Hart in the long running Broadway revival on December 29th.
Will Michael Scott be Mr. Cellophane?