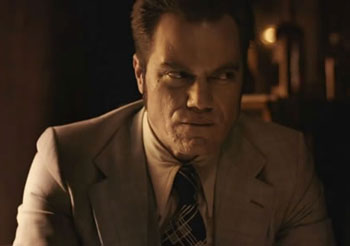 I'm sure I'm not the only one, but Michael Shannon playing the villain has me more interested in Man of Steel than anything else.  That's because ever since I saw Take Shelter and started watching Boardwalk Empire Michael Shannon has become one of my favorite actors.  In an interview with the San Diego Reader, Shannon speaks about his early career, whether or not he believes in staying in-character on set, and is very open about his motivation to take roles. Read more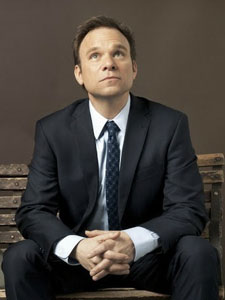 So if you already have gotten two Tony Awards for Best Leading Actor in a Musical, you shouldn't be getting nervous about taking your next lead role on Broadway, right?  Based on his interview with The St. Louis Dispatch, Norbert Leo Butz would disagree with you.
With the Chicago tryout of Big Fish — a musical adapted from the 2003 Tim Burton film — now wrapped up and heading to Broadway in September, Butz admits he's feeling nervous about it.  He confesses, "Talk about a tough gig.  I hope somebody will get some inspiration, some positive re-enforcement, from it. This acting thing is not for sissies.  But when I was in college, you couldn't have told me that I wouldn't be a working actor."In fact, he was convinced he would become an actor ever since high school, in which he starred not only in his high school's plays but also in plays in all-girls schools in his hometown.  He says, "The acting bug bit me before I graduated.  I just fell in love with theater, with a love bordering on the obsessive. I couldn't get enough." Read more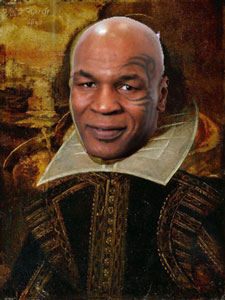 While he never garnered great reviews, Mike Tyson just completed a three-month tour of one-man show Undisputed Truth across the United States.  Snicker all you want, but Tyson has built up with a noteworthy acting resume over the last few years, with scene-stealing cameos as himself in The Hangover and The Hangover Part II and a featured role in an episode of Law & Order: Special Victims Unit.  However, Tyson is adamant that he plans on continuing his acting career, and even has a specific Shakespeare role he would like to tackle some day.
He revealed his knowledge of the Bard to reporters a few days before his show ended its run in Chicago by asking, "Wouldn't Shakespeare be awesome?  That black guy … could you imagine me in Othello?"
Tyson later backpedaled a bit on whether he was prepared to play the Moor of Venice, but also confesses that he believes he can do it, saying, "Anything you give me time to prepare, I can do.  I don't think I am ready for that yet, but I would like to try." Read more
Michael Shannon's rise from relative unknown to Oscar nominee to blockbuster movie super-villain has been long, but not as tough as some of his friends suggest.  Nonetheless, in a conversation with The New York Times he reveals that the reputation he's gotten from his dark roles and rumors about his past have prevented him from fulfilling one of his dreams… appearing on The Late Show with David Letterman.
First, Shannon points to the fact that despite his stardom he's often on the wrong side of luck.  For example, the one time Shannon was up for an Oscar (for Revolutionary Road) he was nominated in one of those years that the decision was a forgone conclusion: it was the same year Heath Ledger posthumously won the Oscar for The Dark Knight.  In fact, since Shannon was told countless times after being nominated that he wouldn't beat Ledger, he did what any of us would do — get drunk for the ceremony.  He confesses, "I'd had a lot of gin. I was pickled. From the time I was nominated to the awards, it was like a steady litany of every human being on Earth telling me how I wasn't going to win. It was like being beaten by broom handles. The bus driver being like, 'You're not going to win.' The guy selling me my paper, the guy giving me my coffee, my publicist. By the time I got there, I was like, If I win I'm going to have to say something like 'praise Satan' and talk like Linda Blair from The Exorcist." Read more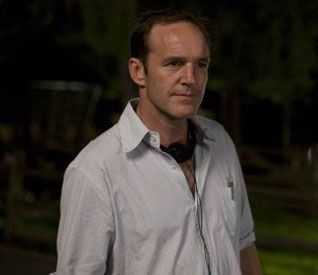 Clark Gregg took time out from his schedule of appearing in all of the Marvel Cinematic Universe movies to film Trust Me, a movie he wrote, directed, and starred in about Howard, a luckless Hollywood agent for child actors who seems to finally have hit his stroke of luck with a young actress.  Though the Marvel films have made Gregg a fan favorite, Gregg took some time during the Tribeca Film Festival to speak with The Huffington Post about how his personal experiences with being rejected from roles helped him create Trust Me.
Gregg points out that despite not being much like Howard, he felt connected to the character — and knew no one else would think of him to play that type of role.  He explains, "I've met people like this. When I read it back, one of the things I thought was, 'God, this is now something I feel tremendously connected to, this character.' I wasn't going to play him, but I thought, 'No one is ever going to write anything like this for me.' I also felt that anyone who is in Hollywood long enough, you go through some period of kind of feeling like that untouchable loser who can't get a break."  Read more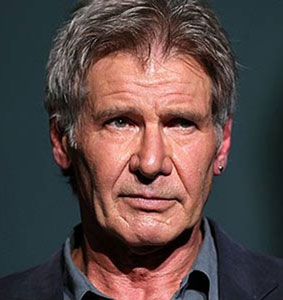 Harrison Ford has starred in some of the most successful and acclaimed films in cinema history, including the landmark "Star Wars" and "Indiana Jones" franchises and a total of eight Best Picture Oscar®-nominated movies. Ford earned an Academy Award® nomination for his compelling portrayal of Detective John Book in Peter Weir's 1985 Oscar®-nominated hit "Witness," for which he also received Golden Globe and BAFTA Award nominations, all for Best Actor. Ford subsequently garnered three more Best Actor Golden Globe nominations: for his performances in Weir's 1986 drama "The Mosquito Coast"; the 1994 Oscar®-nominated blockbuster "The Fugitive," for director Andrew Davis; and Sydney Pollack's 1996 remake of "Sabrina."
Over the course of his illustrious career, Ford has also been repeatedly honored for his contributions to the film industry, including the Hollywood Foreign Press Association's Cecil B. DeMille Award, in 2002, and the American Film Institute's Lifetime Achievement Award, in 2000. In 1994, the National Association of Theater Owners named him the Box Office Star of the Century. Read more
Podcast: Play in new window | Download (Duration: 13:13 — 9.1MB)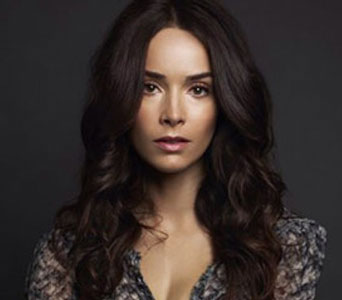 When Abigail Spencer shows up on your screen, you know those moments will be interesting. She was one of the best parts about Chasing Mavericks and she made the opening segment of Oz, the Great and Powerful that much better. 
Abigail was discovered by casting director of All My Children, Judy Blye Wilson, when she was – get this – sitting in the audience of the Regis and Kathy Lee. Wilson tracked her down, had her audition for a role on the soap and she ended up doing a little more than 20 episodes. But before you get all, "What the heck?," she already had the chops. She went to Carnegie Mellon University for acting, spent her teen years doing theater and her mentor growing up was none other than Broadway great Ann Reinking.
I talked to Abigail at SXSW where she was promoting her film, Kilimanjaro. In that film, Brian Geraghty plays Doug, a guy kind of floating through life. After his girlfriend moves out, Doug decides to embark on a more meaningful life and starts planning to climb the famous Mount Kilimanjaro. Abigail plays a woman who comes into his life and shows him that being spontaneous isn't a bad thing.
In this interview, we talk about how she got her start – including the Regis and Kathy Lee story, giving back to young actors, working with good people and her advice to actors.
Follow Abigail on Twitter and be sure to check her out in the new Sundance Channel series, Rectify. Premieres April 22nd!
For the full interview, click the audio link above or download it from iTunes 
Katey Sagal, who once sang back-up for Bob Dylan, Bette Milder and Etta James, has announced a 4-city tour called: Katey Sagal: An Evening of Music and the Cast of Sons of Anarchy. 
The first tour dates will consist of a Midwest run April 18 through 21 (dates and information below). The touring show consists of Sagal backed by the Forest Rangers, the band that collaborates to create the music for the wildly popular FX series, created by Sagal's husband Kurt Sutter. 

The band, in addition to Sagal on vocals, consists of Brian Macleod (drums), Davey Faragher (bass), Jeff Young (keys),  Billy Harvey (guitar), Gia Ciambotti (backing vocals) and Thiele on guitar.  Read more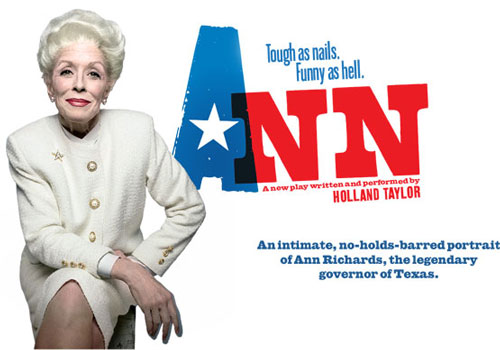 The best way to describe Ann, Holland Taylor's one-woman show about former governor of Texas Ann Richards that she both wrote and stars in, is what the Hall of Presidents in Disney World would be like if instead of a robotic Barack Obama the host was a Texas-twanged white-haired lady who didn't care that she was on a stage in the family-friendliest theme park in the world.  As such, it's infinitely more entertaining than a real or robot president could ever be.
Ann has had a long history on the way to Broadway.  Taylor began writing the script in 2009, workshopped it in Texas, and brought it to Chicago and Washington, D.C. over the last few years.  This year it has finally come to Broadway, a place where Taylor hasn't appeared in thirty years since the legendary failure of Moose Murders (which closed and opened the same night in 1983!)
Ann will certainly enjoy a much longer run than Moose Murders, and all that is thanks to Taylor.  Even if you are only familiar with her from her role as Evelyn Harper on Two and a Half Men it's obvious how wickedly funny she can be and how great her comic timing is (Taylor's Two and a Half Men co-star Jon Cryer and his wife Lisa Joyner are two of this show's co-producers).  But that is a television show with a large cast — the obvious challenge of the live one-person show is that the actor has to be alluring enough to hold an audience's interest for the length of the show.  For the most part, Taylor has little trouble maintaining the interest of the audience for the two-hour duration of Ann. Read more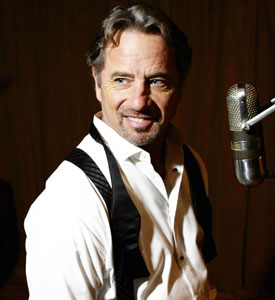 Tom Wopat joins the growing cast of Horton Foot's Broadway revival of The Trip To Bountiful.  Wopat will join Cicely Tyson, Cuba Gooding Jr, Vanessa Williams and Condola Rashad. 
The show will play a 14-week limited engagement, beginning previews on Saturday, March 30th at the Stephen Sondheim Theatre (124 W 43rd St).  Opening night is scheduled for Tuesday, April 23rd.
Wopat has appeared on Broadway in Catch Me if You Can (Drama Desk nomination), Sondheim on Sondheim, A Catered Affair (Tony, Drama Desk, Drama League nominations), Glengarry Glen Ross (Tony and Drama Desk Awards for Best Revival), Chicago, 42nd Street, Annie Get Your Gun (Tony, Drama Desk nominations), Guys and Dolls, City of Angels, and I Love My Wife.  His many Off-Broadway credits include Olympus On My Mind, The Guys, Last of the Boys.  He has been seen on television in "The Dukes of Hazzard," "Cybill," "Home Improvement," "Taking Chance" (HBO), "A Gifted Man," "Longmire."  Film: Django Unchained, Bonneville, Jonah Hex, Main Street. Jazz Standard Albums: I've Got Your Number, The Still of The Night, Dissertation on the State of Bliss, Consider It Swung. Read more