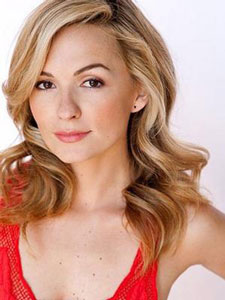 One of the most iconic series from HBO's slate of shows over the years has been Sex and the City. When the CW decided to do a prequel to the popular Sarah Jessica Parker show, some fans were concerned over who would play Carrie, Miranda, Charlotte, and Samantha in The Carrie Diaries.
While the provocative role of Samantha Jones wouldn't come into play until Season 2, Lindsey Gort was prepared to step into character after being a longtime fan of the series.
The 29-year-old Arizona native said, "I was living with three other girls [in New York City], and we would watch Sex and the City every week obsessively. I always considered myself more of a Samantha. I've never been afraid to speak my mind."
Getting the role wasn't that easy though. Gort was in the running for the part, but the producers originally wanted a recognizable name. Read more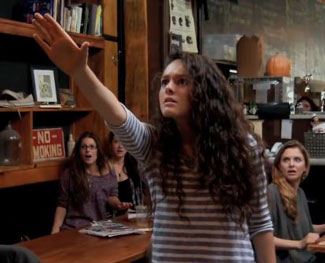 Here's a marketing video, called 'Telekinetic Coffee Shop Surprise', put together by Sony for the upcoming film, Carrie.
It's awesome!
The studio set-up hidden cameras, a fake wall, remote controlled tables and chairs and other insane stunts and props inside a coffee shop in New York City. They hired actors and a stunt man to perform in the shop and filmed the reactions to the unknown teen going all 'Carrie' on the place.
The video itself is pretty damn cool but after watching it, how much freakin fun do you think the girl playing the Carrie role had? I'd bet it was a blast.
Check out the madness below! Read more
Chloë Grace Moretz talked about her newest role in the remake of Carrie, the story of a shy teenager who is the butt of practical jokes at her small-town high school. When she develops telekinetic powers, the town and the students are about to experience one long, horrific night.
She told Vanity Fair: "I am changing everything about me—my hair, my look. I'm doing my own take on [the character]. The script is totally different from the [original]. It's more like the book. It's a more Black Swan version—it messes with your mind. You'll see things, and you don't know if you've seen them."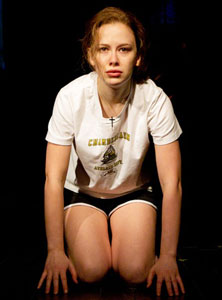 The current off-Broadway revival of the infamous Carrie — based on the Stephen King novel and subsequent classic film –has already ran longer than the sixteen previews and five performances that the 1988 Broadway production ran, so the new production at the Lucille Lortel Theatre can already take that success into account. 
Though the show is currently set to last its entire limited engagement (which ends April 22), it took several years for the show to actually make it back to the stage, beginning with a reading in November 2009. 
Starring as Carrie since that 2009 reading is Molly Ranson, who spoke to Playbill about the show's long return to the stage and why she believes it works better twenty-four years later. Read more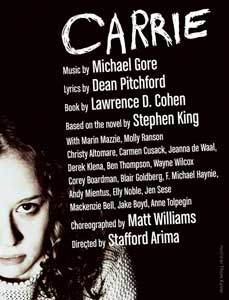 I'm incredibly curious to see how this is going to turn out.
MCC Theater  just premiered a fully re-worked production of the the famous flop, Carrie.
Based on Stephen King's bestselling novel, the musical of Carrie hasn't been seen since its legendary 1988 Broadway production.
Now, the show's original authors have joined with director Stafford Arima (Altar Boyz) and MCC Theater for a newly reworked and fully re-imagined vision of this gripping tale. Set today, in the small town of Chamberlain, Maine, Carrie features a book by Lawrence D. Cohen (screenwriter of the classic film), music by Academy Award winner Michael Gore (Fame, Terms of Endearment), and lyrics by Academy Award winner Dean Pitchford (Fame, Footloose). The cast will feature Tony Award nominee Marin Mazzie (Next to Normal, Kiss Me Kate) as Carrie's evangelical mother, Margaret White, and Molly Ranson (Jerusalem, August: Osage County) as the lonely, vengeful, yet fragile girl at the center of it all.
The show is currently in previews and will open March 1st at The Lucille Lortel Theatre (121 Christopher Street).
Broadway World went to the first preview (which was sold out) and talked to the cast and production team about the show and even has some snippets of the show.  Read more
Podcast: Play in new window | Download (Duration: 19:52 — 13.8MB)
Even if you haven't watched True Blood, you've seen Carrie Preston before.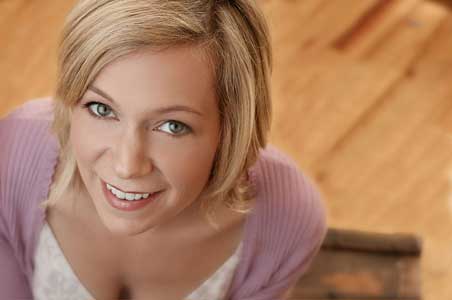 Carrie has the remarkable ability to transform herself – her looks and mannerisms – in each role she does. She's been in Duplicity and My Best Friends Wedding with Julia Roberts. Doubt, Vicky Christina Barcelona and even an episode of Sex and the City that I totally remem
ber her in. She even played Ben Linus' (her husband, the great Michael Emerson) mother on an episode of Lost! I could go on but my fingers will get tired from all the typing.
She's currently filming season 3 of True Blood and she took some time out to talk to me about Broadway, how she prepares for a role and yes, True Blood.
So, you're from Georgia and you got started doing plays as a kid?
Yeah, I'm one of those, like I like to say I'm a "lifer."  I'm in it for life.  My brothers also an actor, and we started doing plays in Macon, Georgia community theater when we were pretty young.  My brother, John, his name's John Preston, he got the first play.  He's older than me by two years, so I watched him, and I was like, "I want to do what John's doing."  And then before we knew it, we were completely ensconced in doing plays growing up.
And then I even started my own street theater company when I was in the 7th grade with all the neighborhood kids, and I would charge 25 cents.  We would make up skits and sing songs and do it in the front yard.  I mean, that was pretty much… it was very clear that that was what I wanted to do with my life.  I just didn't know that you could make a living at it.
Was there any one show or one specific moment that you were like, this is it?
I definitely got bitten by the bug, immediately, you know, when I was in the 4th grade. Just doing the school, the community theater production of some play, it was called, The Lion Who Wouldn't.  You know how they write those plays for kids and stuff?
The director who was running the community theater, he pulled my mom aside and he said, "Your child's an actor", and my mom said, "Oh thank you, she's having a good time."  And he said, "No, no, no, no. You're not hearing me.  Your children are actors.  That's what they are."  So he encouraged us at a young age and sort of brought it up to my parents in a way that they had to kind of sit up and listen.  And thankfully my parents were very supportive and never tried to talk us into becoming accountants or anything like that.
Yeah, my mom said that to me more than once.  And I said, mom I can't even count.
Exactly!  There's no back up here.  This is it.  This is what we're doing.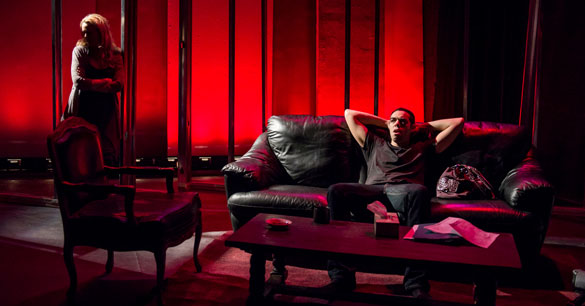 In recent years The Seeing Place has been pairing plays by different playwrights with thematic similarities together in repertory. Through hard work and persistence they have been granted the rights to a number of acclaimed plays, and the current productions maintain that high quality of material – Christopher Shinn's Dying City (nominated for the Pulitzer Prize in 2008) and Lee Blessing's Two Rooms (named Best Play of the Year by Time Magazine in 1988). While in the past I've often been most impressed by The Seeing Place's work with large ensembles, with Dying City and Two Rooms the company presents two one act plays with small casts in rotating repertory that equals their notable work with far larger casts. Read more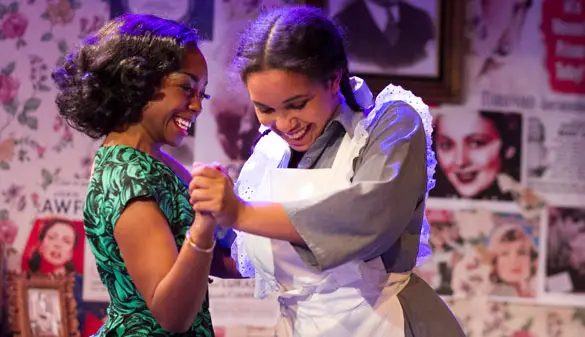 Moxie Theatre may be small in size, but it certainly does pack a punch. A terrific, wonderful punch.
The theatre is currently offering up Pulitzer Prize winning playwright Lynn Nottage's Crumbs from the Table of Joy, a coming of age story that's about race and changing times. Set in 1950's, the Crump family is in search of a new life. Daughters Ermina (Deja Fields) and Ernestine (Jada Temple) have just lost their mother and their father, Godfrey (Vimel Sephus) has packed them up and moved them to Brooklyn to follow the spiritual Father Divine's 'Mission'. Read more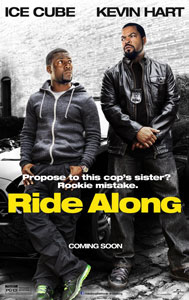 Kevin Hart deserves much better than Ride Along. He's is tremendously funny and definitely a talented guy but he can't save this pointless film.
Hart plays Ben, a high-school security guard who's a master at playing video games. His dream is to become a police officer and when he's finally accepted into the academy, he thinks he'll earn the respect of his fiancé's brother, James (Ice Cube).
James thinks Ben is a big, worthless baby who won't be able to provide for his sister. So, he comes up with a plan to bring him on a ride along, knowing full well that he'll cave and decide not to go into the academy. But, as in films like this, the night doesn't go according to plan and Ben turns out to be much more than James expected.
We've seen this film dozens of times before: the main character is a stunted man-child who is somehow dating an incredibly attractive woman and one of said attractive woman's family members tries to sabotage the relationship. Read more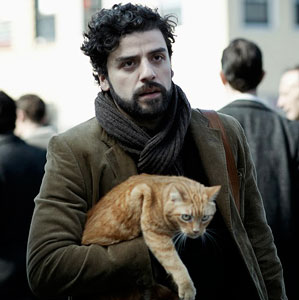 Anyone who has worked with animals on a set or stage will tell you that training a dog for a scene is one thing. Training a cat is another matter entirely — just ask the animal trainers for this year's Broadway production of Breakfast at Tiffany's.  So there were certainly some issues when the Coen brothers decided that a lost cat would play a central role in the plot of Inside Llewyn Davis — in fact, Joel Coen admits that the cat was added to the film to give the movie about a drifting folk musician some "plot."
The three tabbies used to portray Ulysses were trained by Dawn Barkan, who has also handled the animals for Ace Ventura: Pet Detective, Meet the Parents, Runaway Bride, and many others, including this year's The Secret Life of Walter Mitty.  In fact, two of Barkan's own three cats were among the many cats who portrayed Mr. Jinx in Meet the Parents, although the cat that was trained to flush the toliet has since passed. Read more