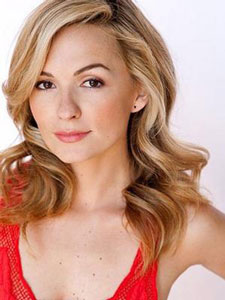 One of the most iconic series from HBO's slate of shows over the years has been Sex and the City. When the CW decided to do a prequel to the popular Sarah Jessica Parker show, some fans were concerned over who would play Carrie, Miranda, Charlotte, and Samantha in The Carrie Diaries.
While the provocative role of Samantha Jones wouldn't come into play until Season 2, Lindsey Gort was prepared to step into character after being a longtime fan of the series.
The 29-year-old Arizona native said, "I was living with three other girls [in New York City], and we would watch Sex and the City every week obsessively. I always considered myself more of a Samantha. I've never been afraid to speak my mind."
Getting the role wasn't that easy though. Gort was in the running for the part, but the producers originally wanted a recognizable name. Read more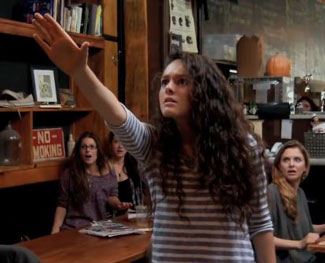 Here's a marketing video, called 'Telekinetic Coffee Shop Surprise', put together by Sony for the upcoming film, Carrie.
It's awesome!
The studio set-up hidden cameras, a fake wall, remote controlled tables and chairs and other insane stunts and props inside a coffee shop in New York City. They hired actors and a stunt man to perform in the shop and filmed the reactions to the unknown teen going all 'Carrie' on the place.
The video itself is pretty damn cool but after watching it, how much freakin fun do you think the girl playing the Carrie role had? I'd bet it was a blast.
Check out the madness below! Read more
Chloë Grace Moretz talked about her newest role in the remake of Carrie, the story of a shy teenager who is the butt of practical jokes at her small-town high school. When she develops telekinetic powers, the town and the students are about to experience one long, horrific night.
She told Vanity Fair: "I am changing everything about me—my hair, my look. I'm doing my own take on [the character]. The script is totally different from the [original]. It's more like the book. It's a more Black Swan version—it messes with your mind. You'll see things, and you don't know if you've seen them."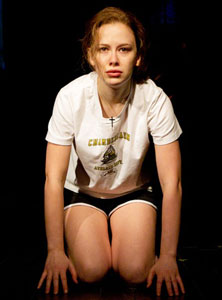 The current off-Broadway revival of the infamous Carrie — based on the Stephen King novel and subsequent classic film –has already ran longer than the sixteen previews and five performances that the 1988 Broadway production ran, so the new production at the Lucille Lortel Theatre can already take that success into account. 
Though the show is currently set to last its entire limited engagement (which ends April 22), it took several years for the show to actually make it back to the stage, beginning with a reading in November 2009. 
Starring as Carrie since that 2009 reading is Molly Ranson, who spoke to Playbill about the show's long return to the stage and why she believes it works better twenty-four years later. Read more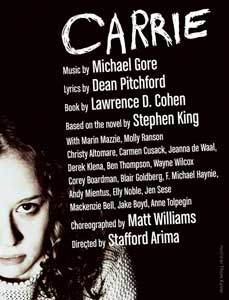 I'm incredibly curious to see how this is going to turn out.
MCC Theater  just premiered a fully re-worked production of the the famous flop, Carrie.
Based on Stephen King's bestselling novel, the musical of Carrie hasn't been seen since its legendary 1988 Broadway production.
Now, the show's original authors have joined with director Stafford Arima (Altar Boyz) and MCC Theater for a newly reworked and fully re-imagined vision of this gripping tale. Set today, in the small town of Chamberlain, Maine, Carrie features a book by Lawrence D. Cohen (screenwriter of the classic film), music by Academy Award winner Michael Gore (Fame, Terms of Endearment), and lyrics by Academy Award winner Dean Pitchford (Fame, Footloose). The cast will feature Tony Award nominee Marin Mazzie (Next to Normal, Kiss Me Kate) as Carrie's evangelical mother, Margaret White, and Molly Ranson (Jerusalem, August: Osage County) as the lonely, vengeful, yet fragile girl at the center of it all.
The show is currently in previews and will open March 1st at The Lucille Lortel Theatre (121 Christopher Street).
Broadway World went to the first preview (which was sold out) and talked to the cast and production team about the show and even has some snippets of the show.  Read more
Podcast: Play in new window | Download (Duration: 19:52 — 13.8MB)
Even if you haven't watched True Blood, you've seen Carrie Preston before.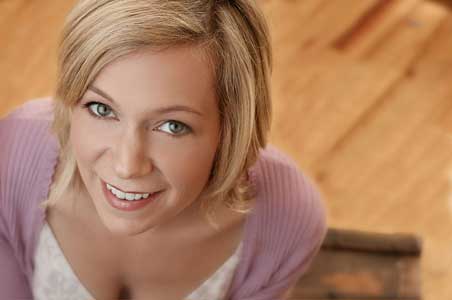 Carrie has the remarkable ability to transform herself – her looks and mannerisms – in each role she does. She's been in Duplicity and My Best Friends Wedding with Julia Roberts. Doubt, Vicky Christina Barcelona and even an episode of Sex and the City that I totally remem
ber her in. She even played Ben Linus' (her husband, the great Michael Emerson) mother on an episode of Lost! I could go on but my fingers will get tired from all the typing.
She's currently filming season 3 of True Blood and she took some time out to talk to me about Broadway, how she prepares for a role and yes, True Blood.
So, you're from Georgia and you got started doing plays as a kid?
Yeah, I'm one of those, like I like to say I'm a "lifer."  I'm in it for life.  My brothers also an actor, and we started doing plays in Macon, Georgia community theater when we were pretty young.  My brother, John, his name's John Preston, he got the first play.  He's older than me by two years, so I watched him, and I was like, "I want to do what John's doing."  And then before we knew it, we were completely ensconced in doing plays growing up.
And then I even started my own street theater company when I was in the 7th grade with all the neighborhood kids, and I would charge 25 cents.  We would make up skits and sing songs and do it in the front yard.  I mean, that was pretty much… it was very clear that that was what I wanted to do with my life.  I just didn't know that you could make a living at it.
Was there any one show or one specific moment that you were like, this is it?
I definitely got bitten by the bug, immediately, you know, when I was in the 4th grade. Just doing the school, the community theater production of some play, it was called, The Lion Who Wouldn't.  You know how they write those plays for kids and stuff?
The director who was running the community theater, he pulled my mom aside and he said, "Your child's an actor", and my mom said, "Oh thank you, she's having a good time."  And he said, "No, no, no, no. You're not hearing me.  Your children are actors.  That's what they are."  So he encouraged us at a young age and sort of brought it up to my parents in a way that they had to kind of sit up and listen.  And thankfully my parents were very supportive and never tried to talk us into becoming accountants or anything like that.
Yeah, my mom said that to me more than once.  And I said, mom I can't even count.
Exactly!  There's no back up here.  This is it.  This is what we're doing.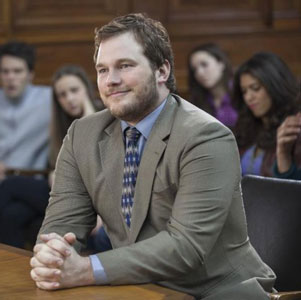 Chris Pratt is keeping busy in Hollywood with comedic roles in films like Delivery Man to voicing the lead role in The Lego Movie. He's also diversifying by playing Peter Quill a.k.a. Star-Lord in Marvel's Guardians of the Galaxy which hits theaters next summer.
The 34-year-old actor sat down with Moviefone to talk about how he approached the script for Delivery Man and his work with co-star Vince Vaughn.
With some of the best lines in the movie, Pratt knew that "usually moments will leap out at you. You'll understand a moment is going to be funny. And, oftentimes, not on this movie but in other movies, I would help those moments by maybe improvising a line or saying the same joke but in my own words and knowing when a moment to be funny is there and making sure that that moment's funny. Whether it's saying it exactly how it's written, or coming up with your own way of making it funny, that would be the moment. So moments jump out at you." Read more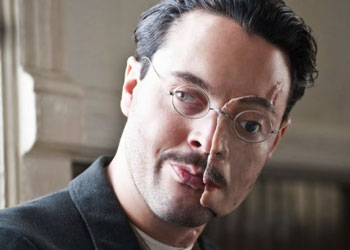 Season 4 of Boardwalk Empire wrapped up on Sunday, and naturally all of the key characters in the series underwent major changes.  One of those characters was Jack Huston's World War I sharpshooter character Richard Harrow, a character that started as a supporting character in the first season whose role grew into a lead as the series progressed.  New York magazine spoke to Huston about the finale, and if you haven't watched the episode yet you better not click for more!
After a particularly bloody season, the final scenes of the season 4 finale featured Harrow experiencing the happy ending that the fan favorite character deserved, only for the scenes to be revealed as the final happy thoughts of a dying Harrow. Read more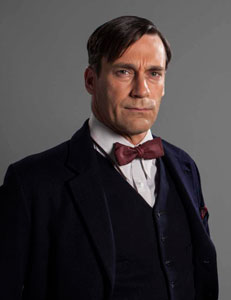 Jon Hamm has rocked television viewers for the last six seasons as Don Draper on AMC's Mad Men. Now he's continuing with another challenging character as a morphine-addicted middle-aged man looking back on his 24-year-old self, played by Daniel Radcliffe, in Season 2 of the British TV series, A Young Doctor's Notebook.
Hamm looked back at his own life at 24 with The Observer.
He shared what he would tell his young self, "I'd be telling him, just work harder. I had been doing plays back then. At 24, I'd just come to Los Angeles. When you think of yourself in your 20s you tend to obscure some of the worst memories and inflate some of the good parts. If I think back to my first couple of months as a professional actor, I cringe: I was such an idiot. In film and television there are so many customs that you don't know about. You just blunder in." Read more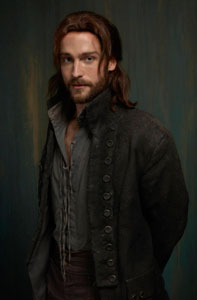 One of the biggest hits of the new season, Sleepy Hollow, returns with an all new episode tonight and I got a chance to talk to series star, Tom Mison on a recent conference call.
Mison is a big presence in British theatre and even won the Sir John Gielgud Award back in 2003. You may have also seen him opposite Rebecca Hall in the HBO miniseries, Parade's End. Mison is a great Ichabod Crane and even though a handful of episodes have aired, I can't imagine anyone else in the role.
In this interview, Mison chats about playing Ichabod Crane, his chemistry with co-star Nichole Beharie and how he's not a fan of ad-libbing.
Sleepy Hollow airs on Mondays at at 9/8 central on Fox Read more