Here's the newest trailer for Anchorman 2!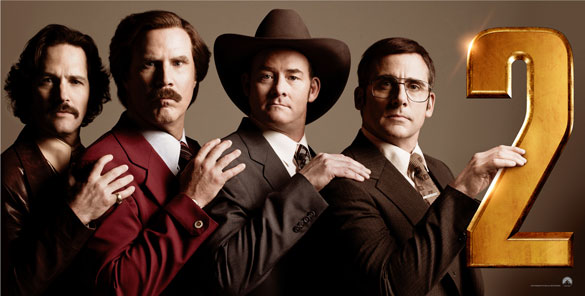 Anchorman 2: The Legend Continues -  With the 70′s behind him, San Diego's top rated newsman, Ron Burgundy (Will Ferrell), returns to the news desk in "Anchorman 2: The Legend Continues."  Also back for more are Ron's co-anchor and wife, Veronica Corningstone (Christina Applegate), weather man Brick Tamland (Steve Carell), man on the street Brian Fantana (Paul Rudd) and sports guy Champ Kind (David Koechner) – All of whom won't make it easy to stay classy… while taking New York's first 24-hour news channel by storm.
In theaters: December 20th  Read more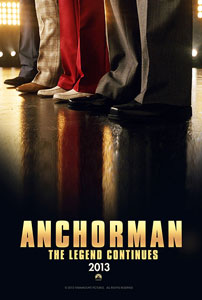 Here's a new teaser trailer for Anchorman 2: The Legend Continues!
Starring Will Ferrell, David Koechner, Paul Rudd and Steve Carell, it's pretty much the same as the first teaser trailer but who cares, right? It's still funny and it's just making me wish it were already December.
In theaters on December 20th! Read more
Paul Rudd has worked with comedy director/writer/producer Judd Apatow on a number of projects, including in Apatow's upcoming Knocked Up spinoff, This Is Forty.  Naturally, it would seem like the two have a long history pre-Hollywood and that Rudd always planned to be in comedies, but it turns out that isn't the case at all.  Rudd opened up about his relationship with Apatow, popping zits, and his initial fears of success in a length interview with Playboy.
It turns out that Rudd became of fan of Apatow's seminal Freaks and Geeks series and the two began to exchange e-mails.  The two didn't actually meet until Rudd was auditioning for one of Apatow's first movie successes.  Rudd explains, "We e-mailed each other for a long time. I wasn't actually in the same room with him until I auditioned for Anchorman. And walking in there and seeing him was weird. It felt as though I was meeting my Asian pen pal. I really wanted to make a great first impression." 
Rudd, however, wasn't his usual self — he attempted to fit the 1970s image he would use in the film during the audition, confessing, "I wanted to do something special for the role. I was working on Friends that week, so I was able to raid the show's wardrobe department. I don't normally dress up for an audition to try to impress the director unless it's something I really want and I think dressing up might help. The wardrobe supervisor on Friends helped me find this horrible polyester suit, and I had enough time before the audition to grow a mustache and the chops. It wasn't fully grown in, but it was enough to give them the general idea."   Read more
Steve Carell made a big splash as 'Brick Tamland' in Anchorman and from his audition tape, you can see why.
He does two scenes (the first is from the very end of the movie if I remember correctly) and the second one, you can hear Will Ferrell in the background as 'Ron Burgundy'. Read more
From Movieline:
You've accrued a lot of television, film and stand-up experience. In addition to Hank, what kind of work excites you most?
Look, anyone who has a job in show business. as far as I'm concerned. should be grateful and I certainly am. Sometimes you have a particular goal in mind and every actor is probably different in what they think they're going to get. There have been times in my life where I've said "I just want to work." And it just happens and I work. And then there have been other times when I'm looking around and I have a wife and four children. The number one thing I need to do is provide and so other opportunities come this way or that way. And I'm so fortunate that sometimes I have choices while other times I have only what is in front of me.
And right now, with Hank in particular, working on a four-camera sitcom is the best job in show business, it really is. This one in particular happens to be eight minutes from my house. [Just take the] freeway and an off-ramp and boom, I'm in the studio. I have four kids, I need to share my life with them, I can drop them off at school and I can pick them up and it's a great job. So look, I'm very blessed to have this opportunity. I've never had a regular role on a series. I've done different guest spots or had an arc on a series years ago.
Plus, to get to work with Kelsey Grammer. So this is just another beautiful step, you never know where it's going to take you. Wow, what a great trip. I get to do this one and that one. Look at all the great guys I've gotten to work with and going all the way back to Chicago, with all the people I worked with back there. And dude, here's the thing I've realized about my path is that I will always get to work with a bunch of different great people and that's the fun of it.
I imagine that the days are shorter than doing single-camera stuff.
That's right.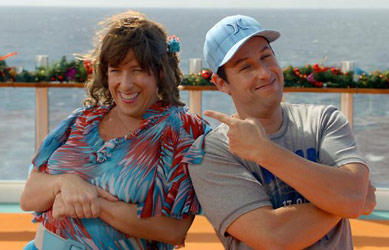 Each year Forbes releases a list of the most "overpaid" actors — in other words, actors who deliver the least amount of box office for the investment to cover their hefty paychecks.  Last year the list was topped by Eddie Murphy (big surprise), who doesn't make the list this year because he wisely decided to take a little break from movies.  But this year another Saturday Night Live veteran took his spot at the top: Adam Sandler.
Adam Sandler had the two biggest bombs of his career back-to-back with 2011′s Jack and Jill and 2012′s That's My Boy, but had a massive worldwide hit with the animated Hotel Transylvania (however, the Forbes list does not count animated films).  The struggling box office of those two movies suggests why Sandler made his first sequel, Grown Ups 2 (which was a big hit for him), and is reuniting with Drew Barrymore for Blended, with whom he made two hit romantic comedies.  However, Forbes' data "looked at the last three movies each actor starred in over the three years to June 1," so the July release of Grown Ups 2 did not make the cut.  Forbes estimates that for every dollar Sandler was paid, the films returned $3.40.  Still, Sandler at least can take comfort in knowing he probably won't be #1 next year because of Grown Ups 2… unless he has another bomb in the first half of 2014. Read more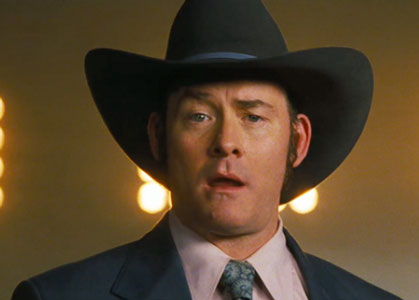 One of the most highly anticipated films of the holiday season is Anchorman 2: The Legend Continues. One of the actors returning to the fan-favorite film is David Koechner who plays Champ Kind, the sportscaster at Ron Burgundy's San Diego news station.
The stand-up comedian recently spoke with the San Diego Reader about his career and why he chose to star in a film like Pirahana 3DD.
"The reality is, I have five kids. Sometimes, economics makes choices for you. But here's the thing I love: I do all kinds of stuff, and I embrace it. I wasn't stuck with four more films like Piranha 3DD," explained Koechner. "I went and did Anchorman 2. I did three episodes of Hannah Montana. I did a voice on Phineas and Ferb. I went to Canada and shot a film with Brent Butt. I went to Vermont and did a short film that made me cry because it was about a woman who grew up in a family where her two oldest brothers had Duchenne muscular dystrophy, and they knew they were going to die. I don't think I even got paid for that, but it was one of those things that you have to do. I did a dark thriller called Cheap Thrills that has some comedic elements." Read more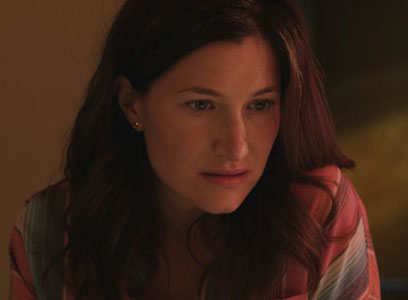 If you're watching a movie that stars Will Ferrell or Paul Rudd (or both), there's a good chance Kathryn Hahn is going to make an appearance at some point.  Hahn has appeared in roles (both big and small) in movies like Anchorman, Step Brothers, Wanderlust, How Do You Know, and Our Idiot Brother, and she's also appeared in plenty of other movies roles and played reoccurring characters on television shows like Parks and Recreation, Crossing Jordan, and Girls. 
However, in the indie movie Afternoon Delight Hahn finally has the opportunity to star in a leading film role alongside Josh Radnor.  She spoke to Interview magazine about establishing a new character and the importance of developing that character's backstory. Read more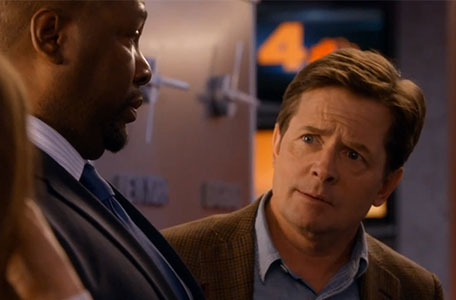 Many were surprised when it was announced that Michael J. Fox would return to television in the NBC series The Michael J. Fox Show.  After all, after Fox was diagnosed with Parkinson's disease over a decade ago he has limited his performances to voiceover work and short guest-starring stints on shows like Scrubs, Rescue Me, and Curb Your Enthusiasm.  However, as he tells The New York Daily News, Fox has reached a point in his life that he feels comfortable returning to the demands of television.
On why he would choose to star in a regular series again after leaving the sitcom Spin City in 2000 because of his Parkinson's disease, Fox says, "I figured I'd either atrophy or rebuild muscle.  I'm feeling more comfortable with the schedule every day." Read more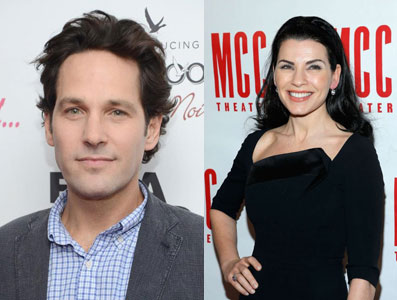 Paul Rudd and Julianna Margulies will perform in a one-night only benefit reading of Neil LaBute's play, The Mercy Seat, for MCC Theatre.
The reading takes place on June 17th at 7:30 p.m. at the Lucille Lortel Theatre (121 Christopher Street, NYC).  The event is part of MCC's celebration of a decade of collaboration and new work with Playwright-in-Residence Neil LaBute. Proceeds will benefit MCC Theater's literary development programs, including the Playwrights' Coalition and free PlayLab reading series.
Margulies ("The Good Wife," "ER"), an MCC Theater board member, last appeared on MCC's stage in the 2002 production of Intrigue with Faye. Rudd ("This Is 40," "Knocked Up") appeared on Broadway this season in Craig Wright's Grace and will next star in the upcoming films Prince Avalanche and Anchorman 2.  Read more