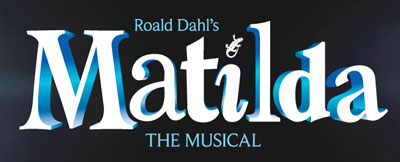 Matilda the Musical will be holding an open call for the role of 'Matilda' in New York City on Sunday, September 30th at Pearl Studios (519 Eighth Avenue, 12th Floor, between 35th and 36th streets). 
Check-in begins at 10:00 AM in Studio C on a first come / first serve basis.  Auditions will begin at 11:00 AM.
Producers are seeking 8-10 year old girls who are 4'4 or under. Matilda should be a strong singer and confident speaker with a good understanding of text and intelligent approach to acting. She should look like the runt of the litter. However, she is extremely bright, fearless and focused, and able to speak assertively. Read more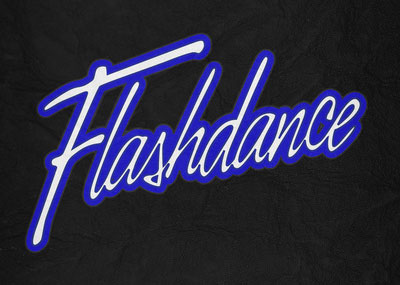 Flashdance – The Musical, the stage adaptation of the 1983 hit movie, will dance its way on Broadway in August 2013 with a theater, dates and casting to be announced. 
As previously announced, Flashdance will launch a separate national touring company in January 2013 at the Heinz Hall in Pittsburgh, the steel town that serves as the musical's setting, and will continue to play over 25 markets in North America. Read more
Two-time Academy Award® nominee Will Smith (Agent J) has enjoyed unprecedented success in a career encompassing films, television, and multi-platinum records.  For his memorable portrayal of Muhammad Ali in Michael Mann's Ali, he received his first Academy Award® nomination and that was followed by his second nomination for the true-life drama, The Pursuit of Happyness.
Smith is currently filming and producing After Earth under his Overbrook Entertainment production banner costarring Jaden Smith and directed by M. Night Shyamalan.
His extraordinary list of blockbusters includes I Am Legend and Hancock. He also thrilled audiences in such huge hits such as I, Robot, Independence Day, Men in Black and Men in Black II.  He does not limit his work to acting and, along with partner James Lassiter of Overbrook Entertainment, he produced, among others, Hitch, The Pursuit of Happyness, The Secret Life of Bees, Seven Pounds, Lakeview Terrace and The Human Contract, which marked the feature directorial debut of Jada Pinkett Smith. Overbrook's most recent success was Columbia Pictures' The Karate Kid, which was released June 11, 2010 and grossed over $343 million worldwide. Read more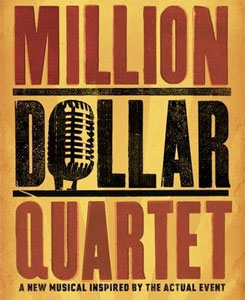 MILLION DOLLAR QUARTET, the hit musical with productions in New York, Chicago and touring across North America, is launching a national casting search seeking musicians/actors for the roles of Elvis Presley, Johnny Cash, Jerry Lee Lewis, and Carl Perkins for future replacements and understudies for the Chicago and touring productions.
Open casting calls will be held in the following cities:
LAS VEGAS, NV – Thursday, June 14 (11 AM – 3 PM) at BackStage Dance Studio II (3425 BackStage Blvd).
LOS ANGELES, CA – Sunday, June 24 (11 AM – 3 PM) at Screenland Studios (10501 Burbank Blvd in North Hollywood).
AUSTIN, TX – Wednesday, June 27 (11 AM – 3 PM) at the Long Center for the Performing Arts (701 West Riverside Drive).
Candidates should prepare a song that was made famous by one of the four members of the MILLION DOLLAR QUARTET and they must be able to accompany themselves on acoustic guitar, electric guitar, or piano. Acting experience is not essential, but candidates must be able to convincingly portray the characters. Candidates for Elvis Presley, Johnny Cash, or Carl Perkins should bring their own guitar (acoustic or electric). A piano will be on site for anyone auditioning for the role of Jerry Lee Lewis. Read more
It's probably accurate to say that most actors with decades-long careers feel comfortable doing a certain genres and are hesitant to branch out into more physical roles. 
Not Denzel Washington,  whose last three films have been the action/thrillers Book of Eli, Unstoppable, and Safe House. 
In an interview with Metro, Washington talks about how he has seen changes in both his roles and the film industry as a whole over his acting career, and what ambitions he has left.
Like Liam Neeson, Washington is one of the few actors who are known for dramatic roles but have begun to do more action roles in his late fifties.  However, Washington claims that the only difficulty he had with his action scenes is… jumping?  Read more
Podcast: Play in new window | Download (Duration: 18:41 — 12.9MB)
In Joe Carnahan's excellent film, The Grey, Joe Anderson plays Flannery, a loudmouth who constantly gets under the skin of his fellow oil-riggers. When their plane goes down, he and the rest of the survivors (Liam Neeson, Frank Grillo, Dermot Mulroney, Dallas Roberts, James Badge Dale, Ben Bray and Nonso Anozie) are forced to work together to fend of packs of wolves hungry for their blood.
Anderson is the son British theatre actors and he told me that even though he grew up surrounded by the profession, he didn't think he'd ever actually be an actor. After backpacking around the world, he decided he wanted to become a director. But since he couldn't afford coming to America and go to film school, he thought he'd go to drama school to learn about actors. And the rest is history.
Joe talked to me about the shoot and what it was like to work in freezing weather, working with Liam Neeson, and one particularly bad audition where he had to play an espresso machine.
For the full interview, click the audio link above or download it from iTunes 
I saw The Grey the other night. Freakin' fantastic film.
Joe Anderson: It's a fun one. It's intense, right? But it's got a lot of heart in there, a lot of heart.  It took me by surprise, the script.
Before I read it, I was thinking of kind of a dude's movie with guys in the snow and fighting wolves and it is but it's kind of a way more than that. I was kind of really surprised by that.   Read more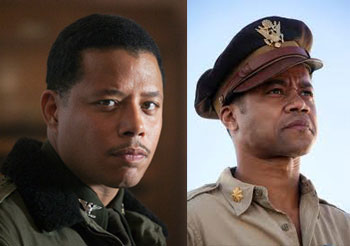 Red Tails isn't just a vanity project for producer George Lucas — the story of the World War II Tuskeegee Airmen is something Lucas has wanted to tackle for years — but a film that fills a void that is all-too-often ignored: a drama with a predominantly African-American cast. 
They're a rarity in Hollywood, and Think Progress caught up with two of the film's stars, Terrence Howard and Cuba Gooding, Jr., to discuss with them the current state of African-Americans in Hollywood.  Their thoughts?  It's difficult to break through.
Howard maintains that Hollywood is unwilling to invest in films with African-American casts because of the perceived low earning potential.  He explains, "Now, Hollywood, for a number of years has maintained the status quo by saying black films do not have an international value. Therefore we're able to pay black actors less, we can give them less money to make their films…If this film, if George Lucas, who is basically the Parrish of the film industry, as Col. Noel Parrish did for the Tuskeegee Airbase, he put his entire career on the line and stood behind these black pilots, these American pilots. What George Lucas did, he put his entire career on the line…when they wouldn't distribute it, he put $30 million into distribution. If this film is not successful, it will become a stumbling block for all time where they can say that black films do not have value or merit. It's important that this film is supported…if George Lucas does not profit from this, then the rest of the industry will see no profit in black people."   Read more
Podcast: Play in new window | Download (Duration: 24:41 — 17.0MB)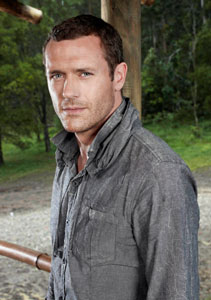 After some highly publicized delays, rewrites and re-shoots, Steven Spielberg's Terra Nova finally comes to the small screen this Monday in a big two-hour première on FOX.

The show, starring Jason O'Mara and Stephen Lang, is set in the year 2149 at a time when humankind is threatened with extinction. In an effort to save the human race, scientists develop a time machine that opens a portal 85 million years to prehistoric Earth.
The Shannon family, Jim and Elizabeth and their three children, travel through the portal to establish a new human colony in hopes of saving the future earth.
Jason, whose credits include In Justice and Life on Mars, stars as Jim Shannon, "a devoted father with a checkered past who guides his family through this new world of limitless beauty, mystery and terror." And dinosaurs. Yes!
I talked to Jason in a conference call about how he got the part, the acting challenges he had to face and the difficulties of shooting on location for months at a time.
Follow Jason on Twitter!
Terra Nova airs on Mondays at 8/7c on FOX
For the full interview, click the audio link above or download it from iTunes
How did this part and this show come to you?
Jason O'Mara: Well, to be perfectly honest it was one of those kind of things that was—okay, let me start at the beginning.  I was in London doing a play at the Donmar Warehouse.
What play?
Jason O'Mara: It was called Serenading Louie.  It was an off-Broadway play from like 1972, I think, or '73, that was being revived and I did it with Jason Butler Harner, who is a great American actor.  I think he's going to be in Alcatraz on Fox in the mid-season.  Simon Curtis directed it, who's married to Elizabeth McGovern and he's directed a lot of stuff recently, actually.  He's just directed My Week with Marilyn, which is coming out soon. 
I really had a great time, but I really felt—I had skipped pilot season because I was in London for all of that and I thought that Hollywood had completely moved on and had lost interest in me, which would have been fine, you know, whatever.  Things go in cycles.  I came back and my agent called me and said, "Just so you know I've had several conversations with Dreamworks and Fox about a production that they're working on called Terra Nova and Steven Spielberg is highly involved in the casting and is signing off on everything related to the production.  That's a hoop that we need to jump through before we progress any further."   Read more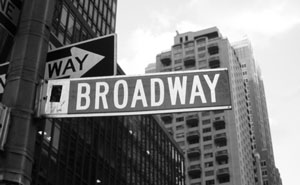 Now this will leave some damage.
As everyone knows from the wall-to-wall news coverage, Hurricane Irene swept through the Eastern Seaboard.  Although some places were hit hard, New York City escaped with relatively minor damage.  However, because the actual severity of the hurricane could not be predicted, several safety precautions were taken in Manhattan to limit the potential cost to human life.  One of the most significant moves was the suspension of public transportation, which in part lead to the cancellation of Broadway shows for the weekend.  This is even more significant if you take into account that many shows, like Billy Elliot and the Lion King, have two performances on weekend days (forcing the cancellation of up to four shows over a two-day period).
So it's no surprise that Broadway took in 36% less money than it did for the same week last year ($11.62 million vs. $18.15 million) with an equally huge drop in attendance (from 204,265 last year to 130,853 this year).  Obviously that is a significant drop that shows just how important summer weekend business is for Broadway productions.   Read more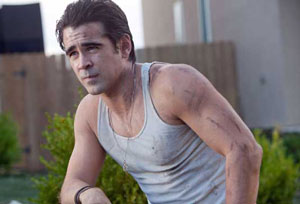 Fright Night's newest villain Colin Farrell, who plays the vampire next door in the 80′s reboot that opens in theaters Aug. 19th, appears to have undergone quite a transformation that has nothing to do with fake teeth and blood capsules.   The thirty-five year old recently discussed his acting career with USA Today where he lets fans see a more calm, cooler, simple and healthier side than his former self.
During the interview the once bad boy turned family man, who still hasn't lost his fire, talked about how he would deal with his fame if it ever became too much to handle.  "Walk the (expletive) away from it. You don't want to be photographed by the paparazzi? Say no to the $120 million film. Eventually they'll stay away from you. But you won't have the other things the $120 million film brings into your life: the good seats at the sports event, the backstage pass to the concert, the nice reclining chair on the airplane."  Not something you typically here these days with most actors.  Farrell, like most celebrities that haven't, appears to have wrapped his head around the good and the bad of being a Hollywood icon.  Read more