Screenplay: 'The Invisible Woman'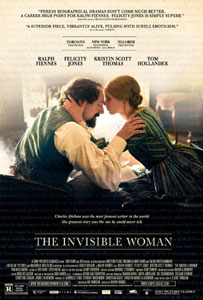 The Invisible Woman: Nelly (Felicity Jones), a happily-married mother and schoolteacher, is haunted by her past. Her memories, provoked by remorse and guilt, take us back in time to follow the story of her relationship with Charles Dickens (Ralph Fiennes) with whom she discovered an exciting but fragile complicity. Dickens – famous, controlling and emotionally isolated within his success – falls for Nelly, who comes from a family of actors. The theatre is a vital arena for Dickens – a brilliant amateur actor – a man more emotionally coherent on the page or on stage, than in life. As Nelly becomes the focus of Dickens' passion and his muse, for both of them secrecy is the price, and for Nelly a life of "invisibility".
Cast
Ralph Fiennes as Charles Dickens
Felicity Jones as Nelly Ternan
Kristin Scott Thomas as Catherine Ternan
Tom Hollander as Wilkie Collins
Joanna Scanlan as Catherine Dickens
Michelle Fairley as Caroline Graves
Jonathan Harden as Mr. Arnott
Tom Burke as Mr. George Wharton Robinson
Perdita Weeks as Maria Ternan
John Kavanagh as Reverend Benham
Director: Ralph Fiennes
Written by: Abi Morgan
http://www.dailyactor.com/wp-content/uploads/2016/02/david-harewood-supergirl.jpg
David Harewood on 'Supergirl' and How He Was "Struggling to Get a Handle" on His Character
Harewood reveals how he relates to the character and how he eventually got comfortable playing him.
http://www.dailyactor.com/actors-on-acting/david-harewood-supergirlstruggling-to-get-a-handle-on-his-character/
http://www.dailyactor.com/wp-content/uploads/2016/01/Jeff-Daniels.jpg
Jeff Daniels Remembers a Terrible Audition for a Diane Keaton Movie
One actor that knows the ups and downs of the audition process is Jeff Daniels.
http://www.dailyactor.com/actors-on-acting/jeff-daniels-terrible-audition-diane-keaton-movie/
http://www.dailyactor.com/wp-content/uploads/2016/02/Jennifer-Jason-Leigh-The-Hateful-Eight.jpg
Jennifer Jason Leigh on Her First-Ever Oscar Nomination: "It's kind of phenomenal"
"He knew that I could, in his words, 'act the … out of it' and I'm not afraid to take a risk in terms of acting" Jennifer Jason Leigh on Quentin Tarantino
http://www.dailyactor.com/actors-on-acting/jennifer-jason-leigh-oscar-nomination/
http://www.dailyactor.com/wp-content/uploads/2016/02/Forest-Whitaker-Hughie-Broadway.jpg
Forest Whitaker on Making His Broadway Debut in 'Hughie': "His rhythms are starting to invade inside of me"
"I want to get better as an actor, to keep trying to work harder, trying to discover something different" - Forest Whitaker
http://www.dailyactor.com/actors-on-acting/forest-whitaker-broadway-debut-hughie/
http://www.dailyactor.com/wp-content/uploads/2016/02/alicia-Vikander-Ex-machina.jpg
Alicia Vikander on the Her First Trip to L.A. and the Acting Tip 'Ex-Machina' Director Alex Garland Gave Her
"You [get immersed in] a film and of course you think that that is it. And then you go away and you read a new script and you have a new crush" - Alicia Vikander
http://www.dailyactor.com/actors-on-acting/alicia-vikanderacting-tip-ex-machina-director-alex-garland-gave-her/