Screenplay: 'The Invisible Woman'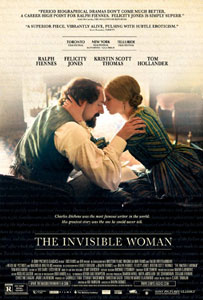 The Invisible Woman: Nelly (Felicity Jones), a happily-married mother and schoolteacher, is haunted by her past. Her memories, provoked by remorse and guilt, take us back in time to follow the story of her relationship with Charles Dickens (Ralph Fiennes) with whom she discovered an exciting but fragile complicity. Dickens – famous, controlling and emotionally isolated within his success – falls for Nelly, who comes from a family of actors. The theatre is a vital arena for Dickens – a brilliant amateur actor – a man more emotionally coherent on the page or on stage, than in life. As Nelly becomes the focus of Dickens' passion and his muse, for both of them secrecy is the price, and for Nelly a life of "invisibility".
Cast
Ralph Fiennes as Charles Dickens
Felicity Jones as Nelly Ternan
Kristin Scott Thomas as Catherine Ternan
Tom Hollander as Wilkie Collins
Joanna Scanlan as Catherine Dickens
Michelle Fairley as Caroline Graves
Jonathan Harden as Mr. Arnott
Tom Burke as Mr. George Wharton Robinson
Perdita Weeks as Maria Ternan
John Kavanagh as Reverend Benham
Director: Ralph Fiennes
Written by: Abi Morgan
http://www.dailyactor.com/wp-content/uploads/2015/09/Tom-Hardy-Legend.jpg
Tom Hardy on Playing Twins in 'Legend,' Being Seen as a Tough Guy, and Working with Philip Seymour Hoffman
Hardy speaks about why he challenged himself to play twins, what he thinks of his tough guy image, and working with the late Philip Seymour Hoffman, who directed him on stage.
http://www.dailyactor.com/actors-on-acting/tom-hardy-playing-twins-legend/
http://www.dailyactor.com/wp-content/uploads/2015/09/Emily-Blunt-Sicario.jpg
Emily Blunt on Action Movie Roles: "I think it's important to show different layers. Nobody is just tough, nobody is just vulnerable"
Emily Blunt touches upon why she has gotten into roles with an action bent and why she thinks there aren't more action movies with female leads
http://www.dailyactor.com/actors-on-acting/emily-blunt-sicario-acting-layers/
http://www.dailyactor.com/wp-content/uploads/2015/09/Jorja-Fox-CSI.jpg
Jorja Fox on Life After 'CSI': "I've always enjoyed not knowing exactly where the road leads"
"I think you kind of have to embrace the unknown if you're an actor." - Jorja Fox
http://www.dailyactor.com/actors-on-acting/jorja-fox-life-after-csi/
http://www.dailyactor.com/wp-content/uploads/2015/09/John-Turturro-Mia-Madre.jpg
John Turturro on the Life of an Actor: "It's a rough business. I wouldn't want my kids to do it"
"I am usually very well prepared. If you're a surgeon, you've got to know what you're going to take out today." - John Turturro
http://www.dailyactor.com/actors-on-acting/john-turturro-life-of-an-actor/
http://www.dailyactor.com/wp-content/uploads/2015/09/Matt-Damon-The-Martian.jpg
Matt Damon's Controversial Comments on Actors Keeping Their Real Lives a Mystery
"I think you're a better actor the less people know about you period. And sexuality is a huge part of that." - Matt Damon
http://www.dailyactor.com/actors-on-acting/matt-damon-actors-keeping-their-real-lives-a-mystery/