Screenplay: 'Frozen'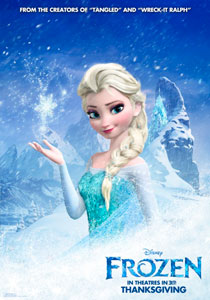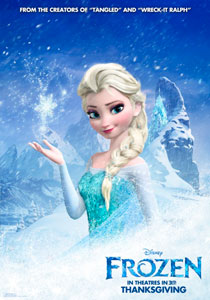 Frozen: Featuring the voices of Kristen Bell and Idina Menzel, "Frozen" is the coolest comedy-adventure ever to hit the big screen. When a prophecy traps a kingdom in eternal winter, Anna, a fearless optimist, teams up with extreme mountain man Kristoff and his sidekick reindeer Sven on an epic journey to find Anna's sister Elsa, the Snow Queen, and put an end to her icy spell. Encountering mystical trolls, a funny snowman named Olaf, Everest-like extremes and magic at every turn, Anna and Kristoff battle the elements in a race to save the kingdom from destruction.
Voice cast
Kristen Bell as Anna, princess of Arendelle and Elsa's younger sister

Livvy Stubenrauch as Young Anna
Katie Lopez as Young Anna (singing)
Agatha Lee Monn as Teenage Anna (singing)
Idina Menzel as Elsa, the Snow Queen and Anna's older sister
Eva Bella as Young Elsa
Spencer Lacey Ganus as Teenage Elsa
Jonathan Groff as Kristoff, a mountain man, who owns a reindeer named Sven.
Josh Gad as Olaf, a humorous snowman with intentions of experiencing summer
Santino Fontana as Hans, a prince from the Southern Isles
Alan Tudyk as the Duke of Weselton
Ciarán Hinds as Grand Pabbie the Troll King
Chris Williams as Oaken, the owner of Wandering Oaken's Trading Post and Sauna
Maia Wilson as Bulda, a troll
Jack Whitehall as a troll
Maurice LaMarche as the King of Arendelle, Anna and Elsa's father.
Director: Chris Buck, Jennifer Lee
Click here for the script to Frozen
http://www.dailyactor.com/wp-content/uploads/2016/02/alicia-Vikander-Ex-machina.jpg
Alicia Vikander on the Her First Trip to L.A. and the Acting Tip 'Ex-Machina' Director Alex Garland Gave Her
"You [get immersed in] a film and of course you think that that is it. And then you go away and you read a new script and you have a new crush" - Alicia Vikander
http://www.dailyactor.com/actors-on-acting/alicia-vikanderacting-tip-ex-machina-director-alex-garland-gave-her/
http://www.dailyactor.com/wp-content/uploads/2016/02/Channing-Tatum-Hail-Caesar.jpg
Channing Tatum Talks 'Hail, Caesar!': "I've been beating on the Coens' door for years, man"
"It's the most I've ever prepped for a six-minute section in a movie." - Channing Tatum
http://www.dailyactor.com/actors-on-acting/channing-tatum-hail-caesar-tap-dancing/
http://www.dailyactor.com/wp-content/uploads/2016/01/Isidora-Goreshter-Shameless-audition.jpg
Isidora Goreshter Remembers Her Audition for 'Shameless'
Goreshter recently recalled that her audition for the 'Shameless' was by far her worst ever.
http://www.dailyactor.com/actors-on-acting/isidora-goreshter-audition-for-shameless/
http://www.dailyactor.com/wp-content/uploads/2016/01/Sutton-Foster-Younger.jpg
Sutton Foster: "Sometimes I won't even find a character until I put on the costume"
"I never had grand aspirations to be a movie star, to be famous or to be on TV. The theater was what I wanted." - Sutton Foster
http://www.dailyactor.com/actors-on-acting/sutton-foster-younger-character-costume/
http://www.dailyactor.com/wp-content/uploads/2016/01/Paul-Giamatti-Billions.jpg
Paul Giamatti on Building His Career: "I was always willing to just go, 'OK, sure, I'll do that'"
"I've done everything an actor can do except porn and performing in an amusement park" - Paul Giamatti
http://www.dailyactor.com/actors-on-acting/paul-giamatti-billions-building-an-acting-career/