Screenplay: 'Dallas Buyers Club'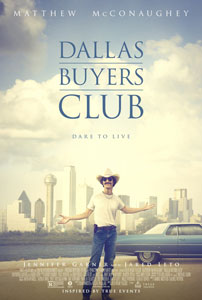 Dallas Buyers Club is a 2013 American biographical drama film directed by Jean-Marc Vallée and starring Matthew McConaughey, Jared Leto, Jennifer Garner and Steve Zahn. The film is based on the true-life tale of Ron Woodroof, an AIDS patient who began smuggling unapproved pharmaceutical drugs into Texas when he found them effective at improving his symptoms. The film has been critically acclaimed and received several awards and nominations, including two Golden Globe Award wins for McConaughey and Leto.
Cast
Matthew McConaughey as Ron Woodroof
Jennifer Garner as Dr. Eve Saks
Jared Leto as Rayon
Steve Zahn as Tucker
Dallas Roberts as David Wayne
Michael O'Neill as Richard Barkley
Denis O'Hare as Dr. Sevard
Griffin Dunne as Dr. Vass
Jane McNeill as Francine Suskind
James DuMont as Rayon's father
Bradford Cox as Sunny, Rayon's lover
Kevin Rankin as T. J.
Lawrence Turner as Larry
Matthew Thompson as Effeminate Man
Adam Dunn as Neddie Jay
Director: Jean-Marc Vallée
Click here for the script to Dallas Buyers Club
http://www.dailyactor.com/wp-content/uploads/2015/10/Bridge-of-Spies-Tom-Hanks-Mark-Rylance.jpg
Tom Hanks on Working with Steven Spielberg and Mark Rylance in 'Bridge of Spies'
"Steven does this incredible thing when he casts you: He empowers you with the scene." - Tom Hanks on Steven Spielberg
http://www.dailyactor.com/actors-on-acting/tom-hanks-working-steven-spielberg-mark-rylance-bridge-of-spies/
http://www.dailyactor.com/wp-content/uploads/2015/09/Tom-Hardy-Legend.jpg
Tom Hardy on Playing Twins in 'Legend,' Being Seen as a Tough Guy, and Working with Philip Seymour Hoffman
Hardy speaks about why he challenged himself to play twins, what he thinks of his tough guy image, and working with the late Philip Seymour Hoffman, who directed him on stage.
http://www.dailyactor.com/actors-on-acting/tom-hardy-playing-twins-legend/
http://www.dailyactor.com/wp-content/uploads/2015/09/Emily-Blunt-Sicario.jpg
Emily Blunt on Action Movie Roles: "I think it's important to show different layers. Nobody is just tough, nobody is just vulnerable"
Emily Blunt touches upon why she has gotten into roles with an action bent and why she thinks there aren't more action movies with female leads
http://www.dailyactor.com/actors-on-acting/emily-blunt-sicario-acting-layers/
http://www.dailyactor.com/wp-content/uploads/2015/09/Jorja-Fox-CSI.jpg
Jorja Fox on Life After 'CSI': "I've always enjoyed not knowing exactly where the road leads"
"I think you kind of have to embrace the unknown if you're an actor." - Jorja Fox
http://www.dailyactor.com/actors-on-acting/jorja-fox-life-after-csi/
http://www.dailyactor.com/wp-content/uploads/2015/09/John-Turturro-Mia-Madre.jpg
John Turturro on the Life of an Actor: "It's a rough business. I wouldn't want my kids to do it"
"I am usually very well prepared. If you're a surgeon, you've got to know what you're going to take out today." - John Turturro
http://www.dailyactor.com/actors-on-acting/john-turturro-life-of-an-actor/