Screenplay: '12 Years a Slave'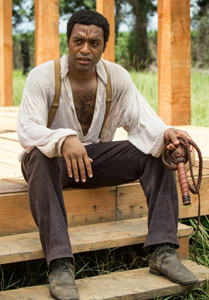 12 Years a Slave: Chiwetel Ejiofor stars as Solomon Northup, the New York State citizen who was kidnapped and made to work on a plantation in New Orleans in the 1800s.
Steve McQueen (Hunger) directs from a script he co-wrote with John Ridley, based in part by Northup's memoir. Michael Fassbender, Brad Pitt, Benedict Cumberbatch, Sarah Paulson, and Paul Giamatti co-star.
Cast
Chiwetel Ejiofor as Solomon Northup
Michael Fassbender as Edwin Epps
Lupita Nyong'o as Patsey
Sarah Paulson as Mary Epps
Benedict Cumberbatch as William Ford
Brad Pitt as Samuel Bass
Paul Dano as John Tibeats
Adepero Oduye as Eliza
Paul Giamatti as Theophilus Freeman
Garret Dillahunt as Armsby
Scoot McNairy as Brown
Taran Killam as Hamilton
Chris Chalk as Clemens Ray
Michael K. Williams as Robert
Kelsey Scott as Anne Northup
Alfre Woodard as Mistress Harriet Shaw
Quvenzhané Wallis as Margaret Northup
Devyn A. Tyler as Adult Margaret Northup
Cameron Zeigler as Alonzo Northup
Rob Steinberg as Parker
Jay Huguley as Sheriff Villiere
Christopher Berry as James Burch
Bryan Batt as Judge Turner
Bill Camp as Radburn
Dwight Henry as Uncle Abram
Ruth Negga as Celeste
Directed by: Steve McQueen, Brad Pitt, Dede Gardner, Jeremy Kleiner
Screenplay by: John Ridley
Click here for the script to 12 Years a Slave 
http://www.dailyactor.com/wp-content/uploads/2016/02/david-harewood-supergirl.jpg
David Harewood on 'Supergirl' and How He Was "Struggling to Get a Handle" on His Character
Harewood reveals how he relates to the character and how he eventually got comfortable playing him.
http://www.dailyactor.com/actors-on-acting/david-harewood-supergirlstruggling-to-get-a-handle-on-his-character/
http://www.dailyactor.com/wp-content/uploads/2016/01/Jeff-Daniels.jpg
Jeff Daniels Remembers a Terrible Audition for a Diane Keaton Movie
One actor that knows the ups and downs of the audition process is Jeff Daniels.
http://www.dailyactor.com/actors-on-acting/jeff-daniels-terrible-audition-diane-keaton-movie/
http://www.dailyactor.com/wp-content/uploads/2016/02/Jennifer-Jason-Leigh-The-Hateful-Eight.jpg
Jennifer Jason Leigh on Her First-Ever Oscar Nomination: "It's kind of phenomenal"
"He knew that I could, in his words, 'act the … out of it' and I'm not afraid to take a risk in terms of acting" Jennifer Jason Leigh on Quentin Tarantino
http://www.dailyactor.com/actors-on-acting/jennifer-jason-leigh-oscar-nomination/
http://www.dailyactor.com/wp-content/uploads/2016/02/Forest-Whitaker-Hughie-Broadway.jpg
Forest Whitaker on Making His Broadway Debut in 'Hughie': "His rhythms are starting to invade inside of me"
"I want to get better as an actor, to keep trying to work harder, trying to discover something different" - Forest Whitaker
http://www.dailyactor.com/actors-on-acting/forest-whitaker-broadway-debut-hughie/
http://www.dailyactor.com/wp-content/uploads/2016/02/alicia-Vikander-Ex-machina.jpg
Alicia Vikander on the Her First Trip to L.A. and the Acting Tip 'Ex-Machina' Director Alex Garland Gave Her
"You [get immersed in] a film and of course you think that that is it. And then you go away and you read a new script and you have a new crush" - Alicia Vikander
http://www.dailyactor.com/actors-on-acting/alicia-vikanderacting-tip-ex-machina-director-alex-garland-gave-her/