SXSW Review: '21 Jump Street'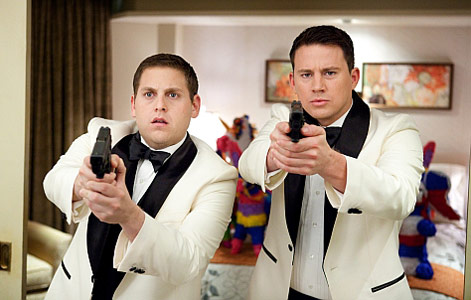 Who knew I would like Channing Tatum so much in a movie?
Haywire aside, he was the main reason I liked 21 Jump Street so much. Well, that and some great cameos – which I won't spill.
I used to love 21 Jump Street the show. Yeah, looking back on it – and I recently watched every single episode – it was a bit cheesy but at the time, Hanson (Johnny Depp), Penhall (Peter DeLuise), Hoffs (Holly Robinson Peete) and Ioki (Dustin Nguyen) were my TV obsession.
When I heard they were turning my beloved show into a film… into a comedy (!) starring Jonah Hill and Channing Tatum, well, I was prepared for it to stink.
I'm happy to say that the new version of Jump Street doesn't suck, in fact, it's hilarious and that's thanks to – go figure – Channing Tatum.
The film starts five years in the past when Hill's Schmidt and Tatum's Jenko (a name to true Jump Street fans will seem like blasphemy) meet in high school where Schmidt is an outcast who tries to fit in and Jenko's is the dumb jock who has trouble getting passing grades.
Cut to today, where Schmidt and Jenko meet at police academy and quickly become friends. As the two join the force and prove themselves to be major F-ups, they are sent to the newly revived Jump Street program, where their youthful appearances prove advantageous to go undercover in a local high school. Their mission: To investigate a violent and dangerous drug ring. They soon find out that what they think will be an easy assignment, is anything but.
The pairing of Hill and Tatum proves to be a winning combination. The two are just funny together and it looks like they are both having a great time when they're on screen. It's when they are apart that things lag a little but it's not the fault of Tatum. His scenes without Hill are the ones that provide a bunch of the laughs. He is forced to hang with the nerds of the school and you can tell that he is loving a chance to play against his normal type. When Hill, who has to hang with the cool kids, is alone his scenes seem forced and while sometimes funny, they are the ones where your mind can drift a little.
But, don't let that deter you because you'll definitely laugh and enjoy this.
And you'll love the cameos!
http://www.dailyactor.com/wp-content/uploads/2016/08/imperium_daniele_radcliffe.jpg
Daniel Radcliffe on Playing a Neo-Nazi in 'Imperium': "It's still just horrible to say some of this stuff"
Radcliffe reveals how he played such a layered character and what it felt like to say his character's hate-filled dialogue.
http://www.dailyactor.com/actors-on-acting/daniel-radcliffe-playing-a-neo-nazi-imperium/
http://www.dailyactor.com/wp-content/uploads/2016/08/John-Cho-Star-Trek-Beyond.jpg
How John Cho Took A Stand for Diversity Early in His Career
"When one does speak one's mind, one might be surprised at how receptive people are." - Actor John Cho
http://www.dailyactor.com/actors-on-acting/john-cho-took-a-stand-for-diversity/
http://www.dailyactor.com/wp-content/uploads/2016/08/simon-helberg-florence-foster-jenkins.jpg
Simon Helberg on His 'Florence Foster Jenkins' Role: "I'm an actor and I want to stretch different muscles"
Helberg spoke about portraying his character in the film and whether or not he feels typecast by his Big Bang Theory role.
http://www.dailyactor.com/actors-on-acting/simon-helberg-florence-foster-jenkins-role/
http://www.dailyactor.com/wp-content/uploads/2016/08/Will-Chase-Something-Rotten.jpg
The Role That Got Away: Will Chase on Returning to 'Something Rotten!'
"I know that I am a poor man's fill-in-the-blank. And I know that there are poor man's Will Chases out there. That's just the nature of the business" - Will Chase
http://www.dailyactor.com/actors-on-acting/will-chase-something-rotten-role-that-got-away/
http://www.dailyactor.com/wp-content/uploads/2016/08/Julia-Stiles-Jason-Bourne.jpg
Julia Stiles on the Jason Bourne Series and Growing as an Actress: "There's always room for improvement"
"I like a director that encourages me to be playful. I don't really like being restricted or controlled by a director." - Julia Stiles
http://www.dailyactor.com/actors-on-acting/julia-stiles-growing-as-an-actress/