Review: Skip This 'Ride Along'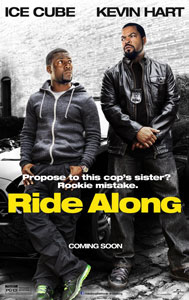 Kevin Hart deserves much better than Ride Along. He's is tremendously funny and definitely a talented guy but he can't save this pointless film.
Hart plays Ben, a high-school security guard who's a master at playing video games. His dream is to become a police officer and when he's finally accepted into the academy, he thinks he'll earn the respect of his fiancé's brother, James (Ice Cube).
James thinks Ben is a big, worthless baby who won't be able to provide for his sister. So, he comes up with a plan to bring him on a ride along, knowing full well that he'll cave and decide not to go into the academy. But, as in films like this, the night doesn't go according to plan and Ben turns out to be much more than James expected.
We've seen this film dozens of times before: the main character is a stunted man-child who is somehow dating an incredibly attractive woman and one of said attractive woman's family members tries to sabotage the relationship.
There's nothing new here and it's as stale as a piece of week-old bread. Hart does his best but he gets zero help from Director Tim Story, who helmed the horrible Fantastic Four films. A good edit would have helped; scenes go one way too long and some things just don't make sense. For instance, early on we find out that Ben has been trying to get into the academy. We then see him in a long scene where he's trying to help out a kid at the high school where he works. Once the kid walks out of the scene, Ben takes a letter out of his pocket – the letter where he'll find out if he's been accepted into the academy – to read it. You're telling me he didn't rip open that letter the very second it was given to him? He just carries it around with him for hours and hours? And where did he get the letter? Does he have it delivered to the high school?
Ice Cube is fine and the two do have some chemistry together but in an hour and a half, I only laughed three times.
http://www.dailyactor.com/wp-content/uploads/2016/04/jake-gyllenhaal-demolition.jpg
Jake Gyllenhaal on 'Demolition', Working with Chris Cooper and Directors Who Want Nothing to Do With Him
"I think storytelling is the most important part of movie-making over performance." - Jake Gyllenhaal
http://www.dailyactor.com/actors-on-acting/jake-gyllenhaal-demolition-chris-cooper/
http://www.dailyactor.com/wp-content/uploads/2016/04/don-cheadle-miles-davis.jpg
Don Cheadle: "Be scared. Be on the edge of your creativity"
"Be willing to fall flat on your face and be in an unknown place. If you're doing that, you're probably growing" - Don Cheadle
http://www.dailyactor.com/actors-on-acting/don-cheadle-scared-creativity/
http://www.dailyactor.com/wp-content/uploads/2016/04/jessie-eisenberg-louder-than-bombs.jpg
What is Jesse Eisenberg's "Most Fulfilling Acting Experience"?
"My absolute favorite thing to do is to write a play and then, after I finish, do the first reading of it with my friends around the table"- Jesse Eisenberg
http://www.dailyactor.com/actors-on-acting/jesse-eisenberg-most-fulfilling-acting-experience/
http://www.dailyactor.com/wp-content/uploads/2016/03/Lupita-Nyong'o-eclipsed.jpg
Lupita Nyong'o on Her Broadway Debut: "When we get up on that stage, you do not know what will happen"
"I think theater offers a chance to flex muscles that then only help to sustain cinematic work." - Lupita Nyong'o
http://www.dailyactor.com/actors-on-acting/lupita-nyongo-eclipsed-broadway/
http://www.dailyactor.com/wp-content/uploads/2016/03/jake-gyllenhaal-demolition.jpg
Jake Gyllenhaal on Missed Superhero Opportunities and Portraying "Antisocial" Characters
"I've always wanted to have the opportunity to play a number of different roles, and I knew it wasn't necessarily the role, but how you played them" - Jake Gyllenhaal
http://www.dailyactor.com/actors-on-acting/jake-gyllenhaal-antisocial-characters/