Review: 'ParaNorman'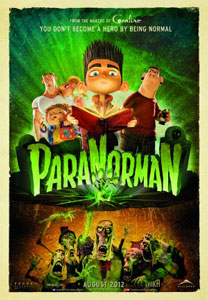 Norman (Kodi Smit-McPhee) is a normal, young boy. He loves to sit on the couch and watch TV with his Grandmother (Elaine Stritch), chat with people as he walks down the street in his small town and play with all of the dogs and cats as he passes them by.
There's only one problem. They're all dead.
Ok, so he might not be your typical young boy.
But that's ok, because when the town suddenly becomes overrun with ghosts, ghouls and zombies, Norman is the only one who can help. But from his disbelieving family and the school bullies, will Norman – ParaNorman – have enough confidence in himself to get rid of the horrors?
The film, from the stop-motion animation studio that gave us 2009's Coraline, is entertaining and the visuals are outstanding. It's got humor for young kids – not too young though, there is some creepy stuff going on in the film – and older and a lot of don't-blink-or-you'll miss-it moments that someone my age got a big kick out of. The film also has a solid (but not preachy) attitude about bullying and what it's like to be different.
Kodi Smit-McPhee is wonderful as Norman and as his exasperated sister, Anna Kendrick can do an animated 'sigh' better than anyone.
The one problem I had with the film, and this is with all animated films nowadays, were some of the voices: The trend to use name actors in roles where a voice-over actor would be a million times better. In films and TV, I really like Leslie Mann and Jeff Garlin (they play Norman's mother and father) and Casey Affleck but their voices don't do anything for animation. They're flat and just took me out of the film most of the time. With Garlin, he didn't do anything with his voice. He wasn't flat like the others, but again, it took me out because his voice is so recognizable to me. Kendrick and Smit-McPhee were hands down great but, I do think they are the exception rather than the norm.
That being said, it will in no way diminish the enjoyment you'll get from this film.
http://www.dailyactor.com/wp-content/uploads/2016/02/alicia-Vikander-Ex-machina.jpg
Alicia Vikander on the Her First Trip to L.A. and the Acting Tip 'Ex-Machina' Director Alex Garland Gave Her
"You [get immersed in] a film and of course you think that that is it. And then you go away and you read a new script and you have a new crush" - Alicia Vikander
http://www.dailyactor.com/actors-on-acting/alicia-vikanderacting-tip-ex-machina-director-alex-garland-gave-her/
http://www.dailyactor.com/wp-content/uploads/2016/02/Channing-Tatum-Hail-Caesar.jpg
Channing Tatum Talks 'Hail, Caesar!': "I've been beating on the Coens' door for years, man"
"It's the most I've ever prepped for a six-minute section in a movie." - Channing Tatum
http://www.dailyactor.com/actors-on-acting/channing-tatum-hail-caesar-tap-dancing/
http://www.dailyactor.com/wp-content/uploads/2016/01/Isidora-Goreshter-Shameless-audition.jpg
Isidora Goreshter Remembers Her Audition for 'Shameless'
Goreshter recently recalled that her audition for the 'Shameless' was by far her worst ever.
http://www.dailyactor.com/actors-on-acting/isidora-goreshter-audition-for-shameless/
http://www.dailyactor.com/wp-content/uploads/2016/01/Sutton-Foster-Younger.jpg
Sutton Foster: "Sometimes I won't even find a character until I put on the costume"
"I never had grand aspirations to be a movie star, to be famous or to be on TV. The theater was what I wanted." - Sutton Foster
http://www.dailyactor.com/actors-on-acting/sutton-foster-younger-character-costume/
http://www.dailyactor.com/wp-content/uploads/2016/01/Paul-Giamatti-Billions.jpg
Paul Giamatti on Building His Career: "I was always willing to just go, 'OK, sure, I'll do that'"
"I've done everything an actor can do except porn and performing in an amusement park" - Paul Giamatti
http://www.dailyactor.com/actors-on-acting/paul-giamatti-billions-building-an-acting-career/