Review: 'Les Miserables' 25th Anniversary Production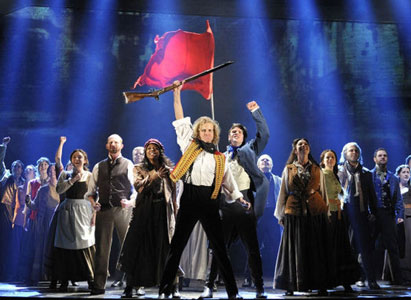 I got my first taste of Les Miesrables years ago when I was in London. The show was a smash and since I'd never seen it, what better way to experience the show than it's birthplace. The theater was small and my seats were way up in the balcony but from what I remember, it was it was a fine production. Nothing exactly stood out for me or I would have remembered it.
My memory won't fade with the show I saw last night.
Touring around the country and now currently in San Diego, the 25th Anniversary production of Les Miserable is excellent.
I don't say that lightly. With most touring shows, there are some week links – usually in the cast (unfortunately). In this show, there isn't one week link. The cast is fantastic and the two leads, Peter Lockyer as Jean Valjean and Andrew Varela as Javert, are worth the ticket price alone. They both have singing voices that will knock your socks off and in a few cases, your eyes might start to mist up. They've both taken two iconic roles and owned them. Wonderful, wonderful, wonderful work.
Other notable standouts in the cast were Betsy Morgan as Fantine and Timothy Gulan and Shawna M. Hamic as the the Thenadier's. Morgan's performance was delicate and beautiful while Gulan and Hamic bring the laughs every time they're on stage.
The famous rotating stage is gone and in its place is a backdrop that has scenery projected onto it. If you're thinking you'll miss the stage of the past, don't worry because this projections give the show an almost 3D effect to it. You actually feel like you're closer to the stage and immersed into the show.
If you're in San Diego or in one of the upcoming tour stops, definitely grab a ticket. Click here for more information.
http://www.dailyactor.com/wp-content/uploads/2016/06/jeff-bridges-hell-or-high-water.jpg
Jeff Bridges on Creating a Character, 'Hell or High Water' and Playing The Dude
"I use elements of myself—I see my parallels with a character—and find similar things in my own personality." - Jeff Bridges on Creating a Character
http://www.dailyactor.com/actors-on-acting/jeff-bridges-creating-a-character/
http://www.dailyactor.com/wp-content/uploads/2016/07/benjamin-bratt-actor.jpg
Benjamin Bratt: "For as limiting as the opportunities are for actors and actresses of color I've been very blessed"
"...it's dangerous to keep going down the same artistic path." - Benjamin Bratt
http://www.dailyactor.com/actors-on-acting/benjamin-bratt-ive-been-very-blessed/
http://www.dailyactor.com/wp-content/uploads/2016/07/watch-keegan-michael-key-explain.jpg
Watch: Keegan-Michael Key Explains Why "Improv actors are at war together"
Check out Key's points on why it's so important for improv actors to have each others' backs in the clip above.
http://www.dailyactor.com/actors-on-acting/keegan-michael-key-improv-actors-at-war-together/
http://www.dailyactor.com/wp-content/uploads/2016/07/norman-reedus-actor.jpg
Norman Reedus on Acting: "If it's something you really want, you have to roll with the rejection"
Norman Reedus is a fan-favorite star on The Walking Dead and was in the cult favorite film The Boondock Saints. However, in the dozen years between those two gigs Reedus had experienced ups and downs in his career and in many cases he was cast in very small roles in big movies or lead roles […]
http://www.dailyactor.com/actors-on-acting/norman-reedus-acting-rejection/
http://www.dailyactor.com/wp-content/uploads/2016/07/frank-grillo.jpg
Frank Grillo on Being Typecast: "I welcome it"
"I hear actors pooh-pooh the idea... people might see them as a certain thing. I welcome it" - Frank Grillo on Typecasting
http://www.dailyactor.com/actors-on-acting/frank-grillo-on-typecasting/