Review: 'Les Miserables' 25th Anniversary Production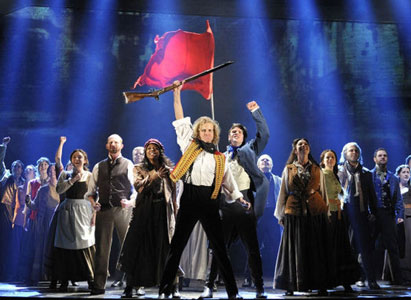 I got my first taste of Les Miesrables years ago when I was in London. The show was a smash and since I'd never seen it, what better way to experience the show than it's birthplace. The theater was small and my seats were way up in the balcony but from what I remember, it was it was a fine production. Nothing exactly stood out for me or I would have remembered it.
My memory won't fade with the show I saw last night.
Touring around the country and now currently in San Diego, the 25th Anniversary production of Les Miserable is excellent.
I don't say that lightly. With most touring shows, there are some week links – usually in the cast (unfortunately). In this show, there isn't one week link. The cast is fantastic and the two leads, Peter Lockyer as Jean Valjean and Andrew Varela as Javert, are worth the ticket price alone. They both have singing voices that will knock your socks off and in a few cases, your eyes might start to mist up. They've both taken two iconic roles and owned them. Wonderful, wonderful, wonderful work.
Other notable standouts in the cast were Betsy Morgan as Fantine and Timothy Gulan and Shawna M. Hamic as the the Thenadier's. Morgan's performance was delicate and beautiful while Gulan and Hamic bring the laughs every time they're on stage.
The famous rotating stage is gone and in its place is a backdrop that has scenery projected onto it. If you're thinking you'll miss the stage of the past, don't worry because this projections give the show an almost 3D effect to it. You actually feel like you're closer to the stage and immersed into the show.
If you're in San Diego or in one of the upcoming tour stops, definitely grab a ticket. Click here for more information.
http://www.dailyactor.com/wp-content/uploads/2016/04/jake-gyllenhaal-demolition.jpg
Jake Gyllenhaal on 'Demolition', Working with Chris Cooper and Directors Who Want Nothing to Do With Him
"I think storytelling is the most important part of movie-making over performance." - Jake Gyllenhaal
http://www.dailyactor.com/actors-on-acting/jake-gyllenhaal-demolition-chris-cooper/
http://www.dailyactor.com/wp-content/uploads/2016/04/don-cheadle-miles-davis.jpg
Don Cheadle: "Be scared. Be on the edge of your creativity"
"Be willing to fall flat on your face and be in an unknown place. If you're doing that, you're probably growing" - Don Cheadle
http://www.dailyactor.com/actors-on-acting/don-cheadle-scared-creativity/
http://www.dailyactor.com/wp-content/uploads/2016/04/jessie-eisenberg-louder-than-bombs.jpg
What is Jesse Eisenberg's "Most Fulfilling Acting Experience"?
"My absolute favorite thing to do is to write a play and then, after I finish, do the first reading of it with my friends around the table"- Jesse Eisenberg
http://www.dailyactor.com/actors-on-acting/jesse-eisenberg-most-fulfilling-acting-experience/
http://www.dailyactor.com/wp-content/uploads/2016/03/Lupita-Nyong'o-eclipsed.jpg
Lupita Nyong'o on Her Broadway Debut: "When we get up on that stage, you do not know what will happen"
"I think theater offers a chance to flex muscles that then only help to sustain cinematic work." - Lupita Nyong'o
http://www.dailyactor.com/actors-on-acting/lupita-nyongo-eclipsed-broadway/
http://www.dailyactor.com/wp-content/uploads/2016/03/jake-gyllenhaal-demolition.jpg
Jake Gyllenhaal on Missed Superhero Opportunities and Portraying "Antisocial" Characters
"I've always wanted to have the opportunity to play a number of different roles, and I knew it wasn't necessarily the role, but how you played them" - Jake Gyllenhaal
http://www.dailyactor.com/actors-on-acting/jake-gyllenhaal-antisocial-characters/