Review: 'Brightest Star' Starring Chris Lowell, Rose McIver and Jessica Szohr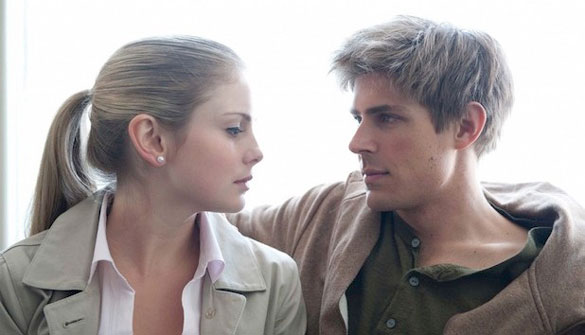 Chris Lowell (Enlisted, Veronica Mars) is just a boy trying to figure out his place in life. The Boy, as he's called in the credits (his character is never given a name), has just gotten dumped by Charlotte (Rose McIver) and man, does he have it bad.
He's mopey and floating through life, still convinced that he's going to get her back. Charlotte is rapidly climbing the corporate ladder so he decides to turn himself into what he thinks she wants in a man. That always works out, right? With the help from his friend, Lita (the wonderful Jessica Szohr), he gets a high-level job at her father's (Clark Gregg) company.
The only snag in his plan is that he's now fallen for Lita, the complete opposite of Charlotte; she's a cool singer/songwriter and has personality to spare.
Life should be great now, right?
Nope… he's still pining for Charlotte which will make life for all of them a bit complicated.
This is actress Maggie Kiley's first venture as a feature director and while there are some bumps – most notably the ending – that doesn't stop the film from being immensely watchable. She's got a great ear for dialogue and her female lead characters are not the usual women you'd see in a film like this. None of them are bitches! Yay! They're both normal modern-day women. Flawed and complicated but also nice, caring and interesting. Any guy would love to settle down with these girls.
Another thing she does is that she doesn't give us the ending we expect. I wasn't a fan of how it worked out but good on her for having the guts to go in a direction no one can see coming.
Kiley also has the three leads to thank for giving her winning performances. Lowell takes a guy who could have easily been a sad sack throughout the entire film and makes him into a three-dimensional guy. Him, McIver and Szohr capture life as young NYC'ers in search of their place in life and you just sit there envying them, even though they're sometimes aimless and sad, because you know that they're all going to turn out all right.
http://www.dailyactor.com/wp-content/uploads/2016/04/jake-gyllenhaal-demolition.jpg
Jake Gyllenhaal on 'Demolition', Working with Chris Cooper and Directors Who Want Nothing to Do With Him
"I think storytelling is the most important part of movie-making over performance." - Jake Gyllenhaal
http://www.dailyactor.com/actors-on-acting/jake-gyllenhaal-demolition-chris-cooper/
http://www.dailyactor.com/wp-content/uploads/2016/04/don-cheadle-miles-davis.jpg
Don Cheadle: "Be scared. Be on the edge of your creativity"
"Be willing to fall flat on your face and be in an unknown place. If you're doing that, you're probably growing" - Don Cheadle
http://www.dailyactor.com/actors-on-acting/don-cheadle-scared-creativity/
http://www.dailyactor.com/wp-content/uploads/2016/04/jessie-eisenberg-louder-than-bombs.jpg
What is Jesse Eisenberg's "Most Fulfilling Acting Experience"?
"My absolute favorite thing to do is to write a play and then, after I finish, do the first reading of it with my friends around the table"- Jesse Eisenberg
http://www.dailyactor.com/actors-on-acting/jesse-eisenberg-most-fulfilling-acting-experience/
http://www.dailyactor.com/wp-content/uploads/2016/03/Lupita-Nyong'o-eclipsed.jpg
Lupita Nyong'o on Her Broadway Debut: "When we get up on that stage, you do not know what will happen"
"I think theater offers a chance to flex muscles that then only help to sustain cinematic work." - Lupita Nyong'o
http://www.dailyactor.com/actors-on-acting/lupita-nyongo-eclipsed-broadway/
http://www.dailyactor.com/wp-content/uploads/2016/03/jake-gyllenhaal-demolition.jpg
Jake Gyllenhaal on Missed Superhero Opportunities and Portraying "Antisocial" Characters
"I've always wanted to have the opportunity to play a number of different roles, and I knew it wasn't necessarily the role, but how you played them" - Jake Gyllenhaal
http://www.dailyactor.com/actors-on-acting/jake-gyllenhaal-antisocial-characters/