Review: 'Brightest Star' Starring Chris Lowell, Rose McIver and Jessica Szohr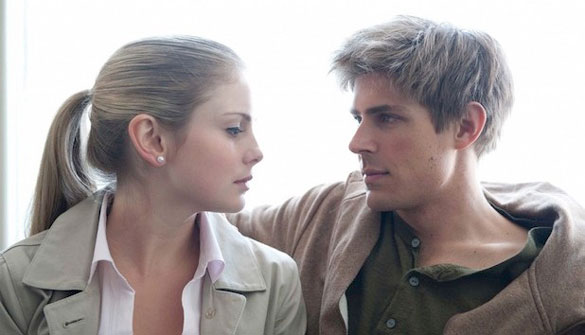 Chris Lowell (Enlisted, Veronica Mars) is just a boy trying to figure out his place in life. The Boy, as he's called in the credits (his character is never given a name), has just gotten dumped by Charlotte (Rose McIver) and man, does he have it bad.
He's mopey and floating through life, still convinced that he's going to get her back. Charlotte is rapidly climbing the corporate ladder so he decides to turn himself into what he thinks she wants in a man. That always works out, right? With the help from his friend, Lita (the wonderful Jessica Szohr), he gets a high-level job at her father's (Clark Gregg) company.
The only snag in his plan is that he's now fallen for Lita, the complete opposite of Charlotte; she's a cool singer/songwriter and has personality to spare.
Life should be great now, right?
Nope… he's still pining for Charlotte which will make life for all of them a bit complicated.
This is actress Maggie Kiley's first venture as a feature director and while there are some bumps – most notably the ending – that doesn't stop the film from being immensely watchable. She's got a great ear for dialogue and her female lead characters are not the usual women you'd see in a film like this. None of them are bitches! Yay! They're both normal modern-day women. Flawed and complicated but also nice, caring and interesting. Any guy would love to settle down with these girls.
Another thing she does is that she doesn't give us the ending we expect. I wasn't a fan of how it worked out but good on her for having the guts to go in a direction no one can see coming.
Kiley also has the three leads to thank for giving her winning performances. Lowell takes a guy who could have easily been a sad sack throughout the entire film and makes him into a three-dimensional guy. Him, McIver and Szohr capture life as young NYC'ers in search of their place in life and you just sit there envying them, even though they're sometimes aimless and sad, because you know that they're all going to turn out all right.
http://www.dailyactor.com/wp-content/uploads/2016/08/Will-Chase-Something-Rotten.jpg
The Role That Got Away: Will Chase on Returning to 'Something Rotten!'
"I know that I am a poor man's fill-in-the-blank. And I know that there are poor man's Will Chases out there. That's just the nature of the business" - Will Chase
http://www.dailyactor.com/actors-on-acting/will-chase-something-rotten-role-that-got-away/
http://www.dailyactor.com/wp-content/uploads/2016/08/Julia-Stiles-Jason-Bourne.jpg
Julia Stiles on the Jason Bourne Series and Growing as an Actress: "There's always room for improvement"
"I like a director that encourages me to be playful. I don't really like being restricted or controlled by a director." - Julia Stiles
http://www.dailyactor.com/actors-on-acting/julia-stiles-growing-as-an-actress/
http://www.dailyactor.com/wp-content/uploads/2016/08/Michael-Kenneth-Williams-The-Night-Of.jpg
Michael Kenneth Williams on How His Roles Impact Him: "That energy's gotta go somewhere"
Since his days of playing Omar on 'The Wire', Williams has learned how to separate himself from his characters.
http://www.dailyactor.com/actors-on-acting/michael-kenneth-williams-the-night-of/
http://www.dailyactor.com/wp-content/uploads/2016/08/margot-robbie-the-wolf-of-wall-street.jpg
Margot Robbie Believed 'The Wolf of Wall Street' Would Ruin Her Career
Many actors can point to a single role that was a career breakthrough -- but not all of them realize that it's a breakthrough as it's happening.
http://www.dailyactor.com/actors-on-acting/margot-robbie-the-wolf-of-wall-street-ruin-her-career/
http://www.dailyactor.com/wp-content/uploads/2016/08/Jonah-Hill-War-Dogs.jpg
Jonah Hill Talks 'War Dogs' and Getting into Character by Listening to Music
"When I started taking acting classes, it was the first time teachers were like, 'You're good and you should keep doing this.'" - Jonah Hill
http://www.dailyactor.com/actors-on-acting/jonah-hill-war-dogs/