Review: 'A Birder's Guide to Everything' Starring Kodi Smit McPhee & Ben Kingsley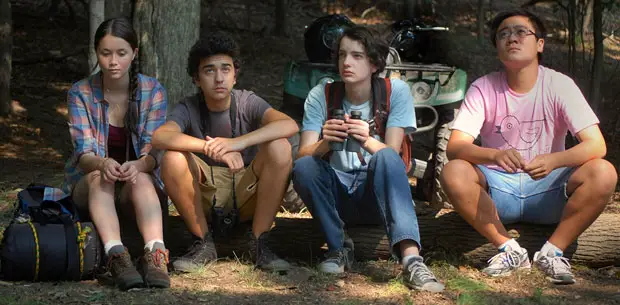 A movie about four 15-year old high school students searching for an extinct duck just became one of my (so far) favorite movies of the year.
A Birder's Guide to Everything is a delightfully charming (and sometimes sad) story of David Portnoy (Kodi Smit-McPhee), a young bird watcher. I mean "birder" as they call themselves in the film. We know he's a hardcore birder seconds into the film when we see him grab a pair of binoculars and looks out his window. He scans past a half-naked woman to fixate on one of the flying creatures.
One morning when he's biking to school, he thinks he sees something potentially life-changing: a duck that has been extinct for over a hundred years. He quickly snaps a picture and takes it to the YBS, the Young Birders Society, a group of high school friends (Alex Wolff and Michael Chen) who share his love of birding.
They all agree to take the discovery to Dr. Konrad (Ben Kingsley) to see what he thinks. He believes the gang might be onto to something big but the picture is way to blurry. So, they plot to find the duck before it migrates but this time, with a better camera.
David sneaks into the photography lab and nabs a high-powered lens but is caught by Ellen (Katie Chang). The guys tell her of their upcoming adventure and invite her along. She agrees as long as she's the one to take the picture.
With the backdrop of David's still painful death of his mother and his dad about to get remarried, the roadtrip is a welcome diversion to real life.
This is the directorial debut of Rob Meyer, who also wrote the screenplay with Luke Matheny, and he's done a wonderful job of showing real teens dealing with things teens often struggle with; raging hormones, utter shyness, sex, death… and probably the worst thing of all, high school. They argue, fight and seconds later are best friends again.
And he's assembled a cast of young actors who are just wonderful. McPhee, gangly and awkward, is perfect as a young kid still dealing with the recent death of his mother. His love of birds came from his mom and his drive to be the one to find this extinct duck is all he can do to help preserve her memory, it seems. Wolff, Chen and Chang are equally terrific. And each one of them holds their own in scenes with a brilliant actor like Kingsley.
My favorite line of the film: Timmy (Wolff) has to throw something to one of the group. He draws back and tosses a dud. Everyone looks at him as he yells, "I'm sorry! I'm a birder!"
Director: Rob Meyer
Writers: Rob Meyer & Luke Matheny
Cast: Kodi Smit-McPhee, Ben Kingsley, Katie Chang, Alex Wolff, Michael Chen
http://www.dailyactor.com/wp-content/uploads/2016/08/John-Cho-Star-Trek-Beyond.jpg
How John Cho Took A Stand for Diversity Early in His Career
"When one does speak one's mind, one might be surprised at how receptive people are." - Actor John Cho
http://www.dailyactor.com/actors-on-acting/john-cho-took-a-stand-for-diversity/
http://www.dailyactor.com/wp-content/uploads/2016/08/simon-helberg-florence-foster-jenkins.jpg
Simon Helberg on His 'Florence Foster Jenkins' Role: "I'm an actor and I want to stretch different muscles"
Helberg spoke about portraying his character in the film and whether or not he feels typecast by his Big Bang Theory role.
http://www.dailyactor.com/actors-on-acting/simon-helberg-florence-foster-jenkins-role/
http://www.dailyactor.com/wp-content/uploads/2016/08/Will-Chase-Something-Rotten.jpg
The Role That Got Away: Will Chase on Returning to 'Something Rotten!'
"I know that I am a poor man's fill-in-the-blank. And I know that there are poor man's Will Chases out there. That's just the nature of the business" - Will Chase
http://www.dailyactor.com/actors-on-acting/will-chase-something-rotten-role-that-got-away/
http://www.dailyactor.com/wp-content/uploads/2016/08/Julia-Stiles-Jason-Bourne.jpg
Julia Stiles on the Jason Bourne Series and Growing as an Actress: "There's always room for improvement"
"I like a director that encourages me to be playful. I don't really like being restricted or controlled by a director." - Julia Stiles
http://www.dailyactor.com/actors-on-acting/julia-stiles-growing-as-an-actress/
http://www.dailyactor.com/wp-content/uploads/2016/08/Michael-Kenneth-Williams-The-Night-Of.jpg
Michael Kenneth Williams on How His Roles Impact Him: "That energy's gotta go somewhere"
Since his days of playing Omar on 'The Wire', Williams has learned how to separate himself from his characters.
http://www.dailyactor.com/actors-on-acting/michael-kenneth-williams-the-night-of/