Review: '21 & Over'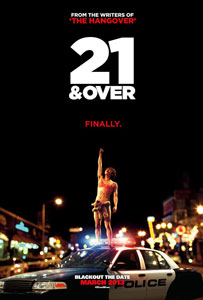 Ah, turning 21. The pressure to do something crazy memorable with your besties, getting completely obliterated and hopefully meeting some lovely ladies (or guys) in the process. It usually never happens in real life but dammit, filmmakers are going to make it happen for us on-screen.
We've seen this story played out dozens of times before in films and 21 & Over is just the latest installment. Yeah, there's nothing really new in the film but that doesn't mean it's not hilarious.
Miles Teller is Miller, a fast talking, always-has-a-plan guy who comes to the college town of his two best friends to celebrate the twenty-first birthday of Jeff Chang (Justin Chon). Chang's a straight-A student and on the eve of a huge med-school interview and he's feeling the pressure from his overbearing dad. But, when Miller and Casey (Skylar Astin) do a little arm twisting to go out for the infamous '1 beer', Chang gives in and the fun begins.
Think of this as The Hangover for the college crowd which is no coincidence because this marks the directorial debut of Jon Lucas and Scott Moore, writers of that now classic film.
The movie is choppy in some points – it sometimes feels like it was edited to get under 90 minutes – and there are some holes in the story. Like how did a couple characters end up from 'point a' to 'point b' late in the story? And parts of the time-frame seem off. But that didn't take away from my enjoyment.
For me, it was about the chemistry of the cast. These are guys you'd definitely want to hang out with. The cast of young actors look like they are having a blast. Chon has to play a believable drunk for 90% of the film and that's freakin hard. But he does a damn good job and each scene he's in is never a repeat of something he has done prior. Astin is the straight man of the film, which is usually thankless, but he manages to make us root for him. And he's completely likeable.
The real star of the film though is Teller. He reminded me of a young Michael Keaton or Vince Vaughn. He's been fantastic before, Rabbit Hole comes to mind, and he was probably the best part of the Footloose remake. Teller is definitely the reason this film is as funny as it is.
http://www.dailyactor.com/wp-content/uploads/2016/06/jeff-bridges-hell-or-high-water.jpg
Jeff Bridges on Creating a Character, 'Hell or High Water' and Playing The Dude
"I use elements of myself—I see my parallels with a character—and find similar things in my own personality." - Jeff Bridges on Creating a Character
http://www.dailyactor.com/actors-on-acting/jeff-bridges-creating-a-character/
http://www.dailyactor.com/wp-content/uploads/2016/07/benjamin-bratt-actor.jpg
Benjamin Bratt: "For as limiting as the opportunities are for actors and actresses of color I've been very blessed"
"...it's dangerous to keep going down the same artistic path." - Benjamin Bratt
http://www.dailyactor.com/actors-on-acting/benjamin-bratt-ive-been-very-blessed/
http://www.dailyactor.com/wp-content/uploads/2016/07/watch-keegan-michael-key-explain.jpg
Watch: Keegan-Michael Key Explains Why "Improv actors are at war together"
Check out Key's points on why it's so important for improv actors to have each others' backs in the clip above.
http://www.dailyactor.com/actors-on-acting/keegan-michael-key-improv-actors-at-war-together/
http://www.dailyactor.com/wp-content/uploads/2016/07/norman-reedus-actor.jpg
Norman Reedus on Acting: "If it's something you really want, you have to roll with the rejection"
Norman Reedus is a fan-favorite star on The Walking Dead and was in the cult favorite film The Boondock Saints. However, in the dozen years between those two gigs Reedus had experienced ups and downs in his career and in many cases he was cast in very small roles in big movies or lead roles […]
http://www.dailyactor.com/actors-on-acting/norman-reedus-acting-rejection/
http://www.dailyactor.com/wp-content/uploads/2016/07/frank-grillo.jpg
Frank Grillo on Being Typecast: "I welcome it"
"I hear actors pooh-pooh the idea... people might see them as a certain thing. I welcome it" - Frank Grillo on Typecasting
http://www.dailyactor.com/actors-on-acting/frank-grillo-on-typecasting/