Movie Review: 'The One I Love' Starring Elizabeth Moss & Mark Duplass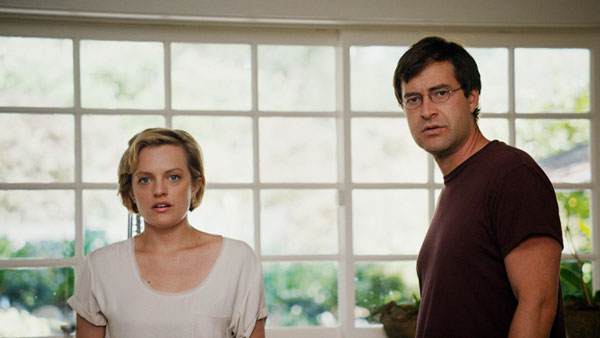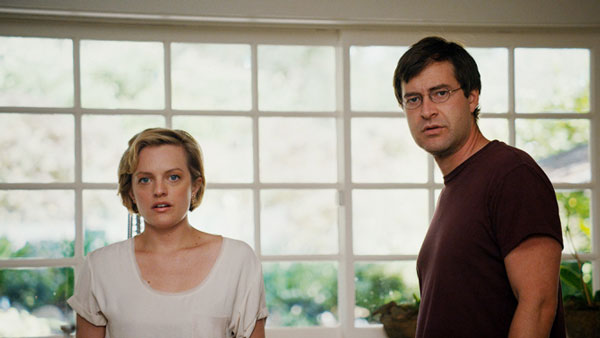 Elisabeth Moss and Mark Duplass have some terrific moments together in Charlie McDowell's first feature, The One I Love.
And they should have these moments because it's all them on screen. Except for an early appearance by Ted Danson as a semi-creepy couple's therapist, it's all Moss and Duplass.
They star as Ethan and Sophie, and they've just been sent to a vacation house by said therapist in a last ditch effort to save their marriage. They need to try and "reset the reset button" as Danson says to them.
And things start off just fine. A little wine, a nice dinner and some good conversation and things seem to be right on track.
Until things start to get strange and where, as Ethan yells, "weird Twilight Zone shit," begins happening.
It's hard to describe what happens next because that would just ruin any of the twists and turns that happens in the film. But, it centers on love and what happens when new love settles into the inevitable sameness of marriage.
There's a lot to like about the film. First off are the performances by Moss and Duplass. With only two characters, the story could have easily been a bore. I mean, how many times have you watched a small indy film and fell asleep? Don't worry about that here. These two wring out every comedic line, every nuance and small moment of angst, that you'll wonder where time went when it's over. Watching them is a class on acting and how to keep things interesting while moving the story forward.
McDowell and writer Justin Lader deserve props for this nicely told story. I can't wait to see what McDowell comes up with next.
Directed by: Charlie McDowell
Written by: Justin Lader
Starring: Mark Duplass, Elisabeth Moss, Ted Danson
http://www.dailyactor.com/wp-content/uploads/2016/02/david-harewood-supergirl.jpg
David Harewood on 'Supergirl' and How He Was "Struggling to Get a Handle" on His Character
Harewood reveals how he relates to the character and how he eventually got comfortable playing him.
http://www.dailyactor.com/actors-on-acting/david-harewood-supergirlstruggling-to-get-a-handle-on-his-character/
http://www.dailyactor.com/wp-content/uploads/2016/01/Jeff-Daniels.jpg
Jeff Daniels Remembers a Terrible Audition for a Diane Keaton Movie
One actor that knows the ups and downs of the audition process is Jeff Daniels.
http://www.dailyactor.com/actors-on-acting/jeff-daniels-terrible-audition-diane-keaton-movie/
http://www.dailyactor.com/wp-content/uploads/2016/02/Jennifer-Jason-Leigh-The-Hateful-Eight.jpg
Jennifer Jason Leigh on Her First-Ever Oscar Nomination: "It's kind of phenomenal"
"He knew that I could, in his words, 'act the … out of it' and I'm not afraid to take a risk in terms of acting" Jennifer Jason Leigh on Quentin Tarantino
http://www.dailyactor.com/actors-on-acting/jennifer-jason-leigh-oscar-nomination/
http://www.dailyactor.com/wp-content/uploads/2016/02/Forest-Whitaker-Hughie-Broadway.jpg
Forest Whitaker on Making His Broadway Debut in 'Hughie': "His rhythms are starting to invade inside of me"
"I want to get better as an actor, to keep trying to work harder, trying to discover something different" - Forest Whitaker
http://www.dailyactor.com/actors-on-acting/forest-whitaker-broadway-debut-hughie/
http://www.dailyactor.com/wp-content/uploads/2016/02/alicia-Vikander-Ex-machina.jpg
Alicia Vikander on the Her First Trip to L.A. and the Acting Tip 'Ex-Machina' Director Alex Garland Gave Her
"You [get immersed in] a film and of course you think that that is it. And then you go away and you read a new script and you have a new crush" - Alicia Vikander
http://www.dailyactor.com/actors-on-acting/alicia-vikanderacting-tip-ex-machina-director-alex-garland-gave-her/