Movie Review: 'The One I Love' Starring Elizabeth Moss & Mark Duplass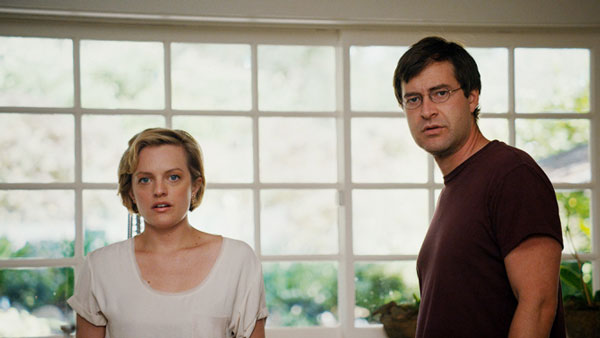 Elisabeth Moss and Mark Duplass have some terrific moments together in Charlie McDowell's first feature, The One I Love.
And they should have these moments because it's all them on screen. Except for an early appearance by Ted Danson as a semi-creepy couple's therapist, it's all Moss and Duplass.
They star as Ethan and Sophie, and they've just been sent to a vacation house by said therapist in a last ditch effort to save their marriage. They need to try and "reset the reset button" as Danson says to them.
And things start off just fine. A little wine, a nice dinner and some good conversation and things seem to be right on track.
Until things start to get strange and where, as Ethan yells, "weird Twilight Zone shit," begins happening.
It's hard to describe what happens next because that would just ruin any of the twists and turns that happens in the film. But, it centers on love and what happens when new love settles into the inevitable sameness of marriage.
There's a lot to like about the film. First off are the performances by Moss and Duplass. With only two characters, the story could have easily been a bore. I mean, how many times have you watched a small indy film and fell asleep? Don't worry about that here. These two wring out every comedic line, every nuance and small moment of angst, that you'll wonder where time went when it's over. Watching them is a class on acting and how to keep things interesting while moving the story forward.
McDowell and writer Justin Lader deserve props for this nicely told story. I can't wait to see what McDowell comes up with next.
Directed by: Charlie McDowell
Written by: Justin Lader
Starring: Mark Duplass, Elisabeth Moss, Ted Danson
http://www.dailyactor.com/wp-content/uploads/2016/04/julia-louis-dreyfus-veep.jpg
Julia Louis-Dreyfus: "Opportunity for women in television has increased. It's because the landscape has widened"
"I did not come out of SNL as any kind of name. I didn't do anything particularly great when I was there. I didn't. It's fine. But I learned a tremendous amount."
http://www.dailyactor.com/actors-on-acting/julia-louis-dreyfus/
http://www.dailyactor.com/wp-content/uploads/2016/04/Tituss-Burgess-Unbreakable-Kimmy-Schmidt.jpg
Tituss Burgess on How He Landed His 'Unbreakable Kimmy Schmidt' Role
Burgess reveals how his role on 30 Rock led to 'Kimmy Schmidt' and whether or not he'd consider returning to Broadway.
http://www.dailyactor.com/actors-on-acting/tituss-burgess-unbreakable-kimmy-schmidt-role/
http://www.dailyactor.com/wp-content/uploads/2016/04/Christine-Baranski-The-Good-Wife.jpg
Christine Baranski on the End of 'The Good Wife' and Going Back to Theatre
The final episode of The Good Wife airs on May 8, and it's been several weeks since series star Christine Baranski shot the final episode with her co-stars. She spoke to The Hollywood Reporter about the end of the series she has spent the last seven years working on and what she plans to do […]
http://www.dailyactor.com/actors-on-acting/christine-baranski-the-good-wife-theatre/
http://www.dailyactor.com/wp-content/uploads/2016/04/jake-gyllenhaal-demolition.jpg
Jake Gyllenhaal on 'Demolition', Working with Chris Cooper and Directors Who Want Nothing to Do With Him
"I think storytelling is the most important part of movie-making over performance." - Jake Gyllenhaal
http://www.dailyactor.com/actors-on-acting/jake-gyllenhaal-demolition-chris-cooper/
http://www.dailyactor.com/wp-content/uploads/2016/04/don-cheadle-miles-davis.jpg
Don Cheadle: "Be scared. Be on the edge of your creativity"
"Be willing to fall flat on your face and be in an unknown place. If you're doing that, you're probably growing" - Don Cheadle
http://www.dailyactor.com/actors-on-acting/don-cheadle-scared-creativity/