Movie Review: 'Mutual Friends'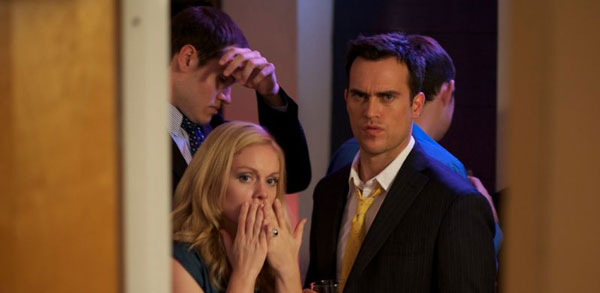 With friends like these…
Mutual Friends, the concept, started off with an interesting idea. Have a handful of writers craft separate stories involving the same characters and then craft those stories into a screenplay.
One problem with that idea though is that each set of stories has a different voice. That wouldn't be such an issue if any of those voices were remotely entertaining.
Directed by Matthew Watts, the story, which takes place over the course of a day, is about a group of New York City thirty-somethings who eventually come together at a surprise birthday party.
You've got the dreamer, the realist, the romantic, the spurned lover, the this guy and the that girl… Each character has their particular 'thing' and quirk that's supposed to make us either relate to them or like them because they're just so darn cute. Hey, this guy wants to be a time traveler! How sweet and pure!
They're all self-absorbed with themselves and they're all commitment-phobes. And we've got no real ideas why most of them are except that they're 30-ish and live in New York City. It must be the law there.
They characters, as written, struggle to be so witty and unique that the few times there's a real moment you drink it up. Those real moments are courtesy of Cheyenne Jackson who plays Christoph. It's his birthday and his fiancé, Liv (Caitlin Fitzgerald, who's also very good here), has planned the surprise party in question. Jackson grounds every scene he's in and I wish he had been in more of the film because he's terrific.
Cast: Caitlin Fitzgerald, Peter Scanavino, Cheyenne Jackson, Michael Stahl-David, Christina Cole, Ross Partridge, Michael Chernus, Jennifer Lafleur
Writers: Matthew Watts, Frank Angones, Jessica Sue Burstein, Craig DiFolco, Ross Partridge, Olivia Silver, Amy Higgins
Director: Matthew Watts
On VOD now
http://www.dailyactor.com/wp-content/uploads/2016/08/imperium_daniele_radcliffe.jpg
Daniel Radcliffe on Playing a Neo-Nazi in 'Imperium': "It's still just horrible to say some of this stuff"
Radcliffe reveals how he played such a layered character and what it felt like to say his character's hate-filled dialogue.
http://www.dailyactor.com/actors-on-acting/daniel-radcliffe-playing-a-neo-nazi-imperium/
http://www.dailyactor.com/wp-content/uploads/2016/08/John-Cho-Star-Trek-Beyond.jpg
How John Cho Took A Stand for Diversity Early in His Career
"When one does speak one's mind, one might be surprised at how receptive people are." - Actor John Cho
http://www.dailyactor.com/actors-on-acting/john-cho-took-a-stand-for-diversity/
http://www.dailyactor.com/wp-content/uploads/2016/08/simon-helberg-florence-foster-jenkins.jpg
Simon Helberg on His 'Florence Foster Jenkins' Role: "I'm an actor and I want to stretch different muscles"
Helberg spoke about portraying his character in the film and whether or not he feels typecast by his Big Bang Theory role.
http://www.dailyactor.com/actors-on-acting/simon-helberg-florence-foster-jenkins-role/
http://www.dailyactor.com/wp-content/uploads/2016/08/Will-Chase-Something-Rotten.jpg
The Role That Got Away: Will Chase on Returning to 'Something Rotten!'
"I know that I am a poor man's fill-in-the-blank. And I know that there are poor man's Will Chases out there. That's just the nature of the business" - Will Chase
http://www.dailyactor.com/actors-on-acting/will-chase-something-rotten-role-that-got-away/
http://www.dailyactor.com/wp-content/uploads/2016/08/Julia-Stiles-Jason-Bourne.jpg
Julia Stiles on the Jason Bourne Series and Growing as an Actress: "There's always room for improvement"
"I like a director that encourages me to be playful. I don't really like being restricted or controlled by a director." - Julia Stiles
http://www.dailyactor.com/actors-on-acting/julia-stiles-growing-as-an-actress/