Movie Review: 'Into the Storm'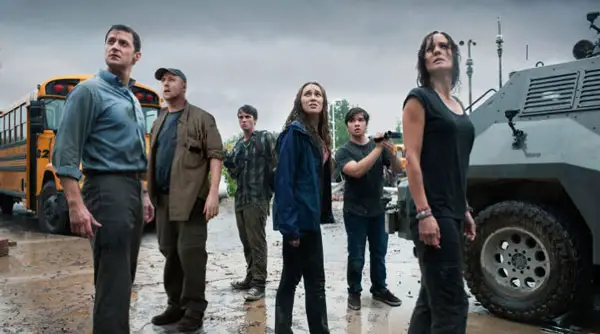 I have two pieces of advice for you: the first is that if you're ever near a deadly tornado, do not under any circumstance, run into the storm. The second is to run away from the movie Into the Storm because it's terrible.
Into the Storm is another pointless found footage movie where most of the main characters, no matter what is happening, always have a video camera rolling. I don't know about you, but if there's a tornado with hundred mile-a-hour winds battering me, I'm dropping my video camera and using both my hands to save myself. Not theses dummies.
The story is about a handful of storm chasers (Matt Walsh, Sarah Wayne Callies) trying to save their careers. They're filming a documentary and luckily, the truck their driving is equipped with 24 cameras. Yay us! At the same time, two brothers (Max Deacon, Nathan Kress) start their day by filming themselves for a time capsule. As the tornadoes get closer, destroying everything in its path, both the documentary crew and brothers, along with their Vice-Principle father (Richard Armitage), find themselves thrown together to help each other survive.
Here's the thing with found footage films, anytime a main character is filming themselves and what is going on around them, that character is immediately turned into a self-absorbed a-hole. People are being thrown around like rag dolls and someone is there filming them, not helping. Another time, one of the brothers and his girlfriend are trapped in a collapsed building with water rushing in but instead of trying to get escape, he turns on the video camera. Gah!
I truly think found footage films don't benefit any actor. They make them look like terrible no talent hacks. Matt Walsh and Richard Armitage are fine actors, but they are awful here. As are the young actors. The only one who walks away looking good is Sarah Wayne Callies. Maybe because it's all first person, looking into the camera acting that makes everyone look like crap.
When the director, Steven Quale, wants to get a cool shot of say, planes being tossed around through the air or high angle shots of the tornadoes, he abandons the found footage premise.
Granted, there are a few parts where the tornadoes wreaking havoc over the town are pretty cool.
Found footage is like watching an hour and a half long YouTube video. And the shaky first person camera work makes me want to vomit. Maybe I should have, I would have enjoyed it more.
http://www.dailyactor.com/wp-content/uploads/2016/08/John-Cho-Star-Trek-Beyond.jpg
How John Cho Took A Stand for Diversity Early in His Career
"When one does speak one's mind, one might be surprised at how receptive people are." - Actor John Cho
http://www.dailyactor.com/film/john-cho-took-a-stand-for-diversity/
http://www.dailyactor.com/wp-content/uploads/2016/08/simon-helberg-florence-foster-jenkins.jpg
Simon Helberg on His 'Florence Foster Jenkins' Role: "I'm an actor and I want to stretch different muscles"
Helberg spoke about portraying his character in the film and whether or not he feels typecast by his Big Bang Theory role.
http://www.dailyactor.com/film/simon-helberg-florence-foster-jenkins-role/
http://www.dailyactor.com/wp-content/uploads/2016/08/Will-Chase-Something-Rotten.jpg
The Role That Got Away: Will Chase on Returning to 'Something Rotten!'
"I know that I am a poor man's fill-in-the-blank. And I know that there are poor man's Will Chases out there. That's just the nature of the business" - Will Chase
http://www.dailyactor.com/broadway-theater/will-chase-something-rotten-role-that-got-away/
http://www.dailyactor.com/wp-content/uploads/2016/08/Julia-Stiles-Jason-Bourne.jpg
Julia Stiles on the Jason Bourne Series and Growing as an Actress: "There's always room for improvement"
"I like a director that encourages me to be playful. I don't really like being restricted or controlled by a director." - Julia Stiles
http://www.dailyactor.com/film/julia-stiles-growing-as-an-actress/
http://www.dailyactor.com/wp-content/uploads/2016/08/Michael-Kenneth-Williams-The-Night-Of.jpg
Michael Kenneth Williams on How His Roles Impact Him: "That energy's gotta go somewhere"
Since his days of playing Omar on 'The Wire', Williams has learned how to separate himself from his characters.
http://www.dailyactor.com/tv/michael-kenneth-williams-the-night-of/