Movie Review: 'Hellion' Starring Aaron Paul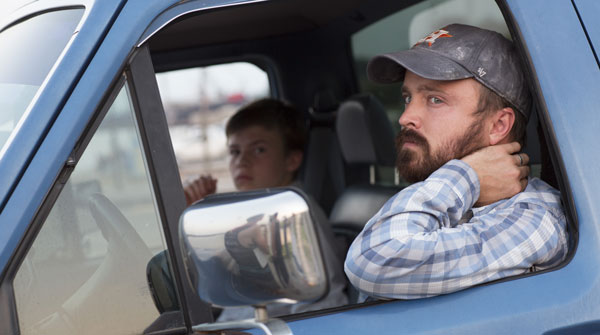 Aaron Paul stars as a single father trying to deal with the loss of his wife in writer/director Kat Chandler's new film, Hellion. Paul's Hollis, dealing with his demons, isn't around much so that leaves 13-year-old Jacob (Josh Wiggins in his film debut) and younger brother Wes (another newcomer Deke Garner) to fend for themselves. And like most boys who have to take care of themselves, they get into some major trouble.
Jacob loves racing his dirt bike in between acts of vandalism with his gang of fellow delinquents but when he starts to get Wes in on the deal, the cops and Child Protective Services get involved, removing Wes and sending him to Hollis' sister, Pam (Juliette Lewis).
Eventually, both Hollis and Jacob realize they've got to get Wes back… but by this time, it might be too little too late.
The first half-hour of the film is all over the place. It's hard to get a feel for any of the characters because you don't really know what the heck any of the backstory is. What happened to the wife? How long has she been dead and how did she die? You also don't find out Pam is the Aunt till about halfway through. The lack of backstory is just frustrating.
But, then, little by little, it grew on me.
No matter how screwed up things are for the family, you could tell that they all cared deeply for each other. Jacob is always watching out for Wes. Even when he's putting him in harms way, you know he's got the kids back. They do most everything together in the beginning and they clearly enjoy each other and that kind of relationship isn't something you see all the time; two brothers being nice and caring for each other.
And even though Hollis is distraught and would rather drink and spend time by himself building a house he and his wife had plans to move into, you can tell he'd almost rather be with his kids but he can't… at least not till all this passes.
The cast blended together perfectly. Paul as a grieving dad was a nice change of pace to see, the guy definitely isn't a one-trick pony in the acting sense. Understated and calm, you could feel his aimlessness.
The kids though are the main draw. Garner and especially Wiggins are the heart of the film. Wiggins, a dead ringer for a young Matt Damon, holds the film together and he's just immensely watchable. The kids got a future.
One thing that I'm still puzzled about is why it's called Hellion. The word intimates something different than what is portrayed on-screen. Who exactly is the hellion? Hollis or Jacob? If it's either of them, you expect them to do something more hellion-ish than what actually happens.
That being said, if you like a slow-burn movie where the performances stay with you longer than the story, definitely check this one out.
In theaters now. And if you're in San Diego, check it out at the Digital Gym this weekend!
http://www.dailyactor.com/wp-content/uploads/2016/07/watch-keegan-michael-key-explain.jpg
Watch: Keegan-Michael Key Explains Why "Improv actors are at war together"
Check out Key's points on why it's so important for improv actors to have each others' backs in the clip above.
http://www.dailyactor.com/actors-on-acting/keegan-michael-key-improv-actors-at-war-together/
http://www.dailyactor.com/wp-content/uploads/2016/07/norman-reedus-actor.jpg
Norman Reedus on Acting: "If it's something you really want, you have to roll with the rejection"
Norman Reedus is a fan-favorite star on The Walking Dead and was in the cult favorite film The Boondock Saints. However, in the dozen years between those two gigs Reedus had experienced ups and downs in his career and in many cases he was cast in very small roles in big movies or lead roles […]
http://www.dailyactor.com/actors-on-acting/norman-reedus-acting-rejection/
http://www.dailyactor.com/wp-content/uploads/2016/07/frank-grillo.jpg
Frank Grillo on Being Typecast: "I welcome it"
"I hear actors pooh-pooh the idea... people might see them as a certain thing. I welcome it" - Frank Grillo on Typecasting
http://www.dailyactor.com/actors-on-acting/frank-grillo-on-typecasting/
http://www.dailyactor.com/wp-content/uploads/2016/07/Michael-Shannon-Acting-for-free.jpg
Michael Shannon on Actors Working for Free: "I think as a group actors need to stop enabling this behavior"
"If somebody's got a good script and you want to put good actors in it then everybody should be taken care of." - Michael Shannon
http://www.dailyactor.com/actors-on-acting/michael-shannon-actors-working-for-free/
http://www.dailyactor.com/wp-content/uploads/2016/07/Javier-Munoz-Hamilton.jpg
Javier Muñoz on Taking the Lead in 'Hamilton': "This is just fun, and glorious"
Muñoz talks about his feelings on playing Alexander Hamilton full-time and his relationship with Lin-Manuel Miranda.
http://www.dailyactor.com/actors-on-acting/javier-munoz-new-hamilton/