Movie Review: '4 Minute Mile' Starring Richard Jenkins, Kelly Blatz & Analeigh Tipton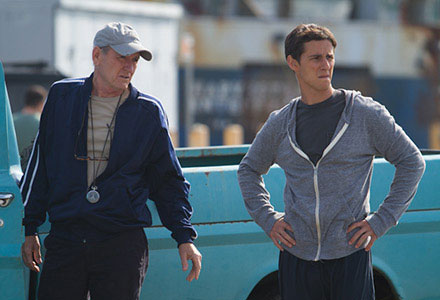 There's nothing really new or original in 4 Minute Mile but thanks to its winning cast, I doubt anyone will really mind.
It's the story of a talented high school athlete, Drew (Kelly Blatz), who finds himself kicked off the track team. He's got a dirtball drug dealer of a brother (Cam Gigandet) who practically forces him to run his drugs to the local drug supplier and a mother (Kim Basinger) who chooses to look away at what's happening at the most convenient of times.
Realizing he needs a way out, he seeks the help of a former track coach (Richard Jenkins) who puts the hammer down and forces him to work hard for the first time in his life. Jenkins wants him to run the four minute mile. If he does, he says, he can get a scholarship to anywhere he wants to go. The two start to form a bond as the race that will hopefully get him a scholarship draws closer.
Jenkins, as usual, is wonderful as the demanding 'ole track coach. He's the Mr. Miyagi of the film (there's even a joke about that at one point), spouting his wisdom to anyone who will listen. Jenkins just makes everything better.
I'd never seen Blatz in anything before this. His performance is really understated and flows nicely through the whole film. Acting alongside Jenkins will make anyone look talented but he's got chops.
And I haven't seen Analeigh Tipton since she was in Crazy, Stupid, Love. I really liked her in that and here she's great also. It's a pretty thankless role – she plays the love interest – but she gives the role more depth than probably what was written in the script.
Blatz's Drew runs everywhere; he's like an intelligent Forrest Gump.
I did wish that he stood up to his brother. Granted, if he does, then the whole ending wouldn't happen – and we need tragedy! – but he's such a sucker that it's frustrating.
Directed by Charles-Oliver Michaud, this is a film we've seen this film before, yeah, but it's well worth watching.
http://www.dailyactor.com/wp-content/uploads/2016/08/imperium_daniele_radcliffe.jpg
Daniel Radcliffe on Playing a Neo-Nazi in 'Imperium': "It's still just horrible to say some of this stuff"
Radcliffe reveals how he played such a layered character and what it felt like to say his character's hate-filled dialogue.
http://www.dailyactor.com/actors-on-acting/daniel-radcliffe-playing-a-neo-nazi-imperium/
http://www.dailyactor.com/wp-content/uploads/2016/08/John-Cho-Star-Trek-Beyond.jpg
How John Cho Took A Stand for Diversity Early in His Career
"When one does speak one's mind, one might be surprised at how receptive people are." - Actor John Cho
http://www.dailyactor.com/actors-on-acting/john-cho-took-a-stand-for-diversity/
http://www.dailyactor.com/wp-content/uploads/2016/08/simon-helberg-florence-foster-jenkins.jpg
Simon Helberg on His 'Florence Foster Jenkins' Role: "I'm an actor and I want to stretch different muscles"
Helberg spoke about portraying his character in the film and whether or not he feels typecast by his Big Bang Theory role.
http://www.dailyactor.com/actors-on-acting/simon-helberg-florence-foster-jenkins-role/
http://www.dailyactor.com/wp-content/uploads/2016/08/Will-Chase-Something-Rotten.jpg
The Role That Got Away: Will Chase on Returning to 'Something Rotten!'
"I know that I am a poor man's fill-in-the-blank. And I know that there are poor man's Will Chases out there. That's just the nature of the business" - Will Chase
http://www.dailyactor.com/actors-on-acting/will-chase-something-rotten-role-that-got-away/
http://www.dailyactor.com/wp-content/uploads/2016/08/Julia-Stiles-Jason-Bourne.jpg
Julia Stiles on the Jason Bourne Series and Growing as an Actress: "There's always room for improvement"
"I like a director that encourages me to be playful. I don't really like being restricted or controlled by a director." - Julia Stiles
http://www.dailyactor.com/actors-on-acting/julia-stiles-growing-as-an-actress/