Interviews

Q & A: Anne Heche on Her New Religious-Themed Comedy, 'Save Me'
Anne also talks about trying to quit acting when she was younger and more!

Q&A: Scott Foley talks 'The Goodwin Games' and Why He Loves Working in Television
Scott: "My job as an actor is to find the real moments of the characters"

Q & A: John Krasinski Talks the End of 'The Office', His Audition, Past Commercials and More
John on the end of 'The Office': "It's a life-changing event and there's just no way to describe it"
Click Here For More Interviews!
Acting Advice

Keep the Drama on the Stage: How to Get Along with Your Fellow Actors
Ego and competition! 3 Steps to get along with your actor friends

The Actor's Guide to the Twitter-verse
There's a right way and a wrong way to tweet. Dallas shares 2 easy tips to help you make the most out of your tweets

4 Steps to Gaining Publicity and Utilizing the Power of Networking
Publicity is something that everyone in entertainment should be conscious of!
Want To Read More Columns? Click Here!

Latest News
Watch Sutton Foster and Jesse Tyler Ferguson Announce the 2013 Tony Award Nominations
April 30, 2013 | Leave a Comment
Early this morning, Jesse Tyler Ferguson and Sutton Foster announced the nominations for the 2013 Tony Awards and if you missed them (like I did – way too early for me!), you can watch them right here.
Also, be sure to check out the list of nominations here.
The 67th Annual Tony Awards will on Sunday June 9th at 8/7c on CBS. Continue »
Nominations for the 2013 Tony Awards!
April 30, 2013 | Leave a Comment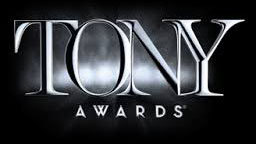 Sutton Foster and Jesse Tyler Ferguson announced the nominations for the 2013 Tony Awards this morning (way too early for us West Coasters) and with 13 nominations, the musical Kinky Boots is the one to beat.
Right behind it is Matilda the Musical with 12 nominations, Pippin received 10 and Rodgers + Hammerstein's Cinderella got 9.
Tom Hanks (Lucky Guy), Nathan Lane (The Nance) and Holland Taylor (Ann – read our review here) were among the Best Performance nominees.
Check them all out below and then watch Sutton Foster and Jesse Tyler Ferguson make the announcements here! Continue »
SAG-AFTRA Negotiates New Contract for Commercial Actors
April 29, 2013 | Leave a Comment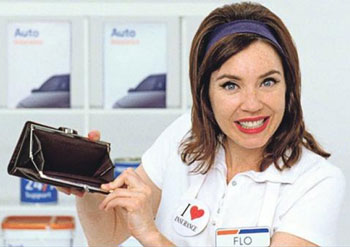 Finally some (mostly) good news for commercial actors.
Earlier this year I reported that commercial actors were not only on average working more for less pay because of big-name stars being cast in commercials and changing television viewing habits cutting into commercial actors' residuals.  On top of that, companies have been increasingly relying on so-called "reality" commercials that utilize non-actors to serve as "genuine" spokespeople for their products.  In other words, many commercial actors had their fingers crossed for new hope as SAG-AFTRA negotiated a new contract for commercial actors with top advertisers over the last several weeks. Continue »
Young 'Matilda' Stars Ruled Ineligible for Best Actress Tony Award, Will Receive Honorary Award Instead
April 29, 2013 | Leave a Comment

When it comes to the Oscar and Emmy acting awards, decisions are pretty cut and dry on the eligibility requirements.  When it comes to Tony Awards, the rigorous schedule of Broadway sometimes disqualifies certain performers from categories.  Case in point: administrators of the awards have ruled that the four girls, ages 9 and 10, who rotate the role of Matilda on Broadway in the popular adaptation of Roald Dahl's children's novel are not eligible for the Tony Award for Best Performance by an Actress in a Musical category.  Tony nominees will be announced Tuesday, April 30.
The actresses were ruled ineligible because each one portrays Matilda twice a week and administrators decided that added up to too few performances each when compared to actors who perform their roles eight times a week themselves. However, the four young actresses – Sophia Gennusa, Oona Laurence, Bailey Ryon and Milly Shapiro — will not go home empty-handed because they will be awarded non-competitive Tony Honors for Excellence in the Theatre for their starring roles.  All the girls made their Broadway debuts in the musical. Continue »
Yo, Adrian! Rocky is comin' to Broadway!
April 29, 2013 | Leave a Comment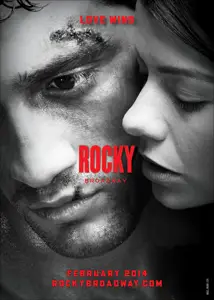 Rocky, the new musical based of the classic film that starred Sylvester Stallone, will come to Broadway next February, 2014.
Preview performances begin February and the show will officially open in March at Broadway's historic Winter Garden Theatre (1634 Broadway, New York, NY). 
The musical received its world premiere last fall in Hamburg, Germany, where it earned unanimous critical raves and continues to play to packed houses.   
"I couldn't be more proud or more excited about this production and how my original story of Rocky Balboa has been brought to spectacular life onstage," said Oscar-nominated Rocky screenwriter and star Sylvester Stallone.  "The story of Rocky was very much like my life at the time – starting out with nothing, having to fight for roles and recognition.  So I put those feelings into the body of a boxer and I had no idea there were so many millions of people that felt the same way.   Alex Timbers and the entire creative team have not only honored that original impulse, but have made his story as exciting, heart-breaking, and inspiring as it was when Rocky first went the distance on screen." Continue »
Michael Shannon: "I guess any time I take a job, I'm not afraid to dig into something, no matter how ugly it may be"
April 26, 2013 | Leave a Comment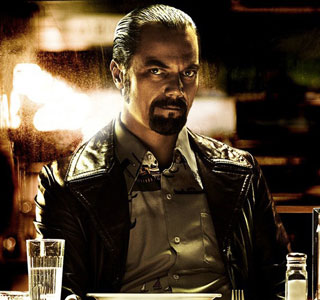 Michael Shannon's big movie this year is undoubtedly Man of Steel, in which he plays the Superman villain General Zod, but those who enjoy Shannon in his dark roles are also looking forward to his role as real-life serial hit man Richard Kuklinski in The Iceman.  After filming a haunting test scene, Shannon was drawn to starring as Kulinski in order to delve into his sordid character.
Shannon's test scene — which has been viewed over 150,000 times on YouTube — gave director Ariel Vromen a chance to see if Shannon would work in the role.  He explains, "It was an opportunity for Ariel to get a little warm-up because he wanted to make this film for such a long time.  I think it was good to get that practice run and see what it was like. And it was a lot of fun." Continue »
Clark Gregg on His Movie 'Trust Me': "Anyone who is in Hollywood long enough, you go through some… kind of feeling like that untouchable loser who can't get a break"
April 26, 2013 | Leave a Comment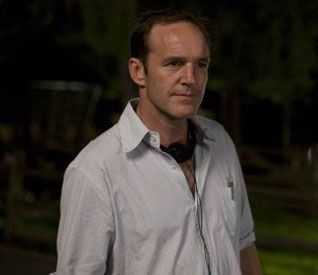 Clark Gregg took time out from his schedule of appearing in all of the Marvel Cinematic Universe movies to film Trust Me, a movie he wrote, directed, and starred in about Howard, a luckless Hollywood agent for child actors who seems to finally have hit his stroke of luck with a young actress.  Though the Marvel films have made Gregg a fan favorite, Gregg took some time during the Tribeca Film Festival to speak with The Huffington Post about how his personal experiences with being rejected from roles helped him create Trust Me.
Gregg points out that despite not being much like Howard, he felt connected to the character — and knew no one else would think of him to play that type of role.  He explains, "I've met people like this. When I read it back, one of the things I thought was, 'God, this is now something I feel tremendously connected to, this character.' I wasn't going to play him, but I thought, 'No one is ever going to write anything like this for me.' I also felt that anyone who is in Hollywood long enough, you go through some period of kind of feeling like that untouchable loser who can't get a break."  Continue »
Interview: 'Vikings' Katheryn Winnick on Her Audition for the Show and Shooting Battle Scenes
April 26, 2013 | Leave a Comment
Podcast: Play in new window | Download (Duration: 9:30 — 6.6MB)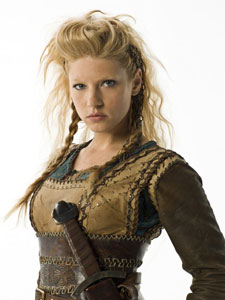 The History Channels Vikings is one of those shows that just keep getting better and better. It's so well written and the cast, including George Blagden, Travis Fimmel and Katheryn Winnick are just great. 
Winnick plays Lagertha in the show and in this roundtable interview, she talks about how she got cast – complete with a story about driving around town in a Viking costume – going from Bones to a period piece and shooting on location in Ireland.
Vikings airs on Sundays at 10pm on The History Channel
For the full interview, click the audio link above or download it from iTunes  Continue »
Interview: Travis Fimmel Talks 'Vikings', Learning the Norse Language and Shooting in Ireland
April 26, 2013 | 3 Comments
Podcast: Play in new window | Download (Duration: 12:42 — 8.8MB)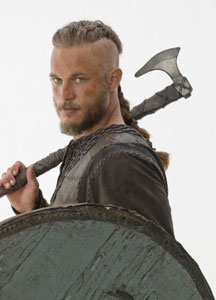 Vikings tells the story of Ragnar, one of the greatest heroes of that era. It follows him, his family and band of Viking brothers on his quest to become the King of the Viking tribes. His often brutal quest.
Travis Fimmel plays Ragnar and as he said when I talked with him at WonderCon, it wasn't the violence, it was learning the Viking language. "It took me a long time," he said.
In the interview, Travis talks about getting that language down, the shooting conditions in Ireland – "it just pissed down rain" – and how he prepares for the next shooting day when he's already working long such long hours.
Vikings airs on Sundays at 10pm on The History Channel
For the full interview, click the audio link above or download it from iTunes  Continue »
Interview: 'Vikings' George Blagden on How He Got Cast and Doing a Sex Scene on His Very First Day On-Set
April 26, 2013 | 1 Comment
Podcast: Play in new window | Download (Duration: 14:01 — 9.7MB)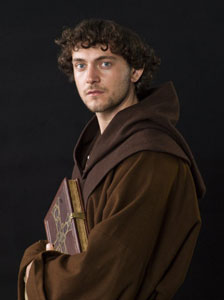 George Blagden plays Athelstan in The History Channel's great new show, Vikings. Created by Michael Hirst, the show is about the adventures of Ragnar (Travis Fimmel), his family and his band Viking brothers.
Besides his work in Vikings, you may have seen him as Grantaire in the film version of Les Miserables. From singing in the French revolution to playing a 12th century viking… he's has had a very good year!
I talked to George at WonderCon about how he got his part, being nervous on his first day on set – he had to do a sex scene…the very first day – and how he prepared to play a Viking. 
Vikings airs on Sundays at 10pm on The History Channel
For the full interview, click the audio link above or download it from iTunes  Continue »