Interviews

Interview: Curtis Armstrong Talks His Long Career and 'King of the Nerds'
Curtis: "I always knew I was a character actor"

Interview: Casting Director Kelly Martin Wagner on Auditioning Actors and Working in the Horror Genre
Kelly: "In our office, we're looking for a person, not a read"

Q&A: Comedian Jim Jefferies on Season Two of 'Legit'
Jim also has an interesting perspective on comedic actors in dramas.
Click Here For More Interviews!
Acting Advice

What To Eat (And What Not To Eat) Before An Audition
An audition can be a nerve-wracking experience, so you'll need every advantage you can get

How Can You Spot a Fake Manager?
John does some Detective work and finds some scammy behavior!

Auditions: We Just Don't Know
That's one of the most frustrating bits about this biz of ours, isn't it?
Want To Read More Columns? Click Here!

Latest News
Matthew McConaughey on His Approach to Acting: "Don't worry about the result, get your head down as an actor"
January 27, 2014 | Leave a Comment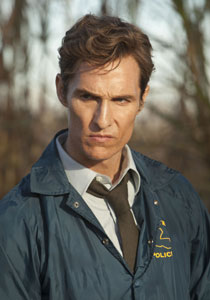 Despite writing for a website called Daily Actor, I usually don't put much stake into acting awards (especially since they are so many of them). However, I have found it hard not to enjoy Matthew McConaughey's award season success, not only because it is well-deserved but because his speeches have been so off-the-wall fantastic. The Dallas Buyers Club star just has such a way with words, and even if half of them together don't make logical sense the way he says it just sounds so gosh darn good.
One would think McConaughey would have other talents relating to this way with words. Curiously, though McConaughey has only written one film project (a 1998 short titled The Rebel, which he also directed and starred in), he tells The Wall Street Journal, "I write a lot more than I read."  He explains that good writing will inspire him, saying, "I'm a very slow reader but good writing will set into me and then I'll have to put a marker, and I want to go see if I can apply these philosophies to life." Continue »
Sam Troughton Loses his Voice Mid-Performance in Sam Mendes' 'King Lear'
January 27, 2014 | Leave a Comment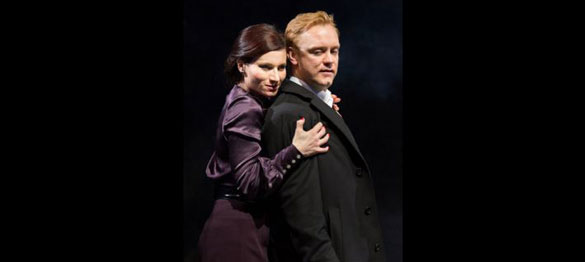 One of an actor's most important instruments in his career is his voice. However, that instrument can give out from time to time, just ask Sam Troughton.
He was in the middle of a preview performance of the Sam Mendes-directed King Lear at the National Theatre in London when he lost his voice mid-sentence. Troughton was playing Edmund, the main antagonist in the Shakespeare play, who resolves to get rid of his father and brother in order to become Earl of Gloucester.
Simon Russell Beale, who plays King Lear in the show, told Radio 4, "It must have been terrifying. Apparently his voice just completely gave out." Continue »
Megan Mullally on How She Became a Comedic Actress
January 27, 2014 | Leave a Comment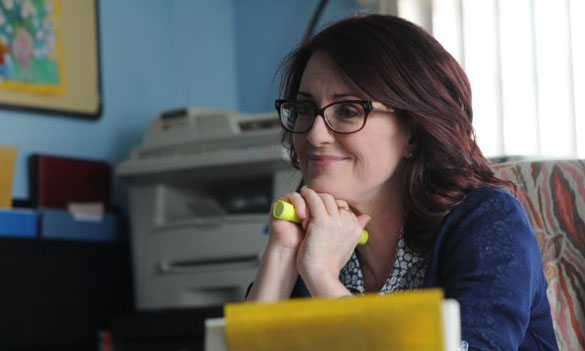 Megan Mullally is best known for her starring role on the sitcom Will & Grace (which ran from 1998 to 2006), and since the show ended Mullally has often guest starred on numerous sitcoms. Because of her credits, most people would assume that Mullally always intended to be a comedic actress. However, as she reveals to Interview magazine, she actually evolved to be a comedic actress from feedback she received from others.
Mulllally admits that she had wanted to be an actress as long as she could remember. She reveals, "From the time I was three, I was already fully ready. It was all I ever really thought about, or did, or wanted to do." Continue »
Q & A: Greg Kinnear on 'Rake', Working With the Cast and Why He Took the Role
January 27, 2014 | Leave a Comment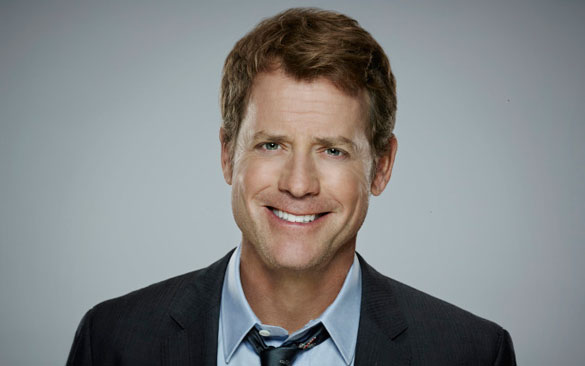 Academy Award-nominated and Emmy Award-winner Greg Kinnear stars in the new FOX show, Rake, about the chaotic life of criminal defense lawyer, Keegan Deane.
The show, based on an Australian TV series of the same name, has Kinnear as a character who has an innate "inability to not get out of his own way," as he said in a conference call. And besides the character, he also loved the ensemble element of the show, saying that they worked "really hard to cast great actors in this ensemble.  I think they're all excellent." He's talking to you John Ortiz!
In the interview, Greg talks about his character, the show, working with the cast and more.  
Rake airs on on Thursdays at 9pm. Continue »
Joseph Gordon-Levitt on 'HITRECORD' and Making the Successful Transition from Child Star to Adult Star
January 24, 2014 | Leave a Comment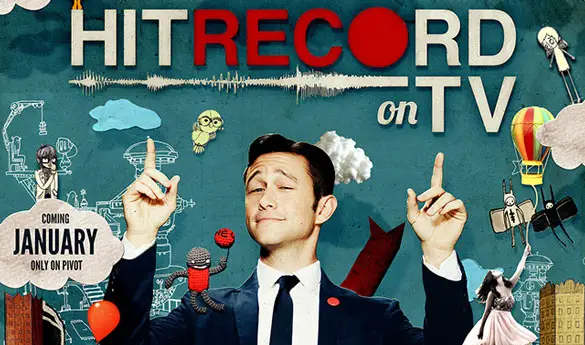 HITRECORD on TV might have just premiered, but Joseph Gordon-Levitt's variety show has not only been viewed online half a million times online but is also something that has existed for quite some time even before that. In fact, HITRECORD was a project that Gordon-Levitt would work on in between his acting projects (and now his writing and directing projects) when he wasn't as in demand as he is now. He spoke about where the HITRECORD name came from and how he became one of the few child stars who remained grounded with The Wrap. Continue »
'Girls' star Adam Driver Thinks His Stint in the Military "was the best training to be an actor"
January 24, 2014 | Comments Off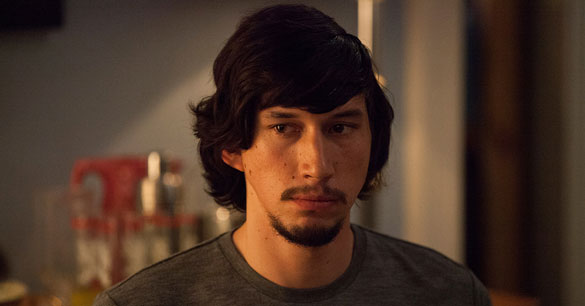 Adam Driver continues to make a splash on Girls with his character Adam Sackler, the moody artist whom he describes as "part-poet, part-rhinoceros and part-Neanderthal." It's the "part-Neanderthal" that gets his character in trouble from time to time, but Driver doesn't worry about that.
He said, "There's such an emphasis on having a character be likable. I don't think it would be helpful if I worried about that. I mean, not everyone's likable." Continue »
Interview: Ashley Madekwe on Her New Show 'Salem': "I struggled with trying to find an accent that felt like it was steeped in truth"
January 24, 2014 | Comments Off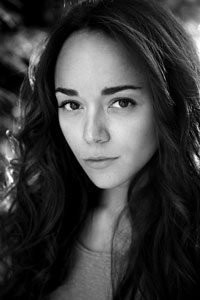 Ashley Madekwe is thrilled to be playing the iconic role of Tituba in WGN America's new series, Salem. However, don't expect the Tituba you know from The Crucible to emerge, it's new spin on the well-known character.
Daily Actor was able to sit-down with the actress in a roundtable discussion to talk about the new series and what the audience should expect.
So what was the first thing that drew you to Salem?
Ashley Madekwe: Well, I've been obsessed with the role of Tituba since forever. It's one of the first show I saw when I was at drama school. The girls in the year above were doing The Crucible and I was obsessed with it. So I've always kind of had an eye out for anything that's slightly witchy. And when I heard about Salem I thought… I was like, "Oh, is that just gonna be white girls in the woods? It there gonna be a part for me in that?" and there was. I loved it. First time I read the script I was really freaked out by it. It's super spooky. It really jumps off the page. Continue »
Ian McKellen, Patrick Stewart and the Cast of Broadway's 'No Man's Land' Holding Post-Show Talkbacks and We Were There
January 24, 2014 | Leave a Comment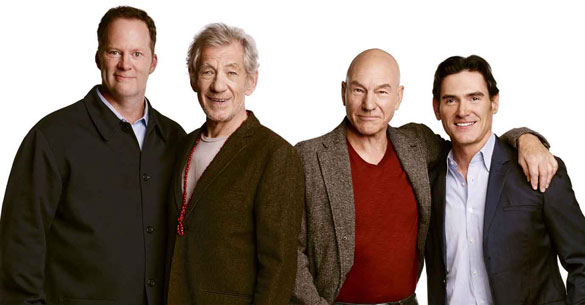 As if anyone needed more excuses to see Sirs Ian McKellen and Patrick Stewart performing No Man's Land and Waiting for Godot in repertory at the Cort Theatre on Broadway (the production has once again extended through March 30), but the cast is doing talkbacks after select performances of No Man's Land.
Whether you're a regular theatergoer or you're like the guy in front of me who Googled "talkback" on his phone to find out what the heck was going on after the show, it's impossible not to enjoy hearing four great actors and the production's director talk informally about their work.
Last night's performance of Harold Pinter's No Man's Land was followed by the first of the scheduled talkbacks. It was moderated by the production's director, Sean Mathias.
Interview: Chris Henry Coffey on His Broadway Debut in 'Bronx Bombers', Yale and Diversifying His Career
January 23, 2014 | Leave a Comment
Podcast: Play in new window | Download (Duration: 28:30 — 22.9MB)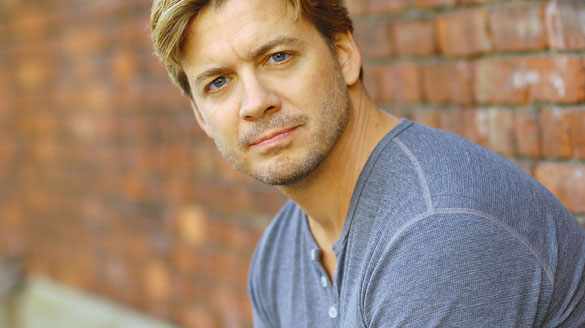 Chris Henry Coffey is making his Broadway debut in the new play, Bronx Bombers, about the New York Yankees that follows the great Yogi Berra and his wife, Carmen, through almost a hundred years of the teams high's and lows. The show brings together some of its most legendary players like Babe Ruth, Mickey Mantle, Lou Gehrig, Derek Jeter and Joe Dimaggio, played by Chris.
I love hearing stories of how people got the part that lands them on Broadway and Chris' story is up there as one of my favorites.
Originally from Green Bay, he went to school at Yale and soon after moved to New York and as he told me, he's been "pounding the pavement for a lot of years." That's not to mean that he hasn't been working. He's always been a busy working actor, doing a bunch of off-Broadway shows, commercials, TV and films (like Trust directed by David Schwimmer). If that's not enough, he also teaches acting!
As you'll find out in the interview, he's a genuinely nice guy. He's talented and I gotta say that I'm incredibly happy for him. In the interview, we talk about how he got the part, the first time he stepped on-stage for preview night and one of his worst auditions. I also recommend checking out the podcast where he talks about his research on DiMaggio, meeting Henry Miller and tons more. It's well worth your time!
Follow Chris on Twitter!
For the full interview, click the audio link above or download it from iTunes.
James Earl Jones on How He Became a Star: "That's a great question — I don't have a clue"
January 23, 2014 | Leave a Comment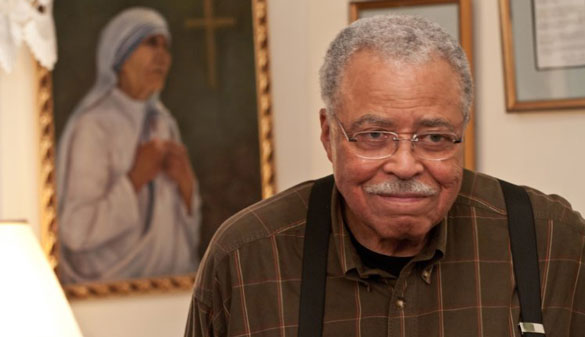 The deep baritone of James Earl Jones is arguably the most recognizable voice in film history. While his voice is known for his roles in dozens of movies, it's undoubtedly most famous for movies he actually has no physical presence in: voicing Darth Vader in the original Star Wars trilogy and Mufasa in The Lion King.
However, it would be grossly unfair to think of Jones as just a voice because he has been acting in film and on stage regularly since his movie, 1964′s Dr. Strangelove or: How I Learned to Stop Worrying and Love the Bomb. He gave an interview to The New York Times to mark his fiftieth year as a film actor about his latest movie, Gimme Shelter, and his recent series of Sprint commercials. Continue »