Interviews

Interview: Curtis Armstrong Talks His Long Career and 'King of the Nerds'
Curtis: "I always knew I was a character actor"

Interview: Casting Director Kelly Martin Wagner on Auditioning Actors and Working in the Horror Genre
Kelly: "In our office, we're looking for a person, not a read"

Q&A: Comedian Jim Jefferies on Season Two of 'Legit'
Jim also has an interesting perspective on comedic actors in dramas.
Click Here For More Interviews!
Acting Advice

What To Eat (And What Not To Eat) Before An Audition
An audition can be a nerve-wracking experience, so you'll need every advantage you can get

How Can You Spot a Fake Manager?
John does some Detective work and finds some scammy behavior!

Auditions: We Just Don't Know
That's one of the most frustrating bits about this biz of ours, isn't it?
Want To Read More Columns? Click Here!

Latest News
Interview: Rose McIver Talks 'Brightest Star', American Accents and Auditioning for 'Once Upon A Time'
January 31, 2014 | 1 Comment
Podcast: Play in new window | Download (Duration: 12:17 — 9.8MB)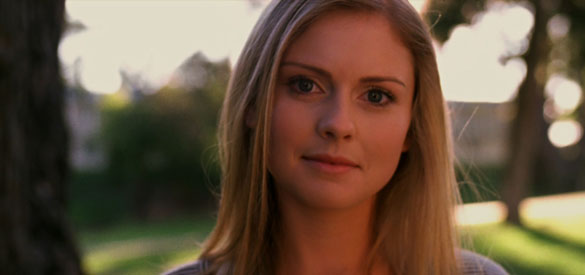 Rose McIver is all over the place it seems like. She's appearing in Showtimes' Master of Sex, playing Tinkerbell on ABC's Once Upon a Time and now, she's starring in the new film, Brightest Star.
The film is about a guy (Enlisted's Chris Lowell), who, right out of college is dumped by his girlfriend, Charlotte (McIver). So, he reinvents himself into the man he thinks she wants. Trouble is, along the way he ends up falling for his friend, Lita (Jessica Szohr). I liked the film a lot and you can read my review here.
The movie is directed by actress Maggie Kiley and in the interview, I asked Rose what it's like to be directed by another actor. She said the Kiley "wants us to do the best work we can, so as an actor she knows what we need and the conversations that will be useful." We also talk about her character, how she got the part and how she and Chris -  before they even met each other – formed a bond over email. And we get into her audition for Once Upon a Time and her flawless American accent.
For the full interview, click the audio link above or download it from iTunes
Brightest Star is in theaters and on VOD now Continue »
Review: 'That Awkward Moment' Starring Zac Efron, Miles Teller and Michael B. Jordan
January 31, 2014 | Leave a Comment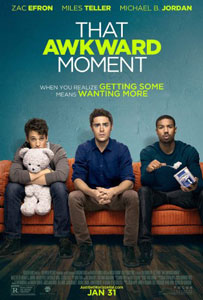 That awkward moment: when you tell your friends who hated That Awkward Moment that you enjoyed That Awkward Moment.
Look, let's get some things out of the way. This film certainly isn't great. It's got a lot of problems but thanks to the cast, you might be able to overlook it. I did.
The film, written and directed by Tom Gormican, stars Zac Efron, Miles Teller and Michael B. Jordan as three best friends who pledge not to get girlfriends after Jordan's Mikey finds out his wife has been shagging another guy.
And you know having the guys stay single ain't going to last long. Continue »
Review: 'Brightest Star' Starring Chris Lowell, Rose McIver and Jessica Szohr
January 30, 2014 | Leave a Comment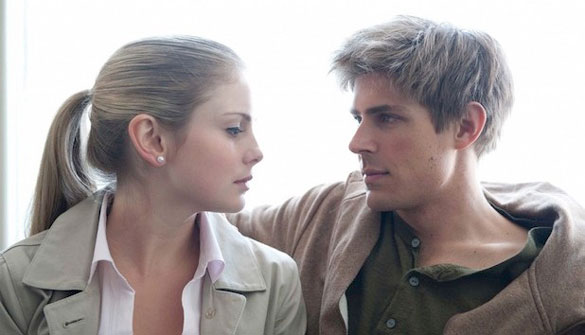 Chris Lowell (Enlisted, Veronica Mars) is just a boy trying to figure out his place in life. The Boy, as he's called in the credits (his character is never given a name), has just gotten dumped by Charlotte (Rose McIver) and man, does he have it bad.
He's mopey and floating through life, still convinced that he's going to get her back. Charlotte is rapidly climbing the corporate ladder so he decides to turn himself into what he thinks she wants in a man. That always works out, right? With the help from his friend, Lita (the wonderful Jessica Szohr), he gets a high-level job at her father's (Clark Gregg) company. Continue »
Trailer: 'A Million Ways To Die In The West' Starring Seth MacFarlane, Charlize Theron, Amanda Seyfried, Liam Neeson, Sarah Silverman & Neil Patrick Harris
January 30, 2014 | Leave a Comment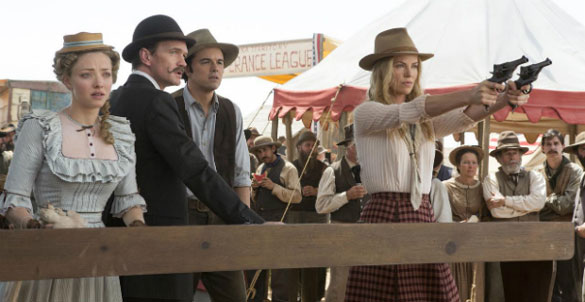 A Million Ways To Die: A cowardly farmer seeks the help of a gunslinger's wife to help him win back the woman who left him.
Director: Seth MacFarlane
Writers: Seth MacFarlane, Alec Sulkin
Starring: Seth MacFarlane, Charlize Theron, Amanda Seyfried, Liam Neeson, Sarah Silverman, Neil Patrick Harris Continue »
Casting Director Allison Jones: "Being funny is everything to me. Being funny and original"
January 30, 2014 | Leave a Comment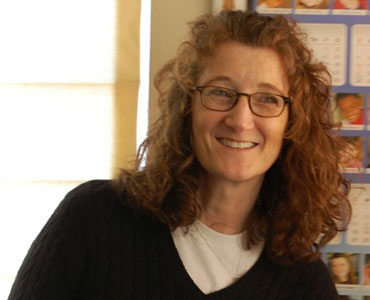 If you've noticed lately, geeks are hot in Hollywood. Many of those geeks have one woman to thank, casting director Allison Jones, who has helped comedians and actors with a nerdy edge take over the big and small screen.
Jones has discovered talents like Superbad's Christopher Mintz-Plasse and Veep's Timothy Simons. She talked to Fast Company about her work in the industry and how she finds those hidden gems.
The talent-maker indicated that her discovery process isn't that simple. She does look for that "It" quality, but also confirmed that "it's just all instinct, who I like and who I think is funny. I don't know." Continue »
Bryan Cranston on Starring as LBJ in Broadway's 'All the Way' and Whether We'll Ever See Walter White Again
January 30, 2014 | Leave a Comment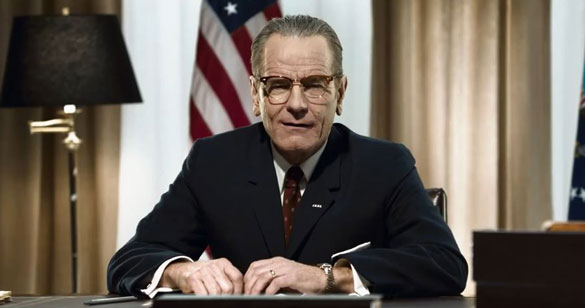 After the massive critical and rating success of Breaking Bad, Bryan Cranston could probably do whatever he wanted once he hung up Walter White's porkpie hat. So many were surprised that Cranston's next move was to make his Broadway debut portraying President Lyndon B. Johnson in All the Way after a sold-out run at the American Repertory Theater in Massachusetts. He spoke to Rolling Stone about the role, the difference between acting on stage and on television, and whether or not we'll see Walter White again. Continue »
Julianne Nicholson Calls 'August: Osage County' Role a "Dream Come True": "I still don't really believe it, even though the proof is out there"
January 30, 2014 | Leave a Comment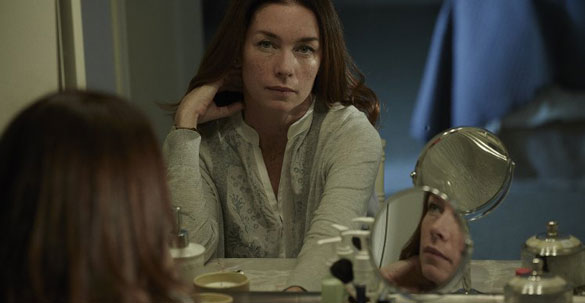 While Meryl Streep and Julia Roberts are getting most of the awards recognition for August: Osage County, it's fair to say that neither role would've been as impressive if they hadn't had another great performance in the film to play off of — Ivy Weston, portrayed by Julianne Nicholson. Nicholson's character is Roberts' character's sister and Streep's character's daughter, so Ivy plays a central role in the family feuds that make up the story of the movie. Because she is not normally an actress in lead roles, Nicholson spoke to Reuters about what she found difficult about the role and why she hopes her next project will be something completely different. Continue »
Actors' Equity Tour Contract Issues: Economics and Non-Union Tours to Blame
January 30, 2014 | Leave a Comment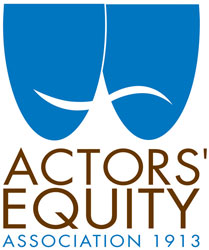 The tour wage issue for Actors' Equity continues as town hall meeting on Monday revealed that this is a hot topic for its members. According to three anonymous union member who spoke to The New York Times, over 400 people showed up to the four-hour meeting.
A Power Point presentation was shown by Equity leaders who informed the membership about the history of touring musicals. Some of the threats that nonunion tours have placed upon Equity tours over the years are to blame for the current state of lower wages.
While the town hall had an overall positive vibe, the members are clearly upset that two highly profitable Broadway musicals, Kinky Boots and Newsies, are choosing Short Engagement Touring Agreement [SETA] versus a full production contract used by shows like Wicked and The Lion King. A SETA contract pays 60-70 percent less than a full production contract. Continue »
Adam Scott on Directing 'Parks and Rec': "There's a huge amount of work that goes into this show before the spoiled actors arrive on set"
January 29, 2014 | Leave a Comment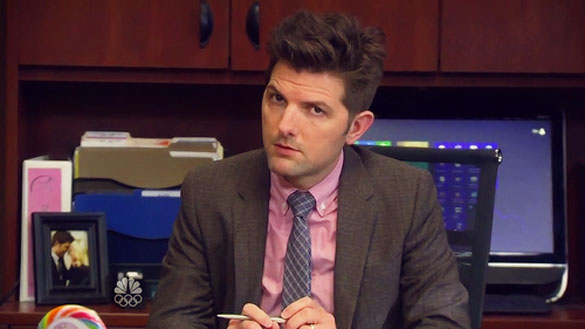 Adam Scott has enjoyed his time on NBC's sitcom Parks and Recreation, but this season he is taking it to the next level by directing one of the episodes. The 40-year-old actor talked to Vulture about going behind the camera when his character, Ben Wyatt, had a lot to do on-camera.
He talked about how the directing opportunity came up with the show. Continue »
Bobby Moynihan Recalls His Audition(s) for 'Saturday Night Live'
January 29, 2014 | Leave a Comment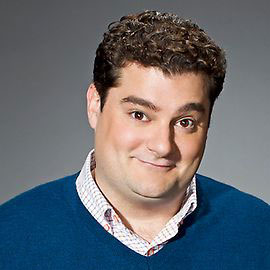 For comedians, the pinnacle of success is a stint on Saturday Night Live. That was exactly Bobby Moynihan's goal for years while he lived in New York tending bar at Pizzeria Uno and honing his improv skills at Upright Citizens Brigade.
It didn't come easy, but after years of working hard in anonymity, the producers of the longtime NBC show finally invited him to audition.
The 36-year-old comedian revealed, "I was absolutely terrified, but elated, because that's all that I've ever wanted to do."
Even though Moynihan was finally stepping into his dream scenario, it was a long road to get there. The actor had a four-hour wait in the dressing room before his audition and a nine-hour wait outside of SNL creator and executive producer Lorne Michael's office. Continue »