Interviews

Interview: Curtis Armstrong Talks His Long Career and 'King of the Nerds'
Curtis: "I always knew I was a character actor"

Interview: Casting Director Kelly Martin Wagner on Auditioning Actors and Working in the Horror Genre
Kelly: "In our office, we're looking for a person, not a read"

Q&A: Comedian Jim Jefferies on Season Two of 'Legit'
Jim also has an interesting perspective on comedic actors in dramas.
Click Here For More Interviews!
Acting Advice

What To Eat (And What Not To Eat) Before An Audition
An audition can be a nerve-wracking experience, so you'll need every advantage you can get

How Can You Spot a Fake Manager?
John does some Detective work and finds some scammy behavior!

Auditions: We Just Don't Know
That's one of the most frustrating bits about this biz of ours, isn't it?
Want To Read More Columns? Click Here!

Latest News
Interview: Jackie Earle Haley on 'RoboCop', Rehearsing, Auditioning and More!
February 11, 2014 | Leave a Comment
Podcast: Play in new window | Download (Duration: 17:20 — 13.9MB)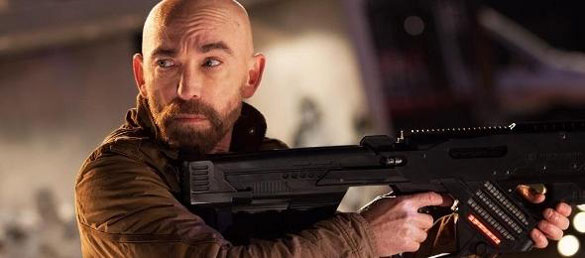 I think Jackie Earle Haley is terrific is everything. As a kid, I must have watched 1976′s Bad News Bears a million times and Breaking Away  is still one of my all-time favorite movies. If you haven't seen that, make sure Netflix it because it's great. 
But, as he got older, it got harder and harder for him to transition from child star to adult actor, so, he eventually moved to Texas where he started a successful production company. He directed a ton of commercials and as he told me, he just thought that part of his life was over. But Sean Penn and writer/director Steve Zaillian, who were making All the King's Men, thought of him for Sugar Boy, one of the major roles in the film. That brought him back into the business and he's been working non-stop ever since.
He was nominated for an Academy Award for his next film, Little Children;  he played Rorschach in Watchmen, worked with Martin Scorsese and Leonardo DiCaprio in Shutter Island, he played Freddy Krueger in the new Nightmare on Elm Street reboot, worked with Steven Spielberg on Lincoln and tons more!
And each role is completely unique and different – not one of them are alike.
Now, he's starring in the new RoboCop and has got some great kick-butt scenes. I liked the film a lot and of course, Jackie is terrific.
In the interview, we talk about the movie, some of his past roles, auditioning, Broadway and his advice to actors.
For the full interview, click the audio link above or download it from iTunes.
Hugh Jackman Returns to Host The 68th Annual Tony Awards
February 11, 2014 | Leave a Comment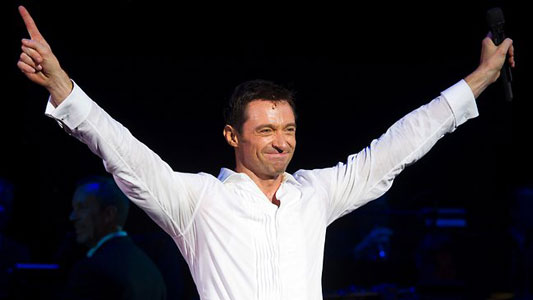 Tony Award winner, Academy Award® nominated and Golden Globe-winning actor Hugh Jackman is returning to host The 68TH Annual Tony Awards!
The show will be at Radio City Music Hall and airs on Sunday, June 8 (8:00-11:00 PM, live ET/delayed PT) on CBS. Continue »
Screenplay: 'Enough Said'
February 10, 2014 | Leave a Comment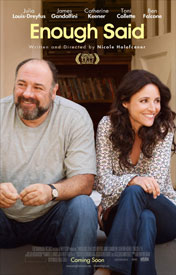 Enough Said: A divorced and single parent, Eva (Julia Louis Dreyfus) spends her days enjoying work as a masseuse but dreading her daughter's impending departure for college. She meets Albert (James Gandolfini) – a sweet, funny and like-minded man also facing an empty nest.
As their romance quickly blossoms, Eva befriends Marianne (Catherine Keener), her new massage client. Marianne is a beautiful poet who seems "almost perfect" except for one prominent quality: she rags on her ex-husband way too much. Suddenly, Eva finds herself doubting her own relationship with Albert as she learns the truth about Marianne's Ex. Continue »
Chris Lowell Recalls His Very First Audition and Network Test
February 7, 2014 | Leave a Comment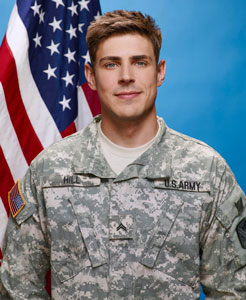 Chris Lowell is ready to have a big year in 2014. The 29-year-old actor just had his new sitcom Enlisted premiere on FOX, his first leading-man film Brightest Star was just released, Veronica Mars will hit the big screen, his directorial debut for Beside Still Waters is happening and he's headed to the stage in A Moveable Feast. Are you exhausted yet?
The multi-talented actor talked to Interview about his busy career and how he got started in the industry.
Lowell revealed that his decision to be an actor came early. Continue »
Bryan Cranston Heads to Broadway as L.B.J., "the King Lear of modern theater in this play" (video)
February 7, 2014 | Leave a Comment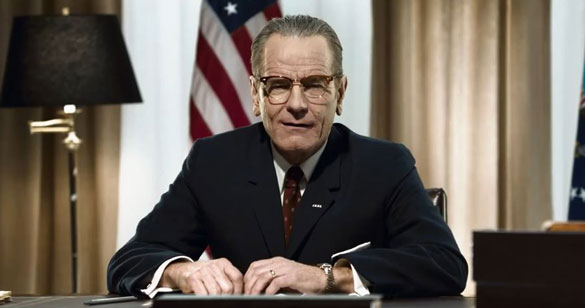 How do you follow-up a successful series like Breaking Bad? If you're Bryan Cranston, you head to Broadway. He will be making his Broadway debut as Lyndon Baines Johnson in the play All the Way.
He talked to The New York Times about why he took on such a challenge.
"I wanted to play L.B.J. because he is the King Lear of modern theater in this play," said Cranston. Continue »
Highlights from Mary-Louise Parker's Reddit AMA: "I'm Mary-Louise Parker, actress, writer and goat-herder"
February 7, 2014 | Leave a Comment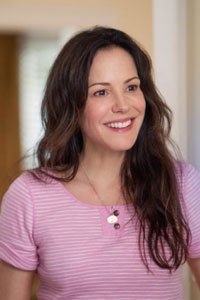 Reddit's Ask Me Anything has become a fantastic way for celebrities to interact with their fans. On Wednesday, actress Mary-Louise Parker participated in the site's chat and talked about how she loves her "kids, my goats and my donkey named Seamus" as well as having "a sweet ass."
In addition to her quirky sense of humor, the 49-year-old star talked about her career with questions fielded from her fans.
When asked where she found inspiration for characters like Nancy Botwin from Weeds or Ruth from the 1991 film, Fried Green Tomatoes, Parker gave some interesting perspective on those roles. Continue »
Screenplay: Woody Allen's 'Blue Jasmine'
February 7, 2014 | Leave a Comment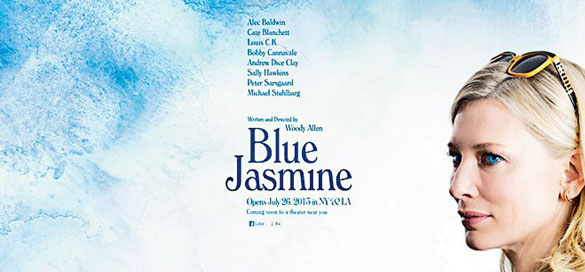 Blue Jasmine: After everything in her life falls to pieces, including her marriage to wealthy businessman Hal (Alec Baldwin), elegant New York socialite Jasmine (Cate Blanchett) moves into her sister Ginger's (Sally Hawkins) modest apartment in San Francisco to try to pull herself back together again. Continue »
Screenplay: 'The Invisible Woman'
February 7, 2014 | Leave a Comment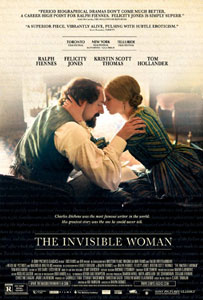 The Invisible Woman: Nelly (Felicity Jones), a happily-married mother and schoolteacher, is haunted by her past. Her memories, provoked by remorse and guilt, take us back in time to follow the story of her relationship with Charles Dickens (Ralph Fiennes) with whom she discovered an exciting but fragile complicity. Dickens – famous, controlling and emotionally isolated within his success – falls for Nelly, who comes from a family of actors. The theatre is a vital arena for Dickens – a brilliant amateur actor – a man more emotionally coherent on the page or on stage, than in life. As Nelly becomes the focus of Dickens' passion and his muse, for both of them secrecy is the price, and for Nelly a life of "invisibility". Continue »
Review: 'The Monuments Men'
February 6, 2014 | Leave a Comment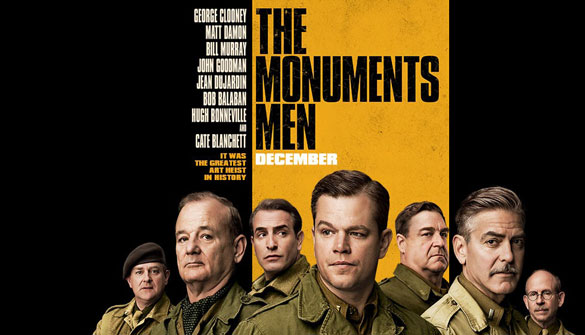 To say The Monuments Men is a disappointment is a huge understatement.
The film was originally scheduled to open in the crowded Christmas season but due to some post-FX shots, it wasn't finished in time. Moving the film wasn't a bad idea though. February is a wasteland and to try and find good films is sometimes a difficult task. And, having such a powerhouse cast (George Clooney, Matt Damon, Bill Murray, John Goodman, Jean Dujardin, Bob Balaban, Hugh Bonneville, and Cate Blanchett) should conceivably bring in the audience.
Unfortunately, Clooney, as director and co-writer, delivers a slow and meandering film that weaves in and has no real drive or push to get to the ending of the story. Continue »
Cristin Milioti on Playing the Mother in 'HIMYM' and 'The Wolf of Wall Street' Script Changes
February 5, 2014 | Leave a Comment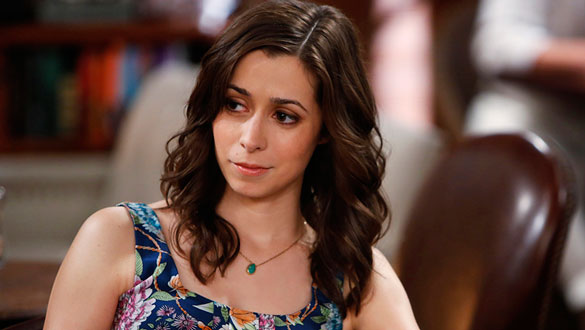 Cristin Milioti might be the envy of every young actress in the entertainment industry right now. Her body of work in the last few years includes a  part in The Wolf of Wall Street, a role on 30 Rock, a turn on Broadway in Once and now the elusive mother in CBS' How I Met Your Mother.
In a recent episode of the sitcom, Milioti talked about playing the song "La Vie On Rose" on the ukulele and how that came about. Continue »