Interviews

Q & A: Lili Taylor and Minka Kelly Talk 'Almost Human', How They Got Their Roles and Imagination
Lili: Imagination is "one of the fuels for an actor"

Q & A: J.J. Abrams Talks 'Almost Human', the Cast and 'Star Wars'
J.J.: "I think that this show has a level of humor that is distinct from what we've done"

Interview: Josh Young on 'Evita', Playing Che and Being Nominated for a Tony
Josh on his Tony Nomination: "I feel like I have expectations now to live up to now"
Click Here For More Interviews!
Acting Advice

Dear Hollywood: An Open Letter From Annie Wood
Annie asks Hollywood to consider….

How To Act Like You're Already A-List
Dallas has 3 suggestions on how to take charge of your career!

Moving From A Small Town To A Major Market
Before moving from a small town to a major market, you must make a business plan
Want To Read More Columns? Click Here!

Latest News
SAG Rally this Thursday at the AMPTP!
March 31, 2009 | Leave a Comment
The Rally this week is at the AMPTP/MPAA offices at the Galleria in Sherman Oaks, NW corner of Ventura and Sepulveda Blvds on Thursday, April 2, 2009 at 11am-2pm. Parking at the Galleria and on side streets.
AMPTP states "There is no merit to these [anti-trust] allegations"
FACT: Universal owns NBC and Hulu.com
FACT: Disney owns ABC, in talks to buy into Hulu.com
FACT: Viacom owns Paramount, CBS and CNet
FACT: News Corp owns Fox studios, Fox network and Hulu.com
FACT: Warner Bros has a huge cable empire.
FACT: Sony owns Columbia and MGM and has tv networks reaching 400 million viewers worldwide
This handful of monolithic companies own studios, networks, cable companies and internet companies.
This is only a partial listing of these self-dealing monopolies that are engaged in production, distribution and exhibition of entertainment.
AMPTP states: "Amazingly, at a time when so many others are losing their jobs or worried about their futures, this small group continues to protest guaranteed wage increases, higher pension contributions and new forms of earning like the first-ever payments for Internet streaming for SAG members."
WE HAD BETTER PROTEST
FACT: we will lose $600 million in network move over to streaming
FACT: the fractional pension improvement, one-half of one percent, will be more than wiped out by losses in the move over of 14.8%.
FACT: They get 17 to 24 days of free streaming then pay $22.77 for 6 months of constant streaming.
FACT: pre 1971 movies: no residuals in New Media
FACT: pre 1974 tv series: no residuals in New Media
FACT: Non-union production in New Media
FACT: Product Integration: 2 jobs - 1 paycheck
FACT: Clips: As a condition of employment we lose control of name, voice and likeness
BE AT THE RALLY TO DEFEND YOUR ABILITY TO MAKE A LIVING.
In solidarity
Scott Wilson
Henry Kingi
Andy Hallett of 'Angel' is gone
March 31, 2009 | 3 Comments
This is a a shock. Andy Hallet, who starred as Lorne on the show Angel, has died of heart failure. He was only 33 years old.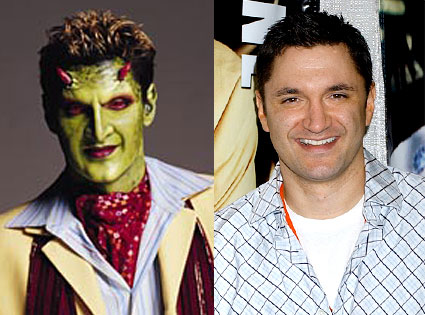 When I heard this, I was about to go into a workshop and I couldn't believe it. I loved Angel and his character, Lorne, brought so much warmth to the show. From E Online:
Andy Hallett, who starred as Lorne ("the Host") on the TV series Angel, died of heart failure last night at age 33, according to his longtime agent and friend Pat Brady. The actor passed away at Cedars-Sinai Hospital in Los Angeles after a five-year battle with heart disease, with his father Dave Hallett by his side. Hallett, from the Cape Cod village of Osterville, Mass., appeared on more than 70 episodes of the Buffy the Vampire Slayer spinoff, Angel, between 2000 and 2004. The accomplished actor was also a musician and sang two songs ("Lady Marmalade" and "It's Not Easy Being Green") on the Angel: Live Fast, Die Never soundtrack, released in 2005. The actor's character on Angel was Krevlornswath of the Deathwok Clan, or Lorne for short. Hallett's Lorne was a friendly demon, who, when not assisting Angel and his team in the investigation of various and sundry underworld mysteries, served as the host and headliner at a demon bar. Hallett has spent his post-Angel years working on his music career, playing shows around the country. He had been admitted to the hospital three or four times in the past few years for his heart condition, according to Pat. A private funeral service will be held for family and close friends in Cape Cod, most likely over this weekend.
Julia Robert and Clive Owen on Charlie Rose Part Deux
March 30, 2009 | Leave a Comment
Here's part two of the Charlie Rose interview of the stars of Duplicity.
Medium, Criminal Minds, Parks and Recreation and more!
March 30, 2009 | Leave a Comment
On the new season of 'In Treatment', child actor has it right… mostly
March 30, 2009 | Leave a Comment
Aaron Grady Shaw is a 12 year old kid from Baltimore (my neck of the woods!) who is about to make a splash.
He's about to go nose-to-nose with Gabriel Byrne.
Usually I hate child actors… they're all precocious and act like they 40 years old. But not this kid. I've seen clips of him in action (you can see him beifely in the preview below) and he's great.
He does fall in the trap of wanting to become rich and famous but I'm thinking Gabriel Byrne smacked him around a bit and put some sense in him.
Aaron, who has been riding Amtrak trains and tour buses with his grandmother since age 5 to auditions in New York, delivers a breakout performance as a troubled 11-year-old patient of Dr. Paul Weston, the psychologist-therapist played by Gabriel Byrne. In the four episodes made available for preview, the adolescent performer, who has never had a formal acting lesson, more than holds his own with the Golden Globe-winning Byrne in scenes that essentially become two-person plays. It is quality, adult television at its literate best, and it's a revelation to see this little kid holding up his half of the dramatic load opposite such a large on-screen persona.

"When I started going to those New York auditions with my grandmother and grandfather, I was only 4 or 5 years old, and I didn't really understand a lot of what was happening. I had it in my mind that I wanted to be rich and famous – that was all I knew," Aaron said in an interview last week. "Now, after In Treatment, I think I still want to be famous, but I want to be a great actor, too, if I can. I learned so much, and now I want to try and go all the way with this acting thing."

What did he learn? How to cry, how to "cuss" at his parents and how to "go to a deep, dark scary place" inside himself and find such emotions on cue. He discovered a way to get inside his imagination and live there until the director says "cut."

He also learned that the "camera is a truth detector," that it "sees everything" and so you better be "totally in the moment" and true to what is happening onstage. In short, he went from being a child performer with lots of personality who was good enough to do commercials and a couple of independent films, to being an actor worthy of sharing a stage with the likes of Byrne. Talk about adolescence and coming of age.

Weston's third session each week is with Oliver, an 11-year-old who is tormented by eating and body image issues, as well as a bully at school. His parents are going through an angry divorce. It is a rich, but complicated and challenging, role.

"I had to learn how to cry for episodes five and six," Aaron says. "I never had to make myself cry before. And my coach told me that I had to put myself in character, and then think of myself going through the exact same things that my character is going through. So, I had to think really sad thoughts and dig really deep. I had to think, like, 'What if one of my parents died?' I had to take myself away from everything else, and be in that little corner. She told me I had to go to that dark, deep place and be there all by myself."

The tears flowed on cue in episode five, but in six, the script called for Oliver to confront his parents. That, Aaron says, was the biggest challenge of all.

"I had to cuss at my parents, and that was the hardest, because I would never do that to my parents. Daddy would probably send me to an early grave," Aaron says of his father, Ardie Shaw, senior pastor at The New Cavalry Life Temple in the city of Baltimore. "So I really had to be Oliver that day."

At first, he told Coleman he couldn't say the words. But she knew better, and once again, she led him to that "deep and dark place" where he went to learn how to cry an actor's tears.

"She took me off to the side and told me to imagine something bad happening to Oliver. Then she had me close my eyes and imagine all the bad things Eric had done to Oliver," he says.

As viewers know from the conversations between Aaron and Weston, these acts range from Eric verbally abusing Oliver for his weight in front of his classmates, to urinating on Oliver's sneakers at a party held by a girl Oliver was trying to impress.

"And I would just close my eyes, and think about that, and she would say, 'Eric, Eric, Eric,' and little words about what he did to me, and then, I just started feeling mad and like I could do something crazy like that to start cussing at my parents. … And then, I did it."
Commercials contract expires tomorrow
March 30, 2009 | Leave a Comment
The commercials contract will expire tomorrow but as we all know that means nothing. We've been working without a contract on the theatrical side for months.
And check out what it says at the very end of the article about back channel negotiations that have been going on since Feb. 19th. I haven't heard a peep about that. Have you?
Madison Avenue's going down to the wire with SAG and AFTRA, as weekend talks continued ahead of Tuesday's contract expiration date.

Negotiators worked Saturday and Sunday in New York but remained in a news blackout as talks moved into their fifth week. A person close to the negotiations indicated some progress is being made and the union side has displayed unanimity during the sessions, held at the Crowne Plaza Hotel.

The strike threat emerged two weeks ago with the unauthorized release of a draft letter seeking an authorization vote from SAG and AFTRA members. The unions haven't yet taken that step, which would require about three weeks to complete — if the ad industry digs in its heels.

Key points at the talks include the industry's proposed shift to a compensation formula based on the ratings garnered by commercials, rather than stick with the traditional pay-per-play method. Commercials producers also want to cut by more than $20 million annually their contributions to SAG and AFTRA's pension and health plans.

SAG has often allowed contracts to expire — which means that performers continue to work under the terms and conditions of the existing deal, minus protection from a management lockout and without a grievance procedure.

Its feature-primetime contract with the Alliance of Motion Picture and Television Producers expired June 30 with both sides now in a standoff over the term of the next deal.

Back-channel talks have been taking place to seek a compromise on the film-TV deal ever since those talks cratered Feb. 19.
Katherine Heigl is a yo-yo
March 30, 2009 | Leave a Comment
Katherine Heigl said on she wants to stay with Grey's Anatomy and the decision rests with the show.
She said she's comfortable balancing movies and TV. "I'm more than happy to make that compromise. As my agent likes to say, 'High-class problems'. I don't know if I want to continue for five years working 12 months a year, but I can take at least another year or two," she said.
"I don't know if I live or die. No one will tell me and I don't know how this is going to go. I don't know how Izzie fares," she said. "I'm there" if Izzie remains part of "Grey's Anatomy."
She called the set "one of my favorite places to be" and said her colleagues are also friends.
Bruce Willis talks about his early days as an actor
March 27, 2009 | Leave a Comment
Here is a great interview Bruce Willis gave about his early days as a young actor. From his decision to become an actor to his time on Moonlighting, this is really a must read.
Q: When did you decide to become an actor?

A: It wasn't gradual. It was a very abrupt choice. It was the first year I was a student at Montclair State College (now a university) out in Jersey. They had a great theater department, where stage directors would come out from New York City and help. My first play as a freshman, I realized this is what I want to do. Never looked back. Never considered anything else. I was 19. The role was a small part, Ruckley in "One Flew Over the Cuckoo's Nest." I changed most of my classes and took all acting and theater-related courses. By the beginning of third semester, I was cutting class to go to auditions for plays out in New York. Got into a play in 1976 and moved to New York.

Q: What was going through your mind in those days?

A: I had been in New York for a couple of years doing theater. For me, to work on any film, let alone one with Frank Sinatra or Faye Dunaway, I was thrilled. I thought I was in show business, albeit on the perimeter. A couple of things happened on that film. It was back in the day when I still had a big full head of hair, and I had just shaved my hair for an independent film called "A Guru Comes." I answered an ad "must have shaved head." So I shaved my head the night before. I went in to audition for "First Deadly Sin," and the director, Brian Hutton, later gave me a small speaking part.

Q: When did you realize you were a good actor?

A: It was a staircase of work. Every job I got seemed to be a little better part with a little more to do, a little more challenging. I'd study in between with Stella Adler, who took a liking to me and helped out a lot. The work was the answer. If you were a working actor in New York and getting paid, then that allowed you to call yourself an actor.

Q: Was there a job you loved or hated most during those first years?

A: I can't remember any of them that I really didn't like. The one that was another big turn was a Sam Shepard play called "Fool for Love" that I did off-Broadway for about 110 performances.

Q: What was your first impression of the David Addison Jr. character in "Moonlighting"?

A: That part in "Moonlighting" just came out of nowhere. I had gone out to California after I finished "Fool for Love" to take a vacation and check out the Olympics in 1984. I ended up not having any time to check out the Olympics because I had gotten a call from an agent about auditions. One of them was "Moonlighting." I had a typical New York theater actor's disapproval of television. I hadn't watched television for about 12 years at that point. But the script that Glenn Caron wrote, I thought, "I know this guy. I know how he talks." Unfortunately, I didn't look the part of an ABC leading man at the time. It took a while for ABC to accept me. But it was another big turn.

Q: How did it improve your acting?

A: Comedy is a test by fire. Comedy in a weekly two-character series is a huge test. You're either funny or you're not. If we hadn't been funny, the show would have gone off the air quickly. We had great writing. Glenn wrote just about all the episodes the first year. Cybill (Shepherd) and I just clicked. More than anything, we tapped into a sort of screwball comedy that went back to Howard Hawks and Cary Grant and Katharine Hepburn. We just talked as fast as we possibly could and said funny things. It was like a big toy, having a show where the guy who created (it) would say, "Yeah, do that. That's funny," and making it all up as we went along. The first 2 1/2 years were a thrill.

Q: Did the fun end?

A: As with a lot of television, it just becomes cyclical. It's hard to avoid repeating yourself. It's hard to avoid telling the same joke in the fourth year that you already told in the first year. Our audience was pretty faithful, and they started to notice it. The network started to notice it, and the wear and tear on Cybill and me was something I had never experienced. Just mental exhaustion. Everybody knows what physical exhaustion is. You work out, your muscles get tired, you go to bed early. Mental exhaustion is a lot trickier. You don't know where the falling-down point comes. There were days where we worked 17 hours. In that 17th hour, you'd have to be on and funny and still deliver. Not a lot of time off. From the first year on, we worked nine months, and on my hiatus I would work on a film.

Q: When did it feel as if the work paid off?

A: When the first "Die Hard" came out I was starting to hear people say, "Wow. Congratulations. You've crossed over." I didn't know what that meant at the time or how difficult it was to take that step from television to feature films.

Q: What role did you feel the least confident in taking on?

A: I was always trying to push myself to try new things. When I started doing supporting roles in other people's films, my agent was up in arms, saying, "You're going to hurt your price. You're going to hurt your box office." I was just trying to keep myself interested as an actor. Taking the role of Butch in "Pulp Fiction" was certainly challenging. Everybody brought their A game to that. You had to show up with yours. I played a small role in a movie called "Mortal Thoughts" that (ex-wife) Demi Moore produced. I had a ball doing that. Prior to "Pulp Fiction," I used to say that was my favorite film. It didn't get seen a lot because it got caught in a studio regime change. But it's still out there.

Q: What's the worst advice you've ever received?

A: I don't pay much attention to advice. It's worth about as much as it costs. I try not to give it. And I try not to take anybody else's too seriously. I have to take responsibility for everything that happens in my life, good and bad. So advice is like cowboy hats.
For more of the article click here
Arkansas Considers Tax Incentives. Wants "Deliverance 2"
March 27, 2009 | Leave a Comment
That was a joke. I'm funny like that.
Arkansas is looking to add a 15 percent tax break for movie productions in the state. Legislation for the tax credit moves to the state senate floor Thursday.
Job losses in the state last quarter helped lawmakers warm to the bill especially when actors, who have called the state home, testified on behalf of the legislation earlier thismonth.
Those down home actors? Billy Bob Thornton, who directed "Sling Blade" in the state, Mary Steenburgen and Joey Lauren Adams.
Now, Delaware is the only state that does not have any tax incentives.
Dela-where?
Pilot's dominated by Aussies, Irish and Brits! Oh, My!
March 27, 2009 | Leave a Comment
They couldn't do it during the American Revolution but they are doing it now. The British are definitely coming… and Australians and Irish.
A whopping 60 non-Americans have been cast in pilots this year. Far surpassing any other year.
Why?
"They're talented actors," 20th TV's head of casting Sharon Klein said.
Oh, ok. That explains everything.
Foreign players have been gaining ground gradually during the past few years, since the runaway success of Brit Hugh Laurie on Fox's "House." The trend exploded this year with almost 60 non-Americans cast in broadcast pilots and another dozen in cable pilots, the vast majority of them on the drama side. They could join the U.K.'s Tim Roth and James Purefoy, who topline the new drama series "Lie to Me" on Fox and "The Philanthropist" on NBC, respectively.

Most television executives can't pinpoint one major reason for the influx of non-U.S. actors into U.S. primetime — or at least into pilots.

Also factoring in are the rigors of pilot season, where 70-plus pilots were chasing actors at the same time, often depleting the existing talent pool. The dearth is strongest for leads — fresh faces in their late 20s to early 30s who can carry a show.

The chances of discovering untapped but experienced talent in that age range are far greater abroad then they are in the U.S.

Playing a role this year is the studios' decision to film more pilots than ever before outside the country, mostly in Canada. That makes the process of hiring non-American actors much easier because they won't need work visas, which has been a hurdle for U.S.-based pilots.