Interviews

Q & A: Lili Taylor and Minka Kelly Talk 'Almost Human', How They Got Their Roles and Imagination
Lili: Imagination is "one of the fuels for an actor"

Q & A: J.J. Abrams Talks 'Almost Human', the Cast and 'Star Wars'
J.J.: "I think that this show has a level of humor that is distinct from what we've done"

Interview: Josh Young on 'Evita', Playing Che and Being Nominated for a Tony
Josh on his Tony Nomination: "I feel like I have expectations now to live up to now"
Click Here For More Interviews!
Acting Advice

Dear Hollywood: An Open Letter From Annie Wood
Annie asks Hollywood to consider….

How To Act Like You're Already A-List
Dallas has 3 suggestions on how to take charge of your career!

Moving From A Small Town To A Major Market
Before moving from a small town to a major market, you must make a business plan
Want To Read More Columns? Click Here!

Latest News
Alan Rosenberg resurfaces to congratulate the Commercials Contract Negotiating team
April 1, 2009 | Leave a Comment
April 1, 2009

Dear Screen Actors Guild Members,

As you read in a SAG email sent to you this morning, the Joint SAG/AFTRA Commercial Contracts Negotiating Committee reached a tentative agreement with advertisers early this morning in New York City.  I would like to thank and congratulate the hard-working staff member team for their unity and collaboration over the past months starting with the W & W meetings, and especially during the long 6 weeks of negotiations.  They who worked tirelessly on behalf of SAG members and I know each of them sacrificed time with their families, and work opportunities.

The advertising industry displayed a willingness to have labor peace, and to make compromises even during these challenging economic times, to keep actors working,

It is clear that when SAG members work together, unified and focused on common goals to benefit actors, we really can accomplish many things.

I'm gratified that we were able to reach an agreement with AFTRA and conducted these negotiations together. More details of the tentative agreement will be released once the Joint SAG/AFTRA Board has met. Please watch the SAG website at sag.org for updates and email your comments and questions to Contract2009@sag.org.

Again, congratulations to the professional women and men who gave their time and expertise to these critical negotiations.

In unity,

Alan Rosenberg
National President
The casting game is changing for actors
April 1, 2009 | Leave a Comment
We've all known how fast casting has changed over the past several years. Actors Access, electronic casting, Cast It and other programs coming into existence.
They were all supposed to make things easier for casting directors to do their job.
But did anyone ever tell actors that it's making our job harder?
Like many of today's top casting directors, Victoria Burrows got her start when personal computers were nonexistent, FedEx was in its infancy, faxes and videotape machines were rare, and black-and-white glossies were everywhere.

"It used to be hard-copy pictures, then sit down and meet an actor," Burrows says with little nostalgia. "You would just read them and do call-backs."

It might be hard to fathom for twentysomethings raised on text messaging, but even such free sites as IMDb and YouTube have brought drastic changes to the casting business, according to Marcia Ross, senior vp at Walt Disney Feature Casting.

"People say, 'Have you heard of such and such actor?' and I can YouTube or Google them and see their scenes in 10 seconds," Ross says. "Or I find out about an actor in Mongolia, and within 24 hours I can scan and e-mail the sides to that actor or their representative; then, they can tape themselves in a little room and I can see their audition on my computer."

Ross' scenario is not an exaggerated theoretical example.

"We are expected to look at the global market," Casting Society of America president Gary Zuckerbrod says. "Even when we start doing a television pilot, we're expected to know the up-and-coming actors in Australia."

But while technology streamlines the process and broadens the scope for casting directors, it also combines with shifting economic realities and audience tastes to frustrate them creatively. With a multitude of gadgets and games competing for consumers' shrinking entertainment dollar, Hollywood is pouring more money into fewer high-profile, effects-heavy movies. Desperate to secure these huge investments, studio executives demand an increasingly deep level of cast approval and use audience research to justify their decisions.

"You'd be shocked," casting director Mindy Marin says. "At some studios, it's right down to the day player. They say, 'Let's put that person in that role because they mean something in the youth quadrant between 15 and 19.' It's all about covering your ass, as opposed to doing what our business used to do so well, which is make the best movie."
Can you believe this? Executives are quibbling over day players now?
Casting Director Debra Zane is freakin awesome
April 1, 2009 | Leave a Comment
A friend clued me into this article about Debra Zane, one of the best casting directors out there.
She's cast several of my friends in some huge films and by all accounts the article below is spot on with how far she goes in trying to get actors cast for parts.
When casting director Debra Zane brought in the little-known actor Michael Shannon to tape an audition for "Revolutionary Road," she pulled out all the stops.

Zane assembled a team to play the other roles, with friends and associates filling in for Leonardo DiCaprio, Kate Winslet and Kathy Bates.

"We were playing all the different parts, so he would have different faces to refer to. We had snacks and martini glasses to make it look like a little party," explains Zane.

She got so into the scene that "when (Shannon) turned to tell me to shut up, I was so embarrassed, (which was) the absolute appropriate response."

Director Sam Mendes, who has collaborated with Zane on five pictures, saw the tape and hired Shannon to play Bates' mentally ill son. He went on to score the film's only acting Oscar nomination this year.

A wiz at spotting breakout talent (Amy Adams, Wes Bentley, Justin Long), Zane has even been known to put together her own version of an actor's reel to show a director that a performer can play against type.

When working on "Dreamgirls," she spent eight months scouring talent from around the country. About 700 actors read for the part of Effie before director Bill Condon chose Jennifer Hudson for the part that would earn her an Oscar. But it was clear to Zane from the moment she saw the first of Hudson's two audition tapes that the "American Idol" reject was a frontrunner.

"I can't explain to you how people who work in casting know something like that," she says, "because there are so many elements involved. It's almost like a chemical reaction where you can say to yourself, 'The director is going to love this person.'"

Zane has loved actors and movies ever since her childhood in Miami Beach. From an early age, she paid close attention to the "casting by" credit. "That credit struck me. I knew what it meant, and I knew I could do it because I was aware of actors in different roles."

Nearly 20 years into her career, during which she has worked on such hits as "Traffic" and the "Ocean's 11″ trilogy, she's still as passionate as when she began.

"I like making sure you've turned over every stone and thoroughly thought through all the angles," says Zane. "And then it appears before your eyes."
Breaking News! CBS cancels 'Guiding Light'
April 1, 2009 | Leave a Comment
CBS confirms that, after 72 years, it is ending the longest-running scripted program in broadcasting history, the soap opera Guiding Light.
The last broadcast is scheduled for Sept. 18.
The move came after several years of a steep ratings decline for the soap.
CBS and the producers of "Guiding Light" had taken several steps in recent years to try to keep the show running, including switching to a digital format that was intended to reduce costs.
That move saved money but not enough to save the show. This year the audience for "Guiding Light" declined to just 2.1 million viewers. Its pattern over recent years had been steadily downward from 3 million viewers five years ago.
Send Your Stuff! Film "Inventing Adam"
April 1, 2009 | Leave a Comment
CFB Casting has a new film, Inventing Adam, that starts shooting in May.
Synopsis: A patent attorney is about to marry his boss's hot daughter and settle into an average life and never realizing his dream of becoming an inventor. But when he returns to his home town for his birthday, he reconnects with his roots and realizes what he is missing.
CFB Casting
c/o Paramount Studios
5555 Melrose Ave. Dreier Bldg., #110
Los Angeles CA 90038
SAG/AFTRA reach tentative agreement with advertisers
April 1, 2009 | Leave a Comment
This was sent to all SAG members this morning.
Dear Screen Actors Guild Member,

I am very pleased to inform you that early this morning, the SAG/AFTRA Joint Commercials Negotiating Committee, under the capable leadership of John McGuire, Mathis Dunn and Ray Rodriguez, reached a proposed deal on the commercials contracts. The committee voted unanimously to recommend this agreement to the SAG/AFTRA Joint National Board for approval and membership referendum.

I would like to express my congratulations and sincere appreciation to the members of the negotiating team for their hard work and dedication during this challenging process.

Please take a moment to review the below news release which provides some details about the proposed agreement.

In unity and looking forward.

David White

AFTRA AND SAG REACH TENTATIVE AGREEMENT WITH ADVERTISING INDUSTRY ON NEW COMMERCIALS CONTRACTS

NEW YORK (APRIL 1, 2009)—Screen Actors Guild and the American Federation of Television and Radio Artists announced today that the AFTRA/SAG Joint Negotiating Committee has reached a unanimous tentative agreement with the Joint Policy Committee (JPC) of the American Association of Advertising Agencies (AAAA) and the Association of National Advertisers (ANA) on terms for successor agreements to the AFTRA Television and Radio Commercials Contracts and the SAG Television Commercials Contract, subject to approval by the SAG/AFTRA Joint National Board.

The new three-year agreement contains a more than $36 million increase in wage rates and other payments for all categories of performers in the first year of the contracts, approximately $21 million in increased contributions to the SAG Pension and Health Plan and the AFTRA Health and Retirement Fund, establishment of a payment structure for work made for the Internet and other New Media platforms, important new monitoring provisions, and improvements for choreographers, extras, and Spanish language performers.

The new contracts also contain an agreement in principle outlining terms for a pilot study for the purpose of testing the Gross Rating Points (GRP) model of restructuring compensation to performers as proposed by Booz & Co. The two-year study is scheduled to commence on April 15 and will be conducted by a jointly retained consultant engaged by the Unions and the Industry. The results and possible adoption of the study's findings will be subject to negotiation by the parties not later than January 3, 2012.

The unions successfully protected the critical "Class A" payment structure and continued unchanged the editing provisions in the existing contract.

Highlights of the new agreement include:

•    Three-year agreement, term effective April 1, 2009 to March 31, 2012
•    5.1% overall increase in wages and other compensation over the life of the contracts, including a 4.43% increase, effective April 1, 2009, in Class A, Wild Spot, and basic cable session fees
•    For product made for the Internet or in New Media, 1.3 times the minimum session fee for 8 week's use and 3.5 times the minimum session fee for one year's use
•    0.5% increase in the employer contribution rate to the AFTRA H&R and SAG P&H plans bringing the total contribution rate to 15.3%. The agreement provides for a cap on P&H and H&W contributions, but the committee successfully negotiated the industry from their initial demand of $250,000 to $1,000,000 per performer, per contract, per year.
•    Secured five, new covered jobs for commercial extras, up from 40 to 45
•    Established new exclusivity provisions for made-for cable only commercials
•    Instituted, for the first time, a contract provision to pay extras a round-trip mileage fee of $8
•    Increased foreign use payments under the Spanish Language section of the contract

"The AFTRA and SAG commercials contracts provide our members with the solid foundation they need to sustain their careers and families," observed AFTRA National President Roberta Reardon and AFTRA Chair of the Joint Negotiating Committee. "In this round of negotiations, during the worst economic crisis since the Great Depression, we successfully improved wages and expanded benefits to keep our members working now and in the future. This is a major victory for our unions—and a victory for organized labor as a whole—and I applaud the Joint Negotiating Committee for their vision, hard work, and solidarity."

"I am so proud of the work of our Joint Negotiating Committee. It was a hard-fought negotiation and our greatest victory was in protecting Class A residuals payments.  By securing a joint study to research and develop a workable compensation model, our negotiating committee protected every member who works under these contracts across the country," said Sue-Anne Morrow, Screen Actors Guild Chair of the Joint Negotiating Committee.

"Our Joint Negotiating Committee held together in the face of some very tough issues and they stood firm for our core principles.  We have achieved a deal that brings significant improvements to these contracts. Our gains include establishing the first-ever payment structure for made-for-the Internet and new media commercials and significant increases in wages during a very troubled global economy. I am proud to take this tentative deal to our Joint National Board," said John T. McGuire, Screen Actors Guild Chief Negotiator.

"The Joint Negotiating Committee provided us with clear objectives borne out of the nationwide Wages and Working conditions meetings leading up to the negotiations," said Mathis L. Dunn, Jr., Chief Negotiator for AFTRA and Assistant National Executive Director for Commercials, Non-Broadcast, and Interactive Media." Among the priorities, our members asked us to increase minimum compensation and preserve Class A. We achieved those objectives and more, including agreement on a test study that will allow for a meaningful exploration of how best to adapt our contracts to meet the changing needs of all performers working in the shifting landscape of new technology."

Formal negotiations between the 26-member AFTRA/SAG Joint Negotiating Committee and the Industry began on February 23 and concluded on the morning of April 1 in New York City.

Details of the new agreement will be submitted to the SAG/AFTRA Joint National Board for approval at a date to be determined, and if approved, will be jointly mailed to the membership of both unions for ratification thereafter.
SAG Rally this Thursday at the AMPTP!
March 31, 2009 | Leave a Comment
The Rally this week is at the AMPTP/MPAA offices at the Galleria in Sherman Oaks, NW corner of Ventura and Sepulveda Blvds on Thursday, April 2, 2009 at 11am-2pm. Parking at the Galleria and on side streets.
AMPTP states "There is no merit to these [anti-trust] allegations"
FACT: Universal owns NBC and Hulu.com
FACT: Disney owns ABC, in talks to buy into Hulu.com
FACT: Viacom owns Paramount, CBS and CNet
FACT: News Corp owns Fox studios, Fox network and Hulu.com
FACT: Warner Bros has a huge cable empire.
FACT: Sony owns Columbia and MGM and has tv networks reaching 400 million viewers worldwide
This handful of monolithic companies own studios, networks, cable companies and internet companies.
This is only a partial listing of these self-dealing monopolies that are engaged in production, distribution and exhibition of entertainment.
AMPTP states: "Amazingly, at a time when so many others are losing their jobs or worried about their futures, this small group continues to protest guaranteed wage increases, higher pension contributions and new forms of earning like the first-ever payments for Internet streaming for SAG members."
WE HAD BETTER PROTEST
FACT: we will lose $600 million in network move over to streaming
FACT: the fractional pension improvement, one-half of one percent, will be more than wiped out by losses in the move over of 14.8%.
FACT: They get 17 to 24 days of free streaming then pay $22.77 for 6 months of constant streaming.
FACT: pre 1971 movies: no residuals in New Media
FACT: pre 1974 tv series: no residuals in New Media
FACT: Non-union production in New Media
FACT: Product Integration: 2 jobs - 1 paycheck
FACT: Clips: As a condition of employment we lose control of name, voice and likeness
BE AT THE RALLY TO DEFEND YOUR ABILITY TO MAKE A LIVING.
In solidarity
Scott Wilson
Henry Kingi
Andy Hallett of 'Angel' is gone
March 31, 2009 | 3 Comments
This is a a shock. Andy Hallet, who starred as Lorne on the show Angel, has died of heart failure. He was only 33 years old.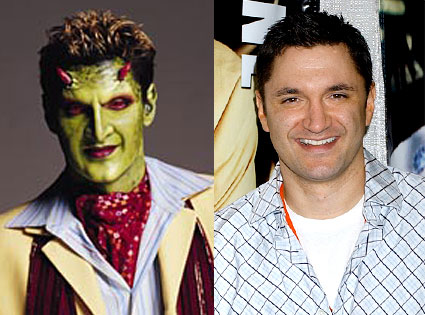 When I heard this, I was about to go into a workshop and I couldn't believe it. I loved Angel and his character, Lorne, brought so much warmth to the show. From E Online:
Andy Hallett, who starred as Lorne ("the Host") on the TV series Angel, died of heart failure last night at age 33, according to his longtime agent and friend Pat Brady. The actor passed away at Cedars-Sinai Hospital in Los Angeles after a five-year battle with heart disease, with his father Dave Hallett by his side. Hallett, from the Cape Cod village of Osterville, Mass., appeared on more than 70 episodes of the Buffy the Vampire Slayer spinoff, Angel, between 2000 and 2004. The accomplished actor was also a musician and sang two songs ("Lady Marmalade" and "It's Not Easy Being Green") on the Angel: Live Fast, Die Never soundtrack, released in 2005. The actor's character on Angel was Krevlornswath of the Deathwok Clan, or Lorne for short. Hallett's Lorne was a friendly demon, who, when not assisting Angel and his team in the investigation of various and sundry underworld mysteries, served as the host and headliner at a demon bar. Hallett has spent his post-Angel years working on his music career, playing shows around the country. He had been admitted to the hospital three or four times in the past few years for his heart condition, according to Pat. A private funeral service will be held for family and close friends in Cape Cod, most likely over this weekend.
Julia Robert and Clive Owen on Charlie Rose Part Deux
March 30, 2009 | Leave a Comment
Here's part two of the Charlie Rose interview of the stars of Duplicity.
Medium, Criminal Minds, Parks and Recreation and more!
March 30, 2009 | Leave a Comment