Interviews

Q & A: Lili Taylor and Minka Kelly Talk 'Almost Human', How They Got Their Roles and Imagination
Lili: Imagination is "one of the fuels for an actor"

Q & A: J.J. Abrams Talks 'Almost Human', the Cast and 'Star Wars'
J.J.: "I think that this show has a level of humor that is distinct from what we've done"

Interview: Josh Young on 'Evita', Playing Che and Being Nominated for a Tony
Josh on his Tony Nomination: "I feel like I have expectations now to live up to now"
Click Here For More Interviews!
Acting Advice

Dear Hollywood: An Open Letter From Annie Wood
Annie asks Hollywood to consider….

How To Act Like You're Already A-List
Dallas has 3 suggestions on how to take charge of your career!

Moving From A Small Town To A Major Market
Before moving from a small town to a major market, you must make a business plan
Want To Read More Columns? Click Here!

Latest News
Porn Star Sasha Grey talks about her first 'legit' film
April 30, 2009 | Leave a Comment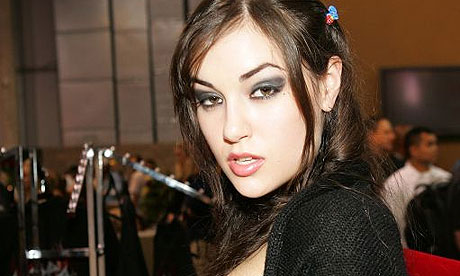 Porn star Sasha Grey is starring in her first feature film role in Steven Soderbergh's 'The Girlfriend Experience.'
Soderbergh has said that he became interested in Grey after reading about her in Los Angeles Magazine. (Really, Steven? You'd never seen any of her 150 adult films? I haven't – seriously!) Anyway, he says the article showed how different she was from her industry colleagues.
Such a casting decision is automatic publicity for a small film like "The Girlfriend Experience" — a benefit Soderbergh doesn't dispute.

"I'm counting on it," he says. "This girl has a huge following. Most of whatever discussion that's going on is totally based on her. … She's kind of a new breed. There hasn't been anyone exactly like her in that business yet. She's not the normal adult film star."
Video from yesterday's SAG Rally at the Saylor Company
April 30, 2009 | Leave a Comment
Send Your Stuff! Film "Easy A"
April 29, 2009 | Leave a Comment
Easy A is a feature film that starts shooting in June.
Synopsis: A wallflower tests the limits of social tolerance in high school by pretending to be promiscuous — though in fact, she's probably the only virgin left on campus.
LISA MILLER KATZ
SONY
10202 WEST WASHINGTON BLVD.
ROBERT YOUNG BUILDING SUITE 3200
CULVER CITY, CA 90232
Send Your Stuff! Pilot "Ghosts/Aliens"
April 29, 2009 | Leave a Comment
Ghosts/Aliens is a 1/2 hour AFTRA pilot for Comedy Central.
Synopsis: A 20-something guy is a paranoid obsessive when it comes to ghosts, aliens, and other paranormal phenomena, a junior Fox Mulder (by way of Jeff "The Dude" Lebowski) who spends every waking hour in pursuit of The Truth about alien abductions.
BESTROP / YANKLEWITZ CASTING
11336 CAMARILLO STREET
SUITE #301
WEST TOLUCA LAKE, CA 91602
Julia Roberts roasts Tom Hanks
April 28, 2009 | Leave a Comment
Julia Robert's introduced – more like roasted – Tom Hanks at Film Society of Lincoln Center's tribute to Tom Hanks last night.
Watch it, it's pretty funny!
My Boys, Indie Film and a Webisode!
April 28, 2009 | Leave a Comment
Scott Speedman still has to play the game
April 28, 2009 | Leave a Comment
When an established actor comes clean and admits that he still has to play the "Hollywood" game, I instantly respect the person.
I have to admit, I've never seen Scott Speedman in anything but it sounds like he's not the average pretty boy actor (if you read below).
He's working to get better as an actor, do interesting projects and work with great directors. Gotta love the guy.
I find it kind of surprising to hear you have to jump through hoops for these parts, because you're good. You're really good. I think you're kind of underrated, actually.
Thanks very much. Yeah. I don't disagree with you. But I get it, to a certain extent. I'm not out there doing talk shows, and I haven't really connected with that part of the business that's really important. I'm trying to get better at it, because I'm losing parts to people I shouldn't be losing parts to.

What's causing that?
That. The ambivalence about… press and all that shit. You really have to be willing to go out there.

Do you think there's a perception that you're difficult? Or just that you're not willing to go the extra mile and be… fake?
I mean, it's not for me to say, but yeah, something along those lines, possibly. And, you know, I mean, there's a reserve there that doesn't go hand-in-hand with going out and selling a movie to a hundred different countries at a time. But I get that. I mean, I want to do that. I'd like to be doing that. So I'm trying to get better at it.

Are your agents pushing you to go out for pilots?
No. I got really lucky with my agents. I got offered shows this year. I get offered shows quite a lot. I got offered a really good show this year, actually, that I liked. And I just didn't do it.

What do you do to get better?
I'm so humbled by this process. I was watching Adoration last night, and just kicking myself. Bad habits, things I'm still trying to break out of, or evolve. So you know, I'm still taking classes, working with an acting coach, all that shit. It's like anything — the better you get at it, the more fun it is.
Commercials contract ballots out Thursday
April 28, 2009 | Leave a Comment
Talk about low-key, I totally forgot about this.
To me this is a no-brainer.I'm voting "Yes" on this one. You?
Ballots are due May 21st.
The commercials deal marked a return to joint negotiations by SAG and AFTRA, which split angrily a year ago and negotiated separate primetime deals. The unions and the ad industry reached the tentative agreement — which represents a $36 million pay hike over three years, including $21 million more in pension and health contributions — on April 1.

The commercials pact, which covers nearly $1 billion in annual blurb work, will be retroactive to April 1 and run through March 31, 2012. SAG and AFTRA staged a bitter six-month strike in 2000 against the ad industry, but the tough economic times plus a shift in control of SAG's national board to a more moderate faction last fall provided strong indications that a commercials strike was unlikely.
I hate pulling things off email
April 27, 2009 | Leave a Comment
Sorry Internet Explorer users. I pulled some info off of an email I received and placed it into a post and that unknowingly messed with Internet Explorer.
It's fixed – thanks to Josh from Studio City for letting me know!
Hung, The Unit and Hawthorne!
April 27, 2009 | Leave a Comment