Interviews

Interview: Curtis Armstrong Talks His Long Career and 'King of the Nerds'
Curtis: "I always knew I was a character actor"

Interview: Casting Director Kelly Martin Wagner on Auditioning Actors and Working in the Horror Genre
Kelly: "In our office, we're looking for a person, not a read"

Q&A: Comedian Jim Jefferies on Season Two of 'Legit'
Jim also has an interesting perspective on comedic actors in dramas.
Click Here For More Interviews!
Acting Advice

What To Eat (And What Not To Eat) Before An Audition
An audition can be a nerve-wracking experience, so you'll need every advantage you can get

How Can You Spot a Fake Manager?
John does some Detective work and finds some scammy behavior!

Auditions: We Just Don't Know
That's one of the most frustrating bits about this biz of ours, isn't it?
Want To Read More Columns? Click Here!

Latest News
WWE Superstar Ted DiBiase Jr. talks about his film debut in "The Marine 2″
September 15, 2009 | Leave a Comment
Podcast: Play in new window | Download (Duration: 5:55 — 4.1MB)
Ted DiBiase Jr., son of wrestling legend Ted "The Million Dollar Man" DiBiase, has followed in his father's footsteps in ring, but he's now about to break out of his dad's shadow by making his film debut in The Marine 2.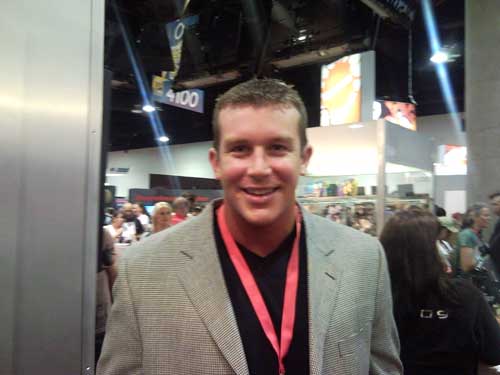 At the time of the interview, he had only been wrestling for a year. Seven months into it, the WWE came to him with The Marine 2.
Amy Lyndon Seminar
September 15, 2009 | Leave a Comment
LEARN "THE 15 GUIDELINES TO BOOKING" TAUGHT BY THE CREATOR OF THE LYNDON TECHNIQUE
INTERNATIONAL BOOKING COACH
AMY LYNDON!
FRIDAY, OCTOBER 2nd – SUNDAY, OCTOBER 4th
The first TEN Students to Sign Up Receive a FREE Copy of Ms. Lyndon's Handbook!
FOR MORE BOOKINGS – AS A RESULT OF THIS TECHNIQUE -
GO TO http://coldreadingclasses.com/bookings.shtml
ON TIME SPECIAL: $375 (Paid in Full by September 20th)
JUST IN TIME: $400 (Paid in Full by September 30th)
FRIDAY NIGHT MARKETING ONLY: $75 (Paid in Full by September 30th)
SPACE IS LIMITED
CONTACT MICHELLE TOMLINSON TO RESERVE YOUR SPOT!
mojochicken@sbcglobal.net 323.793.2042
Grey's Anatomy Sneek Peek: The First 5 Minutes
September 15, 2009 | Leave a Comment
Patrick Swayze is gone
September 15, 2009 | Leave a Comment
AP story on his death.
Barbara Walters interview
Thomas Haden Church talks creating his 'All About Steve' character
September 14, 2009 | Leave a Comment
On the process of creating the role:
"[Sandra Bullock] called and we talked for like, two hours. I told her all the things I didn't think were right with the character. She was like, 'How do we address this? You tell me what it will take for you to be in this movie.' "
They set up a conference call with writers and producers: "Everybody pitched and collaborated and blah blah blee, and they were like, 'We will start getting pages to you for your approval in a week.' And they did. She, as assertively as anyone I've ever dealt with in the industry, knew what she wanted and with surgical precision, she made it happen."
Chief among the changes, the actor wanted the character to be "less bitchy" and more of a fading former war correspondent. "Arthur Kent is somebody I thought about," Church declares. "I remembered him from Desert Storm, the 'Scud Stud.' He was this kind of — with the hair, and his shirt was always open, and he'd wear camo pants and jump boots. That's what I wanted, this combat reporter who has sort of been demoted because he's getting older. He's a little embittered about that. They didn't defer to every note but they were highly collaborative."

Robert Knepper, from 'Prison Break' to 'Heroes'
September 14, 2009 | Leave a Comment
From Canada.com:
Robert Knepper, a career actor who cut his teeth on the theatrical stage in his hometown of Fremont, Ohio before majoring in drama at Chicago's Northwestern University, is often typecast as a villain, but he approaches each new role as if he were playing the sweetest person in the world.
Lessons from Prison Break:
"Prison Break taught me that the writers have to break the story. They ponder it, they wrestle with it and all of a sudden they figure it out. What I realized, week after week after week of doing Prison Break, is that you do the same thing as an actor. You break the story from that character's point of view. You break that scene down and go, `Ah-a, I get it.' It's kind of like a slow- moving river that's coming to a waterfall, and all of a sudden the water starts to flow. You can't just memorize a scene without knowing what the scene's about. If the writing's not good, I can't memorize it at all. I'm like, `Damn, why won't these words stick in my head?' Once I break the scene, like the writers do, then it flows."
On Heroes:
"I have a good vibe for Heroes, because I'm pulling my hair out trying to discover that character. The difference between now and Prison Break is that Prison Break put me on the map. With Heroes – it's weird, but I haven't talked about this before – it's almost as if I feel the audience will be watching me develop the character as I'm developing it. I haven't got it all developed ahead of time. I'm still fiddling with it. We'll get to see what happens with it from one week to the next. For the audience, it's like the theatre. It's like watching a live performance unfold that happens to be on film."
Continue »
Hugh Jackman and Daniel Craig talk their careers and "A Steady Rain"
September 10, 2009 | Leave a Comment
On the show, A Steady Rain:
The gritty account of two Chicago policemen whose lives are upended by shattering events, some inspired by a real-life case, marks Craig's Broadway debut.
Daniel Craig: "I just was fascinated by this great piece of writing, very emotional and disturbing but quite funny at points."
Hugh Jackman: "It's very raw — there are not many plays like it on Broadway."
On Their Roles and careers:
Jackman: "I suppose the roles are different from others we've done, but that's what you want. To be remembered for different things is something that motivates both of us."
Craig: "We both come from places where the movie industry isn't something you can walk straight into."
Jackman: "Or make a living in."
Craig: "In drama school, we'd have one day a term where someone brought a camera in, and we'd film each other mucking about. That was it, basically. People say that acting in theater and film are different disciplines, but I can't agree completely. The only thing that matters in acting is truth. It's all about making the audience believe you."
The importance of working with a great actor:
Craig: "I don't know how much smoke I should blow up his a—, but Hugh's tremendously talented. When you're on stage, you want to be looking at someone who's intelligent and who's got your back. It makes my job that much easier, lazy actor that I am."
Glee's Matthew Morrison talks fame, broadway and sings! (with video)
September 10, 2009 | Leave a Comment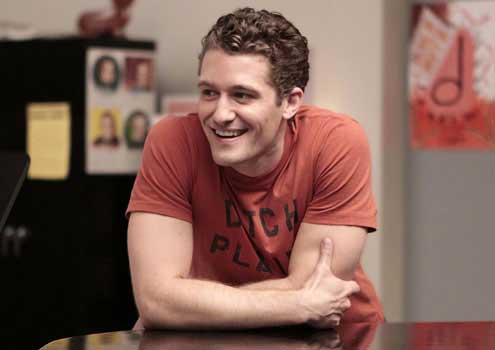 AE: So you don't mind being on the gayest show in television?
MM: Absolutely not.
AE: I know you've done some big Broadway stuff, but does the hoopla around Glee feel bigger than the Broadway plays and musicals?
MM: Broadway stuff only reaches a certain level. There's only so many people you can reach with Broadway. This is a whole different level. I probably wouldn't be talking to you…
AE: You probably would.
MM: Well, you, Michael, definitely. [laughs] More people saw the pilot of this show than saw me in the entire ten years I was on Broadway. Just the amount of people it reaches, you can't compare it.
AE: How do you deal with this incipient fame that is upon you? If the show takes off and hits, it's going to put you in a whole different level. Does that mess with your head?
MM: I don't really consider it a good thing. I really enjoy my anonymity, but I'm so proud of the show, and I so love it, that whatever it brings — whatever it brings — I'm ready for it, because I really want people to see it. In a good way, maybe it will make me more recognizable and further my career, but I'm going to miss going places without having to do photo ops with everyone I see.
Continue »
Southland's Shawn Hatosy talks about his latest role
September 9, 2009 | Leave a Comment
What does Willem Dafoe look for in a script?
September 9, 2009 | Leave a Comment
What specifically are you looking for the first time you read a script? Is there a philosophy, or a ratio of intellect to gut instinct when you're considering something?

I think it's all gut instinct. In a simple way, it's like, "Do I want to do these things? Does this excite me?" That's really it. Sometime I read scripts very quickly, I react on a gut level, and then I have to read them again to really see what the story is. But I really think it's just, "Do I want to do these things?" [Laughs] It sounds moronically simple. I don't ask myself what they mean, or necessarily who's going to see it, or if I'm going to see it. I really don't. It's more like, "Is this a good invitation to an adventure?"