Interviews

Interview: Curtis Armstrong Talks His Long Career and 'King of the Nerds'
Curtis: "I always knew I was a character actor"

Interview: Casting Director Kelly Martin Wagner on Auditioning Actors and Working in the Horror Genre
Kelly: "In our office, we're looking for a person, not a read"

Q&A: Comedian Jim Jefferies on Season Two of 'Legit'
Jim also has an interesting perspective on comedic actors in dramas.
Click Here For More Interviews!
Acting Advice

What To Eat (And What Not To Eat) Before An Audition
An audition can be a nerve-wracking experience, so you'll need every advantage you can get

How Can You Spot a Fake Manager?
John does some Detective work and finds some scammy behavior!

Auditions: We Just Don't Know
That's one of the most frustrating bits about this biz of ours, isn't it?
Want To Read More Columns? Click Here!

Latest News
Screenplay: "The Invention Of Lying"
October 8, 2009 | Leave a Comment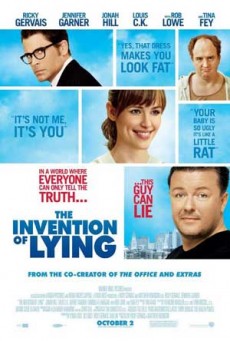 Want the screenplay to The Invention Of Lying?
Sure you do!
Click here to download the script
Thanks to mypdfscripts.com
Ty Burrell: "Modern Family", improvising and single-camera comedies
October 8, 2009 | Leave a Comment
What did you first think of the show's concept?
It's funny because I have worked with Chris Lloyd on three shows and for Steve Levitan, this is my second. I loved the concept, but they could've told me it was about two guys who sit in the same room for 20 years, and I would've loved it. I have so much faith in their writing, but I mean I loved the idea and thought it was something totally new, using this style for a family comedy. I was really excited about that.
How was this experience with Chris and Steve different?
I think everybody's getting to do new stuff, which is exciting for the writers and us. I've never gotten to do a show that give us some things that are more intimate, that get into the nooks and crannies of the character, and allow more room for movement as far as minor amounts of improvising and stuff. For them, I sense that it's similar, that they're getting a chance to write in a way that allows for some humor that doesn't always work well in multi-camera comedy. You know, it's such a precise medium, multi-camera. This one really allows for movement, for lack of a better word, a lateral movement. The longer silences, awkwardness, and also just some humor that's a little bit more abstract. The good thing about it is an old-fashioned comedy still works in this medium. You can still do slapstick too.
Modern Family seems to stand out even among single-camera comedies. How would you categorize it?
I think it's different from a lot of single-camera comedy in that Chris and Steve are writing it with heart, and it's not so much so that it's schmaltzy or saccharine, but it's also not keeping you at arm's length with irony. It makes it different from single-camera comedy that way. And it's different from multi-camera in that we take some of the pressure off the jokes; the precision is gone, and you can't see the punchlines coming as much as you can with most multi-camera.
John C. Reilly talks comedy, drama and not being a 'Who'
October 7, 2009 | Leave a Comment
John C. Reilly is starring in the new film, Cirque du Freak: The Vampire's Assistant, where he plays a 200 year old vampire.
Cinematical: So, you've been in a bunch of movies. You were saying you've done over 50 movies and not many comedies, and lately you've done several.
John C. Reilly: Well, that is what they want to make you know. For some reason it has gotten very popular with studios.
But you have been really good at it. Do you think it is your improv background or do you just take to it naturally?
I guess so. I often played funny parts in serious movies, you know, like kind of comic relief in different things. I don't know. To me, acting is acting. When the circumstances are ridiculous, then you are in comedy. But in terms of what I do as an actor, it is pretty similar from movie to movie.
Is that your biggest transformative role that you have … I mean clothing wise, wardrobe wise that you have been in?

Gangs of New York was a similar level of artifice, I guess. Yeah, I am one of those people who is not very patient in the makeup chair. I have been offered movies like Planet of the Apes and stuff like The Grinch Who Stole Christmas and I turned them down.
Jesse Eisenberg on interviews, watching his own work and reading bad scripts
October 7, 2009 | Leave a Comment
Are you comfortable talking about yourself in interviews?
No, but to be comfortable with it is probably a weird characteristic. You'd have to be a real narcissist to be comfortable with it. My mom always told me I was precious growing up. so part of me probably feels a sense of deservedness that's ugly. Having said that—it's an uncomfortable part of the process. I had to get a publicist and take so many pictures. Had to do publicity and everything. It's very nice to meet people like you and everything, but it's under a weird false pretense.
Do you dislike promoting your movies?
It's not daunting, it's just monotonous. We do the same interviews over and over. For Zombieland I did interviews with Emma Stone and she's hysterical. We did about 50 interviews and it's always the same questions, so what we did before each interview is give each other a phrase or a word we would have to work into the interview to make it a little more interesting. The only time we really laughed was when she made me say stiffy.
How did you work 'stiffy' into the interview?
I didn't know what to say, but Woody Harrelson's character is always drinking alcohol so I said, He always has a lot of stiffy drinks, and then I immediately thought of ejaculate and could not stop laughing.
Why don't you like watching movies?
I just get nervous. They make me feel anxious to watch them because I'm aware of the artifice, and then I feel like I'm part of the artifice.
So then where does the joy come from making movies?
I like when I feel as free as possible. With Zombieland, for example, even though it's a kind of a big movie with genre elements, the director let us improvise more that I'd ever done in my life.
You must be forced to watch yourself often, like at premiers.
That's a real uncomfortable way to do it. But with Adventureland, they made me sit at Sundance. I couldn't leave. I had to watch it. It would have been rude to leave. It's also rude to do to all the people who make the movie who don't see themselves in the same solipsistic way I see myself. They think, We all worked on this together, whereas I think it's all about me. I mean, it's just, it's arrogance.
Katie Couric talks to Hugh Jackman
October 6, 2009 | Leave a Comment
Juliet Lewis on 'Whip It', Mark Ruffalo and playing bad
October 5, 2009 | Leave a Comment
You are cast as the baddie in Whip It, but is that how you perceive Iron Maven?
When you approach a part, you have to know what she serves in the story. I am a nemesis of sorts to Ellen Page's character, but I'm also her hero. So even though you have those traditional story aspects, I, just as Juliette, try to root everything in depth, in something truthful.
So with this character, I'm the captain of my own derby team, and all my girls that I was working with and skating with every single day, they're all real derby girls. So I'd just check with them. "Did you ever push someone in a locker who's just trying out?" They're like, "Yeah!" "Did you ever call her names in the parking lot?" "Yeah!" So they would be my radar of what's too brash, and it's sort of anything goes in the spirit of roller derby. I liken it to sort of, Muhammad Ali and Frazier, and all that verbal jousting that comes along with the world of sports.
Plus she's just sort of a born badass.
She's a badass. She's also kind of a hero, and I worked with the wardrobe girl Kat to make her someone you want to look at, and be. I've related to girls like that in my life, and maybe I've been that to somebody. So I wanted to make sure she was like that — sort of the hero.
Screenplay: "Zombieland"
October 5, 2009 | Leave a Comment
Want the screenplay to Zombieland?
Sure you do!
Click here to download the script
Thanks to mypdfscripts.com
Anthony Edwards talks to Daily Actor (sort of!) about becoming a better actor as you get older, working in NYC and much more
October 2, 2009 | Leave a Comment
Podcast: Play in new window | Download (Duration: 10:21 — 7.1MB)
Anthony Edwards is starring in the new film, Motherhood (also starring Uma Thurman), and he recently had a group call with who else? Mothers.
Now, since I'm not a mother, I wasn't able to participate in this estrogen fest but I was able to sneak on the line courtesy of my friend Jen. Jen (@mammamania on Twitter) runs the blog mom blog, HipAsIWannbe.
Anyway, the moms asked some great questions about the film, the life of an actor and working in New York City.
So, with that, here's Anthony… and a bunch of moms!
Question: I'm the parent of four and I understand the amount of chaos that's inherent to be a parent. I'm wondering, how do you balance those demands with a career in film and TV. Specifically, when you're on location.
Anthony Edwards: Well, for me, the first priority is hanging with the kids and I've been really lucky because of the success of ER. I've had these years here where I've been with just the kids. So going to work is the weird thing for me. I always feel like I have to get back to the kids to get the balance because the work doesn't give it to me.
Q. How has this film changed the view that you have of your wife or even of your daughters.
Anthony Edwards: I guess the reason why I took this film is because when I read it, it seemed like a very organic and real thing. It really kind of reminded me of what the dynamic in a family is like. In my case, I have a very creative and strong wife who's a mother and hearing her frustrations and her experiences. , the way that Katherine Dieckmann wrote this film, it just felt very real in a way that I hadn't seen in film. I guess I found it comforting in a way when you have things you can relate too. Even if they aren't the prettiest things, you have a sense of community.
Q: How does your experience with fatherhood and being a parent influence your characters whether the role is a parent or not.
A. I find that as an actor, you want to draw from all of your experiences. I think there's a reason why actors can get better and why older actors often have so much richer performances in later parts of their career. Because, every experience you have that you deal with fully effects how you work as an artist. So if you're going to portray a father, whatever you're portraying, if you don't have those life experiences, you're faking a lot of it. Even though acting is faking, the truth is you want to fake it really well . And the best way to fake something is understand the experience in a deep way.
Dominic Monaghan on 'Flash Foward', living in LA and coming back to 'Lost'
October 1, 2009 | Leave a Comment
How did your role on FlashForward come about? Was ABC looking to keep you in the family?
I read the script and called my agent and said that I really liked the script and I wanted to see if there was anything I could do in it. Every [character] felt very American to me, and I wasn't sure at this particular point I wanted to play an American, week-in and week-out. My agent got back to [executive producers David and Jessica Goyer] and said that I responded to the script but I wasn't sure if there was anything I could do, and David and Jessica said, "Can we just meet him and pitch him ideas?"
What happened in that pitch meeting?
Essentially, I sat down with them and they said, "What do you want to do next?" Which is one of the greatest things to hear as an actor, you know. I said, "It's very important for me to play a character different from the character I'm probably most known for in America, which is Charlie on Lost." We broke down the essential things I wanted to do with the character: to play someone more dynamic and grown-up, someone who's more proactive as opposed to reactive, to be more of a man than someone who's becoming a man. And they said, "We can do that" and went away and came up with some ideas, and I met with them a week later, and they'd fleshed out this character that seemed like the perfect tonic to playing Charlie.
And you convinced them to let you keep your natural accent?
I'll still talk like me, yeah.
Jesse Eisenberg on 'Zombieland', OCD & not having "natural" talent
September 30, 2009 | 1 Comment
So what's your mood as we approach Zombieland's opening day?
My obsessive-compulsive disorder is out of control right now.
How does that manifest itself?
Well, I touch the tips of my fingers in a weird way; I don't step on cracks; if I'm going onto a new surface — be it carpet to concrete, or concrete to wood, or wood to concrete, any new surface — I have to make sure all parts of my feet touch equally the ground before I touch that new thing. So I'll often hesitate before walking into a new room. You know what I mean?
That's just a manifestation of anxiety?
Yeah.
It's not partially superstition, is it?
No, no. I don't think anything's going to happen.
Has that ever been a problem for you on set?
Um…It's…Yeah. Yeah, yeah. I'll put my hand down to touch something during a scene. It's distracting. It's terrible, just terrible.
Did a director ever point it out to you?
Um…no. I just play anxious people, so it becomes OK.
Zombieland seems quite a departure from the kinds of indie coming-of-age films you've done until now.
It's a bigger movie. It's a character-driven, verbal, funny, specific movie with well-rounded characters. I don't think it necessarily compromises any of those elements that you liked about my previous movies.
So you haven't "gone zombie" on us.
[Laughs] Um, no. It's a really funny movie. There are only four characters in the movie, and each character is not only played by an amazing actor — there's two Academy Award nominees out of the four of us…not me — but the characters are funny, well-rounded and interesting people.