Interviews

Q & A: Lili Taylor and Minka Kelly Talk 'Almost Human', How They Got Their Roles and Imagination
Lili: Imagination is "one of the fuels for an actor"

Q & A: J.J. Abrams Talks 'Almost Human', the Cast and 'Star Wars'
J.J.: "I think that this show has a level of humor that is distinct from what we've done"

Interview: Josh Young on 'Evita', Playing Che and Being Nominated for a Tony
Josh on his Tony Nomination: "I feel like I have expectations now to live up to now"
Click Here For More Interviews!
Acting Advice

Dear Hollywood: An Open Letter From Annie Wood
Annie asks Hollywood to consider….

How To Act Like You're Already A-List
Dallas has 3 suggestions on how to take charge of your career!

Moving From A Small Town To A Major Market
Before moving from a small town to a major market, you must make a business plan
Want To Read More Columns? Click Here!

Latest News
Trailer: 'All Good Things'
October 15, 2010 | Leave a Comment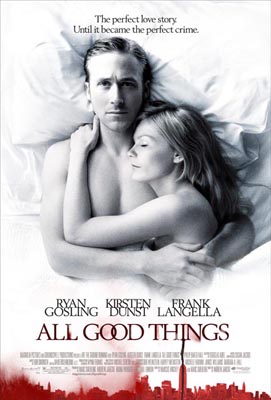 All Good Things: Inspired by the most notorious missing person's case in New York history, ALL GOOD THINGS is a love story and murder mystery set against the backdrop of a New York real estate dynasty in the 1980s. Produced and directed by Andrew Jarecki (director of the Academy Award-nominated doc Capturing the Friedmans and producer of Catfish), the film was inspired by the story of Robert Durst, scion of the wealthy Durst family. Mr. Durst was suspected but never tried for killing his wife Kathie who disappeared in 1982 and was never found. From trailers.apple.com
Director: Andrew Jarecki
Cast: Ryan Gosling, Kirsten Dunst, Frank Langella, Lily Rabe, Philip Baker Hall, Nick Offerman, Kristin Wiig
Juliette Lewis on her role in 'Conviction': "I've never transformed myself so thoroughly, visually or internally, for a role"
October 14, 2010 | 2 Comments
Juliette Lewis stars in Conviction, the story of a single mother who puts herself through law school in an attempt to free her brother who is wrongly accused of murder.
Lewis plays an ex of the brother's (Sam Rockwell), whose false testimony is the reason for his imprisonment. Although Lewis is only in the film for a few scenes, it's a testament to her that she remains in my memory of the film.
She talked to Speakeasy about the film, her character and the challenge of playing a real person.
The Wall Street Journal: How did you become involved with "Conviction"?
Juliette Lewis: Tony (Goldwyn) offered me this part, which I knew was small. I was completely blown away by the cast and by Tony as a director and by the story. This is one of those dream situations, where it's not simply entertainment but something relevant and empowering and beautiful and heartbreaking, because it's true. In the greatest sense, this is what film can be: shining a light on injustices and making people think.
What kinds of roles do you gravitate towards?
Well, it's funny because I don't pick them; they pick me in a way. I'm always just looking for something that I've never done before, for diversity in characters. I wanna be scared and nervous. Also, as you get older, you really want to have to have a good experience with the people you work with.
Video from the new musical, 'Bloody Bloody Andrew Jackson'
October 14, 2010 | Leave a Comment
Bloody Bloody Andrew Jackson has just transferred from a popular run off-Broadway to a full-on  Broadway production.
I've heard great things about the show and this is the first time I've seen actual video of the show.
Synopsis: America's first political maverick. A.J. kicked British butt, shafted the Indians and smacked down the Spaniards all in the name of these United States-who cares if he didn't have permission? An exhilarating and white-knuckled look at one of our nation's founding rock stars, the musical recreates and reinvents the life of "Old Hickory," from his humble beginnings on the Tennessee frontier to his days as our seventh Commander-in-Chief. It also asks the question, is wanting to have a beer with someone reason enough to elect him? What if he's really, really hot? Reprinted from the website
Take a look!

For tickets, click here
Behind the scenes video of the cast of '30 Rock'
October 14, 2010 | Leave a Comment
Here's some behind the scenes video of the cast of 30 Rock rehearsing tonight's live show.
It's pretty cool to watch Alec Baldwin, Tracy Morgan and Tina Fey go over their scenes with the director.
Are you going to watch?
Director Michael Greif on casting 'Angels in America'
October 14, 2010 | Leave a Comment
Director Michael Greif, the director of Signature Theatre Company's production of Angels in America, talks about casting the revival of the show.
"I think a lot of people who maybe wouldn't audition for plays did come into audition," he says.
The show stars Zachary Quinto, Billy Porter and Bill Heck among others.
For tickets, click here
Back to the Future reunion with Michael J. Fox and Lea Thompson
October 14, 2010 | Leave a Comment
Back to the Future is 25 years old (what??) and Entertainment Weekly brought Michael J. Fox and Lea Thompson together for a walk down memory lane.
The best part of the video? Michael J. Fox saying how he kept smashing his head on the car door and hitting his knee on the flux capacitor. I hate when that happens.
For more cast reunions, click here
Movie Review: Conviction
October 14, 2010 | Leave a Comment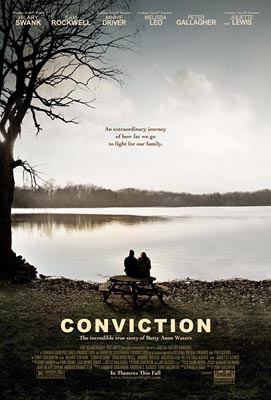 Conviction tells the true story of Betty Anne Waters (Hilary Swank) and her brother Kenny (Sam Rockwell). When a diner waitress is found stabbed to death in her trailer home, Kenny – the local troublemaker – is charged with murder, convicted and sentenced to life in prison. Waters, a single mother, spends the next 18 years of her life becoming a lawyer in order to free her brother.
Minnie Driver plays Betty Anne's friend and fellow law student, Abra, who help's discover the truth about Kenny's mishandled case at the hands of a corrupt cop played by Melissa Leo.
While this is an amazing true-life story, I didn't like it as much as I had hoped. The whole story seemed a little slow to me. While I did care about the characters and the outcome, I wanted it to happen sooner. Part of it may have been the cheesy flashback scenes that told the story of Betty and Kenny as kids. It's an attempt to show how close they were as children so you can understand why Betty spends so many years proving that her brother isn't a murderer. But… I didn't need so many of these scenes. I got it after the first flashback.
Expertly acted on all fronts, I'd say see this film for Sam Rockwell's performance alone.  At the beginning of the film, there are times where you have no idea if he's guilty or innocent. He's perfect in the part. Hilary Swank and Melissa Leo are also in top form but this is Rockwell's show.
Director: Tony Goldwyn
Cast: Hilary Swank, Sam Rockwell, Minnie Driver, Melissa Leo, Peter Gallagher, Juliette Lewis
Writers: Pamela Gray
Charlie McDermott on his first big break
October 13, 2010 | Leave a Comment
Charlie McDermott is currently starring in ABC's The Middle as Axl, the shirtless older brother.  He's great on the show but have you seen him as the troubled son in Frozen River? He gave a wonderful performance in that film, along with the film, Morning, which I just saw at the San Diego Film Festival. Check both of these out if you can!
On wanting to be an actor:
"Acting was the one thing I always wanted to do, but it was so ridiculous. I always had confidence that I could do this, but I was kind of realistic about it. I knew how difficult it is to get there."
On his first break in M. Night Shyamalan's, The Village:
"My grandfather took me down to the audition. I was number 32 out of 4,000 people in line. I ended up getting a small part. I met some kids who were from New York, and I talked to them and my parents talked to them and we found out how to get a manager and an agent. From there, we got the ball rolling."
From the Boston Herald
Washington DC: Stand In Needed for HBO Film
October 13, 2010 | Leave a Comment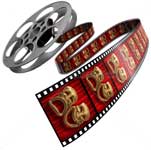 Central Casting is looking for a Stand-In for an actor playing Neel Kashkari in an HBO film shooting this Friday, October 15th. You must be available anytime this Friday for a shoot in DC.
Actor must have a shaved head or be bald. Specs are -
Ht: 5'11.5″ Wt-165, Jkt:40R Shirt:15.5/34 Pants: 32/32.
Olive skin preferred
You need to submit headshot and resume as well as a contact phone number ASAP to ccSubmissions01@gmail.com.
No phone calls please. If we are able to use you, we will call you.
If you do not fit the requirements above; you do not need to reply, but you may forward this to anyone you think would be interested.
These are general emails that go out to those of you on our contact list, as a courtesy. If you wish to be removed, you can unsubscribe by clicking on the link below. Thank you.
Edward Norton, Tim Blake Nelson on their film, "Leaves Of Grass"
October 13, 2010 | 4 Comments
Podcast: Play in new window | Download (Duration: 30:55 — 21.2MB)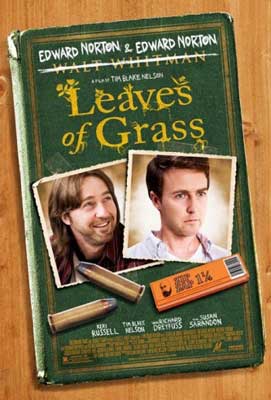 Edward Norton playing twins in a movie that's directed by Tim Blake Nelson? How could that not be great?
And guess what? Leaves Of Grass is great! Edward Norton plays twins Brady and Bill. Brady is a small-time pot grower and Bill is an Ivy league professor. Tim Blake Nelson who also wrote the film plays Brady's redneck friend Bolger.
I saw the premiere at SXSW and the movie is funny, violent and at times, you have no idea where the story is going to take you, which for me, makes the film.
This was another roundtable interview (my question is here) and the interview ran longer than most, so I've cut it down a bit. If you want the whole interview, you can listen/download the whole conversation above or click here for iTunes.
On a side note: I've been interviewing people for a while now and I have to say, Tim Blake Nelson is truly one of the nicest guys around. The day after this interview, I was in the hotel lobby when Tim and I saw each other. He said, "Hi" and we started to have this 5 minute long conversation. It wasn't anything about his movie… just a normal conversation… about BBQ. You gotta love SXSW.
Tim, I was wondering as actor and as a filmmaker do you involve yourself with films that act as a corrective and not go straight towards the stereotypical easy laugh?
Tim Blake Nelson: Yeah, I certainly do.  I do grow tired of intelligence having such a limited manifestation in movies.  And so when I wrote this I knew immediately that the wisest and smartest characters, two characters in the movie in this movie would be the ones who either remained in Oklahoma or returned there.  So, the smartest guy in the movie is Brady.  I think that's evident and it's also stated by the mother.  And the wisest character is Keri Russell's character, and she's chosen to return and write in Oklahoma, and I think she gives the Bill character the wisdom that allows him to begin to move forward in his life as it's collapsing around him.  So, in answer to your question, I was eager to debunk certain stereotypes about Southern characters in this movie.
This question is for both of you and it has to do with that obviously to believe in the duality of it you have to have this suspension of disbelief, and I'd like to hear from you how you achieved it through filmmaking and how you achieved it through your acting.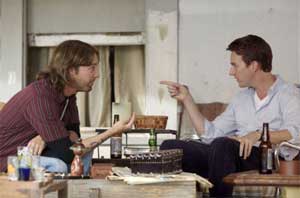 Tim: Yeah, suspension of disbelief in a story like this is pretty essential, although that said, I think you have to be responsible to your story as a storyteller.  To make it feasible enough, and I hope that this story is feasible enough.  There are details peppered throughout that I didn't want to bang the audience over the head with it.  I mean, an obvious question would be well, hang on, wouldn't folks know they were twins, but they didn't grow up in Ida Belle, in the Ida Belle, Broken Bow area.  They grew up in another town, Hugo.  And Brady is moved to Ida Belle.  But these stories are all far-fetched, but the antecedent material for the movie, like in Menander and Plautus and Shakespeare, you know, it's a retelling of a twins genre.  And the main character in the movie is a classicist, and so that's all very intentional.  It's meant to reflect on those earlier works.  The character, Bill, has done a translation of Plautus' play The Menaechmi, which is a Roman twins play.  And so suspension of disbelief and that whole question is part of the fun of the movie.  Alright and now he's going got say thanks for referencing Menander (laughter).
Edward Norton:  Well, no, actually I was going to say that any questions I had about whether a redneck from Oklahoma could actually go and become a Brown classical philosophy professor were ended when I met Tim because I think as you can see one conversation with Tim and you kind of realize, 'Oh, Bill is a believable character.'