Interviews

Interview: Curtis Armstrong Talks His Long Career and 'King of the Nerds'
Curtis: "I always knew I was a character actor"

Interview: Casting Director Kelly Martin Wagner on Auditioning Actors and Working in the Horror Genre
Kelly: "In our office, we're looking for a person, not a read"

Q&A: Comedian Jim Jefferies on Season Two of 'Legit'
Jim also has an interesting perspective on comedic actors in dramas.
Click Here For More Interviews!
Acting Advice

What To Eat (And What Not To Eat) Before An Audition
An audition can be a nerve-wracking experience, so you'll need every advantage you can get

How Can You Spot a Fake Manager?
John does some Detective work and finds some scammy behavior!

Auditions: We Just Don't Know
That's one of the most frustrating bits about this biz of ours, isn't it?
Want To Read More Columns? Click Here!

Latest News
Q & A: Jason Lee
November 30, 2010 | Leave a Comment
Podcast: Play in new window | Download (Duration: 9:55 — 6.9MB)
Jason Lee reunites with his My Name Is Earl creator Gregg Garcia, when he guest stars on tonight's episode of Raising Hope.
He plays an obnoxious rock star who we first see in the 80's and in present day. And his present day character looks ridiculous – in a good way.
I talked to Jason in a conference call where I asked him about his advice to actors; "Do what you want to do as opposed to what people tell you, you should do," he said. He was also talks about his voice over career, working again with Gregg Garcia and a whole lot more.
For the full interview, click onto the audio link above or download from iTunes.
Was Memphis Beat a preparation for this role as Smokey Floyd?
Jason Lee: Maybe it was.  I was comfortable as Smokey on stage in the episode, so maybe all those episodes of performing in Memphis Beat prepared me.  That's certainly two totally different characters, one likable and the other one just an idiot.
Do you see yourself wanting to get back into doing half hour comedies in the future?
Jason Lee: It certainly made me miss what I had on Earl, which was a very hectic schedule.  It was a lot of work.  Being away from it you miss things when you don't have them anymore certainly.  I'm coming back and seeing all these people, Greg Garcia, and seeing all this Earl memorabilia in his office and this new world that he's created but it feels very much like Earl its got the same kind of heart to it and it certainly made me miss it in a big, big way.  I said to Greg "If you do this again, I want back in."  I would do it again yes.
Q & A: Jason Ritter and Sarah Roemer from NBC's 'The Event'
November 29, 2010 | 2 Comments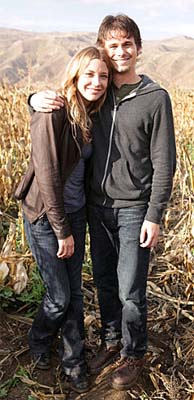 In tonight's mid-season finale, Jason Ritter and Sarah Roemer promise a total shake up of the series, The Event.
And from the sounds of it, it may something worth checking out.
The two star as Sean Walker and Leila Buchanan, currently on the run and dashing through cornfields trying to stay out of sight.
Even though the two actors know almost as much as the audience does, they love the mystery surrounding the show. And they both say that not knowing what the actual event is, makes it easier for them as actors.
I talked to them in a conference call about keeping the secrets they do know, their chemistry and the challenges of working on such a huge show.
Can you talk about how you both find the right chemistry with only knowing so much about what's to come? Like does that help keep things off balance for you guys?
Jason Ritter: I think that that – there's something that's sort of exciting about that. You know, I mean I think out of all of the actors, we know the least about what's going forward. All of the actors know at least what they know.
We all got these character bios at the very beginning so Sophia and Thomas and Ian Anthony Dale's character assignment, they all know exactly where they're all from and what's going on with them. But it's been fun to sort of have to – you know, I meet up with Sarah every day and we just kind of jump off into the unknown and it's exciting.
Sarah Roemer: I think it is very exciting and I really love the show. So it's kind of nice being in the dark and see how it unfolds along with everybody else. And it does keep things interesting and it is nice only, you know, we do – we only really know what our characters know and I think there's something nice about that.
8 New Images from 'Cowboys and Aliens'
November 29, 2010 | Leave a Comment
Here's 8 new pictures from Jon Favreau's Cowboys and Aliens starring Harrison Ford, Daniel Craig and Olivia Wilde.
Can't wait for this!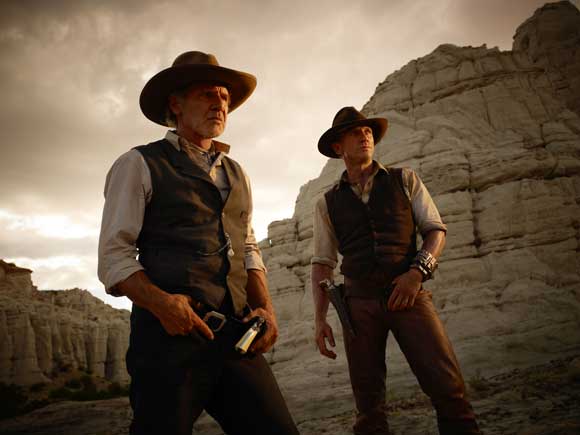 Screenplay: The Next Three Days
November 29, 2010 | Leave a Comment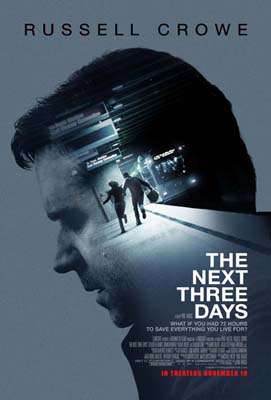 Want the screenplay to The Next Three Days?
Sure you do!
Director: Paul Haggis
Cast: Russell Crowe, Elizabeth Banks, Liam Neeson, Brian Dennehy, RZA, Moran Atias, Lennie James
Writers: Paul Haggis
RIP Leslie Nielsen
November 29, 2010 | Leave a Comment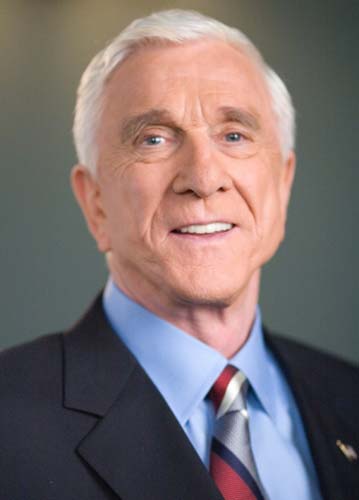 Like a lot of you, I became aware of Leslie Nielsen from his work in Airplane! and the Naked Gun movies (and if you get a chance try and catch the Police Squad tv show he did that spawned the movies).
He died yesterday at the age of 84 from complications from pneumonia.
James Franco and Anne Hathaway to host the Academy Awards
November 29, 2010 | Leave a Comment
James Franco and Anne Hathaway have been tapped to host the 83rd Academy Awards.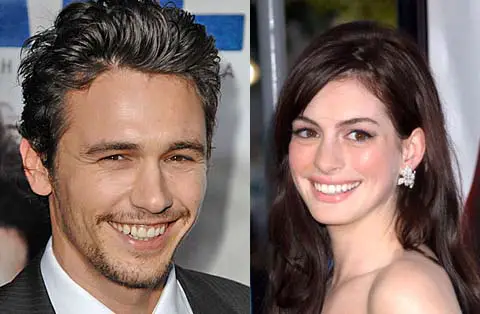 Looks like the Academy is attempting to go for a younger audience… What do you think?
The Press release is below.
San Diego: Casting For "Once Upon A Wedding"
November 26, 2010 | Leave a Comment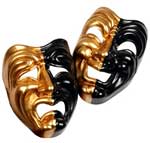 Laughing Tree Productions is producing an interactive musical comedy wedding for the Bahia Resort Hotel in Mission Bay, San Diego. This show, set on the famous William D. Evans, the Bahia Resort's beautiful sternwheeler boat, is slated to run year round and is poised to become the next big hit and a favorite tourist attraction in San Diego. We have assembled an amazing cast but are still searching for the perfect fit for Robert, the father of the bride (actor age range 39-50).
Robert is a typical father of the bride: tired of hearing about wedding choices and done with writing checks. He has excellent rock and roll vocal chops and superior comedic timing. In his younger days, this actor would have been cast as Danny Zucko in Grease or Jesus and Judas in Jesus Christ Superstar. He sings songs by Billy Joel, Orleans, Marvin Gaye, and the Beatles.
Please email your headshot and resume if you are interested in auditioning – mlaughbaum@me.com
Q & A: Jack McBrayer talks about the 'Kung Fu Panda Holiday Special'
November 24, 2010 | Leave a Comment
You know Jack McBrayer as 'Kenneth' from 30 Rock but did you also know he's a voice over actor?
Tonight, his voice over talents are on display in NBC's, Kung Fu Panda Holiday Special. He plays 'Wo Hop,' a rabbit that is constantly at Po's side throughout the special.
The special also features the voices of Jack Black, Angelina Jolie, Dustin Hoffman, Jackie Chan, Seth Rogen, Lucy Liu and David Cross.
Jack talked to us in a conference call where he talked about how he came up with the voice of 'Wo Hop,' working on The Simpsons and more!
Can you explain a little bit about how you ended up working on this special and what it was like actually going in and recording the part?
Jack McBrayer: I play a rabbit called Wo Hop and traditionally with voice-over work a lot of times you'll go into a studio and you'll meet with creative people and the director and producer and they'll give you an idea of what the character looks like and what their attitude is. And then you just give it a whole bunch of shots.
And there's nothing really to look at it so it's kind of – you're just flying by the seat of your pants, which can be super fun but also pretty intimidating because you don't know if you're doing great or stinking up the joint. So really relying on the people working with you, the director and producer and any of the artists or animators who are there.
So for this one I was by myself just in front of a microphone and, you know, you lay it down based on what's with the script. And then eventually you get to come back and see whatever artwork they've put to that recording and then make changes or make additions or anything like that. So it's an eventual process but it's wonderful and liberating but at the same time it can be pretty terrifying because you're like, I have no idea what this is going to look like or how good it's going to be or anything.
Review: Love and Other Drugs
November 24, 2010 | Leave a Comment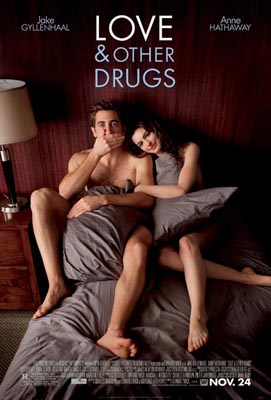 Say what you will, but Jake Gyllenhaal and Anne Hathaway have great chemistry together and in Love and Other Drugs, it's on full display.
Gyllenhaal plays Jamie, a total ladies man who has just found a job as a pharmaceutical salesman. While schmoozing one of his Dr. clients, he meets Maggie (Hathaway), a free spirit who has no desire to have a boyfriend. After realizing he's falling in love, he pulls out all his charm to snag the girl he loves. But, there's a catch.
Which I won't give away. Sorry.
I"m not usually a fan of romantic comedies but this isn't like that at all. Wait… is this a romantic comedy? It's a drama. No, wait… it's a comedy. To tell you the truth, you can't really classify it as one or the other. All I know is that I really liked it.
With Ed Zwick as the director, you know it's going to be something other than the usual by-the-numbers film where boy-meets-girl. Zwick directed one of my favorite films ever, Glory, and I will see anything he does.
This film is sexy, funny and sad all rolled into one big ball of celluloid. There's tons of nudity – which as a fan of Anne Hathaway, you will absolutely get no complaints from me – but it never feels gratuitous.
Oliver Platt (as Jamie's business partner) and Josh Gad (Jamie's obnoxious brother) are always welcome additions in any movie and add a lot to their roles.
Yes, the movie is predictable but the two leads are so great to watch together that, for me, it didn't really matter. You know how it's going to end but so what? How else could it end?
Director: Edward Zwick
Cast: Jake Gyllenhaal, Anne Hathaway, Oliver Platt, Hank Azaria, Josh Gad, Gabriel Macht
Writers: Edward Zwick, Charles Randolph, Marshall Herskovitz, Jamie Reidy
James Earl Jones on 'Driving Miss Daisy', his voice and 'Star Wars'
November 23, 2010 | Leave a Comment
James Earl Jones is 79 (79!) and playing 'Hoke' in the revival of Driving Miss Daisy with Vanessa Redgrave.
I can't imagine being almost 80 and still having the energy to walk to the kitchen but Jones is reportedly tearing it up night after night in the role.
He sat down and talked with Broadway.com about the show, his voice and Star Wars.
Let's start with the character of Hoke in Driving Miss Daisy. What do you like best about him?
I like that he knows exactly who he is. I have a very simple love for Hoke because he's a simple character. The whole play is simple. I don't say that to put it down in any way—simplicity can trick you if you're not careful. We'll be discovering things about these characters until the day the play closes.
This role seems a lot more demanding than Big Daddy [in Cat on a Hot Tin Roof], in which you got to come in, steal the show, and then leave.
On the contrary, Big Daddy is a very demanding character because he's an evil son-of-a-bitch. Hoke has his negatives, but in no way does he mean ill. Big Daddy burnt me out. I'd seen Burl Ives do it; his Big Daddy had a lyricism because he was a lyrical singer. I'm not a singer, so I just got into his gut, and it's a very bad gut, besides the cancer in there.