Interviews

Interview: Curtis Armstrong Talks His Long Career and 'King of the Nerds'
Curtis: "I always knew I was a character actor"

Interview: Casting Director Kelly Martin Wagner on Auditioning Actors and Working in the Horror Genre
Kelly: "In our office, we're looking for a person, not a read"

Q&A: Comedian Jim Jefferies on Season Two of 'Legit'
Jim also has an interesting perspective on comedic actors in dramas.
Click Here For More Interviews!
Acting Advice

What To Eat (And What Not To Eat) Before An Audition
An audition can be a nerve-wracking experience, so you'll need every advantage you can get

How Can You Spot a Fake Manager?
John does some Detective work and finds some scammy behavior!

Auditions: We Just Don't Know
That's one of the most frustrating bits about this biz of ours, isn't it?
Want To Read More Columns? Click Here!

Latest News
'Women on Broadway' Study Reveals Low Numbers for Female Directors and Writers
February 27, 2014 | Leave a Comment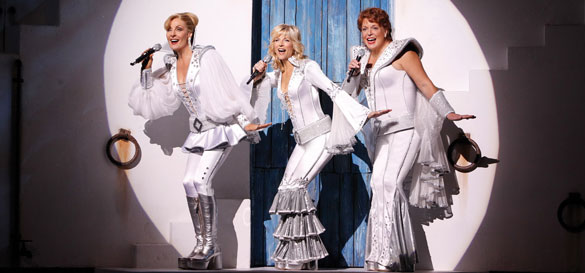 Though statistics show that over two-thirds of people in Broadway audiences are female and plenty of famous actresses continue to grace Broadway stages, backstage the numbers are quite different.
According to The Wrap, only 14 percent of the productions on Broadway during the 2012-2013 season were directed by women. Perhaps even more eye-opening is that of the 28 plays that opened during the same season only three were written by women and only one musical — Kinky Boots — had a score written by a woman. That woman happens to be quite famous herself, pop star Cyndi Lauper, suggesting that female newcomers have an even more difficult road to becoming Broadway composers. The Wrap compiled its statistics through research on the Internet Broadway Database. Continue »
Review: 'Dying City' / 'Two Rooms' at the Sargent Theater (NYC)
February 27, 2014 | Leave a Comment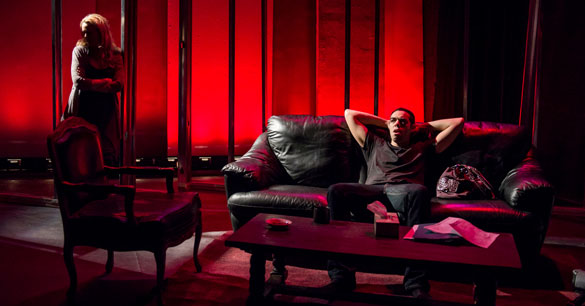 In recent years The Seeing Place has been pairing plays by different playwrights with thematic similarities together in repertory. Through hard work and persistence they have been granted the rights to a number of acclaimed plays, and the current productions maintain that high quality of material – Christopher Shinn's Dying City (nominated for the Pulitzer Prize in 2008) and Lee Blessing's Two Rooms (named Best Play of the Year by Time Magazine in 1988). While in the past I've often been most impressed by The Seeing Place's work with large ensembles, with Dying City and Two Rooms the company presents two one act plays with small casts in rotating repertory that equals their notable work with far larger casts. Continue »
After a 15-Year Absence, Richard Jenkins Returns to the Stage… as a Director
February 26, 2014 | Leave a Comment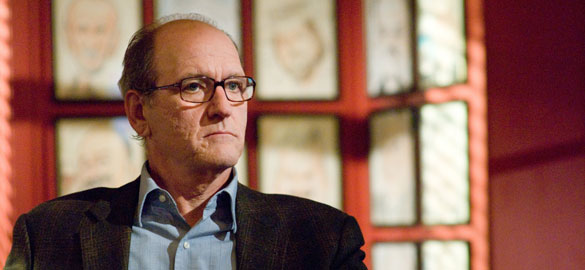 After working for Trinty Repertory Company in Providence, Rhode Island for 14 seasons as a company member beginning in 1970 and serving as its artistic director from 1990-1994, Richard Jenkins has finally returned to his roots. The actor has been busy the few decades as in films like his Oscar-nominated turn in The Visitor and on HBO's Six Feet Under.
This time around, he's not getting onstage, he's directing and choreographing the theatre's latest musical, Oliver!. He's not doing it alone though, he is sharing the duties with his wife, Sharon, just in time for the company's 50th anniversary.
He talked to The Boston Globe as to why he left the stage behind so long ago. Continue »
Lena Dunham was Fired by HBO just before she got Hired by HBO
February 24, 2014 | Leave a Comment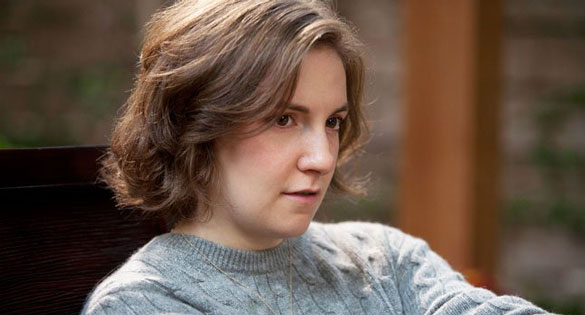 She's a showrunner, an Emmy winner and also a fired HBO employee. Yes, Lena Dunham lost a job just before her show Girls was picked up by the cable network.
In 2011, the 27-year-old star was working on the miniseries Mildred Pierce starring Kate Winslet when she was given the axe. She told Bill Simmons the story on his interview show, B.S. Report. Continue »
The Incredible Shrinking TV Contracts: Ways That TV Doesn't Pay Like It Used To
February 24, 2014 | Leave a Comment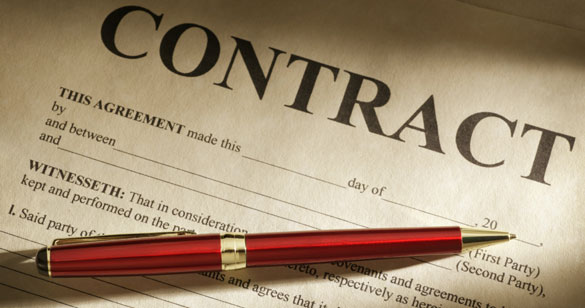 While it seems almost like a myth at this point, there was a time when TV's top network television stars could make a million dollars or more per episode, like Charlie Sheen on Two and a Half Men or the cast of Friends. With the television audience more fragmented that ever and ratings down across the spectrum, such huge paydays are not just rare but almost facing extinction. Most of the biggest "hit" shows of today have a fraction of the viewers that hit shows of the 1990s like Seinfeld and Friends have, so actors have less leverage when they are negotiating their contracts.
The Hollywood Reporter breaks down  how contracts for television actors are increasingly less lucrative. Continue »
Kelli O'Hara on Co-Starring with Friend Steven Pasquale in 'The Bridges of Madison County' and Why She Stretches Before Singing
February 24, 2014 | Leave a Comment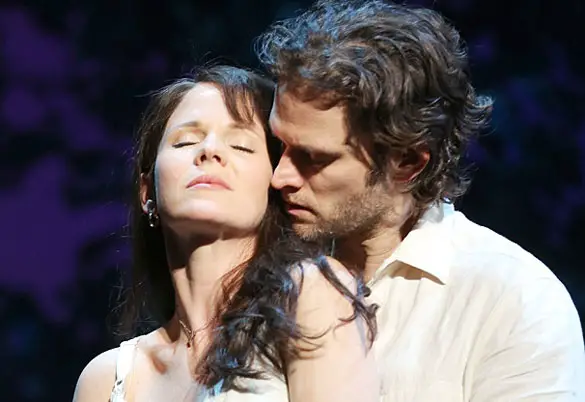 Despite the influx of Hollywood stars on Broadway stages in recent years, the theater community in New York City can often seem like a small world. It's not uncommon for actors to find themselves working with actors over again in different shows. Such is the case with Kelli O'Hara and Steven Pasquale, who stars as the leads in the new musical The Bridges of Madison County. O'Hara and Pasquale previously appeared together in the Seattle and Chicago tryouts of The Light in the Piazza, which was incidentally also directed by Bridges director Bartlett Sher.
However, Pasquale's role on TV's Rescue Me prevented him from playing that role on Broadway. But nearly ten years later the pair finally get to work together on Broadway. O'Hara spoke to The Wall Street Journal about working with Pasquale and why she thinks it's important to stretch before singing. Continue »
Neil Patrick Harris: "I always operate with a fair amount of self-loathing when I'm performing"
February 21, 2014 | Leave a Comment

It might be hard to believe, but when Neil Patrick Harris takes the stage in Hedwig and the Angry Inch in the spring it will be the first time in nearly a decade that Harris has been in a Broadway musical. Sure, in the meantime we've seen Harris sing, dance, host the Tonys (four times) and direct the Off-Broadway play Nothing to Hide, but Harris hasn't been in a Broadway musical since Assassins had a brief run in 2004.
Yet as he tells The New York Times, performing as the titular transgender woman from East Berlin in the Broadway debut of the 1998 Off-Broadway hit is the exact opposite of taking it easy. Continue »
'Game of Thrones' Star Kit Harington Knows His Way Around Ash, Thanks to his Role in 'Pompeii'
February 21, 2014 | Leave a Comment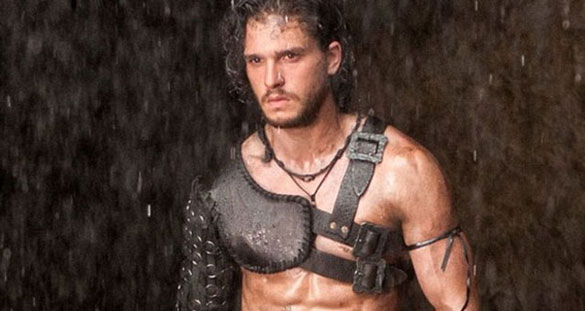 When actors make an action film, there are always hazards to the job. Just ask Kit Harington about his time on set during the filming of Pompeii. He has stories to tell.
The Game of Thrones star shared, "It was boiling hot in the studio and the ash was so horrid to work in, you couldn't really keep your eyes open for long. You'd inhale a piece and you'd start coughing. You'd turn black from the soot."
He spent several days in those condition until the ash was gone. Continue »
Interview: Actor/Producer Waleed F. Zuaiter Talks 'Omar', Winner of the Jury Prize Un Certain Regard at the Cannes Film Festival
February 21, 2014 | Leave a Comment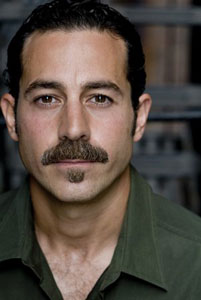 Waleed F. Zuaiter is one of those actors who've you've seen someplace…but can't quite remember where. That's what makes him such a good actor; he blends into the film and serves it's story. From The Men Who Stared at Goats, to TV's Revolution, Homeland, The Good Wife, Blue Bloods and tons more, Waleed has done some fantastic work and even more so with his new film, Omar.
Omar, the Winner of the Jury Prize Un Certain Regard at the Cannes Film Festival, is about a guy young Palestinian baker, Omar (Adam Bakri). He's who is in love with his friends sister, Nadja (Leem Lubany) and secretly climbs over the separation wall to meet with her. He's also… a terrorist. Or freedom fighter depending how you look at it. After he's arrested for killing an Israeli soldier, he coerced by Agent Rami (Zuaiter) to work as an informant. Reluctantly.
The film, directed by Palestinian filmmaker Hany Abu-Assad (Paradise Now), is quite good and I'd totally recommend it. It's tense and gripping and has a whopper of an ending. And all of the actors – except for Waleed -  had never appeared in a film before. And they're fantastic. Continue »
What To Eat (And What Not To Eat) Before An Audition
February 20, 2014 | Leave a Comment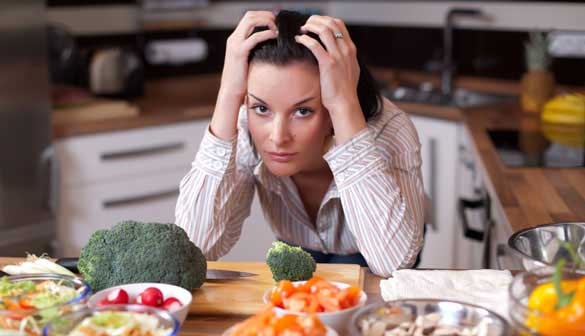 Written by Jonathan McDougall
An audition can be a nerve-wracking experience, so you'll need every advantage you can get, and that includes being alert, calm and focused. Being mindful of what goes into your stomach beforehand can help you get there. For best results, it's advisable to eat your meal at least sixty, if not ninety minutes before your scheduled audition. This will ensure that the food has been partially digested so it can work its proper magic on your brain. Continue »