'Turn' Star Meegan Warner on Working with Babies On-camera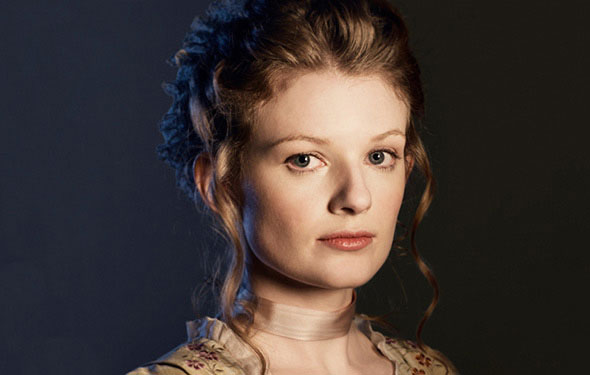 AMC's new spy-ring series, TURN, is definitely a huge departure for actress Meegan Warner. The 22-year-old star plays Mary Woodhull on the American Revolutionary War show where she admits this opportunity truly is her big break.
She shared on AMC's website, "It's my first big job of any kind, so the whole experience has been wonderful. To be able to work with such fantastic actors and for a fantastic network — I feel very lucky to be a part of it."
Her role as Mary involves portraying a wife and mother to a one-year-old. As an actress, it can be challenging work to have to deal with babies on the set because they do what they want, when they want.
"The baby is actually played by a set of twins. It was fun, but difficult at times — for example, if it says in the script that the baby is asleep, you can't tell the baby, 'You're actually asleep right now,'" she said. "Sometimes it takes a while to film something like that — there are times you have to wait for the right moment, and then sometimes you have to rush through it to try and get the scene done. Other times, there are these nice, natural moments that come through where you react to what the baby is doing, and sometimes they'll keep that in the scene. They are very beautiful boys, and they liked me in the end."
TURN airs on Sundays on AMC.
http://www.dailyactor.com/wp-content/uploads/2015/10/Bridge-of-Spies-Tom-Hanks-Mark-Rylance.jpg
Tom Hanks on Working with Steven Spielberg and Mark Rylance in 'Bridge of Spies'
"Steven does this incredible thing when he casts you: He empowers you with the scene." - Tom Hanks on Steven Spielberg
http://www.dailyactor.com/actors-on-acting/tom-hanks-working-steven-spielberg-mark-rylance-bridge-of-spies/
http://www.dailyactor.com/wp-content/uploads/2015/09/Tom-Hardy-Legend.jpg
Tom Hardy on Playing Twins in 'Legend,' Being Seen as a Tough Guy, and Working with Philip Seymour Hoffman
Hardy speaks about why he challenged himself to play twins, what he thinks of his tough guy image, and working with the late Philip Seymour Hoffman, who directed him on stage.
http://www.dailyactor.com/actors-on-acting/tom-hardy-playing-twins-legend/
http://www.dailyactor.com/wp-content/uploads/2015/09/Emily-Blunt-Sicario.jpg
Emily Blunt on Action Movie Roles: "I think it's important to show different layers. Nobody is just tough, nobody is just vulnerable"
Emily Blunt touches upon why she has gotten into roles with an action bent and why she thinks there aren't more action movies with female leads
http://www.dailyactor.com/actors-on-acting/emily-blunt-sicario-acting-layers/
http://www.dailyactor.com/wp-content/uploads/2015/09/Jorja-Fox-CSI.jpg
Jorja Fox on Life After 'CSI': "I've always enjoyed not knowing exactly where the road leads"
"I think you kind of have to embrace the unknown if you're an actor." - Jorja Fox
http://www.dailyactor.com/actors-on-acting/jorja-fox-life-after-csi/
http://www.dailyactor.com/wp-content/uploads/2015/09/John-Turturro-Mia-Madre.jpg
John Turturro on the Life of an Actor: "It's a rough business. I wouldn't want my kids to do it"
"I am usually very well prepared. If you're a surgeon, you've got to know what you're going to take out today." - John Turturro
http://www.dailyactor.com/actors-on-acting/john-turturro-life-of-an-actor/