'True Blood' Star Nelsan Ellis Speaks his Mind on Luke Grimes Exit from the Show over Gay Storyline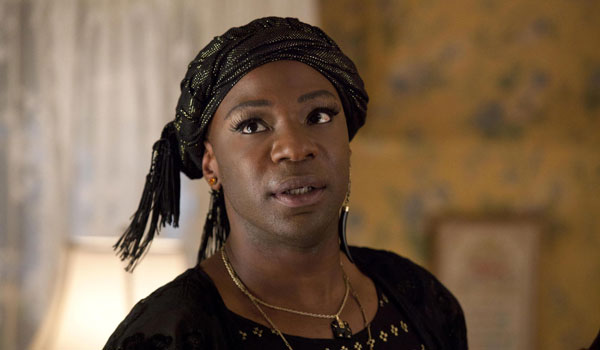 Even though True Blood is halfway through its final season, fans are rejoicing that lonely Lafayette finally gets his day of happiness. Actor Nelsan Ellis talked to Vulture about why his final romantic arc is so important to him.
He explained, "I'm a very lucky actor, because this is my second love interest. We deal with certain fans of that, and we have good chemistry, and we throw everything into it. I can't say enough about Nathan. Both of my love interests are great guys, great actors, both Kevin Alejandro and Nathan Parsons, and I love them onscreen. Every moment with them. You know what? I kind of fall in love with both of them! I guess I'm supposed to."
The 35-year-old actor didn't hold back though when it came to sharing his thoughts on Luke Grimes, the original star who played his love interest James. Grimes reportedly left the HBO show when he disagreed with the writers about the gay storyline.
"I mean, I can say I'm not going to make a comment, but I just think that, you're an actor, you're an actor on a show that's True Blood, we're all sitting there going, 'You quit your job because … really?' I'm just… I'm over him. You quit your job because you don't want to play a gay part? As if it's … You know what? I'm going to stop talking," he said.
However, it shouldn't come as a surprise to the actors on the show. True Blood has always had risqué storylines with nudity.
Ellis advised, "You have to be open. But more importantly, you make a statement when you do something like that."
He also stated the obvious that most fans and cast members understand. "First of all, this show, it's True Blood, and shit, we get scared when we read scripts! Excuse my language. When scripts come, we're like, 'What are they going to have us do this week?' But when you make a statement that is a judgment … I was kind of like, 'Have you met Alan Ball?' I'm supposed to do what my boss tells me to do, as an actor. I can't approach a character with judgment," the outspoken star said. "I certainly can't tell my boss, 'I can act what I want to act, but not what you tell me to act,' especially on a show where you come in, knowing what it is. I was like, 'Okay… I guess?' I just thought that, having just done the documentary [Damn Wonderful, a film about gay suicide.], I didn't like what he did because he made a statement, and sometimes you have to take responsibility."
True Blood will air its final episode on Sunday, Aug. 24.
http://www.dailyactor.com/wp-content/uploads/2016/08/Will-Chase-Something-Rotten.jpg
The Role That Got Away: Will Chase on Returning to 'Something Rotten!'
"I know that I am a poor man's fill-in-the-blank. And I know that there are poor man's Will Chases out there. That's just the nature of the business" - Will Chase
http://www.dailyactor.com/actors-on-acting/will-chase-something-rotten-role-that-got-away/
http://www.dailyactor.com/wp-content/uploads/2016/08/Julia-Stiles-Jason-Bourne.jpg
Julia Stiles on the Jason Bourne Series and Growing as an Actress: "There's always room for improvement"
"I like a director that encourages me to be playful. I don't really like being restricted or controlled by a director." - Julia Stiles
http://www.dailyactor.com/actors-on-acting/julia-stiles-growing-as-an-actress/
http://www.dailyactor.com/wp-content/uploads/2016/08/Michael-Kenneth-Williams-The-Night-Of.jpg
Michael Kenneth Williams on How His Roles Impact Him: "That energy's gotta go somewhere"
Since his days of playing Omar on 'The Wire', Williams has learned how to separate himself from his characters.
http://www.dailyactor.com/actors-on-acting/michael-kenneth-williams-the-night-of/
http://www.dailyactor.com/wp-content/uploads/2016/08/margot-robbie-the-wolf-of-wall-street.jpg
Margot Robbie Believed 'The Wolf of Wall Street' Would Ruin Her Career
Many actors can point to a single role that was a career breakthrough -- but not all of them realize that it's a breakthrough as it's happening.
http://www.dailyactor.com/actors-on-acting/margot-robbie-the-wolf-of-wall-street-ruin-her-career/
http://www.dailyactor.com/wp-content/uploads/2016/08/Jonah-Hill-War-Dogs.jpg
Jonah Hill Talks 'War Dogs' and Getting into Character by Listening to Music
"When I started taking acting classes, it was the first time teachers were like, 'You're good and you should keep doing this.'" - Jonah Hill
http://www.dailyactor.com/actors-on-acting/jonah-hill-war-dogs/