'True Blood' star Deborah Ann Woll Was Always "Nervous" She Was Going to Get Killed Off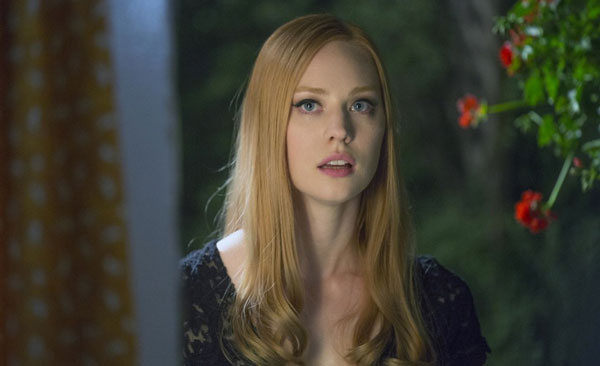 After seven seasons, True Blood has come to an end. For Deborah Ann Woll, who played Vampire Bill's progeny Jessica, she was thrilled to make it to the end of the series. The threat of always being killed off the HBO series was a constant worry.
She explained, "Especially when you're playing a character who makes some really big mistakes but is primarily a good person, you worry a lot because it would be very heart-wrenching to many characters if Jessica died. Imagine the storyline for Bill if Jessica died. They could kill me off and have a field day with the results of that. I was always very nervous because it seems like such an emotionally powerful storyline."
Woll has fond memories of the series and she picked her favorite moment with her character.
The 29-year-old revealed, "I always like it when characters make mistakes. That's the most fun to play. It's no fun to be good all the time and right all the time. You want your character to struggle and suffer and learn. To me, the killing of the fairy girls was remarkable step to take. You're not going to kill off Jessica without having her kill some teenagers, and that was also a very important moment for her and Jason. I like that she went to him afterward. That allowed them to take another step in their relationship. That would definitely be a move I thought was really courageous. I was daunted by it but also enjoyed exploring the deeper recesses of her character."
Fans of True Blood can look forward to Woll starring as Karen Page in the TV adaptation of Marvel's Daredevil for ABC.
http://www.dailyactor.com/wp-content/uploads/2016/06/jeff-bridges-hell-or-high-water.jpg
Jeff Bridges on Creating a Character, 'Hell or High Water' and Playing The Dude
"I use elements of myself—I see my parallels with a character—and find similar things in my own personality." - Jeff Bridges on Creating a Character
http://www.dailyactor.com/actors-on-acting/jeff-bridges-creating-a-character/
http://www.dailyactor.com/wp-content/uploads/2016/07/benjamin-bratt-actor.jpg
Benjamin Bratt: "For as limiting as the opportunities are for actors and actresses of color I've been very blessed"
"...it's dangerous to keep going down the same artistic path." - Benjamin Bratt
http://www.dailyactor.com/actors-on-acting/benjamin-bratt-ive-been-very-blessed/
http://www.dailyactor.com/wp-content/uploads/2016/07/watch-keegan-michael-key-explain.jpg
Watch: Keegan-Michael Key Explains Why "Improv actors are at war together"
Check out Key's points on why it's so important for improv actors to have each others' backs in the clip above.
http://www.dailyactor.com/actors-on-acting/keegan-michael-key-improv-actors-at-war-together/
http://www.dailyactor.com/wp-content/uploads/2016/07/norman-reedus-actor.jpg
Norman Reedus on Acting: "If it's something you really want, you have to roll with the rejection"
Norman Reedus is a fan-favorite star on The Walking Dead and was in the cult favorite film The Boondock Saints. However, in the dozen years between those two gigs Reedus had experienced ups and downs in his career and in many cases he was cast in very small roles in big movies or lead roles […]
http://www.dailyactor.com/actors-on-acting/norman-reedus-acting-rejection/
http://www.dailyactor.com/wp-content/uploads/2016/07/frank-grillo.jpg
Frank Grillo on Being Typecast: "I welcome it"
"I hear actors pooh-pooh the idea... people might see them as a certain thing. I welcome it" - Frank Grillo on Typecasting
http://www.dailyactor.com/actors-on-acting/frank-grillo-on-typecasting/