Now That 'True Blood' Has Wrapped, Is Theater in Alexander Skarsgård's Future?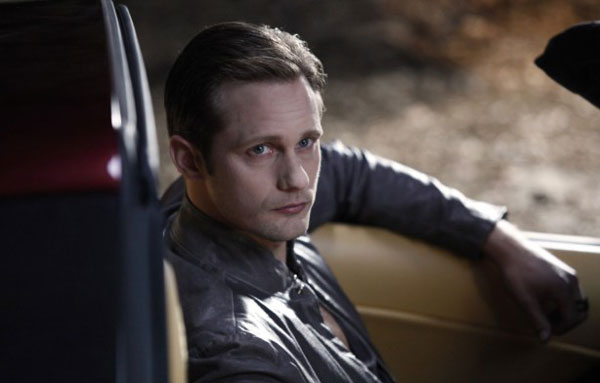 With the series wrapped and only one episode left to air, True Blood's Alexander Skarsgård is ready to make some changes in his career. He's leaving Los Angeles and heading to New York.
He talked to Vulture about his big move.
Skarsgård said, "I'm in London for another three months for Tarzan, and then my plan is definitely to move to New York. I'm really excited about it. I don't really have any plans in terms of what I want to do — movies, television, theater — but I'd love to do a play in New York. Anything that would be a break from what I've been doing, something different."
The Swedish actor might even follow in his dad's footsteps and do a musical.
"I mean, my dad did Mamma Mia!, just after he had done a couple of dark indie films, and he had a really good time doing that. He loved it. He was like, 'Fuck it! This is fun. This is different. There's nothing wrong with fun. I'll do it!' You know? It's all about trying to find those projects where you get to enjoy yourself, because I think that's when you create as well, when you're genuinely excited about something. Then you're not just doing it because it's your job," he shared.
Even though Skarsgård doesn't exactly know where his path will take him, he's energized by the possibilities.
He summed up, "After seven years on the show, where every break before was a hiatus from the show, there's something quite exciting about not knowing what I'm going to do next. It's a feeling I haven't had in seven years, and I'm pretty excited about it."
The series finale of True Blood airs on HBO on Sunday, Aug. 25.
http://www.dailyactor.com/wp-content/uploads/2016/08/John-Cho-Star-Trek-Beyond.jpg
How John Cho Took A Stand for Diversity Early in His Career
"When one does speak one's mind, one might be surprised at how receptive people are." - Actor John Cho
http://www.dailyactor.com/film/john-cho-took-a-stand-for-diversity/
http://www.dailyactor.com/wp-content/uploads/2016/08/simon-helberg-florence-foster-jenkins.jpg
Simon Helberg on His 'Florence Foster Jenkins' Role: "I'm an actor and I want to stretch different muscles"
Helberg spoke about portraying his character in the film and whether or not he feels typecast by his Big Bang Theory role.
http://www.dailyactor.com/film/simon-helberg-florence-foster-jenkins-role/
http://www.dailyactor.com/wp-content/uploads/2016/08/Will-Chase-Something-Rotten.jpg
The Role That Got Away: Will Chase on Returning to 'Something Rotten!'
"I know that I am a poor man's fill-in-the-blank. And I know that there are poor man's Will Chases out there. That's just the nature of the business" - Will Chase
http://www.dailyactor.com/broadway-theater/will-chase-something-rotten-role-that-got-away/
http://www.dailyactor.com/wp-content/uploads/2016/08/Julia-Stiles-Jason-Bourne.jpg
Julia Stiles on the Jason Bourne Series and Growing as an Actress: "There's always room for improvement"
"I like a director that encourages me to be playful. I don't really like being restricted or controlled by a director." - Julia Stiles
http://www.dailyactor.com/film/julia-stiles-growing-as-an-actress/
http://www.dailyactor.com/wp-content/uploads/2016/08/Michael-Kenneth-Williams-The-Night-Of.jpg
Michael Kenneth Williams on How His Roles Impact Him: "That energy's gotta go somewhere"
Since his days of playing Omar on 'The Wire', Williams has learned how to separate himself from his characters.
http://www.dailyactor.com/tv/michael-kenneth-williams-the-night-of/