Tom Hardy: "I don't trust a professional who hasn't seen or watched or studied their work"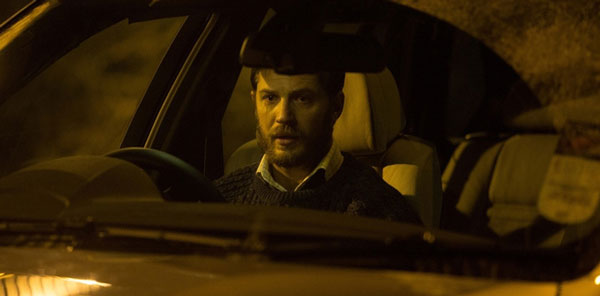 Note to directors who work with Tom Hardy: you better know what you're doing or you're going to have a bad time.
Hardy is receiving considerable praise for his role in Locke, in which Hardy is the only actor on screen for the entire 85 minute movie. However, in an interview with New York magazine to promote the film, Hardy didn't focus on the one-man-show aspect of his performance. Instead, he criticizes actors who don't watch their own performances and talks about how difficult it is to work with directors who don't have clear visions for their films.
Unlike many actors who are uncomfortable watching their performances, Hardy watches the playback of his performances between takes to adjust the way he acts in a scene. He explains, "I don't believe in the magic of the theater as much as I believe in control and manipulation and illusion and sleight of hand. A lot of actors may think they're doing something, but what's coming across is something else entirely."
In fact, Hardy confesses that he has issues working with actors who don't review their own performances because they don't learn from their mistakes. He says, "I don't trust a professional who hasn't seen or watched or studied their work. It's like boxers: Fighters watch their own fights and see where they make mistakes. It doesn't mean that they forget how to fight when they get in the ring."
In fact, though Hardy clearly thinks actors have to concentrate on improving their craft he goes as far as calling himself a "meat puppet" in the hands of a film's director. However, Hardy warns that the relationship between him and a director can be complicated when the director lacks a clear vision. He reveals, "When you're working with directors who don't know what they're doing or what they want, they often tend to put on a controlled mask. Now, I lie for a living, so I can smell when somebody's full of shit, and as soon as I realize that, we're going to have a problem. We're doing something that requires us to be open and honest to get the best result possible, so the dynamic between the actor and the director is about cutting straight to the work and about how we can best serve that work as a team."
Fortunately, Hardy felt that he had that relationship with Locke director Steven Knight. He says, "I do require the director to know a vast amount about what he's talking about — and a bit more than me, too, so I can feel safe. That's what makes Steve so exceptional: He knows much more about this world than I do. That makes my job much easier, that I'm not trying to put out other fires laterally. I can just concentrate on my character and that's when I'm happiest."
http://www.dailyactor.com/wp-content/uploads/2016/04/julia-louis-dreyfus-veep.jpg
Julia Louis-Dreyfus: "Opportunity for women in television has increased. It's because the landscape has widened"
"I did not come out of SNL as any kind of name. I didn't do anything particularly great when I was there. I didn't. It's fine. But I learned a tremendous amount."
http://www.dailyactor.com/actors-on-acting/julia-louis-dreyfus/
http://www.dailyactor.com/wp-content/uploads/2016/04/Tituss-Burgess-Unbreakable-Kimmy-Schmidt.jpg
Tituss Burgess on How He Landed His 'Unbreakable Kimmy Schmidt' Role
Burgess reveals how his role on 30 Rock led to 'Kimmy Schmidt' and whether or not he'd consider returning to Broadway.
http://www.dailyactor.com/actors-on-acting/tituss-burgess-unbreakable-kimmy-schmidt-role/
http://www.dailyactor.com/wp-content/uploads/2016/04/Christine-Baranski-The-Good-Wife.jpg
Christine Baranski on the End of 'The Good Wife' and Going Back to Theatre
The final episode of The Good Wife airs on May 8, and it's been several weeks since series star Christine Baranski shot the final episode with her co-stars. She spoke to The Hollywood Reporter about the end of the series she has spent the last seven years working on and what she plans to do […]
http://www.dailyactor.com/actors-on-acting/christine-baranski-the-good-wife-theatre/
http://www.dailyactor.com/wp-content/uploads/2016/04/jake-gyllenhaal-demolition.jpg
Jake Gyllenhaal on 'Demolition', Working with Chris Cooper and Directors Who Want Nothing to Do With Him
"I think storytelling is the most important part of movie-making over performance." - Jake Gyllenhaal
http://www.dailyactor.com/actors-on-acting/jake-gyllenhaal-demolition-chris-cooper/
http://www.dailyactor.com/wp-content/uploads/2016/04/don-cheadle-miles-davis.jpg
Don Cheadle: "Be scared. Be on the edge of your creativity"
"Be willing to fall flat on your face and be in an unknown place. If you're doing that, you're probably growing" - Don Cheadle
http://www.dailyactor.com/actors-on-acting/don-cheadle-scared-creativity/