Study Shows Actors Struggle to Resolve Emotional Problems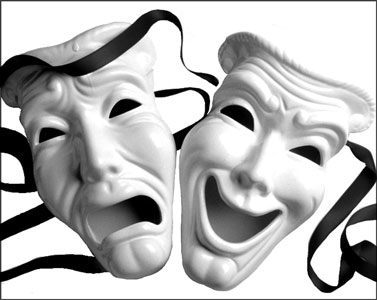 A new study shows that actors are more likely to struggle with dealing with past traumas, and that they might find it harder to resolve emotional difficulties.
The study, conducted by researchers at California State University, revealed that "there is a psychological cost for participants engaged in the creative arts."  The researchers also noted that "more actors were unable to maintain narrative coherence when discussing memories of past trauma and loss."
In an article by The Guardian, researchers Paula Thomson and S. Victoria Jaque said that actors are more likely to "display signs of confusion, prolonged silence or unsuccessful failures to deny a traumatic or loss event."  They believe this indicates a greater vulnerability for psychological distress.
The good news?  Actors have "higher than usual imaginative facilities than members of the control group."  Thomson and Jaque said, "Actors may have enhanced their imagination through the practice of acting or they may have entered a career that supports their heightened predisposition for fantasy."
http://www.dailyactor.com/wp-content/uploads/2016/04/jake-gyllenhaal-demolition.jpg
Jake Gyllenhaal on 'Demolition', Working with Chris Cooper and Directors Who Want Nothing to Do With Him
"I think storytelling is the most important part of movie-making over performance." - Jake Gyllenhaal
http://www.dailyactor.com/film/jake-gyllenhaal-demolition-chris-cooper/
http://www.dailyactor.com/wp-content/uploads/2016/04/don-cheadle-miles-davis.jpg
Don Cheadle: "Be scared. Be on the edge of your creativity"
"Be willing to fall flat on your face and be in an unknown place. If you're doing that, you're probably growing" - Don Cheadle
http://www.dailyactor.com/film/don-cheadle-scared-creativity/
http://www.dailyactor.com/wp-content/uploads/2016/04/jessie-eisenberg-louder-than-bombs.jpg
What is Jesse Eisenberg's "Most Fulfilling Acting Experience"?
"My absolute favorite thing to do is to write a play and then, after I finish, do the first reading of it with my friends around the table"- Jesse Eisenberg
http://www.dailyactor.com/actors-on-acting/jesse-eisenberg-most-fulfilling-acting-experience/
http://www.dailyactor.com/wp-content/uploads/2016/03/Lupita-Nyong'o-eclipsed.jpg
Lupita Nyong'o on Her Broadway Debut: "When we get up on that stage, you do not know what will happen"
"I think theater offers a chance to flex muscles that then only help to sustain cinematic work." - Lupita Nyong'o
http://www.dailyactor.com/broadway-theater/lupita-nyongo-eclipsed-broadway/
http://www.dailyactor.com/wp-content/uploads/2016/03/jake-gyllenhaal-demolition.jpg
Jake Gyllenhaal on Missed Superhero Opportunities and Portraying "Antisocial" Characters
"I've always wanted to have the opportunity to play a number of different roles, and I knew it wasn't necessarily the role, but how you played them" - Jake Gyllenhaal
http://www.dailyactor.com/film/jake-gyllenhaal-antisocial-characters/