Scarlett Johansson on 'Lucy': "I think of myself as an actor for hire and I think of my career as being freeform"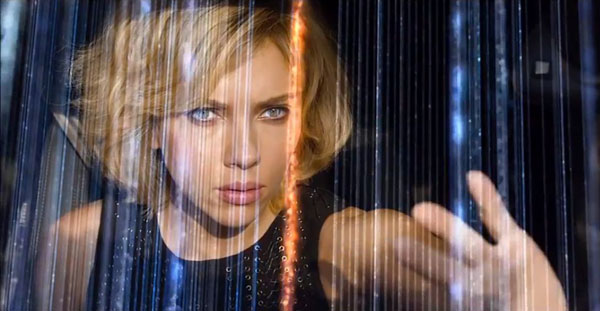 Though Scarlett Johansson has been kicking butt in The Avengers movies as Black Widow, she has tended to star in dramatic films since her 2003 movie breakthrough Lost in Translation. However, in Lucy Johansson is finally starring as the lead in her first all-out action movie, which is directed by Leon: The Professional director Luc Besson. In conversation with Vulture, Johansson spoke about why she decided to take her first lead role in an action movie, how she portrayed the character's fluctuating abilities, and where she thinks her career is headed.
Johansson admits that the main reason she decided to do the film was because she felt the character fit in with her dramatic work. She explains, "When I first met Luc, I was doing a Tennessee Williams play that was visceral and raw and this project seemed so abstract. It was challenging in a different way because the character is in this constant state of transition and struggles to hold onto the nuances of herself and her life that make her who she is — that make her human, in her mind. In comparison to the work that I was doing when we met, it seemed like a totally different challenge. It just fit. I didn't even know how to do it; I just felt I could."
Lucy is a character who gradually unlocks an increasing amount of her brainpower, which required Johansson to portray Lucy at different levels of her self-awareness. She says, "The goal is to not make it a story about revenge and not have the performance be monotonous or robotic. It very well might be. I'm not sure that I succeeded in making it anything else. [Laughs.] I was aware every moment of what her abilities were. I had a big chart. Okay, I'm at 40 percent. This is what I'm holding on to. This is what I know now. This is what I'm capable of. Okay, now I'm at 70 percent, so this is what I'm challenged by. She's gaining all this ability and knowledge but she's becoming almost childlike in some ways. That's how I saw it."
When asked if she sees more action roles in her future, Johansson reveals that she doesn't have a concrete plan about what type of actress she thinks she should be. She points out, "I think of myself as an actor for hire and I think of my career as being freeform. I haven't properly mapped it out. I like it that way. It gives me more choices. I don't have any expectations."
http://www.dailyactor.com/wp-content/uploads/2016/05/Chris-Evans-Captain-America.jpg
Chris Evans on the Challenges of Being Captain America Outside of Acting
"It's part of the job, I've got to sell this thing. But it's just a gross feeling. It makes me insecure."
http://www.dailyactor.com/film/chris-evans-challenges-of-being-captain-america/
http://www.dailyactor.com/wp-content/uploads/2016/04/julia-louis-dreyfus-veep.jpg
Julia Louis-Dreyfus: "Opportunity for women in television has increased. It's because the landscape has widened"
"I did not come out of SNL as any kind of name. I didn't do anything particularly great when I was there. I didn't. It's fine. But I learned a tremendous amount."
http://www.dailyactor.com/tv/julia-louis-dreyfus/
http://www.dailyactor.com/wp-content/uploads/2016/04/Tituss-Burgess-Unbreakable-Kimmy-Schmidt.jpg
Tituss Burgess on How He Landed His 'Unbreakable Kimmy Schmidt' Role
Burgess reveals how his role on 30 Rock led to 'Kimmy Schmidt' and whether or not he'd consider returning to Broadway.
http://www.dailyactor.com/tv/tituss-burgess-unbreakable-kimmy-schmidt-role/
http://www.dailyactor.com/wp-content/uploads/2016/04/Christine-Baranski-The-Good-Wife.jpg
Christine Baranski on the End of 'The Good Wife' and Going Back to Theatre
The final episode of The Good Wife airs on May 8, and it's been several weeks since series star Christine Baranski shot the final episode with her co-stars. She spoke to The Hollywood Reporter about the end of the series she has spent the last seven years working on and what she plans to do […]
http://www.dailyactor.com/tv/christine-baranski-the-good-wife-theatre/
http://www.dailyactor.com/wp-content/uploads/2016/04/jake-gyllenhaal-demolition.jpg
Jake Gyllenhaal on 'Demolition', Working with Chris Cooper and Directors Who Want Nothing to Do With Him
"I think storytelling is the most important part of movie-making over performance." - Jake Gyllenhaal
http://www.dailyactor.com/film/jake-gyllenhaal-demolition-chris-cooper/