Sandra Bullock Named Forbes' Highest Earning Actress of 2013-2014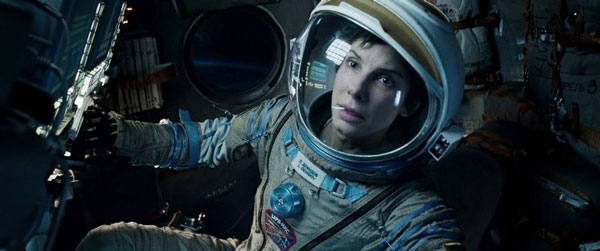 The most important thing to remember when you consider the news that Sandra Bullock topping this year's Forbes list of highest earning actresses is that the movie that is most responsible for that achievement, Gravity, was a movie that Warner Bros. was unsure about releasing.  That gamble paid off for Warner Bros., since Gravity grossed $716 million at the worldwide box office. It also paid off for Bullock: Forbes estimates that Bullock earned an astounding $51 million between June 2013 and June 2014 because of her roles in 2013's Gravity and The Heat.
Bullock made about a third less than Forbes' highest earning actor, Robert Downey Jr., who made $75 million during the same period, but she made nearly $20 million more than the woman whom Forbes earlier declared the most powerful actress in Hollywood: Jennifer Lawrence. Lawrence is #2 on the earners list at $34 million.
Third on the list is Jennifer Aniston, whose $31 million came from a combination of her film work (We're the Millers), her commercials for products like Aveeno, and, of course, her residuals from Friends. Similarly, Gwyneth Platrow is #4 on the list with $19 million for her role in the highest-grossing film of 2013, Iron Man 3, and her endorsements.
Tied for fifth place at $18 million are Angelina Jolie and Cameron Diaz. However, Jolie topped the list last year and is expected to be at the top (or close to it) next year's list because of the massive success of Maleficent.
As always, the list is made up of estimates that Forbes states are computed by talking to "agents, producers, lawyers and other in-the-know folks to figure out how much each celebrity earned from entertainment-related work during our 12 month time period."
The rest of the list includes Scarlett Johansson ($17 million), Amy Adams ($13 million), Natalie Portman ($13 million), and Kristen Stewart ($12 million).
http://www.dailyactor.com/wp-content/uploads/2016/08/imperium_daniele_radcliffe.jpg
Daniel Radcliffe on Playing a Neo-Nazi in 'Imperium': "It's still just horrible to say some of this stuff"
Radcliffe reveals how he played such a layered character and what it felt like to say his character's hate-filled dialogue.
http://www.dailyactor.com/film/daniel-radcliffe-playing-a-neo-nazi-imperium/
http://www.dailyactor.com/wp-content/uploads/2016/08/John-Cho-Star-Trek-Beyond.jpg
How John Cho Took A Stand for Diversity Early in His Career
"When one does speak one's mind, one might be surprised at how receptive people are." - Actor John Cho
http://www.dailyactor.com/film/john-cho-took-a-stand-for-diversity/
http://www.dailyactor.com/wp-content/uploads/2016/08/simon-helberg-florence-foster-jenkins.jpg
Simon Helberg on His 'Florence Foster Jenkins' Role: "I'm an actor and I want to stretch different muscles"
Helberg spoke about portraying his character in the film and whether or not he feels typecast by his Big Bang Theory role.
http://www.dailyactor.com/film/simon-helberg-florence-foster-jenkins-role/
http://www.dailyactor.com/wp-content/uploads/2016/08/Will-Chase-Something-Rotten.jpg
The Role That Got Away: Will Chase on Returning to 'Something Rotten!'
"I know that I am a poor man's fill-in-the-blank. And I know that there are poor man's Will Chases out there. That's just the nature of the business" - Will Chase
http://www.dailyactor.com/broadway-theater/will-chase-something-rotten-role-that-got-away/
http://www.dailyactor.com/wp-content/uploads/2016/08/Julia-Stiles-Jason-Bourne.jpg
Julia Stiles on the Jason Bourne Series and Growing as an Actress: "There's always room for improvement"
"I like a director that encourages me to be playful. I don't really like being restricted or controlled by a director." - Julia Stiles
http://www.dailyactor.com/film/julia-stiles-growing-as-an-actress/