Richard Jenkins on '4 Minute Mile', the Speed of Indie Filmshoots, and Choosing His Roles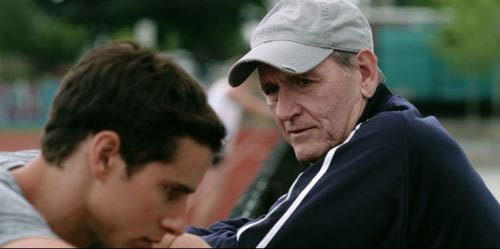 Because he is mainly cast in supporting roles, Oscar-nominated actor Richard Jenkins tends to appear in at least three movies every year. However, he is cast in lead roles every once in a while, including in the indie drama 4 Minute Mile, which is now available on VOD and is playing in limited release in theaters. In an interview with Indiewire, Jenkins spoke about his role in the athletic drama, what he likes about shooting indie films, and whether he prefers comedy or drama.
Though the character he plays in 4 Minute Mile is an aging track coach in rough shape, Jenkins jokes that he is in a similar boat himself. He remarks, "I'm pretty broken down myself so that wasn't that hard to do. [Laughs] I'm 67 so that's how old he was, [and] some people are luckier then others."
Despite claiming to be "broken down," Jenkins must be spry because he points out that making an indie movie like 4 Minute Mile is a quick process because of budgetary concerns. He explains, "You've got to work fast. You know it's quick, but I don't mind that, and you're kind of flying by the seat of your pants. And if there's a scheduling problem you've got to kind of just pick the camera up and change immediately, and do something different. It's a little more guerrilla and I don't mind that at all really. Being on a film for fourteen or fifteen weeks can seem like, 'Gosh, couldn't we do this faster? There's got to be a way to do this quicker.'"
Though Jenkins has done dramas with budgets of all sizes, his best-known recent role for many people is playing John C. Reilly's father in Step Brothers. Jenkins says that he feels comfortable with both comedy and drama, saying, "I don't have one over the other, I kind of love doing both. I don't consider myself a comedian, but you work with some comedians, and sometimes these guys are incredible on their feet, it's just amazing, and that's not what I do. But it's always fun, and I don't really care as long as the character is interesting. The truth is I like to have it a little of both in everything I do. I think that's more like life. I don't think anything is one thing or the other, so we tried to bring humor to even a guy like this. He's a little sarcastic and a little snarky."
Nonetheless, though Jenkins likes doing both comedy and drama he admits that he knows he isn't right for everything he is offered. He points out, "Well, there are a number of things I've turned down. Sometimes you see problems in a movie and you see issues, but the part is like, 'When am I going to get to play a part like this again?' Could I bring something to it? Could I find something in it that is really interesting for me and for an audience to watch? That's how I choose things. Or if a director is somebody I've always wanted to work with then I'll jump on it sometimes, but if I read a part and think, 'God there's a lot of people that can do this better than me,' I'll pass. Or If I don't know what I would bring to it. Sometimes you get offered things that you think, 'Really? They want me to play this?'"
http://www.dailyactor.com/wp-content/uploads/2016/07/watch-keegan-michael-key-explain.jpg
Watch: Keegan-Michael Key Explains Why "Improv actors are at war together"
Check out Key's points on why it's so important for improv actors to have each others' backs in the clip above.
http://www.dailyactor.com/actors-on-acting/keegan-michael-key-improv-actors-at-war-together/
http://www.dailyactor.com/wp-content/uploads/2016/07/norman-reedus-actor.jpg
Norman Reedus on Acting: "If it's something you really want, you have to roll with the rejection"
Norman Reedus is a fan-favorite star on The Walking Dead and was in the cult favorite film The Boondock Saints. However, in the dozen years between those two gigs Reedus had experienced ups and downs in his career and in many cases he was cast in very small roles in big movies or lead roles […]
http://www.dailyactor.com/actors-on-acting/norman-reedus-acting-rejection/
http://www.dailyactor.com/wp-content/uploads/2016/07/frank-grillo.jpg
Frank Grillo on Being Typecast: "I welcome it"
"I hear actors pooh-pooh the idea... people might see them as a certain thing. I welcome it" - Frank Grillo on Typecasting
http://www.dailyactor.com/actors-on-acting/frank-grillo-on-typecasting/
http://www.dailyactor.com/wp-content/uploads/2016/07/Michael-Shannon-Acting-for-free.jpg
Michael Shannon on Actors Working for Free: "I think as a group actors need to stop enabling this behavior"
"If somebody's got a good script and you want to put good actors in it then everybody should be taken care of." - Michael Shannon
http://www.dailyactor.com/actors-on-acting/michael-shannon-actors-working-for-free/
http://www.dailyactor.com/wp-content/uploads/2016/07/Javier-Munoz-Hamilton.jpg
Javier Muñoz on Taking the Lead in 'Hamilton': "This is just fun, and glorious"
Muñoz talks about his feelings on playing Alexander Hamilton full-time and his relationship with Lin-Manuel Miranda.
http://www.dailyactor.com/actors-on-acting/javier-munoz-new-hamilton/